Have you ever ordered furniture online? Yes, the ecommerce industry today is not restricted to just apparel, beauty, electronics, and home products. Today, the furniture industry in India has maintained pace with the rest of the industries by stepping into ecommerce and growing steadily. Revenue in this industry is expected to grow at a rate (CAGR 2020-2024) of 11.2% annually, resulting in a projected market volume of US$2,005m by 2024.
Furnishing and homeware ecommerce includes sales of home furnishings, office cabinetry, home décor products, lighting, mattresses, etc.
Here, we have compiled a list of the top 5 furniture multi-vendor marketplaces in India
Started in 2012, Urban Ladder is one of the top players in the furnishings and fixtures market of India. The company started as an e-commerce marketplace and has now started its offline stores and brick-and-mortar spaces in major cities like Delhi-NCR, Bangalore, Pune, and Chennai. It offers a curated collection of living room, bedroom, dining room, kitchen, and study room furniture. Recently, it has also ventured into the mattress space offering a wide collection for all audiences.
A widely loved option for home decor, furnishing, lighting, and mattresses, Pepperfry gained popularity amongst its audience very soon after its launch in 2011. Started by two friends who shared a common yet sleek vision for beautiful homes, the company already boasts of more than 6 million happy customers. It also started its home services some time back, where it offers disinfection, pest control, and home cleaning services to its consumer base in metro cities.
Targeting the audience looking for luxury furniture, lighting, art and home decor, the launch of Furniturewalla dates back to the year 1999. With the mantra of "luxury within reach", it offers retailing from 4 signature stores in Mumbai, Delhi, Bangalore & Hyderabad in addition to its online store. With a finely curated range of furnishings and fittings for the living room, dining room, bedroom, kitchen and an exquisite lighting collection, the company boasts of offering modern elegance, contemporary vintage, and aesthetic luxe with its products.
With the motto of quality and innovation, Wooden Street offers a unique and elegant range of wooden equipment for the living room, bedroom, kitchen, kids' room, and study room. It also has its signature range of mattresses with the brand name Penguin. But what really distinguishes it from its competitors is the option to customise home furnishings according to the customers' choice, which is a feature that has been in demand for quite some time, but was never offered by any online retailer.
Launched in 1995 in Sharjah, UAE, today, Home Centre has more than 120 stores across the world serving millions of customers. In India, it is popular as a go-to destination for buying furniture, home furnishings and accessories, modular equipment, bed and bath products, kitchenware, etc. In a few years of its operations in India, Home Centre has earned a place among the leading players in the furniture ecommerce industry in India.
With the popularity of these online home furnishing marketplaces, more and more users have started shopping for these products online. This has opened up a lot of opportunities for furniture businesses to step into ecommerce. If you are planning to do the same and are looking for the best marketplace builder for your business, StoreHippo is the answer for you.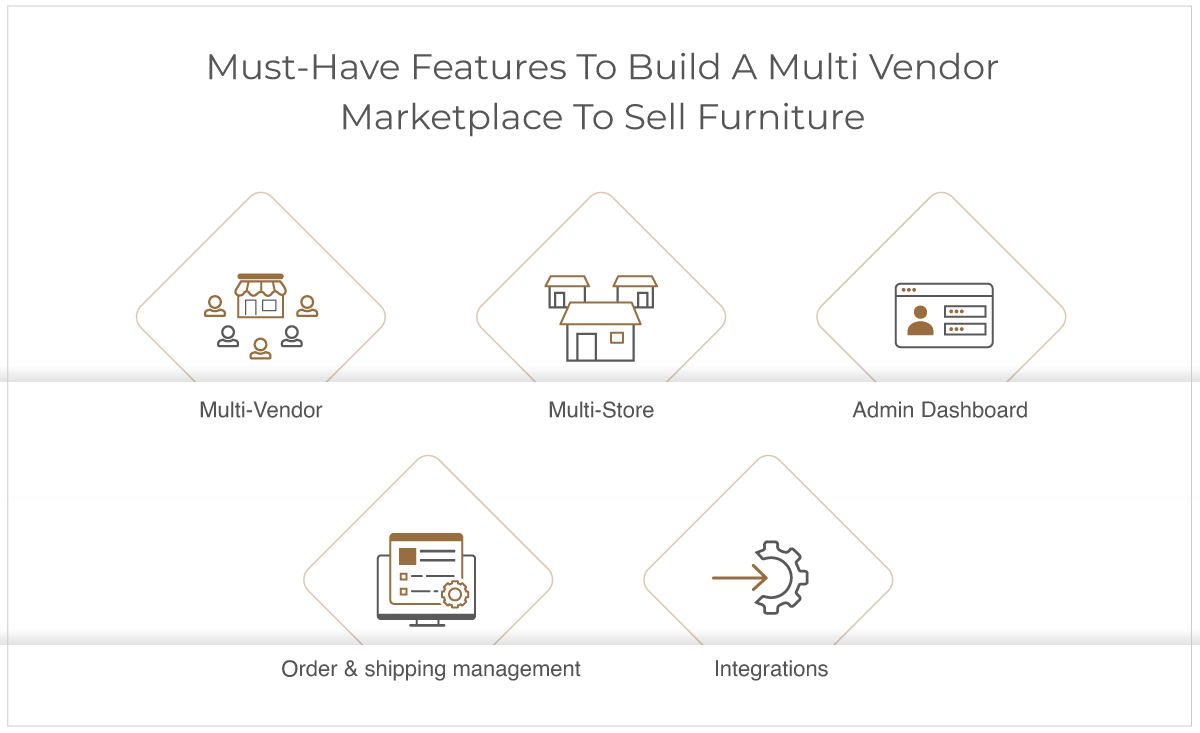 Let's take a look at a few features that make it an excellent choice for ecommerce:
StoreHippo offers a feature-rich multi-vendor ecommerce platform for building marketplaces, and it makes sure that the platform is easy to use.
Here, almost everything is automated, which not only reduces the chances of human errors but also makes every process super-fast. Whether it is onboarding the vendors or calculating your commission, this multi-vendor marketplace supports it all. Each vendor gets their own dashboard to carry out everyday operations as well as get an overview of their daily, monthly, or annual business.
The tax setting gives the vendors the freedom to choose different taxes to be applied. While the vendors have these advantages and more, at the same time, the admin gets complete control over vendor activity. Moreover, the admin can set up commission rules, whether it is a fixed amount or percentage-based. Further, with the adaptive payments feature, the commission for different vendors is calculated and split as per the decided rules.
This feature makes StoreHippo one of the best marketplace builders in India. How so? Well, let's understand this with an example. A family that is renovating their house would be interested in double beds, dining table set, etc. but a bachelor living in a rented apartment would not be interested in the same. Therefore, there would be no point in displaying these items to him. However, he might be looking for a bean bag, a work desk, or single bed sheets. It would be more suitable to advertise those items to him.
The multi-store feature at StoreHippo lets you open multiple sub-stores within the same marketplace and target different audiences by displaying different products as per their interests and requirements. You can open category-based, geolocation-based or any other substores.
As the owner of a multi vendor marketplace, there are a lot of business aspects to take care of. The admin panel is a tool that can help the admin of the store get an overview of everyday business and keep an eye on the store's performance. By using the admin dashboard, you can keep a note of the sales, revenue, vendor performance, best-selling products, etc. The admin can further assess which products or vendors are not performing as per the expectations. All these insights would help the admin in making future decisions regarding the business.
This is the core function for any ecommerce business. The best marketplace builders are characterized by how easy they make it for the vendors to manage orders and shipping. StoreHippo allows the store owner and vendors to view details of open, cancelled, and closed orders. It further allows them to generate and print invoices, ship order, mark shipped order, cancel orders, etc.
Integrations make life easier for ecommerce business owners, whether it is managing the shipping of the products or communicating with their customers. StoreHippo comes with a big number of integrations for the following functions:
Shipping is a crucial process for any ecommerce business whether you have a multi vendor marketplace or work independently. StoreHippo comes integrated with a number of leading logistics providers in India to help you with your shipping requirements.
Since the business is based online, the payment needs to be done online too, right? And you certainly don't want the payments to get stuck or to lose customers because of poor payment options. This is why it is important to choose an ecommerce platform that supports different domestic and international payment gateways across the globe. StoreHippo is the best marketplace builder as it is integrated with a big number of payment gateways such as MobiKwik, Instamojo, HDFC Bank, Amazon Payments, etc.
Communication with the customers is important. They need to be notified when they place an order or when you want them to review the products they ordered. You may even want to inform them about an upcoming sale. At StoreHippo, we understand this. This is why we support integrations with a number of SMS and email services such as MailChimp, mVaayoo, BulkSMS, etc.
StoreHippo is the best marketplace builder which has a SaaS-based model. It builds scalable, customizable, and high-performance marketplaces for B2B and B2C businesses. Over the years, it has helped enterprises belonging to different industries in building multi vendor marketplaces and enterprise ecommerce websites and growing their businesses exponentially.
To build a successful multi vendor marketplace, you need to choose a cutting-edge ecommerce solution that offers a host of features and makes it easy to run and manage your business. Built on MACH architecture that uses decoupled headless architecture to build tailor made solutions, StoreHippo is the best marketplace builder for your business. It offers 120+ integrations and 300+ built-in features with plug-and-play solutions for businesses of every scale and size.
Ready to explore above-mentioned features and even more for your furniture business? Start a free trial right here.
1. Can I build a furniture online marketplace that ahs multiple stores with StoreHippo?
Yes, StoreHippo, the best marketplace builder, comes with native multi store ecommerce solutions also. Using the marketplace solutions along with the multi store feature, you can seamlessly build, run and manage a chain of sub stores. It offers the most comprehensive features to cater to the diverse requirements of your business.
2. I want to build mobile apps for my furniture marketplace. How much time will this need?
With StoreHippo's mobile-first technology, you can quickly build Android or iOS apps directly from your admin dashboard at no additional costs and with no need for coding. The stores powered by StoreHippo are PWA stores that look, feel and work like mobile apps even on entry-level devices.
3. Can I offer multiple payment options to my customers on the furniture multi vendor marketplace?
StoreHippo helps you to offer multiple payment options to the customers on your multi vendor marketplace, like COD, and various online payment methods like net banking, debit or credit cards, digital wallets etc. StoreHippo also offers 60+ pre-integrated domestic and international payment gateways making checkouts frictionless for your customers.
4. How can I communicate with my furniture customers?
StoreHippo helps you power your communication with its unified notifications feature making ecommerce communications easier and faster for you. You can also send personalized notifications to your furniture customers via SMS, email, web or push notifications.
5. Do I need to add multiple plugins to manage my furniture marketplace?
No, you do not need any additional plugins to run yoru furniture marketplace. StoreHippo comes with in-built solutions like end-to-end vendor management solutions, powerful discount engine, various marketing tools etc to help you manage day-to-day business operations.
6. Will I be able to grow my furniture business to new or global markets in the future?
Yes. You can seamlessly take your furniture business to global markets with StoreHippo global features. It offers 60+ pre-integrated doemstic and internationa payment gateways and supports multiple currencies from across the globe. With the multilingual feature from StoreHippo, you can also connect with your global customers in their native language.
7. How can I recover abandoned carts with StoreHippo?
Easy. With StoreHippo, the best marketplace builder, you can recover your abandoned cart and re-target the customers with personalized notifications. StoreHippo enables you to send automated abandoned cart follow-ups to your furniture customers. You can offer them discounts or duplicate the abandoned cart order if the customers face any difficulty in ordering.
8. Can I build different landing pages on my marketplace for premium and regular customer segments?
Yes, you can. With StoreHippo you can create different landing pages for different audience segments. With the in-built drag and drop tool, you can seamlessly customize your furniture landing pages with different themes and designs. You can tweak the front end and the back end with much ease and make new dynamic pages for the unique brand requirements of your multi-vendor marketplace.
9. How can I market my furniture marketplace with StoreHippo?
You can market your furniture marketplace with a host of marketing tools offered by StoreHippo. It enables you to plan strategic marketing campaigns like flash sales, multi-level discounts, personalized offers etc with its powerful in-built discount engine.
10. Can I offer omnichannel solutions to my furniture customers?
Yes, StoreHippo enables you to reach new customers and new markets with its omnichannel ecommerce solutions. You can target your furniture customers on multiple touchpoints like marketplace websites, social platforms, or any other channel preferred by your customers.