They say that the food industry never goes out of business. From what we know, it only gets better with regular innovation and the use of new technologies. The food industry in India has significantly changed over the last few years, and one of the biggest steps towards that was shifting to ecommerce. Yes, you know what we are talking about - food delivery apps and online marketplaces.
Check out a few interesting trends happening around the food delivery segment in India.

3X+ growth of Indian food delivery market from 2019 to 2025
INR 410.97 Bn is the valuation of the online food delivery market in India in 2021
$12.8 is the expected value of food delivery market in India by 2025
30% is the expected CAGR of Indian online food delivery market by 2022-2027
Source: Research and Markets, Statista
It's no surprise that hundreds of online food delivery marketplaces have been built in the last few years. In this article, we are going to discuss the top 5 food delivery marketplaces in India:
Swiggy is a top food ordering app in India available on Android and iOS platforms. With over 50 million downloads on the Google Play Store, Swiggy functions in almost all cities in India. It is more than just a food delivery app. With 'Swiggy Stores' offering delivery of groceries from nearby stores and 'Swiggy Genie' offering pick up and drop services for n-number of items, Swiggy has become more than just a noun and has transitioned into a verb that means 'order delivery'.
Interesting fact: In an analysis between January 2019 and October 2019, Swiggy reported to have over 2.3 lakh delivery partners, out of which more than 1000 were women!
We all know that Zomato is a big name in India. But did you know that Zomato conducts business in nearly 25 countries in the world? Started in 2008 as a restaurant search platform, Zomato is now a leading food delivery app with a presence in 556 Indian cities and towns. It is present in 525 cities in India, with almost 150,000 active food delivery restaurant listings and 170,000 active delivery partners. It also provides dining-out services that are powered by Zomato Gold, their unique discount program that offers 1+1 on many meals and drinks.
FreshMenu was started in Bengaluru in 2014 and now offers food services in Mumbai and Delhi NCR as well. It is not a traditional food delivery service but follows a unique model. FreshMenu is a group of 27 online kitchens with a menu that changes every day. It has a staff base of 550 people and 700 delivery partners. New cuisines are being added to the recipe book of FreshMenu every day. Reasonable prices and fresh food have contributed to a demand of 12,000 orders every day.
If you live in Delhi or other metro cities in India, you must have seen Behrouz (biryani), Oven Story (pizza), Mandarin Oak (Chinese), and Firangi Bake as restaurant chains on different food delivery apps. But did you know they all belong to Faasos?
Faasos was launched in 2011 in Pune as a cloud kitchen. Today, it has 160+ kitchens that deliver food under their own brand names. Today, it is working on expanding its business to UAE, Indonesia, Thailand, and Vietnam
Dunzo, founded in 2014, is an on-demand food delivery app. It is different from other food-based marketplaces as it does offer its delivery services to the customers who want to get food delivered from any of their desired restaurants or shops delivering cooked food, packaged food items from grocery shops and even pet supplies, medicines etc. Dunzo is even used by home kitchen owners offering home made food in metros.
These food delivery platforms have revolutionized the food market in India. As online ordering of food has become a preferred choice for consumers, tremendous opportunities have opened up for food ecommerce in India. If you wish to step into this, all you have to do is choose an ecommerce platform that can help you build a multi vendor marketplace for online food business.
StoreHippo is an ecommerce platform that offers turnkey solutions to help you build online websites from scratch. It is a flexible platform with inbuilt features to cover all your marketplace needs. Some of the unique features that make it a great choice for food ecommerce are: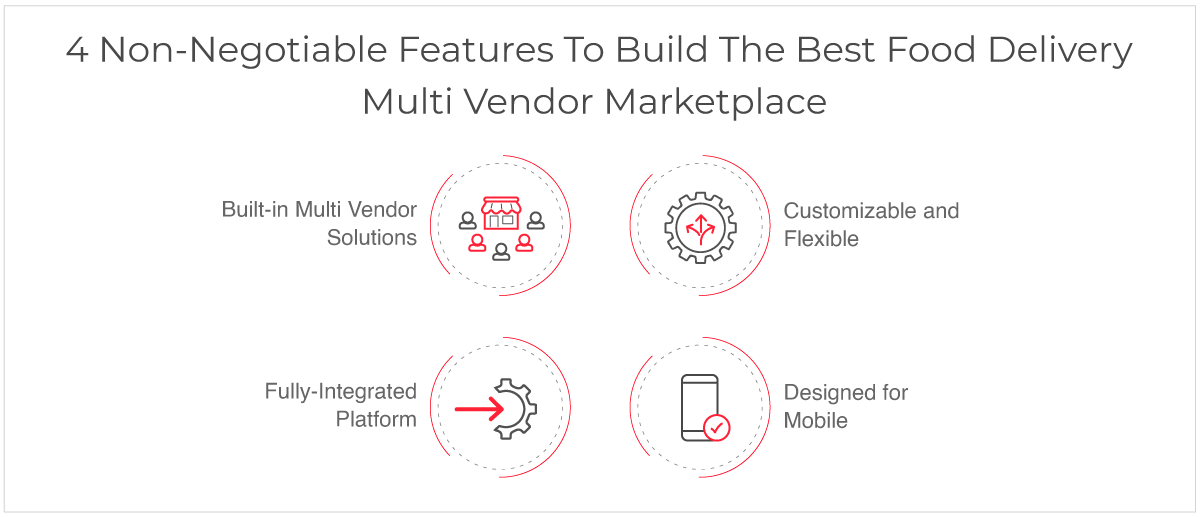 What is a marketplace without its vendors? The truth is that a market is only as strong as its sellers make it. Which is why, when you build a multi vendor marketplace, it is important to ensure that all your vendors are managed well.
StoreHippo helps you build online marketplaces that come with a host of features to carry out ecommerce with ease. Such as seller self-registration to allow quick onboarding of different vendors, separate vendor dashboard for ease of operation, automatic commission set up, inventory management, etc. Moreover, the admin has complete control over the activity of the vendors.
Whether you are building a food delivery marketplace or dining out app, one of the most important features to check in your ecommerce platform is that it should be customizable. Every brand has a unique identity, and no one wants to compromise on that when they build an online marketplace. The right ecommerce platform would let its users customize the layout, fonts, colours, designs, theme, etc. as per their preferences.
Flexibility is another feature that is highly important for any ecommerce business. A flexible ecommerce platform would easily handle peak traffic without you having to buy additional server space. A flexible platform grows as your business grows.
Online grocery and food delivery businesses have a lot of things to manage. From managing orders and making delivery arrangements to making online payments and keeping the customer updated about the status of delivery, they have to do it all.
To make things easy, StoreHippo supports different integrations so that you carry out your business easily. For payments, it is integrated with a number payment gateways supported all over the world. For promotion and communication, it supports integration with SMS and email service providers. For shipping, StoreHippo offers 30+ pre-integrated domestic and international shipping partners and a dedicated delivery boy management module to make the deliveries faster and easily traceable.
If you are building a multi vendor marketplace, it is imperative that you choose a platform that develops sites for mobile. As a big majority of food orders are placed on mobile, it only makes sense to go for a mobile-friendly platform for your food marketplace. StoreHippo is an excellent choice as it is built on mobile-first technology to help you quickly build Android or iOS apps directly from your admin dashboard at no additional costs and with no coding required. The stores powered by StoreHippo are PWA stores that look, feel and work like mobile apps even on entry-level devices.
To build a successful food delivery business, you need an ecommerce platform like StoreHippo that comes pre-intergarted with multiple plugins for yoru everyday business needs. Right from launching your online marketplace to seamlessly building food delivery apps, from leveraging m commerce to offering the most flexible platform, StoreHippo offers the best-in-class ecommerce platform for your business.
The last reason why you should try StoreHippo is that you can try it for free! So, whether you're starting a health and fitness website or a wholesome food delivery marketplace, we have the right solution for you Check it out yourself by scheduling a demo today.
1. Can StoreHippo help me in creating a food delivery marketplace like Zomato?
Yes, StoreHippo offers turnkey solutions to help you build your food delivery online marketplace from scratch. With the comprehensive SaaS-based 360-degree ecommerce marketplace solution by StoreHippo, you can quickly build, run and manage your marketplace.
2. Can I also create my food delivery apps with StoreHippo?
Yes, StoreHippo comes with a pre-integrated mobile apps builder to help you create food delivery apps right from your admin dashboard at no additional costs or unwanted coding. The stores powered by StoreHippo are PWA stores that look, feel and work like mobile apps even on entry level devices.
3. Will it be possible to tweak StoreHippo multi vendor marketplace solutions for my business needs?
Yes, you can seamlessly tweak the StoreHippo multi vendor marketplace solutions according to your business needs. You can leverage the MACH architecture for ecommerce to build your disruptive multi vendor marketplace.
4. Does StoreHippo offer hyperlocal delivery management solutions?
Yes, StoreHippo offers hyperlocal delivery solutions for your food delivery marketplace. It comes with 30+ pre integrated shipping providers and automated shipping solutions. StoreHippo also offers a built-in delivery boy system to help marketplace vendors manage their own fleet of delivery boys.
5. How can I offer personalized deals and offers with StoreHippo?
With StoreHippo's built-in discount engine, you can offer personalized deals and offers to your customers on the food delivery platform. It offers easy tools to segment the customers and customize deals and coupons based on multiple factors like order value, purchase history etc.
6. Do I need third-party inetgrations to manage orders, deliveries, payments etc?
No. You do not need to integrate with third-party softwares in order to manage your day-to-day business activities. StoreHippo comes in-built with comprehensive solutions for vendor management, product management, order management, delivery management etc.
7. What kind of marketing tools does StoreHippo offer?
StoreHippo offers a wide range of in-built marketing solutions for you to market your food delivery business well. You can boost your marketplace footfalls with quick and smart marketing tools like powerful discount incharge, coupon codes, abandoned cart recovery, peraonalized notifications, SEO tools etc.
8. How can I offer customized notifications to my customers?
With StoreHippo you can connect with your audience and power your communications with the unified notifications feature from StoreHippo. It enables you to add custom notifications and retarget your customers through email, SMS, browser, push etc.
9. Can I integrate my own delivery solutions on my food delivery platform?
Yes you can. StoreHippo offers 30+ pre-integrated shipping partners to help you streamline your hyperlocal deliveries. You can also integrate your own preferred shipping provider seamlessly with StoreHippo. With a dedicated delivery boy management system, you can also manage your own fleet of carriers and delivery boys for hyperlocal deliveries.
10. Can I offer omnichannel ecommerce solutions with StoreHippo?
Yes, you can. With the next-gen omnichannel solutions from StoreHippo, you can seamlessly create multiple customer touchpoints with the same backend logic and APIs. Target your food delivery customers on multiple channels and boost your conversions.
11. Can I offer different payment options like COD, online payment, store wallets etc on my food delivery marketplace?
Yes, with StoreHippo's 60+ doemstic and international payment gateways, you can seamlessly integrate multiple payment options on your food delivery marketplace including COD, digital wallets, debit/credit cards etc.