The FMCG industry of India is now making its presence felt in the ecommerce market. The sales of FMCG products on the internet is expected to cross over $4 billion by 2022.
The concept of ecommerce has gained popularity with players like Amazon, Flipkart, Snapdeal. But with the entry of online platforms like BigBasket, Grofers, the FMCG ecommerce has taken a big leap.
Sales of fast-moving consumer goods online are crossing all the bars and expected to reach $4billion by 2022. No wonder, online marketplaces like Amazon, Flipkart, Snapdeal are growing leaps and bounds in the past few years.
Gone are the days when people would visit retail stores to purchase products. At the same time, creating a fancy website and vibrant colors does not propel customers to buy from your online store. The entry of online platforms like BigBasket, Grofers has proved the high growth scope in the fast-moving consumer goods ecommerce market.
Are you also amazed with the concept of online marketplace and leverage the opportunities that a brick and mortar store can't offer.
The top 5 FMCG multi vendor marketplaces in India
1. Big Basket
This company is one of the most popular online grocery markets in India. Launched in 2011, Big Basket offers a wide range of best quality grocery, personal and household products at affordable prices. Since its inception, the company has grown massively and servs millions of customers across the country.
2. Grofers
The Gurugram based company was found in the year 2013 and went over to raise around $10 million within the next 2 years. Grofers has initially started as a B2B model and soon after realizing the growth potential of marketplace apps, it has entered into the B2C online business.
3. JioMart
JioMart is powered by Reliance Retail and Reliance Jio. The soft launch of this ecommerce venture has been announced by Reliance Industries in December 2019 and now it is launched in over 200 cities in India. The company delivers groceries and other household essentials at the doorstep of customers with an easy-to-use online platform.
4. Nature's Basket
This multi vendor marketplace is one of the top groceries and food retail chains launched by Godrej. The company has a vision of redefining the freshest and finest food experience to the customers. Nature's basket has shown a tremendous growth trend over the years.
5. Amazon Prime Pantry
Amazon is one of the top brand names in the ecommerce industry. And with a highly strong customer base, the company has entered into the FMCG products segment with Amazon Pantry. The success of the company is largely stemmed from its innovative technologies and business processes. Today, Amazon Pantry captures millions of online shoppers and is climbing up the ladder of success.
While it seems that the consumer spending has been reduced in the lockdown scenario as people are not going out. The fact here is that consumers prefer to stay at home and use online platforms to purchase almost everything. Today, online buying is not limited to clothing, electronics, and books. In fact, the online shopping list includes consumer items like hair oil, shampoo, soap, grocery, packaged foods, and many other household items.
Have you ever wondered how the post-pandemic purchasing patterns will impact the future of FMCG multi vendor marketplace? Let's get some facts straight.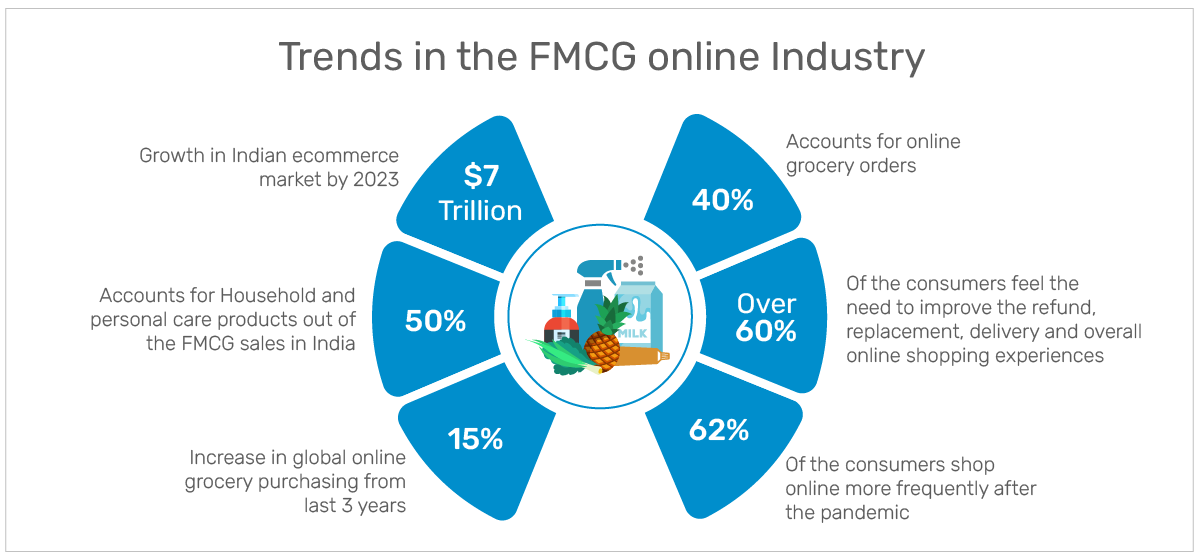 Indian ecommerce market will reach to $7 trillion by 2023

Grocery accounts for 40% online orders

Global online grocery purchasing is up by 15% from last 3 years

Household and personal care products accounts for 50% of the FMCG sales in India

62% of the consumers shop online more frequently after the pandemic

Over 60% of the consumers feel the need to improve the refund, replacement, delivery and overall online shopping experiences
So, now you already know that the future of online fast-moving consumer goods business is super bright. Don't wait anymore to rise and shine with it.
Create your online store to sell FMCG products with StoreHippo
Sell More FMCG Products through M-commerce
Mobile commerce is not the next big thing but it is the thing of TODAY. By 2021, the mobile ecommerce sales of fast-moving consumer goods are expected to account for 54% of the total online sales. Don't you want your store to be available where most of the consumers are? Well, it is not just enough if your website and online store works well on the mobile devices. Mobile commerce is much more than this. The m-commerce capabilities of StoreHippo can help you get more orders, improve customer engagements and conversions on your marketplace app. The cherry on the top is that you can get your PWA store and mobile apps (Android/iOS) live without any additional cost.
High-end scalability to grow along your FMCG store
This industry has a proven history of generating business growth and enjoyed undeniable success. To win in the coming decades, your online platform should also grow along your store. These needs make scalability as a very important feature for your multi vendor marketplace.
As you deal with a wide variety of products and brands, it becomes vital for the ecommerce platform to scale considering the unprecedented scenarios. Just like the StoreHippo ecommerce platform is built on the next-gen MEAN stack technology to offer an inherently scalable solution for fast-growing businesses.
Boost hyperlocal sales to grow your online business
Hyperlocal ecommerce is one of the most popular strategies in the online world because it provides the much-needed boost to the business. The time has gone when only popular online stores had the opportunity to grow online. In fact, people who search locally have more than 80% chances of visiting and buying from the store. And that's a very high chance. Luckily, StoreHippo offers just the right tools to strategize hyperlocal marketing that focuses on reaching local and interested buyers.
Efficient targeted communication to promote right products at right time
Can you recall the last time you visited a supermarket? An executive walk around you to recommend the right products according to your needs, saves your time to enhance your shopping experience.
Well, you can offer the same while selling the FMCG products online. With the customer registration, you can obtain a lot of relevant information about customers. And the advanced marketing features of StoreHippo can let you mine the data to send personalized offers to the customers. For example, if you are looking for pulses, the related products like rice, flour will be displayed at the same time. With many such targeted communications and personalized marketing features, you can engage with the customers and make their online shopping experience memorable every time.
Quick vendor registration with adaptive payment features
Like JioMart has followed the legacy of top players and registering a lot of vendors on their platform. You will also have to register a lot of vendors on your multi vendor marketplace. Seems like a big task? But it is not when you have the right vendor registration and management features in place.
With the quick vendor registration process, StoreHippo can help you onboard as many vendors as you want in no time. In addition, the individual vendor dashboard is provided to all the vendors to let them check each and every thing about their business like orders, inventory, profits, deliveries etc. The adaptive payment feature is offered to keep the payments transparent between different vendors. So, you just have to simply onboard the vendors on your marketplace app and rest will be taken care by StoreHippo.
Final word
Why Choose StoreHippo for your FMCG marketplace app?
FMCG ecommerce sector has gained a huge popularity after the big players like Amazon came into play. As the need for grocery, personal and household items is ongoing, so is the growth of this sector. The recent measures of COVID-19 like social distancing, the market is shifting more towards digitization. This scenario ensures the growth and sustainability of the ecommerce sector and a bright future of the FMCG multi vendor marketplace.
However, entering into this business requires a strong technology and platform to support your fast-moving consumer goods online store. If you already have amazing ideas in your mind for your existing store or want to set up a new successful online grocery store, StoreHippo has you covered for everything.

It provides you with the right technology to build your online FMCG site and marketplace app along with the amazing hyperlocal marketing features. What's even more interesting is that you need not to take any additional plugin services, instead get all your online business needs covered under a single roof. Explore the features by yourself by scheduling your free trial store now.