Ecommerce is thriving all across the world and enterprise marketplaces have replaced the traditional markets by a large percentage. Well, this is old news for us, as we are not merely witnesses, but participants of this trend too.
The value of global retail ecommerce sales worldwide is expected to be $ 8.1 trillion by 2023. The Global B2B ecommerce market is projected to reach a value of $20.9 trillion by 2027, with a forecasted CAGR of 21.07% during 2022-2030. And when we do a microanalysis of the ecommerce landscape, enterprise marketplaces have contributed hugely to the growth of enterprise ecommerce, be it B2B or B2C.

$8.1trillion expected global retail ecommerce market by 2023
$20.9 trillion global B2B ecommerce market by 2027
21.07% CAGR of B2b ecommerce during 2022-2030
Source: Statista
The marketplace model inherently benefits all the parties involved, be it the sellers, the clients or the owners/admins of the business. No wonder large businesses looking forward to scaling up quickly have built multi-seller ecommerce websites that have become the go-to place for individuals and businesses alike.
Before we delve deeper, let us check the 5 best enterprise marketplaces around the globe.
Here is a list of the top 5 enterprise marketplaces from around the world and the reasons that make them famous:
Amazon is a household name in the US, Asia, Europe, the Middle East and the rest of the world, and for good reason. Started as a book store in the US in 1994, it now sells apparel, electronics, kitchen supplies, furniture, groceries, healthcare products and whatnot. You name it and Amazon has it all! A majority of the products on Amazon are sold by third party sellers, making it the biggest multi vendor ecommerce marketplace in the world.
PayPay Mall is the second-largest online marketplace in the world and the largest in Japan. Launched by Yahoo Japan in 2019, this enterprise ecommerce website attracts 2.3 billion visits every month (in less than a year since its launch). It sells apparel, jewelry, cosmetics, home goods, electronics, and sports products.
Started in 1995 as a marketplace for secondhand items, eBay is now popular for selling both old and new products in categories such as electronics, fashion, entertainment, home products, pet supplies, collectibles, antiques, etc. In March 2020, it had an active buyer base of 174 million.
This is a leading enterprise marketplace of South America with a user base of 321 million in 2019. It was founded in 1999 and has operations in 18 Latin American countries. It sells electronics products, clothing, home items, and garden supplies.
Established in 2010, AliExpress is another name that is known across the world for selling products in almost all categories. Currently, it delivers to more than 190 countries in the world. In 2019, it recorded an active user base of 211 million people, making it one of the largest multi-vendor marketplaces in the world.
Mentioned above are merely five of the thousands of ecommerce marketplaces that exist today. All these multi seller stores have come together and made the ecommerce industry what it is. If you wish to start a similar enterprise ecommerce marketplace website and are looking for enterprise ecommerce solutions for the same, then StoreHippo is your answer.
Here are the USPs of StoreHippo that make this platform the best choice for building enterprise ecommerce marketplace websites: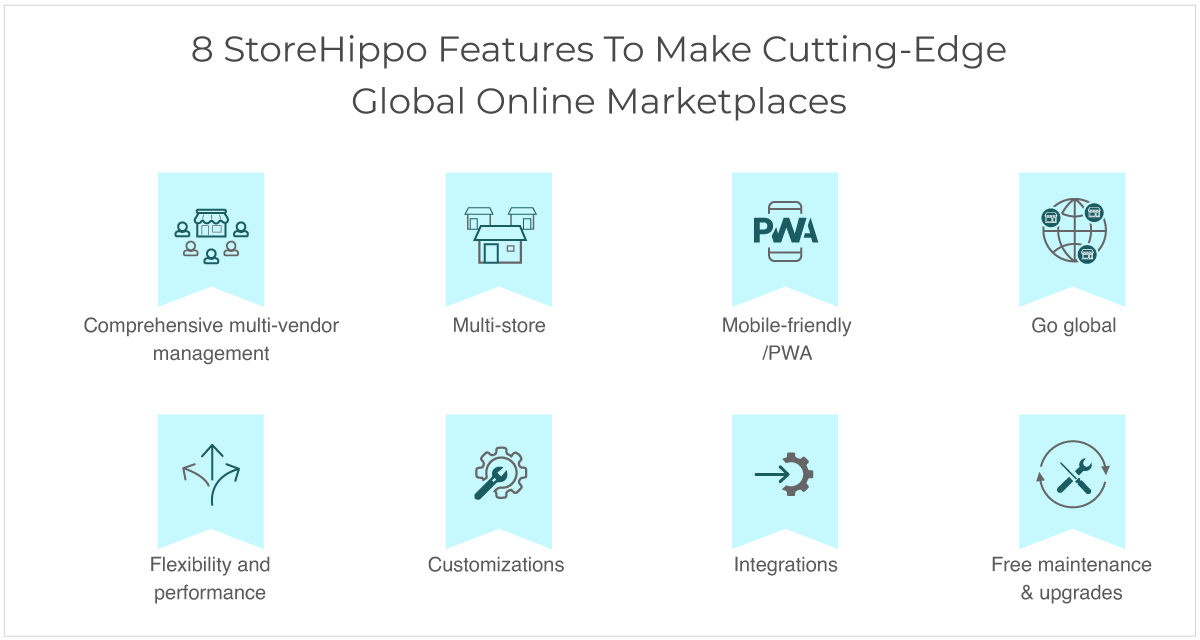 StoreHippo allows you to onboard multiple vendors and manage them right from your dashboard. It lets you create separate seller pages, control approval flow, calculate commission and taxes automatically, and even carry out vendor comparison.
This feature allows the store admin to display different storefronts for different product lines, geographies, customer segments etc. This helps in targeted marketing that promises a better ROI for the enterprise marketplaces business. For example, a fashion store can display itself as an apparel store or a cosmetics store, depending on the customer. It allows features such as unique URLs for different stores, store specific discounts, choice of store selection to customers, etc.
Let's be honest, we'd rather shop on our phones than turn on our laptops every time we want to add a product to the shopping cart. With mobile phones accessible to a majority of the users 24*7 and the ease of shopping through mobile, it has become important for businesses to be available on mobile in order to ensure maximum reach.
StoreHippo is a mobile-friendly platform that builds PWA websites that look, feel, and work like mobile apps. Moreover, when you opt for enterprise ecommerce solutions by StoreHippo, you can build Android and iOS apps for your website right from the admin dashboard without any coding or additional costs.
This is a useful feature that comes in handy when an enterprise marketplacesdecides to expand their business and step into the international market. The ideal ecommerce platform would allow their user to opt for go-global feature without having to disrupt their already existing website.
When you start a business, it is important to prepare in advance for it to grow. For ecommerce, being prepared means having a flexible platform that expands as the business expands. A flexible platform promises high performance even with increase in the traffic, whether it is during the peak seasons or with regular growth of your enterprise.
StoreHippo is a SaaS-based ecommerce platform for large businesses that is equipped with the latest technology to deal with peak load spikes.
One of the most useful enterprise ecommerce solutions offered by StoreHippo is customization.
Different brands have different voices. A grocery website would have more product categories than other websites. A medicine website would use serious fonts. And a kids' products website would look weird in black and white, wouldn't it? A professional services website would look great in pale colors, but a kids' brand would use lots of funky colors and designs.
The right ecommerce platform would allow its users to use their brand voice on their ecommerce website by giving them an array of options in theme, layout, font, colors, displays, etc. So, whether you have a B2B or B2C enterprise marketplace, the ecommerce platform that you use should be customizable.
An ecommerce business involves a lot of steps from online payments, and shipping to marketing and promotion. It would be helpful for large businesses if parts of their process could be automated. This is why StoreHippo allows integrations for common functions of all ecommerce businesses. Three of them are:
StoreHippo supports integration with a big number of logistics providers such as FedEx, DTDC, Blue Dart, etc. With Shipkaro, their shipping solution for enterprise ecommerce, you can avail benefits such as automated order sync, partial and bulk fulfilment, delivery boy management, etc.
StoreHippo supports a number of payment gateways such as Razorpay, PayU, HDFC Bank, PayPal, etc. to facilitate ease of payment from any corner of the world.
When users complete a purchase from an ecommerce marketplace, they expect to be notified about it through SMS and email. Regular communication with the customers is important for any ecommerce business, whether it is for sharing updates or promotion. StoreHippo enterprise ecommerce solutions include integration with a number of SMS and email providers.
With StoreHippo, you don't have to be concerned about maintaining and upgrading your enterprise website from time to time. It offers automatic upgrades so that you can focus on your core business instead of worrying about maintaining the website.
Building a successful B2B or B2C ecommerce business in the world requires brands to choose the best enterprise ecommerce solutions. With cutting-edge enterprise platforms like StoreHippo brands can build highly advanced multi vendor ecommerce enterprise marketplaces for their business.
StoreHippo built on MACH architecture uses decoupled headless commerce solutions to enable large brands to build tailor-made solutions for their brand. With 120+ integrations and 300+ built-in features, StoreHippo offers plug-and-play enterprise solutions for building online marketplaces of every size and business model.
Ready to explore the features that help your brand stay ahead of competition?Get readsy to do amazing things for your business, start StoreHippo's 14-day free trial now.
1. Can StoreHippo build enterprise marketplaces?
Yes, StoreHippo can build enterprise marketplaces with its well rounded marketplace solutions. With its plug and play solutions, StoreHippo helps brands reduce the cost of setting up a marketplace, improve business efficiency and offer a host of advanced features for the ease of use.
2. Can I create multiple unique stores for different product lines, geographies, customer segments etc with StoreHippo?
Yes, you can. StoreHippo offers comprehensive location-based multi store ecommerce solutions for you to create multiple sub-stores for different product lines, geographies, customer segments etc.
3. What features does Storehippo offer to facilitate cross border ecommerce on an enterprise marketplace?
The battle tested solutions from StoreHippo enable enterprise brands to build online marketplaces and expand their reach to global customers with the following features:
Multi-lingual feature to connect easily with the customers
Multi currency feature for the customers to pay in preferred currencies
60+ integrated payment gateways
Integrated logistic providers and shipping aggregators for international shipping
Wide range of marketing tools to plan customized marketing strategies for different geo-locations
StoreHippo offers the best global ecommerce solutions to facilitate cross border ecommerce on enterprise marketplaces.
4. How will StoreHippo handle scalability when my enterprise marketplace grows quickly?
StoreHippo is built on scalable cloud-infrastructure that accomodates the growth of your enterprise marketplace even if it grows astronomically. StoreHippo's elastic scalability makes it the best fit solution for fast growing enterprise brands..
5. I need tailor-made solutions but also want to launch my online marketplace really fast. Is it possible with storeHippo?
Yes, it is possible to quickly launch your online marketplace and yet build tailor made solutions using StoreHippo. You can combine the convenience of the ready-made solutions with the flexibility of the platform to build tailor made solutions that suit your business needs.
6. What mobile commerce solutions does StoreHippo offer?
StoreHippo enables enterprises to leverage m commerce with its in-built mobile app solutions. Enterprise marketplaces can create mobile apps right from their dashboard with no need of time consuming coding. They can target segmented customers better with separate shopping apps for each of their sub-stores. Also the stores powered by StoreHippo are PWA that look, feel and work like mobile apps even on entry level devices.
7. Do I need multiple additional plugins to manage my enterprise ecommerce business?
No. You do not need to add any additional plugins to manage your enterprise ecommerce business. StoreHippo comes with in-built solutions to manage vendors and day-to-day business activities like end-to-end vendor management solutions, powerful discount engine, inbuilt marketing solutions etc.
8. What kind of integrations does StoreHippo enterprise ecommerce solutions offer?
StoreHippo offers multiple integrated solutions for selling and processing your orders on the enterprise marketplace. StoreHippo is a one-stop solution that takes care of your business activities with its multiple integrations like payment gateways, shipping solutions, logistics providers, marketing tools, ERP, CRM etc.
9. What are the marketing features offered by StoreHippo?
StoreHippo offers advanced marketing features to help enterprise marketplace grow traffic and boost conversions. Following are the ecommerce marketing features that help in quick, smart and successful marketing:
Multi-level discount engine
Coupon codes generator
Automated cart follow up for adabndoned carts
Support for unified notifications
Third-party chat solutions
Inbuilt SEO tools to drive traffic
With such diverse tools and integrations, businesses can ensure effective marketing and grow exponentially.
10. Do I need to upgrade my enterprise website from time to time with StoreHippo?
No, you do not need to upgrade your enterprise marketplace from time to time. StoreHippo ecommerce solutions is a SaaS-based wholesale ecommerce platform that offers a fully hosted and managed solution. You do not need to worry about managing servers and upgrading software.