Did you know that the birth rate in India is 100 babies every two minutes? Surprised, how can this fact be a business idea for you? Well, it shows that there is no better time to start the business of selling baby products.
The need for baby products is not running out anytime soon. Even during difficult times, parents need to continue shopping for baby essentials. They might cut back on their essential items but buy products for their children.
The online market of baby care products started way back in 2010 with Firstcry.com and since then, many other players have entered in this category.
Here is a list of the five most successful marketplaces for baby products in India:
It is the largest online store for baby and kids' products in India and Asia. The online store maintains all kinds of baby, kids, and maternity products. The company owns over 380 stores across the country.
It is an India based ecommerce store and provides access to exclusive baby and kids products across the world. This startup has shown a consistent business growth of 700% year after year.
Being in the A list of fashion brands, Myntra has expanded into a wide range of baby products in India. It has over 40 dedicated brands and 100 national brands in baby wear products. The company is also planning to onboard organic clothing brands for infant wear products to gain more traction.
Amazon has already aced the world of ecommerce with the concept of a multi vendor marketplace. In 2018, it launched a dedicated online baby product store with a wide selection of baby products.
Soon after the popularity of baby products online, Flipkart has entered into this segment with dedicated brands like Gini & Jony, Crocs, US Polo kids, Miss & Chief, and more. The company has also launched a parents club program to scale up the baby wear product segment.
Well, just like Lego has replaced the conventional wooden building blocks while barbies have taken over the traditional cloth dolls, multi vendor marketplaces have replaced the brick-and-mortar stores to sell baby products.
Are you also thinking of opening an online marketplace to sell baby products? Here is everything you need to know before starting your online marketplace.
The success of top players in the baby products segment has proved the potential in this industry. If you are also inspired by their success stories and finally decided to start your own multi vendor marketplace.
Here is the A-Z plan to build your own marketplace website:
Step 1: Choose a domain of your choice and register it


Step 2: Decide your ecommerce platform. Choosing the best platform like StoreHippo sets your online business foundation in just the perfect manner


Step 3: Choose a beautiful readymade website theme or use drag-and-drop features to create your customized theme with StoreHippo


Step 4: Ensure high-end website security with the FREE SSL protection


Step 5: Build your site ready for mobile and get going with PWA stores and mobile apps (iOS/Android) directly from your admin panel of StoreHippo


Step 6: Ensure multiple payment channels to accept customer payments and send varied payout to your vendors


Step 7: Onboard vendors in just a few clicks with StoreHippo easy-to-use platform. Setup payment, commission and tax rules for individual vendors


Step 8: Start optimizing your multi vendor marketplace for enhanced online traffic


Step 9: Promote your business with automated marketing tools even before the website is launched


Step 10: Go Live and start earning
Here is a list of features you need to build a baby products marketplace :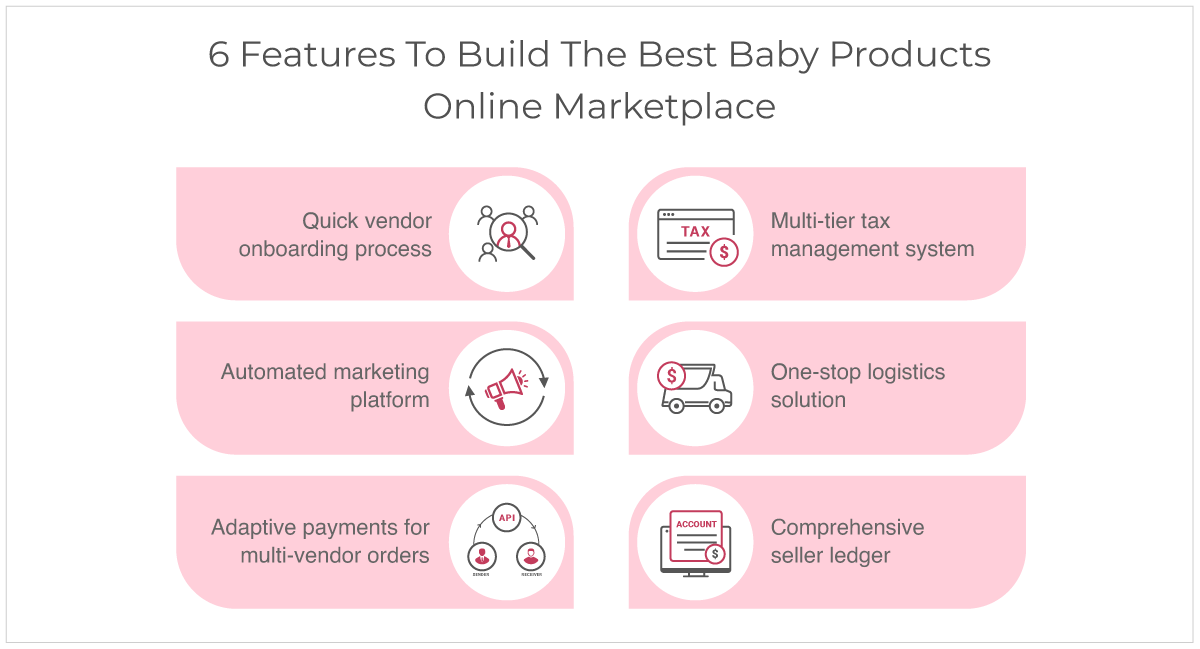 Attracting vendors is one of the most difficult jobs when you open your multi vendor marketplace. But a quick and easy vendor registration process can make a big change. StoreHippo eases the vendor onboarding process in a few clicks and also helps the vendors with products, payments, orders, and customers.
Nobody wants the endless accounting hassles in business. To help you manage the tax management issues, StoreHippo has come up with a multi-tier tax engine that calculates the tax at multiple levels based on products, location of the sellers.
Start leveraging the power of marketing with the automated marketing tools and powerful discount engine. StoreHippo offers personalized marketing features and an automated marketing engine to help you create a variety of coupons and promotions based on customer insights. You can help vendors create their customized discounts based on products, seller, order, device, time etc.
Shipping integration is the lifeline of a multi vendor marketplace. Without an end-to-end logistics solution, it is impossible to run your online store successfully. We at StoreHippo understand it and help you manage the complete shipping process from a central dashboard sitting at the comfort of your place.
Managing an online marketplace is as easy as pie when you have the right tools and technology at place. Say for example, a customer places an order for 10 products and every product belongs to a different seller. Now, you cannot ask the customer to make payment 10 times. Here, the role of the adaptive payment feature of StoreHippo comes into the play. You can process seamless payments between admin and sellers directly from the payment gateway without any hassles.
Every business and vendor has their own set of rules and procedures. So, the order volumes, transactions, products, and payment conditions also work differently. Of course, it does not make sense to set up these rules manually for every vendor. Here, StoreHippo comes to the rescue and allows the multi vendor marketplace owner to set up vendor rules for payment, commissions, etc. easily. With the comprehensive seller ledger, it is a cakewalk to track the vendor transactions, payments, invoices, pending orders, and more.
Be it FirstCry or Amazon, they all have leveraged the market trends. And there is no better time for you to start growing your business by selling baby products online. As we said earlier, choosing an ecommerce platform builds the foundation of your online marketplace.
So, don't compromise and build your top-class marketplace with StoreHippo. It comes with 300+ inbuilt features to serve your B2B as well as B2C online store needs. Our turnkey solution has been trusted by many multi-vendor websites for out of box models and made it possible to become the best in the online world. Check out the extensive features of our multi vendor marketplace solution by starting your 14-day free trial today.
1. What solutions does StoreHippo offer for building a baby products multi vendor marketplace?
StoreHippo offers a comprehensive SaaS-based 360-degree ecommerce marketplace solutions to help you build a baby products multi vendor marketplace. You can quickly build, run and manage your marketplace with the end-to-end vendor management solutions, multiple payment gateways, in-built marketing solutions etc. from StoreHippo.
2. How can I manage the vast baby products catalogue on the marketplace?
With the product management solutions from StoreHippo, you can get better visibility of your vast baby products catalogue and manage the products in your backend and storefront easily. You can add, delete, edit, import, export, search or filter, publish or unpublish a single or multiple products with a few clicks.
3. Can I leverage unique designs and themes for premium and regular customer segments?
Yes, you can build unique landing pages with unique designs and themes for different buyer groups using StoreHippo's theme designer solutions. The built-in drag-and-drop tools help you customize themes for unique audience segments. You can tweak the front end and the back end with much ease and make new dynamic pages for new marketing campaigns.
4. How can I offer personalized buyer journeys to my customers on the marketplace?
You can build personalized buyer journeys for your B2C customers using API based headless commerce architecture from StoreHippo. The decoupled headless ecommerce solutions helps brands go build customized solutions for targeted marketing and faster growth.
5. Can I set up different location-based stores for my baby products marketplace?
Yes, you can seamlessly create multiple locations-based sub-stores and cater to various needs and demands of your customers with StoreHippo. You can create a chain of sub-stores and manage them all by a simple, easy to use central dashboard.
6. What are the marketing tools offered by StoreHippo?
StoreHippo offers a rich gamut of in-built marketing tools to help you market your baby products well. You can quickly boost your conversions with smart marketing tools like personalized notifications, powerful discount engines, coupon codes, abandoned cart recovery, SEO tools etc.
7. Can StoreHippo help me in reaching global customers?
You can reach global customers with StoreHippo's go-global features. StoreHippo comes with 60+ pre-integrated domestic and international payment gateways and multiple currencies to help you offer a seamless checkout process. You can also build multilingual websites to communicate better with your audience. The powerful tax engine helps you calculate location-based taxes and generate multi-currency invoices.
8. What will be the cost of additional plugins to manage vendor inventory on my multi vendor marketplace?
StoreHippo comes with in-built end-to-end vendor management solutions to help you seamlessly manage vendors on your multi vendor marketplace. The answer is you do not need to incur any costs on additional plugins with StoreHippo.
9. Can I offer hyperlocal delivery solutions to my customers with StoreHippo?
Yes, you can offer hyperlocal delivery solutions to your customers with StoreHippo. StoreHippo offers comprehensive location-based ecommerce solutions including features to facilitate faster delivery with location-based settings. StoreHippo's built in delivery boy solutions enable brands to streamline their hyperlocal deliveries using their own fleet of delivery boys or their preferred last mile delivery partner.
10. I want to onboard local sellers on my marketplace. Do I need to do it manually or can it be automated?
StoreHippo offers a quick, easy and automatic vendor registration process that allows each vendor to register with complete details on the platform. Upon registration, a unique vendor account is created for each vendor with complete details of the vendor company, address, login, bank details etc. in one go.