The ONDC network has achieved a remarkable milestone by crossing over 1.1 million retail orders and 5.4 million mobility transactions. The growth chart of the ONDC Network has been astronomical since it started servicing limited pin codes of Bangalore on 30 September 2022.
Often referred to as the UPI for ecommerce, the ONDC network is changing the way ecommerce is done in India. The open network is set to make online selling and buying easier for all concerned parties, i.e., the sellers, buyers and other service providers.
Before we delve deeper into the concept of the open network, what is the ONDC Network Buyer app, how buyers can order via the buyer app and benefit from it, let's first check out some amazing figures of ONDC Network's growth.
In less than a year, the ONDC network has crossed many remarkable milestones growing from 800 merchants in January 2023 to 1.5 lakh sellers by August 2023.
Here are some amazing trends from the journey of the open network.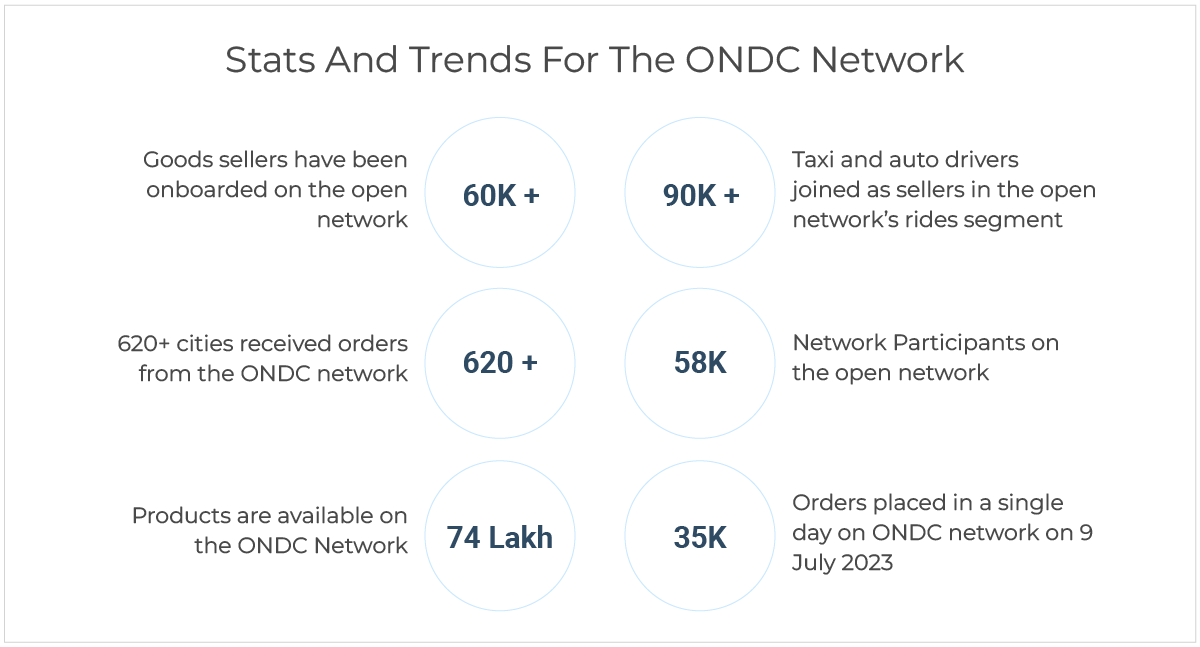 60,000+ goods sellers have been onboarded on the open network (and the numbers grow daily)
90,000+ taxi and auto drivers joined as sellers in the open network's rides segment
620+ cities received orders from the ONDC network
58 Network Participants on the open network
74 lakh products are available on the ONDC Network
35000 orders placed in a single day on ONDC network on 9 July 2023
Source: The Hindu Business Line, Economic Times, CNBC TV18, Swarajya, Live Mint
The open network is surely making great strides as is evident from the figures and trends.
The first-of-its-kind ecommerce setup of the open digital network is designed to democratize online selling and buying by doing away with the monopolistic practices of popular marketplaces. While the sellers can quickly register on the network using a seller app, buyers can conveniently discover all the sellers and their catalogs through an ONDC network buyer app.
While the ONDC network will enable sellers to cater to buyers across India, for the buyers it will offer a platform where they can explore huge catalogs from sellers across the country and buy products as diverse as grocery, electronics, everyday essentials, beauty products and fashion, order food or even hail a ride.
The open digital network opens up the market for buyers as well as sellers and gives both groups access to unlimited products, services and customers.
To understand the concept, let us take a real-life example. Suppose a buyer Ramya Sharma wants to buy wheat flour online. She searches for wheat flour on the ONDC network. As soon as she types "atta" and hits enter, her request is taken up and processed by the multi-domain network registry.
After processing the request, Ramya will be shown a list of ONDC network registered sellers who are delivering Atta or wheat flour in her geolocation. Ramya will be able to compare and choose among the sellers based on her budget, available atta quality and options.
Since the open network for digital commerce protocol is designed to show hyperlocal results first, it inherently ensures the growth of hyperlocal ecommerce and faster deliveries for the buyers. However, the buyers always have the option to choose sellers from far off locations also who can deliver to their given location.
Buyers can easily purchase from any of the sellers registered on the network by using the ONDC network buyer apps. What's even more exciting is that all of this can be done from one single ONDC network buyer app like Mystore or any other.
Using the buyer apps, customers will no longer have to be limited by the sellers and products offered on big marketplaces, rather they will be able to access even the local grocery, apparel or utility shops( registered on the open network) that had no online presence earlier.
ONDC network buyer app is the interface which enables buyers to connect with the sellers, their products and any other service providers ( for example payments providers etc.) on the open network. The interface can be in the form of a mobile app, mobile web/PWA, Web App or even a wearable device interface like WatchOS.
Using one of the buyer apps approved by the ONDC network, the customers can access and use the services of a variety of sellers offering products and services in the buyers' geolocation. The buyer apps make it possible for customers across India to compare the products and prices of different sellers and make an informed decision that suits their budget and requirements.
The sellers accessible through the ONDC network buyer app can be new sellers registering online for the first time or sellers who are already selling on different marketplaces. Different players in the ecommerce space have come up with feature-rich seller apps to facilitate buying on the open network. The top 3 buyer apps to make seamless checkouts on the ONDC network are:
Mystore® Buyer App for the ONDC Network


PayTM app


PhonePe app for Buyers
To understand how the ONDC Network buyer app functions let us take a simple example. Suppose Ms. Ramya Sharma from the above example wants to buy basmati rice. So when she uses one of the buyer apps for the ONDC Network and searches for basmati rice. Her request is sent to the multi-domain network registry which identifies all the sellers selling basmati rice and returns the results as below:

Suppose Ramya chooses the M.P. Store which delivers basmati rice for Rs 125/Kg. Since M.P Store is nearby Ramya's house, she will have to pay just Rs. 10 only as delivery cost and can also get faster delivery.
By using ONDC network buyer app to order from the sellers on the Ramya gets her order delivered to her doorstep for just Rs. 140. Also she got multiple choices where she could have opted for free delivery in a stipulated time or quick delivery by paying additional shipping charges of Rs. 25.
Buying through the open network helped Ramya to source her desired product quickly, easily and at a cheaper cost. Once Ramya makes the payment, M.P.Store will receive the order alert and can process the order and align it to be shipped to the buyer's (Ramya's) address.
While shopping on the open digital network gives a huge variety of options to the customers, they need an advanced and feature-rich user interface that makes their journey seamless. To experience the full benefits of the open network, customers need the best ONDC network buyer apps that enhance their online shopping experience.

To help buyers have a great shopping experience on the open digital network, StoreHippo brings the list of 3 best ONDC network seller apps. Here we go:
Mystore® is an Indian marketplace connected to the ONDC network. Powered by StoreHippo the feature-rich Mystore Buyer App also has its ONDC network seller app. Unlike other apps that were developed as a value-added service, the Mystore app for ONDC network buyers is designed to offer the most amazing buying experiences on the network.
Customers using the multilingual Mystore Buyer App get support for multi-seller carts, faceted search, seamless checkouts, transparent order tracking etc. What's even more exciting is that the buyers can shop in their preferred language from English, Hindi and Kannada.
The Mystore Buyer App combined with Mystore Seller App provides buyers with seamless connectivity to different SMEs, FPOs, D2C brands, FnB sellers and more. With the Mystore buyer app sellers can buy products across categories from sellers throughout India.
Mystore app for buyers enables customers to discover and buy goods and services, make payments and gives buyers an option to manage their orders, track their status and return or cancel their orders. Buyers can also send their queries to their sellers via the Mystore app. Once the orders are delivered, buyers using the Mystore app can also rate the sellers or service providers using their app interface.
Mystore is designed to support every category of products and services sold via the open network and can be accessed by buyers across India. Mystore is loved by customers for buying products across Agriculture, Beauty & Personal Care, Electronics & Appliances, Fashion, Food & Beverages, Furniture & Kitchen, Grocery, Health & Wellness, Home categories.
PayTm Mall, the well-known online marketplace of Paytm E-commerce Private Limited (PEPL), has pivoted to ONDC network and is offering a buyer app for customers looking forward to buying from the open digital network. The PayTM app enables buyers to search for products, make payments, track orders and follow up with buyers.
As of now the PayTM ONDC network buyer app is available for customers in Bangalore, Delhi, Coimbatore, Shillong, Bhopal, Lucknow, Mumbai, Chennai, Meerut, Noida, Bijnor, Jaipur, Pune, Udupi, Chandausi, Chhindwara, Chittoor, Cuttack, Ernakulam, Faridabad, Gangtok, Kancheepuram, Kannur, Kanpur, Kaup, Kolkata, Mannar/ Alappuzha, Pollachi, Ramanathapuram, Theni, Thiruvallur and Thrissur. Customers from these places can search for Grocery, food & beverage and home & decor categories using the PayTM app.
PhonePe's Pincode buyer app for ONDC network is a buyer-facing platform that enables buyers to find, choose and buy various products from different sellers. Alike other apps for the ONDC network, buyers using PhonePe's Pincode app can also pay through the app for their orders, track their orders and interact with the sellers of their orders.
The PhonePe's Pincode app is currently available in Ahmedabad, Bangalore, Chennai, Delhi, Hyderabad, Indore, Jaipur, Kolkata and Mumbai.
As per the information on official website of the open network Pincode app for buyers has the following live categories: Agriculture, Beauty & Personal Care, Electronics & Appliances, Fashion, Food & Beverages, Furniture & Kitchen, Grocery, Health & Wellness, Home.
While these top 3 apps are facilitating buyers to buy from the open network there are three other buyer apps that are serving the buyers on the open network. Here is a list of 3 more noteworthy buyer apps for the ONDC network:
Magicpin, the well-known hyperlocal FnB discovery and discount platform with a strong presence in the food sector. Magicpin buyer app for the ONDC network primarily caters to the food vertical on the open network but also has Beauty and personal care, grocery and health and wellness categories.
The Magicpin buyer app serves customers pan-India.
Craftsvilla is another buyer app that uses the open network for digital commerce protocol to match buyers with a wide range of products like beauty and personal care, electronics and appliances, furniture and kitchen products, and home and decor-related items available to buyers all over India.
The easy-to-use interface and secure payment options make it easy for buyers to shop with this app for the ONDC network.
Spicemarshop is Spice Money's ( rural fintech player on the open network) B2C buyer app for the ONDC Network. Catering to customers pan-India, the Spice Smart Shop app enables buyers to buy from the following categories: agriculture, Electronics and Appliances, Food and Beverages and Grocery.
Spice Smart Shop makes it easy for buyers to leverage the benefits of the open network and shop across categories.
ONDC network is going to be a game-changer in the commerce sphere with its novel approach towards how buyers can access sellers pan-India and vice versa. While the sellers are gearing up to make the most of the opportunity, it's time for buyers to look out for better buying experiences and opportunities on the open network for digital commerce.
To get the most seamless and connected buying experience buyers should review their apps carefully and choose one that offers them easy search and checkout options. StoreHippo's Mystore buyer app has been designed in keeping with the ONDC network requirements and along with the Mystore seller app offers smooth buying and selling experiences.
Ready to experience change by shopping on theONDC network? Check out Mystore buyer app and get started right away.
1. How is the ONDC network buyer app different from other ecommerce apps?
Unlike other ecommerce buyer apps that are platform-based, the ONDC network buyer app connects customers with all the sellers registered on the network irrespective of whichever seller app they are using.
Simply put, by using a single buyer app customers can buy from any category or seller on the open network.
2. Are all ONDC network buyers apps the same?
All buyer apps for the open network are built in compliance with the open network for digital commerce protocol and offer hyperlocal discoverability and showcase products from all sellers registered on the network.
However, some ONDC Network buyer apps are different from others in terms of their ease of use and features. For example, the Mystore Buyer app offers a multilingual feature and enables customers to experience shopping in their preferred language ( English, Hindi and Kannada). Also with the Mystore app for buyers, customers can order from multiple sellers and pay in a single transaction.
3. Is it safe to use ONDC network buyer apps?
Definitely! The ONDC Network uses a secure protocol and all buyer apps comply with two-factor authentication, ensuring data security. For being doubly secure you can check the buyer apps specifications and security patches being used.
Mystore Buyer App for the ONDC network is built on a PCI-DSS compliant platform making all transactions safe and secure. While shopping through the Mystore buyer app customers can rest assured that their personal and financial details are safe and protected with multi-level security checks in place.
4. Do ONDC network buyer apps offer payment choices?
Yes. When you are using buyer apps for the ONDC network, you get a variety of digital payment options like UPI, netbanking, digital wallets etc.
5. Can I track my orders on the ONDC network buyer app?
Yes, some apps like the Mystore buyer app come with a built-in tracking feature which enables buyers to track their package in transit. Mystore also sends SMS notifications to keep customers informed during the important stages of order fulfillment.