Online B2B marketplaces have revolutionised the B2B landscape in India. While digital adoption and mobile penetration have accelerated B2B ecommerce growth, the one factor that brought B2B traders, suppliers and distributors to mainstream ecommerce was the advent and success of B2B marketplaces like Udaan, Alibaba, IndiaMART etc.
Despite the initial inertia of B2B brands to take the digital route, the rate at which B2B brands adopted ecommerce was phenomenal. Accelerated further by the pandemic push, taking their enterprise business online became the top priority for wholesalers across India.
After all, the trends for B2B ecommerce, show a graph clearly charting a forward and upward journey. Have a look at some of the latest insights:

6X growth forecast for B2B ecommerce in India from 2021 to 2025

31% growth in B2B ecommerce deal volumes in India from 2018 to 2022

5X growth in GMV of Indian B2B marketplaces by 2027

$90-$100 billion is the GMV of India's B2B ecommerce market by 2030

$1.2 trillion is the forecasted B2B general trade opportunity in India by 2030

50% of the non-users are willing to shift to B2B marketplace platforms in the coming year
Source: Statista, Business Standard, Bain & Company, Accel
One thing is crystal clear from the data, B2B marketplaces are the hub where all the action is taking place!
While retail ecommerce is making everyday life easier for end consumers, the B2B marketplace websites are helping enterprise businesses modernize their business processes and unlock new opportunities for their brands.
The modernization of the Indian business-to-business landscape can singularly be credited to the growing popularity of B2B marketplace websites. While these portals streamlined the way wholesale business was done, they also brought together vendors, dealers, distributors, suppliers and manufacturers across industries on a common digital platform.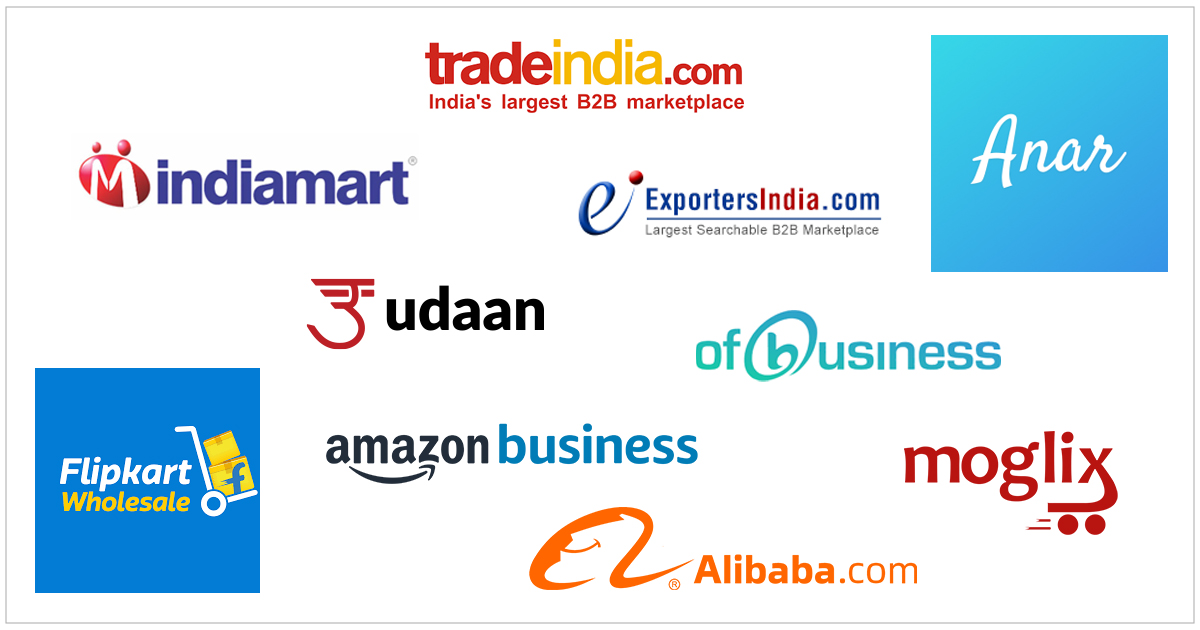 Let us understand in detail how the 10 most popular B2B marketplaces in India are helping the Indian wholesalers make the most of the ecommerce boom:
To begin with, let's start with the first B2B marketplace in India, IndiaMART. Founded in 1996, IndiaMART holds a 60% share of the online B2B classified space in India. IndiaMART's B2B multi vendor website onboards individual sellers, SMEs as well as high-volume enterprise businesses. Working on the company's mission, IndiaMART enables buyers and sellers to grow by making it easy to do business online.
Here are the core stats about IndiaMART B2B marketplace as listed on their portal:
160 Million Buyers

7.3 Million Suppliers

87 Million Products and Services
IndiaMART offers the sellers on its multi vendor marketplace portal enhanced visibility and credibility for their brand. Along with these, sellers can also benefit from the lead management system, payment solutions and access to a wide variety of sellers and products.
Udaan B2B eCommerce marketplace has grown in popularity very quickly since its launch in 2016. Touted as India's largest B2B marketplace platform, Udaan facilitates business in lifestyle, electronics, home and kitchen, staples, fruits and vegetables, FMCG, pharma, toys and general merchandise.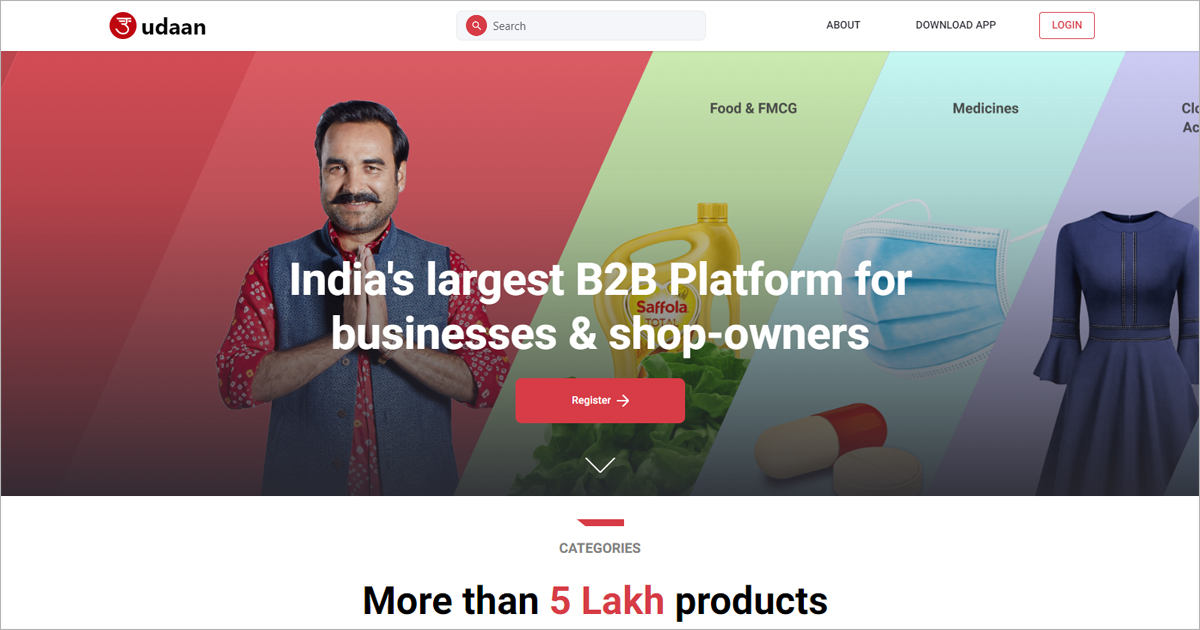 Udaan aims to solve the unique challenges of the Indian B2B ecosystem by offering low-cost ecommerce solutions to small and medium businesses. Buyers can directly connect with B2b manufacturers on Udaan's B2B ecommerce website. Udaan's statistics say it all about its reach and the kind of benefits it offers to sellers and buyers on its multi vendor marketplace. Here are the latest stats from Udaan's B2B marketplace portal:
15 million manufacturers

25–30 million retailers

10–12 million institutional businesses

3 million registered users

25,000-30,000 sellers across 900+ cities in India

12000+ pin codes covered by various sellers on the B2B marketplace

1.7 million retailers, chemists, kirana shops, HoReCa, farmers, etc.

Over 4.5 million transactions per month
Amazon is the most trusted online marketplace by customers across India whether it is B2C or B2B. After solidifying its presence as a B2C online marketplace, Amazon entered the business-to-business space in 2015 with its B2B marketplace called Amazon business.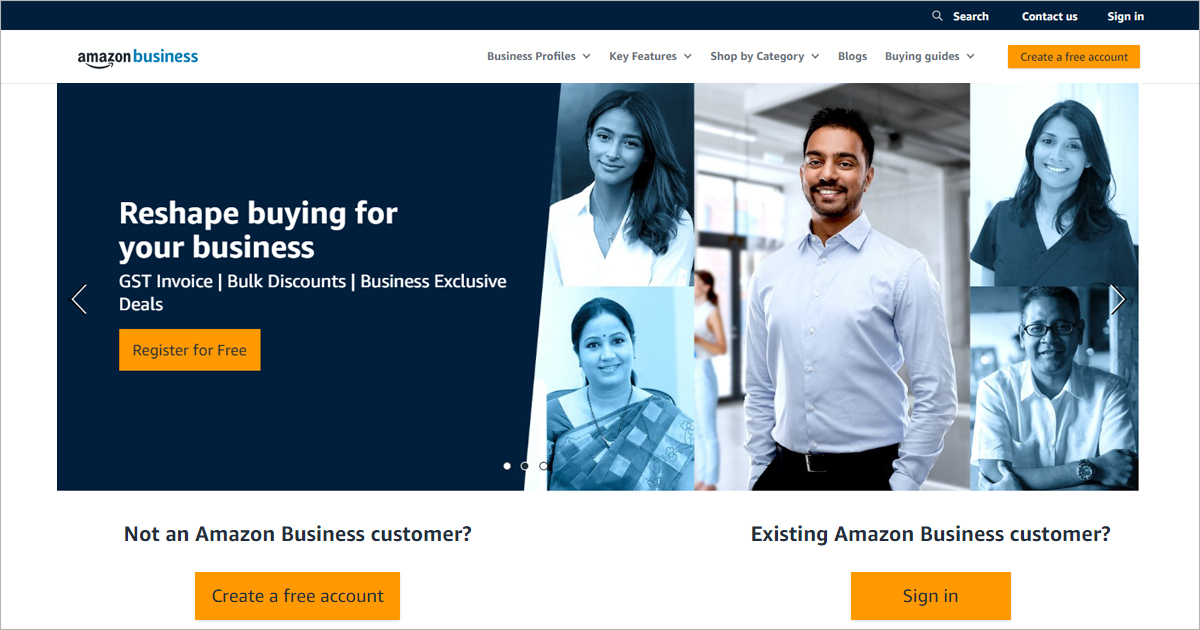 Amazon Business is currently available in two cities, i.e, Mangalore and Bangalore. There are plans to extend the reach to other business hubs of India and enable businesses with a valid business license to get onboarded as sellers on the B2B eCommerce marketplace. Amazon business is especially popular in the D2C segment with its high success rates. It enables businesses to access a large network of suppliers and get bulk volume discounts.
Here are some of the unique features and benefits of Amazon B2B marketplace:
Access to wholesale bulk pricing and discounts offered by amazon sellers across lakhs of categories

Free credit service ( up to 48 days) in association with ICICI and HDFC banks

Amazon Business prime members get additional features and deals

Health, home medical supplies, Fn B, beauty and personal care, mobile and accessories, cleaning and laundry, home, kitchen and dining and office and IT peripherals are the primary categories of sellers on amazon B2B marketplace
The leading global B2B ecommerce marketplace website Alibaba connects Indian manufacturers, suppliers, importers, exporters to millions of buyers across the globe. While Indian merchant buyers can buy from global sellers on the global wholesale marketplace, they can also reach clients across international markets. However, Alibaba's B2B ecommerce platform supports bulk purchases only.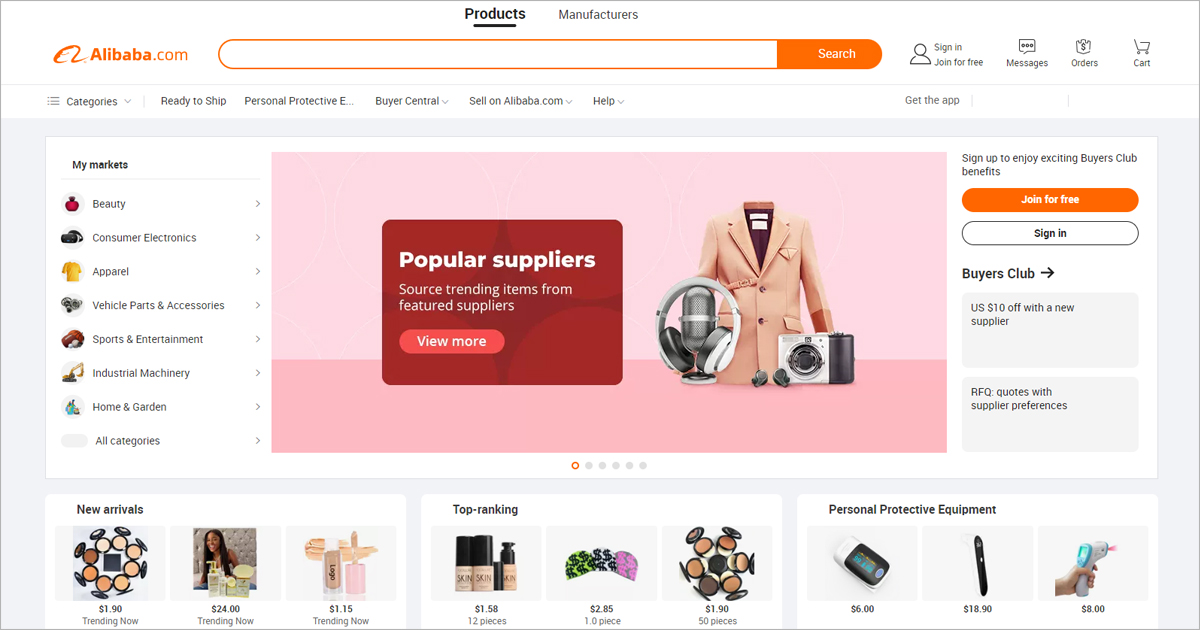 Here is what merchant sellers get on Alibaba:
Free sign up for B2B enterprises

Access to 26 million buyers across the globe

400000+ enquiries/day from active buyers

Opportunity to tap into global b2B ecommerce market worth $23.9 trillion

Features to build a digital storefront and run a business online

Intelligent marketing tools to target the right buyers on the B2B marketplace

No restrictions on order quantity, making it easy for buyers to choose the amount they wish to purchase
ExportersIndia is one of the oldest Indian B2B online marketplace. Founded in 1997, this marketplace website has been promoting digital commerce and helping trader and manufacturers in the B2B sector to go online. Using the ExportersIndia marketplace website Indian manufacturers and sellers can sell their products or services in foreign markets. With its initiative to make international business easy for B2B merchants ExportersIndia has been helping accelerate the digital adoption of B2B in India.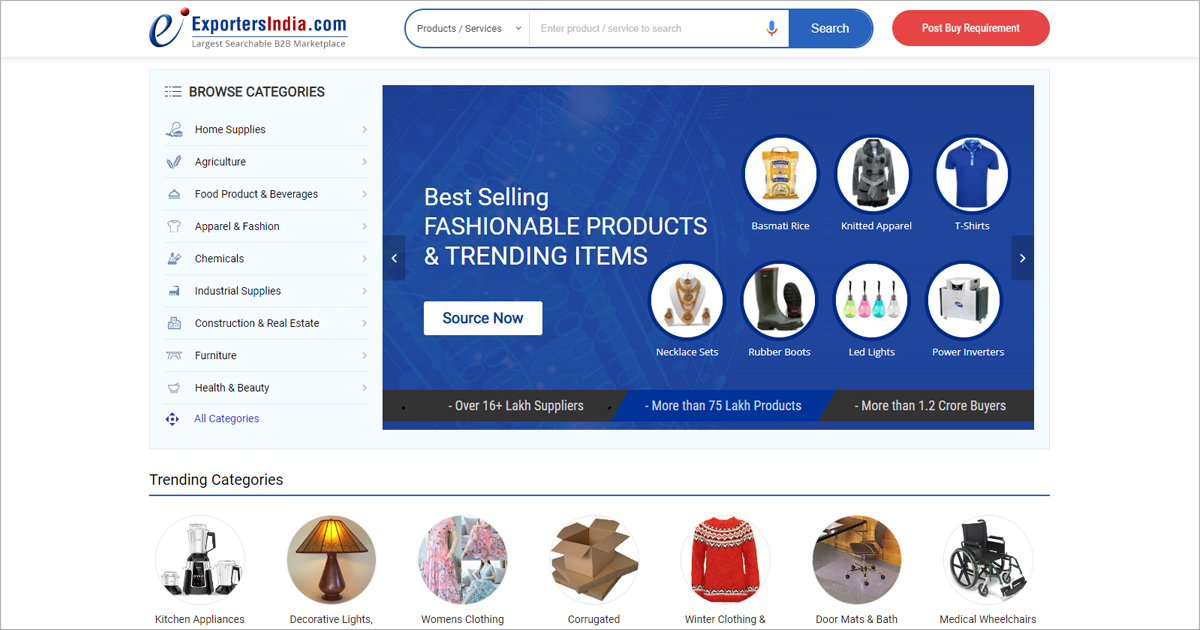 Here are the unique features of this B2B marketplace website:
Free seller and buyer registrations

14 lakh+ prospective clients

Sellers with free registration can add up to 400 products

Directly handles business queries with buyers or sellers

Round the clock live showroom for new businesses, opportunities with potential buyers, instant inquiries and exposure to global clientele to expand the business beyond boundaries
Tradeindia, the multi-seller B2B marketplace was launched in 1996. It connected Indian buyers and sellers with businesses and sellers across the globe. TradeIndia offers a digital B2B multi seller portal where sellers can easily showcase, manage and sell their products. TradeIndia is reputed for offering top-notch services to Indian and global businesses through its multi seller portal.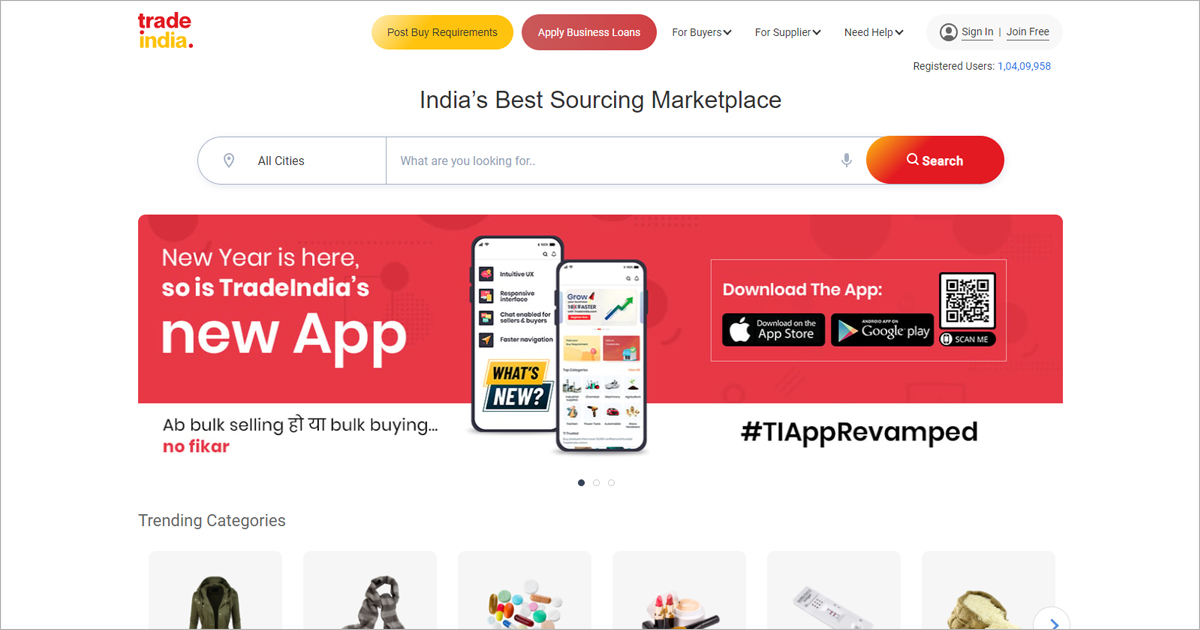 Here are the key features of TradeIndia:
4 million sellers and buyers

5 million registered users

12000+ categories and subcategories for products and services

Host of online services, trade events, and directory services to enable SMBs to promote their business globally

The B2B marketplace operates for manufacturing as well as services sector

Facilitates global buyers in locating Indian manufacturers, exporters and suppliers through the B2B online marketplace
Started as a procurement platform for enterprise businesses in the infrastructure and manufacturing sectors OfBusiness is a niche B2B marketplace. It brings together buyers and suppliers from manufacturing and infrastructure on a digital platform and helps in bridging the gap between the demand and supply of manufacturing goods. The key focus of this unique B2B multi seller portal is on improving the supply chain and enabling SMEs to sell better.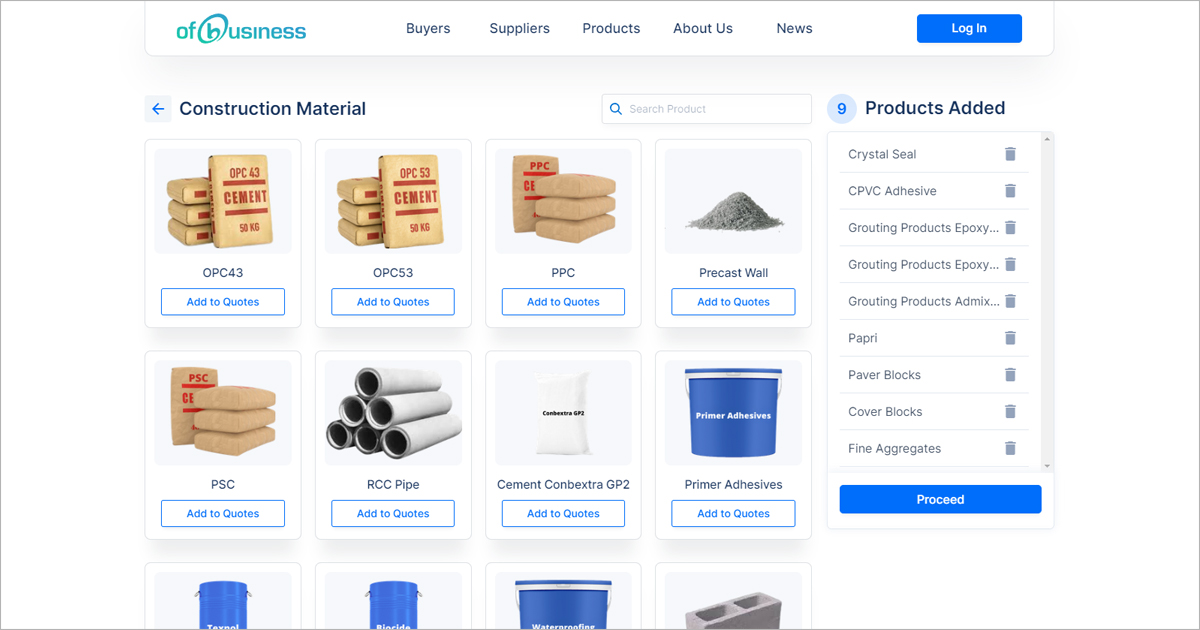 The key features of OfBusiness B2B online marketplace are:​
700000+ registered SMEs as sellers

100+ product categories with guaranteed lowest priced raw materials

Operational in 24+ Indian states

Presence in 35+ countries

Successfully done over 1,00,000 transactions

Offers NBFC Oxyzo Financial Services which offers financing for raw materials purchase based on a given SMB's cash flow
Flipkart Wholesale is the latest entrant to the list of top 10 B2B marketplaces in India. Founded in 2022, and headquartered in Bangalore, this multi seller portal is a part of the leading B2C marketplace Flipkart. By enabling small retailers and business owners to come together on a digital platform and source bulk products with the best discount margins, Flipkart Wholesale is playing a crucial role in furthering the cause of digital India.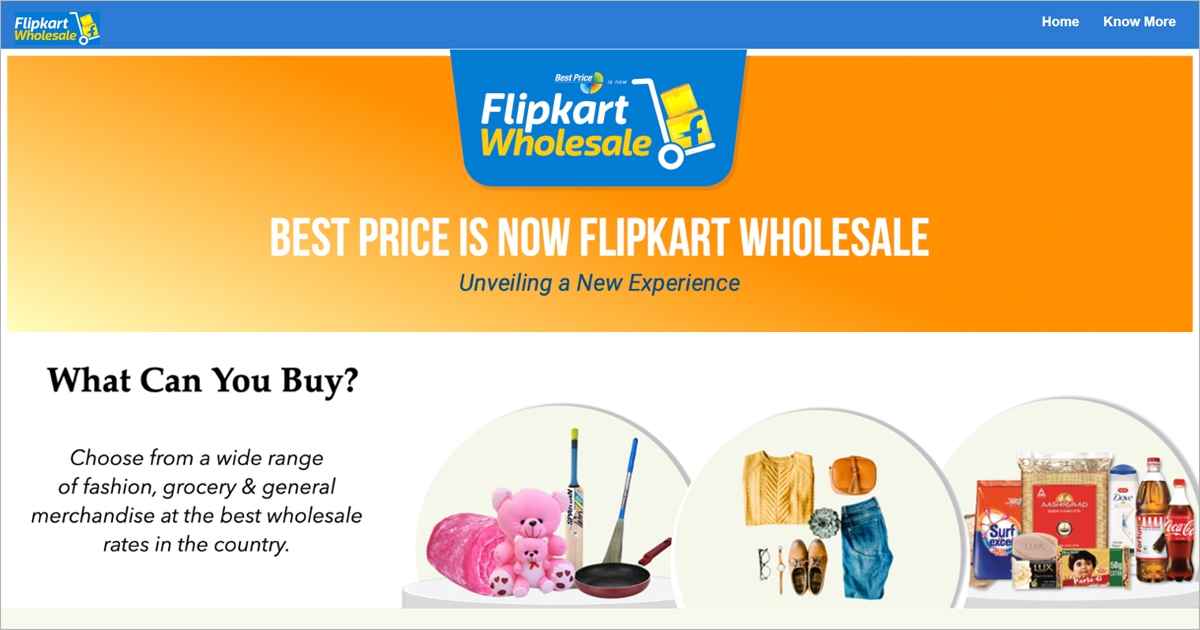 Here are the main features of Flipkart Wholesale:
The B2B marketplace caters to all categories

Whole prices for all the products sold on the platform

1.5 million B2B customers

Easy seller onboarding

Rapid adoption in tier II and III cities
Moglix is a B2B marketplace that claims to be the biggest industrial goods online marketplace in India. The novel marketplace was launched in 2015 and entered the unicorn club in 2021 by raising $120 million in investment. Further, it multiplied its valuation in just 8 months reaching $2.6 valuation to become India's best industrial B2B marketplace.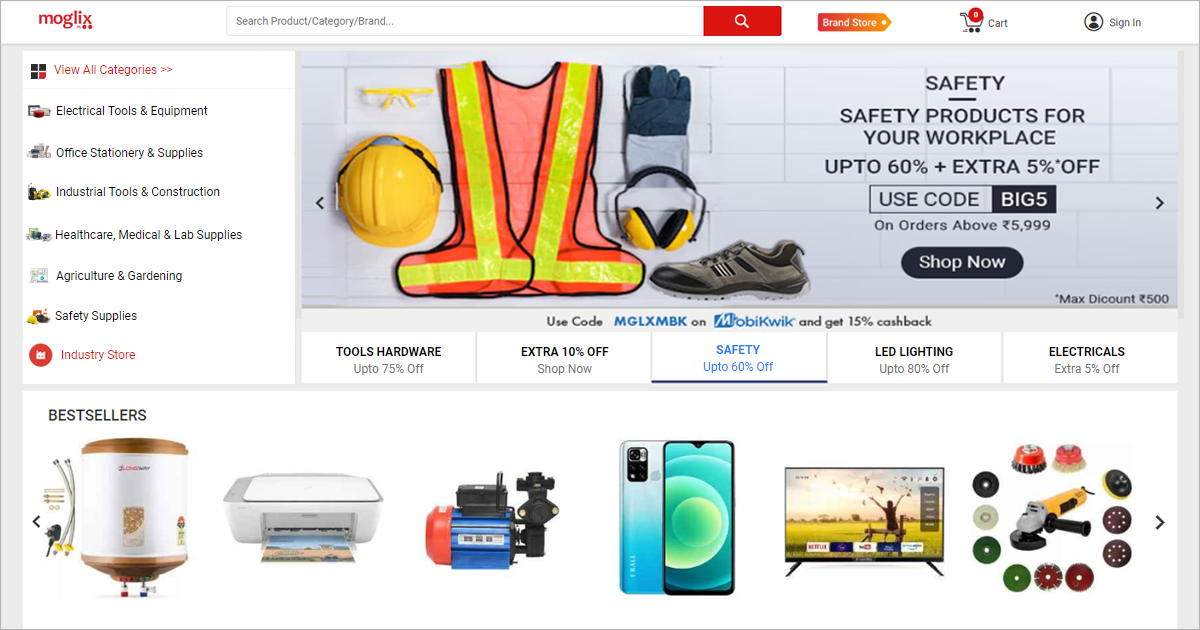 Here are the unique features of Moglix:
500,000+ SMBs and enterprises served through the

B2B multi seller website

700000+ SKUs on the platform

16000+ suppliers, 40+ warehouses in its supply chain network and logistics infrastructure

Facilitates B2B procurement of MRO, Safety, Electricals, Lighting, Cleaning & Housekeeping, Office Stationary & Supplies, Power Tools and many more industry essentials
Anar is a community of SME enterprises across India. The marketplace portal connects manufacturers, wholesalers, retailers and resellers across India by interactively connecting buyers and sellers through the portal as well as its marketplace app.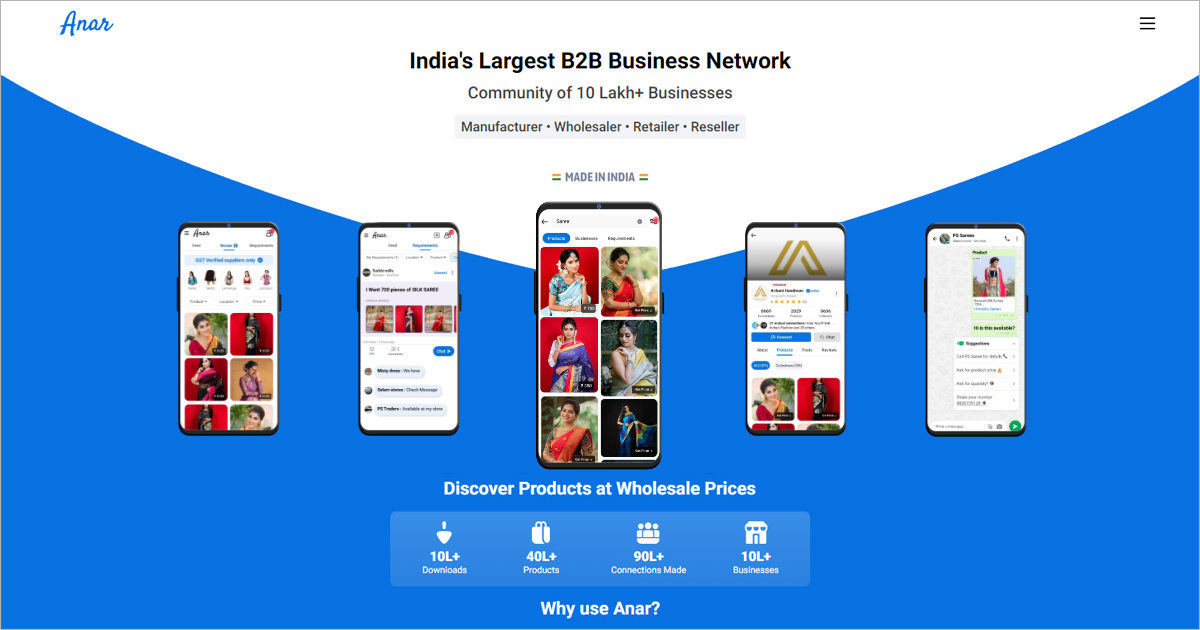 Here are some of the unique features of Anar B2B marketplace:
10 Lakh+ Businesses

2Lakh+ manufacturers and wholesalers

7500+ GST verified buyers and sellers

41 Lakh+ product catalogues

200+ categories like clothing, jewellery, footwear, grocery stores, leather products, etc.

Free online store where sellers can share product catalogue with customers on WhatsApp and Facebook
The growth of these B2B marketplaces in the recent year have proved one point beyond doubt, slowly but certainly, manufacturers and wholesalers are discovering the potential of B2B ecommerce. By building their own digital presence many brands in the B2B segment have been able to accelerate their growth and reach beyond borders.
While SMBs can start from one of these marketplace websites, the best approach for enterprise B2B brands is to get started with their own B2B multi seller portal where they can onboard not only their sellers and distributors but also manufacturers and sellers from their industry.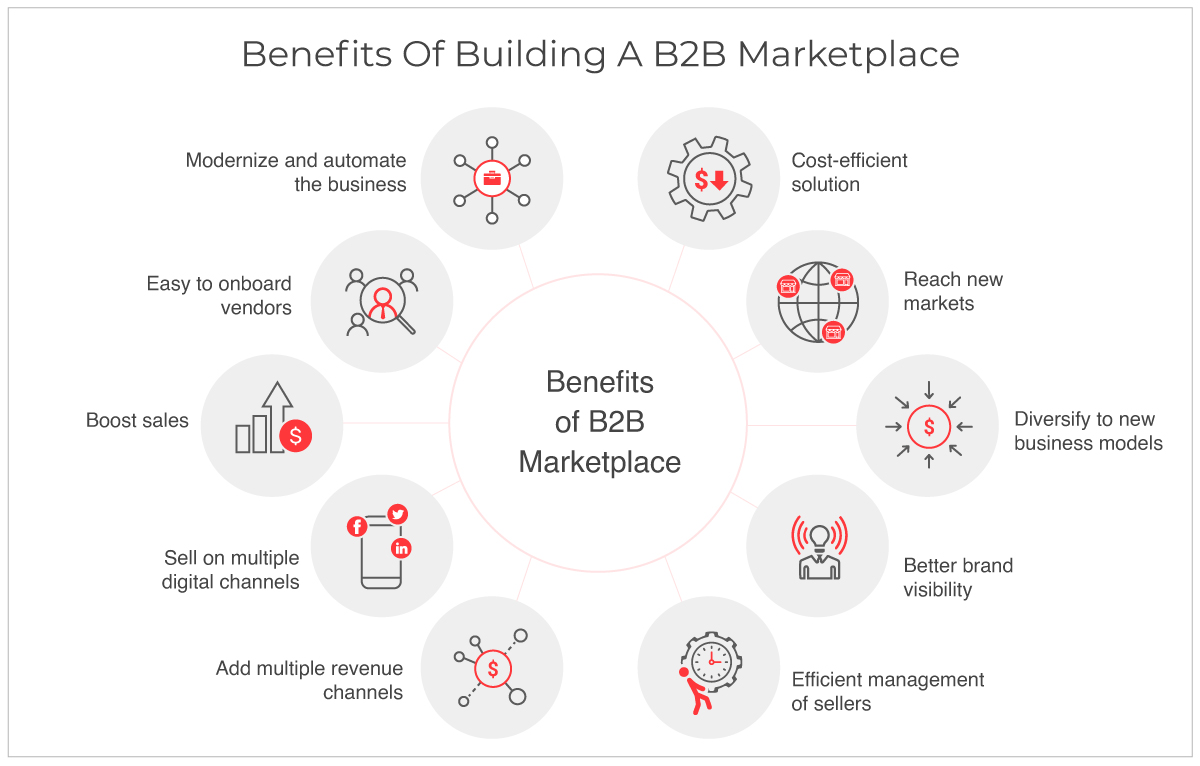 Building their own multi vendor marketplace has the following benefits for enterprise brands:
Modernize and automate the business process with a centralised control over processes and vendors

Cost-efficient solution as saves costs at multiple levels like staffing, CapEx etc.

Easy to

onboard vendors

across diverse industries and geographies

Widen reach to new markets

Boost sales with faster sales cycles due to automation and self-service

Easy to diversify to new disruptive business models

Sell on multiple digital channels to diverse customer groups

Gain better brand recognition and visibility

Add multiple revenue channels on your

B2B online marketplace

Efficient management of sellers and better control over their activities
While there are benefits galore of building a B2B marketplace, building one can take a lot of time and resources when done from scratch. A better alternative is going for an advanced B2B marketplace builder that comes with customizable turnkey solutions for building a cutting-edge B2B ecommerce website.
Inspired by the success stories of popular marketplaces? Want to disrupt the business-to-business ecommerce space with your very own B2B multi seller marketplace? Wondering which would be the best B2B ecommerce platform to build your own enterprise marketplace website?
StoreHippo has you covered!
StoreHippo- the flexible and scalable B2B marketplace builder is designed for enterprise marketplaces of every scale and size. StoreHippo offers plug-and-play solutions for enterprise brands across industries.
Here is what enterprise brands get with StoreHippo B2B marketplace website builder: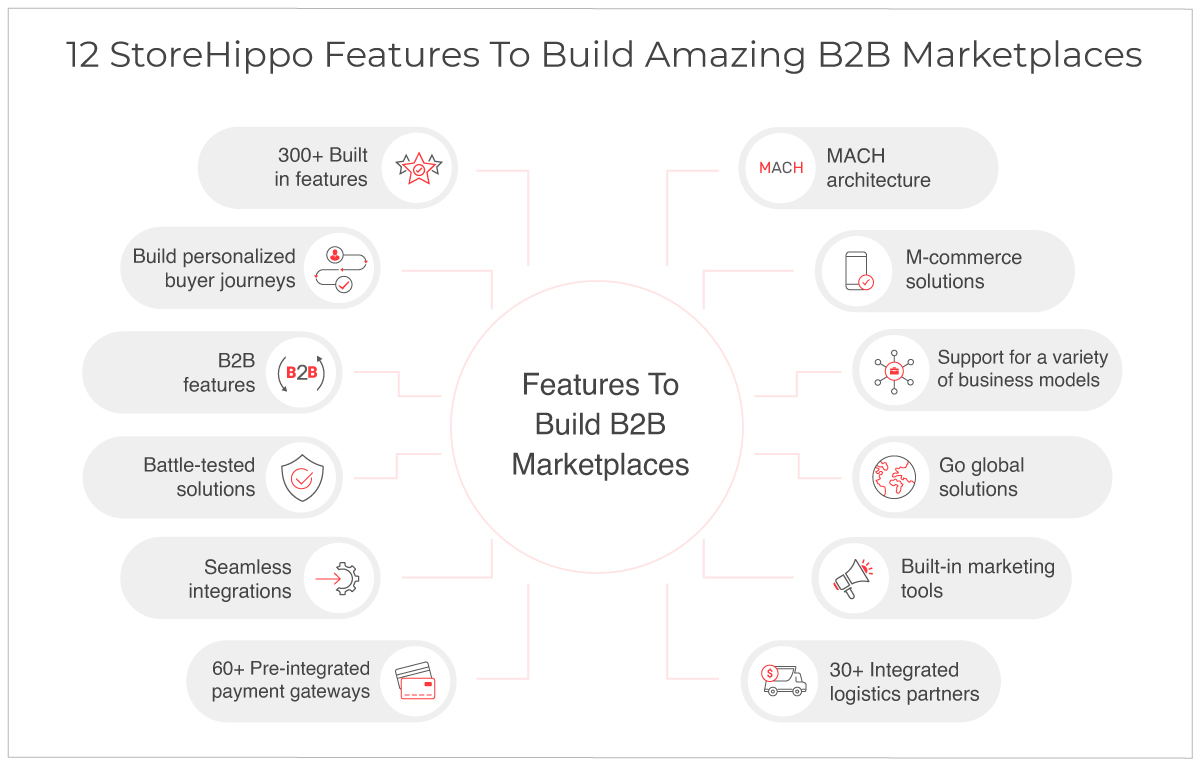 300+ built-in enterprise-grade features

Cutting-edge

MACH architecture

which helps in building out-of-box B2B solutions

Decoupled headless platform that gives better creative control to build personalized buyer journeys across multiple channels

Extensive m-commerce solutions to build B2B marketplace app, PWA stores, mobile admin interface for admins, sellers, delivery boys etc.

Host of B2B specific features like

RFQ

, MOQ, pricing override, restricted login, form builder, tax engine, vendor management solutions, delivery management solutions, whole and retail pricing, whitelabelling, custom invoicing and more

Support for a variety of business models like multi store,

D2C

, B2C etc.

Battle-tested solutions to build hybrid marketplaces where D2C/B2C and B2B operations can be run and managed from a single platform

Go global

solutions like multilingual and multi currency to reach international amrkets

Seamless integrations with existing software and any new software or services needed for business growth

Built-in marketing tools to leverage personalised marketing for better customer engagement

60+ pre-integrated

payment gateways

to make payments on the B2B marketplace seamless

30+ integrated logistics partners and inbuilt

delivery boy management

solutions to manage vensors or brand's fleet of delivery boys
StoreHippo helps enterprise B2B brands build a variety of use cases of B2B ecommerce websites and online marketplaces.
Whether you are a wholesaler, manufacturer or run a global B2B business, StoreHippo makes it easy for you to build your B2B multi-seller portal. With experience and expertise in building tailor-made solutions for clients across industry verticals, StoreHippo makes go-to-market fast and seamless for enterprise business-to-business brands planning to launch their marketplaces.
Here is how you can build and launch multi vendor website using StoreHippo B2B ecommerce solutions :
Step 1: Chart out your business model and the kind of functionalities you will need apart from the regular multi vendor set-up
Step 2: Get all the paperwork in place ( any government clearances needed depending on your business vertical, agreements with your existing networks of dealers distributors etc.)
Step 3: Book a demo with StoreHippo B2B marketplace experts and choose the most suitable plan as per your custom B2B requirements.
Step 4: Decide on a domain name which can be the name of your registered company or any other name. Keep it short and memorable. Buy your domain.
Step 5: Decide upon a theme that goes with your business goals and customize it using built-in dreag and drop tools.
Step 6: Get your vendor registration page ready and ask your existing vendors to register on it. Also, set up your custom payment options or choose from pre-integrated payment gateways from StoreHippo. Integrate with your preferred software for accounting, ERP, CRM etc. seamlessly. Add your preferred logistics and payment solutions.
Step 7: Give separate admin dashboards to all your onboarded sellers, distributors, suppliers, manufacturers etc. and get their products uploaded to your B2B ecommerce marketplace website.
Step 8: Streamline and automate the ordering process by adding custom forms, RFQ, differential pricing, MOQ, tiered pricing, credit or wallet management feature, multiple languages, multi-currency and other built-in enterprise B2B features.
Step 9: Build your marketplace app right from your dashboard to leverage mobile commerce and connect with your clients on mobile channels. Also, create a PWA marketplace to help sellers and buyers from remote areas connect better with your marketplace brand. Create a marketing campaign on various social media channels and offline channels to inform businesses about your venture.
Step 10: Test your B2B marketplace, set up multi-channel support to help your clients and merchants, and run marketing campaigns to spread the word about your business.
That is it, your marketplace brand is ready to disrupt the market.
B2B ecommerce solutions from StoreHippo not online power your business but the flexible, scalable and agile MACH architecture also gives you better creative control to adapt your business to changing market and customer demands.
Ready to explore the immense potential of B2b ecommerce by starting your own unique B2B marketplace? With the vendors already conditioned by the pandemic push and other successful enterprise B2B marketplaces, this is the most opportune time to create your own brand like no other.
StoreHippo offers you the most comprehensive B2B eCommerce solutions to build your own online B2B multi vendor portal. The cutting-edge technology and decoupled headless architecture make it easy for brands to tweak the platform inside out and build their-tailor made solutions. All you need to write your own success story is a great business idea and strategies that establish you as a market leader.
Ready to disrupt the B2B ecommerce landscape? Explore StoreHippo's B2B marketplace solutions to add a winning edge to your plans. Get started by booking your free demo right away.