Did you know that the Indian ecommerce market value is predicted to reach 200 billion dollars in 2027 (Statista)? Well, to put it simply the great Indian bazaars are moving online. To stay relevant and win in the changing market scenario your brand also needs an online presence.
If you are also planning to take your brick and mortar business online, this is the best time to do so. Wonder why? Well, because going online was never easier with a host of ecommerce website builders catering to the diverse needs of enterprise brands going online for the first time.
However, for a fast and easy transition from brick-and-mortar to online, you need a feature-rich and easy to use online store builder in India so that you can save time and headaches later.
Wondering how to find the best ecommerce platform in India for your brand? Let's get started by making a list of the current and future brand requirements. Here we go:
Questions To Ask Before Selecting Ecommerce Website Builder
What is your business model? Is it a B2B marketplace or D2C or Hyperlocal or B2C?

Your ecommerce revenue model? Is it drop shipping, wholesaling and warehousing(B2B), private labelling and manufacturing ( D2C), white labelling(B2C), subscription (D2C).

Your industry or niche? Are your customer's demands not constant?

Who is your target audience and their offline/online purchase behaviour?

Have plans to diversify your product portfolio and to go international in future?

Do you have tech savvy developers to handle core site and app development?
In precise terms, you need an ecommerce website builder that supports your present and future needs. Assuming that you have built a list of expectations and needs, let's explore today's topic — "How to find an online store builder in India?
Quick Tips To Find The Best Online Store Builder In India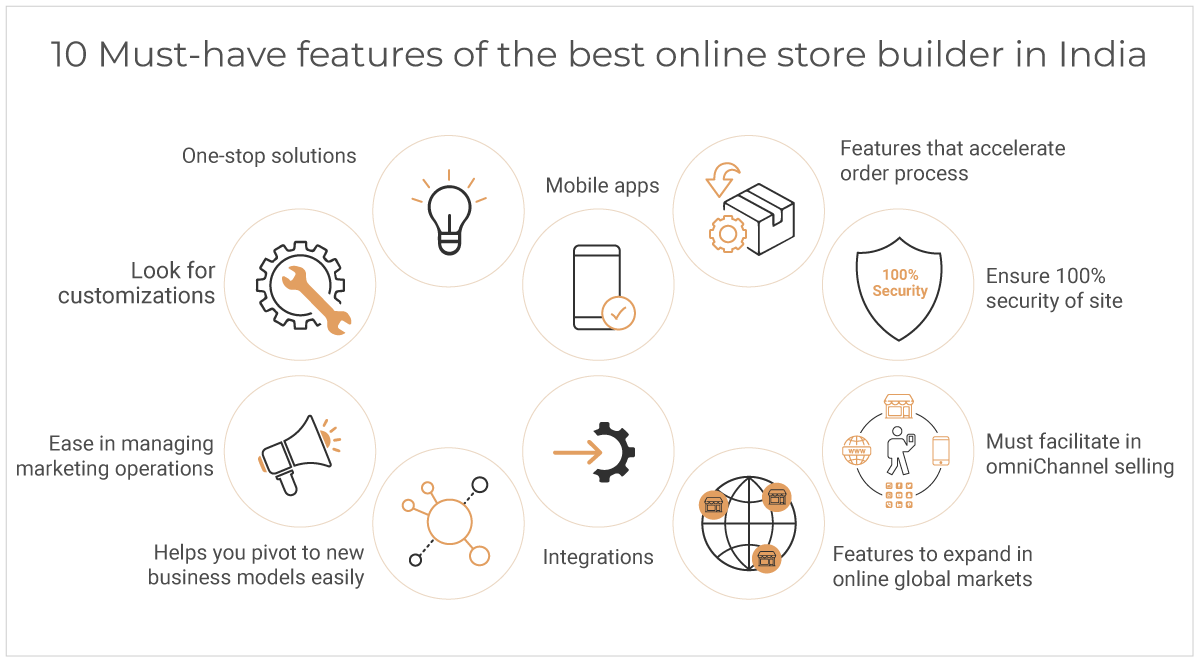 No matter if you are into D2C or B2B or B2C, the steps to find a solution will be the same. Make sure to refer to the tips below before buying an ecommerce website builder.
1. One-Stop Solution
Every year, ecommerce stores go through plenty of challenges. So It is imperative to overcome challenges such as demand generation, user experience, fulfilment, and technology. So you need a solution that could help you overcome the dynamic nature of commerce and boost your growth. Solution? It's StoreHippo.
StoreHippo is a 360-degree online store builder in India that gives you full control of the frontend and backend and has everything needed to create ecommerce stores.
Unmatchable Advantages Of Using StoreHippo
Secure & reliable: Storehippo takes care of all the server maintenance and upgrades, PCI compliance and offers a free SSL certificate to safeguard every piece of data

No tech worries: Easily launch your online store without the need of writing code or designing the storefront

Generate more sales from mobile: Get mobile responsive themes + free built-in mobile commerce capabilities to develop iOS and Android apps and mobile websites at NO additional cost with StoreHippo online store builder in India

Fulfil orders and deliveries: Deliver orders efficiently and seamlessly with our integrated logistics providers

Streamline business operation: You can easily manage all your business processes by integrating your site with business software and marketing tools — accounting, CRM, ERP, chatbots, shipping partners and 120+ other Integrations

Easy Payment Processing:Choose from 60+ integrated payment gateway to offer frictionless checkouts

Grow exponentially with marketing: Get advanced ecommerce analytics, SEO features, discount creation tools, email marketing tools, social media integration, push notification and more with StoreHippo ecommerce website builder

Expand in global markets: With support for multiple languages and currencies and customs taxes, you can quickly launch an online store in a new country

Get Powerful Insights: Storehippo inbuilt analytics generates actionable data about Customer Activities, Marketing, Sales, and others to help you in optimising their operations
2. Go For An Ecommerce Platform That Lets You Create Mobile Apps And Websites
Most ecommerce website builders offer website-only capabilities. This doesn't seem a problem at the start but becomes a stumbling block when planning to scale a business. So you start finding a seperate app builder. And end up pouring more money into buying that builder, combined with expense of the current solution.
What if I tell you that you can build both a site and a mobile app using a single online store builder? Yes, it is possible with the StoreHippo ecommerce platform. Let's take a look at its offering.
Capture Mobile Buyers With StoreHippo Mobile-Ready Ecommerce Website Builder
Today, mobile presence of a brand is a non-negotiable factor. Leverage StoreHippo's mobile-first technology and get rich with following features:

PWA Apps: PWA sites work like a native app that allows your customers to browse your menu, add items to carts, check their orders, etc — all with low internet strength or even offline. PWA apps remove major roadblocks that hamper your customer journeys – slow pages, hard-to-navigate structure, complicated checkout process

Mobile App builder: StoreHippo online store builder in India allows you to make Android and iOS apps straight from your dashboard at no additional cost. You neither need a big development team nor coding skills for making your apps with Storehippo inbuilt app builder

Mobile optimised theme: All the 100+ themes available in the StoreHippo themes library are 100% mobile-friendly, customizable and have mesmerising design/layouts. This means it works flawlessly across various devices —mobile, tablets, and desktops. You can tweak them according to your requirements via drag and drop functionality
3. Look For Customizations
Customization is a must-have feature in your ecommerce website builder. Being able to customise your backend along with the frontend makes a huge difference. Having the ability to customise promotions, page templates, products, and checkouts is key for business success.
Besides, customization shouldn't be time-consuming and expensive. Means, it should be one-click, no juggling with codes. Here too, StoreHippo can prove to be a big differentiator.
Get 100% Freedom To Customise Your Store With StoreHippo
Custom entities: These help you extend the existing entities or create new ones for your unique requirements and flows

Customizable Page Templates: Promise a phenomenal customer experience by building product pages from StoreHippo ecommerce website builder's pre-designed, customizable templates. Customise the entire page layout, add high-quality images and video, and many other available elements — with ZERO CODING

Custom Forms: StoreHippo has built-in forms allowing you to capture customers data when they login, register, place order and fill address, or enquire about a vendor. You may add fields like country, state, address, delivery time preference, mobile no., delivery instructions etc

Custom Discounts: StoreHippo online store builder in India lets you set different types of discounts like ~ store-based, location-based, device-based, time-specific, seller-specific, order-based, etc with its inbuilt discount engine tool

Custom Prices: Also called as price override. With this, you can personalise your customer experience during checkouts by altering product pricing. Prices can be altered based on the customer's past purchase behaviour
4. Integrations
Do you know what makes kings stronger? It's his army or regiments. Same way Integration also acts like an army for your brand. It makes your ecommerce website builder more powerful, efficient and innovative. Therefore, integration is important. You should be able to add a host of integrations like CRM, live chat, email marketing tools, advertising tools, analytics tools, Accounting software, etc — to your online store builder in India.
6 Integrations By StoreHippo To Supercharge Your Online Store
5. Features That Accelerate Order Process
Order process starts from when the customer places an order and ends when it is delivered. Handling the entire process manually often leads to human errors and may degrade the brand's reputation. To overcome this, why not delegate your day-to-day tasks to an automated order management system. Sounds like a smart decision? Certainly!
Some online store builders in India have inbuilt capability to automate your entire order handling process — from order confirmation to order fulfilment. Wanna Know? Read below.
Flawlessly Manage Orders With StoreHippo Online Store Builder
StoreHippo provides an automated order management system. It eliminates the time-consuming and energy draining admin tasks via automated and streamlined order management system Below are the task that can be done in a single click:
Manage returns, exchanges, and refunds

Create and print invoices

Update order status as "cancelled, open or closed"

Get instant details of orders like address, contact, product details, seller details etc

Quickly update order's payment status and order fulfilment status

Send the payment link to the customer for pending payments

Sync orders placed on various channels — brick-and-mortar store, ecommerce website, marketplace, social media, mobile app
6. Ensure 100% Security Of Site
As online shopping is growing, security threats are also magnifying. Your ecommerce site is vulnerable to cyberattacks, such as — credit card frauds, phishing, SQL injection, DDoS attacks, malware. Research suggests that the average cost of one data breach is between $3.86-$3.92M.
Given the real-life breaches, your priority should be to keep employees' and customers' sensitive data 100% secure. Hence, you need security-promising features in an ecommerce website builder.
Ward Off Cyber-Security Attacks With StoreHippo
StoreHippo complies with all the industry security standards and provides additional security features that bolster your site security. So when your site is secured, it will automatically encourage customers to do transactions with confidence. Let's know what StoreHippo offers:
Secure Socket Layer (SSL) Certificates: StoreHippo online store builder in India offers a free SSL certificate. SSL enables exchange of data between browser and ecommerce server, in a safe manner using the internet.

PCI DSS compliant: All the websites created through StoreHippo are PCI compliant by default. PCI DSS provides end-to-end encryption for all payments. Thus protecting your transactional data from breaches, leakages and theft of cardholder data.

Secured Server: StoreHippo employs Microsoft Azure cloud computing platform to add additional layers of security to its server. This further strengthens your site security, preventing hackers from invading the system.

Prevents Cross Scripting and HTML Injection: StoreHippo ecommerce website builder has an inherently secure architecture to detect and abort any such attacks .

Support for User authentication: Prevent any suspicious entity/individual from accessing your website server via user authentication. StoreHippo gives two types of user authentication–

Two factor authentication: The user has to verify himself by providing "username and passwords" and "OTP sent to registered mobile".

Multi-factor authentication: Users have to provide a combination of username, passwords and OTP; along with answers to security questions. Microsoft said that MFA can stop 99.9% of account compromise attacks.
7. Must Facilitate Omnichannel Selling
Want to provide consistent customer experience across all the shopping channels and devices? Want to maximise your revenue from various channels — brick-and-mortar store, website, app, social media, email? Omnichannel is your answer.

Your Ecommerce website builder should have features that support your endeavours of omnichannel selling. So that you can earn following benefits—
Improves retention rates: Omnichannel brands have 90% higher customer retention than brands with a single channel approach

Greater revenue and sales: Omnichannel customers are 30% more valuable than single channel

Boost customers satisfaction: As they get personalised buying experience and customer support across channels

Increases the foot traffic to physical stores: Allows customers buy online, pick-up in-store or return/exchange in-store or buy online, pay offline (QR code/cash)
Go Omnichannel With StoreHippo Ecommerce Website Builder
StoreHippo online store builder in India provides a complete omnichannel solution— headless infrastructure.
With headless, you can deliver consistent content across various devices or channels, whether customers are using desktop browser, mobiles, tablets or virtual assistants. For example, prices, promotions, and inventory will be synced in "real-time" across all touchpoints or channels/devices.
That ways, you can keep pace with rapidly evolving customer touchpoints and user experiences.
As headless is adaptable, you can integrate any third-party tools like chatbots, social media, email marketing tools, CRM, advertising platform, analytics tools. This further bolsters your omnichannel marketing strategy. You can even integrate StoreHippo with the best in breed ERP, CRM, POS, Accounting that sync business processes across different channels.
8. Features To Expand In Online Global Markets
The global ecommerce market is going to reach $6 trillion in 2024 (eMarketer). The trillion-dollar market shows no sign of deceleration. And there is massive potential to churn profits. So do you have plans to expand in the international market? If yes, then you need an online store builder in India with "Go Global" features that can help update your site to target global audiences.
Sell Globally With StoreHippo
Multi-currency: StoreHippo has 60+ globally recognized payment gateways that process multi-currency transactions. You can accept payments in multiple international currencies. There is also no need to worry about currency conversion as the transaction is automatically converted in the buyer's country currency during the payment stage. We also offer multi-currency invoicing support

Multilingual Support: Get your website translated into 100+ different languages using easy to use Multilingual Ecommerce solutions from StoreHippo ecommerce website builder
9. Ease in Managing Marketing Operations
Marketing departments operating in the digital world have to deal in various directions. These can be — optimising marketing budgets, updating sales strategies in response to changing trends, researching customer behaviour, targeting right customers, and so on.
Honestly, handling these can be cumbersome. So if you want to supercharge your marketing processes, improve inefficient processes and boost ROI, you need advanced marketing tools in your ecommerce website builder. These marketing tools can benefit you in the following ways:
Reduce many manual tasks

Quickest and most affordable way to achieve marketing ROI

Save you thousands of dollars on marketing
Market Effectively With StoreHippo Marketing Tools
There are plenty of excellent marketing tools available in StoreHippo to grow your business. Let's explore: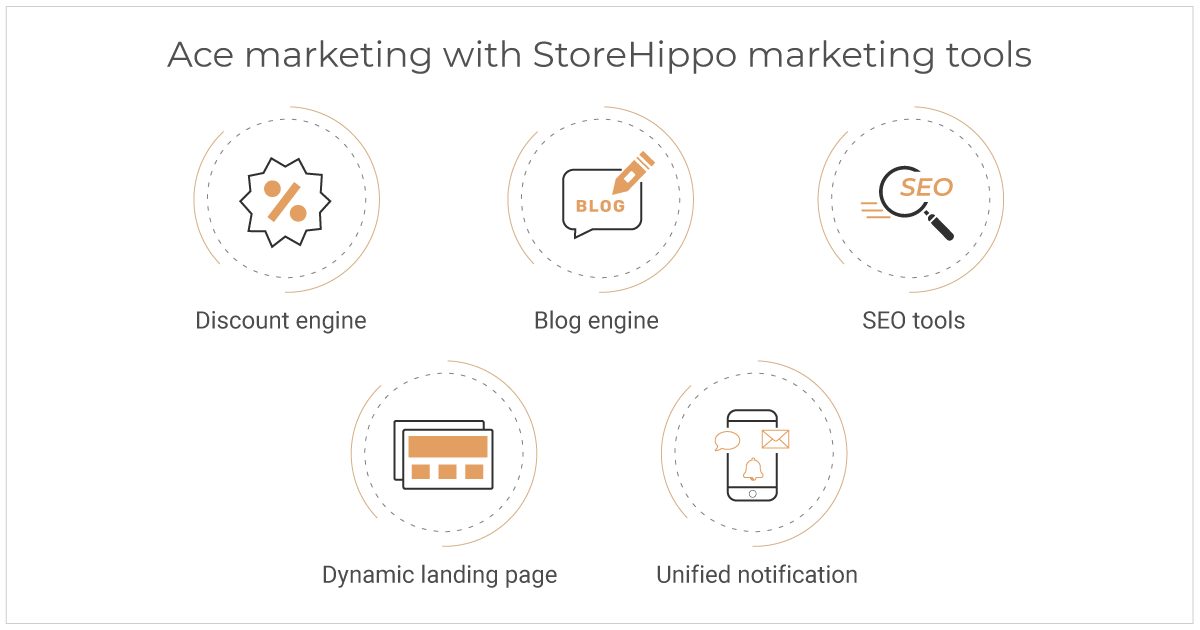 Discount engine: Easily create unique coupon and discount codes to reward your customer's loyalty. Discount is a proven way to boost conversions and sales, especially during festivals and special events

Blog Engine: Create any number of blog posts to engage your customers and answer their queries

SEO Tools: You can add meta title, description, keywords, tags, canonical URL etc. to product pages, which are crucial for site ranking on Google

Dynamic Landing Page: Build attractive, conversion-friendly landing pages straight from Storehippo's dashboard. You neither need coding skills nor advanced design knowledge

Unified notification: Send personalised offers, discounts, coupons, price drop alerts, reordering, etc via unified notifications from StoreHippo online store builder in India
10. Helps You Pivot To New Business Models Easily
Do you plan to expand into the B2B market after excelling in the B2C market? Or Willing to change your business model from a retailer based selling to D2C? Well, most successful brands like Amazon have done this.
In the early days, Amazon was only selling to the B2C market segment. But as their sales exploded, they started selling in the B2B market as well. Just like Amazon, you should also be able to do the same. Therefore, you need an ecommerce website builder that supports multiple business models for easy transition.
How StoreHippo Helps?
Here also, StoreHippo will never let you down. It is equipped with modern features and technology required for each type of business model. Besides the features mentioned in the above sections, there are few business model-specific features in StoreHippo:
For B2C
:
Delivery boy app: Easily manage and assign orders to delivery boys via app and give timely deliveries

Faceted search: Let the buyers quickly discover required products in a few seconds, thus resulting in a boost in conversions

Location-based stores: Target buyers living in different countries or regions by creating sub-stores through our ecommerce website builder

Content management system (CMS): Create and publish at faster speed and reduce the time to market

Social media integrations: Connect your social media pages to your website or app to increase traffic
For Online Marketplace:
Vendor-friendly dashboards and unique seller page: Gives vendors the freedom to control their business and reach online buyers

Multiple storefronts: Create multiple storefronts in StoreHippo online store builder in India to cater to different customer types

Commissions and tax computation engine: Easily collect commission from vendors on every order

Seller Self-Registration: Reduce the burden of manually collecting the customer information by creating registration forms

Comprehensive admin panel: Track performance of your vendors, approve/disapprove their listing and many more– from a single view

Vendor-specific shipping charges: Set various shipping rules to charge customers according to their delivery location, vendor chosen and cart amount
For B2B
:
Customised multi pricing: Offer personalised price to each client to enhance average order value

Bulk order upload and Processing: Process multiple orders at same time from our ecommerce website builder and save time and efforts

Inbuilt RFQ: Embed RFQ (Request for Quote) forms on your site to enable price negotiations between supplier and client; and close deals faster

Tax rule engine: Simplify tax calculations on multiple products selling to various countries by building tax rules

Customised invoice template: Accelerate your billing process by generating bulk invoices

Buyer-seller-admin chat: Make communication and negotiation easy between seller and buyers via real-time chat
Apart from all of the above models, we also have advanced and intuitive features for other business models like — hyperlocal marketplace, B2B2C, and quick commerce.
Conclusion
Selecting the best ecommerce website builder can be cumbersome and time-consuming. But by trying their free trial you can get a first-hand experience of the ease of use and the features it offers.
Along with this, look for an ecommerce platform that is easy to use, ready to be adapted to any business model, offers inbuilt features, allows for out of box customizations and gives you a one stop solution to build, run and grow your brand.
StoreHippo ecommerce website builder has everything a modern, fast-growing brand needs in an online store builder in India. With 300+ inbuilt features and support for diverse business models, 120+ integrations, easy customizations StoreHippo offers a complete solution for B2B, B2C, D2C and brands of any other hybrid business model.
Ready to explore how StoreHippo next-gen ecommerce website builder can help your brand gain a competitive edge? Start our 14-day free trial to experience a whole range of future-ready tools.