Have you come across a multi store ecommerce brand? We bet you have.
Yes, Amazon is one giant multi store ecommerce enterprise that has influenced the lives of buyers across the world. With separate stores for different locations, like amazon.in for India, amazon.co.uk for UK and so on, and millions of users on each, Amazon has successfully proved the worth of a multi store marketplace combined with the goodness of multi vendor set-up.
Curious to know more about the multi store ecommerce setup? Wonder how this can be implemented for different use cases to accelerate business growth?
Without much ado, let us dive deep and explore the setup and its benefits
A multi store ecommerce solution enables the business to create and manage multiple child stores using a single platform. This chain of sub stores can be based on different product lines, geographical areas, languages or any other differentiating factors. You can make personalized changes to cater the diverse needs and demands of your audiences. Apart from creating unique designs for each store, you can also create offers and deals that are exclusive to a particular store while the other stores remain oblivious to it.
For example, your business deals in clinical material supplies to multiple hospitals. Different hospitals have different needs and they look for personalized offerings. The concept of a multi store ecommerce platform comes into action here. You can launch multiple stores and offer each hospital exactly what they are looking for with the multi store model.
To build a store from scratch is time consuming and requires resources, a turnkey multi store ecommerce solution gives you a tried and tested solution. You can go to the market in record time with these solutions that are fully hosted and managed so that you stay free from the technical burden.
A multi store ecommerce platform has penetrated deep in various industries today. We have seen brands like Reliance, Big Bazar, Amazon etc re-defining the multi store marketplace idea. There are a variety of situations where the multi store ecommerce model can be implemented. Let us look at a few:
FMCG brands with a chain of sub stores. Example: Big Bazaar

Departmental store chain with day to day needs for the customers with multiple product categories. Example: Target

Home appliances and gadgets store catering to a wide range of audience. Example: Reliance Digital

Grocery stores at various locations catering to a hyperlocal audience. Example: Big Basket

Food delivery industry combining multi store and multi vendor models. Example: Zomato

Fashion and apparel industry present in different cities. Example: Central

Glasses and contact lenses business catering to location based audiences. Example: Lenskart

Healthcare services at various locations. Example: Thyrocare

A jewelry store catering to nation wide or global audiences. Example: Caratlane
The multi store ecommerce model can be adapted for any and every business given the access to right features and tools.
To go ahead with multi store ecommerce solutions for your enterprise brand is a sure shot way to set-up your business for growth. When your brand is catering to a variety of audiences, streamlining your multiple stores on a single admin makes it easier to manage the overall business. Increasing conversions and ROIs, testing global markets, and improving the shopping experience of your customers gets much easier with multi stores.
Let us look at the benefits of a multi store ecommerce platform and why businesses should start their own multi store set up:
A strong brand presence and visibility is created when businesses have a chain of stores

Businesses get freedom to experiment with multiple product lines, store designs, marketing strategies etc.

Segmented customer targeting based on user-groups, locations, etc is easy to implement

Businesses can offer customized stores based on customer preferences

Yield better SEO results with unique keywords and URLs for each store

Experience increased conversions and better traffic on each sub-store

Efficiently manage multi store ecommerce setup with central control
Having multiple storefronts is an appealing business idea that helps you achieve your business expansion goals. However, to choose the right ecommerce platform for your online stores, you need to think strategically-and evaluate your business present and future needs. Once you are clear about your requirements, you can evaluate the features offered by different solution providers and choose a future-ready, technologically advanced multi store ecommerce platform to power your enterprise brand.
While building a multi store ecommerce platform, businesses need to make informed decision so their solution provider has all the features needed for their present and future growth. Fortunately, StoreHippo's multi store ecommerce platform enables you to create a chain of stores and offers in-built features that make it easy to build and manage multiple stores seamlessly. You do not need to buy or integrate third party apps or plugins to create multiple storefronts with StoreHippo.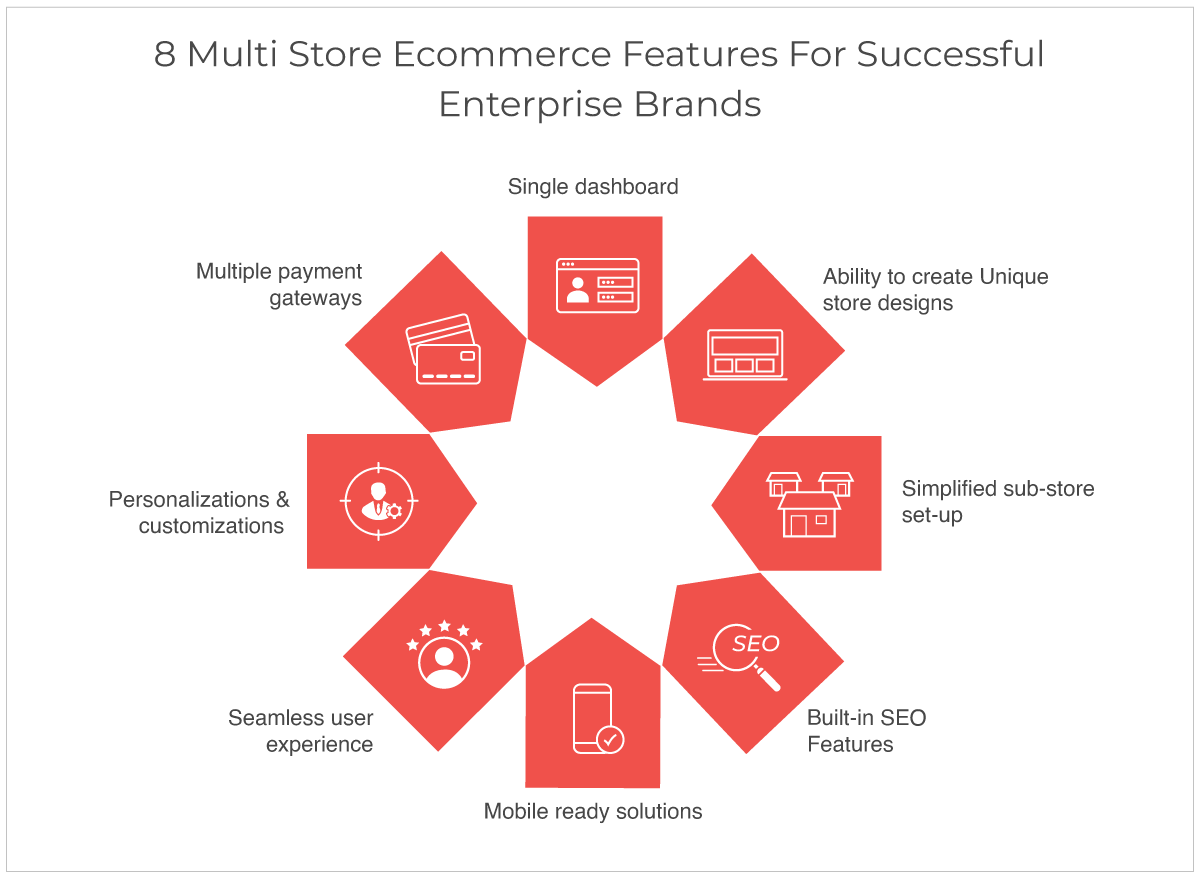 Let us look at a few features that can make your multi store ecommerce setup a success:
With a wide network of sub-stores, managing and operating them all can be quite a daunting task. And so a central control switch to manage the multi store ecommerce set up becomes imperative.
At StoreHippo, operating all the sub-stores is easy with a common central dashboard. It eases the management process and offer the following benefits to the business:
Easy set up of different product ranges through the common database

Integration of different payment and shipping partners with a single login

Order and inventory management is easy and hassle free

Easy access to all the sales and analytics report for easy understanding of each store's performance
With the inbuilt order and inventory management system by StoreHippo, you can assign different inventories to each sub store of your multi store ecommerce platform. You get the freedom to choose from 30+ shipping partners or add your custom shipping solutions. With the inbuilt delivery boy solution you can manage your own fleet of delivery boys for a streamlined supply chain.
Every business looks forward to creating the best storefront for their customers, one that attracts, engages, and converts the customers. A poor interface can break your business down even before the customers get a chance to explore the products you offer.
However, StoreHippo offers you 100+ device optimized themes and enables you to customize various themes for each sub store of your multi store ecommerce platform. You can also design each store based on the audience's preference or highlighting your business USP. The drag and drop tools can also be used to quickly create customized themes for promotional landing pages.
When you are planning to launch your multi store ecommerce platform, you look for ways that offer a quick turnaround time and help you launch new stores in a minimum time frame. You do not have ages to waste on building your sub stores.
StoreHippo is one such ecommerce platform that offers a simplified store set-up process in a few easy steps. You can build a new sub store, practically in a few hours. You get to create a dynamic look, feel, and design of each of your sub stores in no time. Creating personalized landing pages, marketing pages etc. can be done within minutes using the built-in solutions. The inbuilt form builder lets you create custom forms to capture various customer data on different stores easily.
The most underrated advantage of setting up a multi store ecommerce business is the tremendous opportunities it offers to experiment with the SEO and marketing strategies. Each sub-store can have its own unique strategy which can later be compared to see what works the best for your business.
To help your brand rank high on SERPs, StoreHippo offers in-built SEO tools. You can develop a unique URL for each sub store and set up a unique meta for each sub-domain on your multi store ecommerce platform. With the inbuilt blog engine and optimized themes, you can develop brand value that makes you stand out from the crowd .
Upto 80% of the ecommerce orders are placed on smartphones and tablets today. With the way m commerce is gaining momentum, you need to leverage mobile ready multi store websites to survive in the ecommerce industry.
Built on MEAN Stack, StoreHippo builds stores that are mobile ready. StoreHippo enables you to Create separate mobile apps for each of your sub stores right from the admin dashboard is no rocket science with. In a few simple steps, you can create mobile apps or PWA stores that work, look, and feel like mobile apps. These PWA stores help you to reach even those markets that have poor connectivity.
It is important that your customers enjoy their time on your multi store ecommerce platform. Offering seamless user experience goes a long way in making your site conversion oriented as it leaves a long lasting impact on your customers.
A simple user interface, editable shopping cart, easy navigation etc. make a website loved by its customers. The site performance and the loading speed should not act as a barrier for the customers. The order process should be aligned towards conversions. StoreHippo offers guided navigation for better conversion and promotes discoverability on your online store with faceted search.
The whole idea of a multi store ecommerce platform revolves around creating different customized storefronts for different uses. But to execute this you need a solution that offers easy customizations and allows flexibility to be able to generate higher conversions.
StoreHippo, built on the decoupled headless architecture offers a flexible ecommerce platform that can be customized at the frontend as well as the backend. Each store's product, pricing, deals and offers, shipping and checkout, content, overall look and feel etc can be customized as and when needed. With the API based architecture, you can easily integrate with your favourite software and service providers to create your unique ecommerce ecosystem.
Building a multi store ecommerce platform comes with the responsibility of keeping your customer's money safe. How exactly can an online business guarantee that? With multiple payment gateways, the overall payment processing time decreases and your customers tend to order frequently.
Wonder why?
When you offer your customers the freedom to choose a preferred mode of payment, you instill a sense of confidence in them. Incorporating multiple payment options is a good idea, as it adds value to your customers' experience. StoreHippo offers 60+ pre-integrated domestic and international payment gateways that make accepting payments simpler and safer using various channels. You can also add different payment solutions for different stores based on the location to increase your conversion rates.
Multi store set up is one of the best ways for enterprise brands to streamline their fast-growing business. While this set-up boosts customer engagement it also helps in getting improved marketing ROI.
However, to reap these benefits your enterprise brand needs a comprehensive multi store ecommerce platform like StoreHippo which comes with a host of features and tools to help your business excel in the hyperlocal as well as the global markets. With its 300+ inbuilt features, StoreHippo helps your multi store enterprise business to create a niche by offering unparalleled buying experiences and hyper-personalized buyer journeys.
Excited to explore the multi store features offered by StoreHippol? Start your 14-days free trial now.