Congratulations! You discovered a perfect business idea by deciding to launch an online grocery store. With the online grocery market predicted to boom in the next 2-5 years this is the best time to take your grocery business online.
Need proof? Then, let's come to real statistics:
Future growth of online grocery market
1. By 2025, Online grocery store sales is expected to grow over $250.26 billion
2. Estimated spending per buyer grew by 12.4% from 2020 to 2021. The spending is predicted to jump by 22% from 2021 to 2023.(Source: eMarketer)
3. The Indian grocery market is valued at over $500 billion, out of which $1.2 billion is online and $1 billion would be hyperlocal ecommerce grocery stores. The growth rate for online grocery can soar by 50% for the next few years (Redseer).
4. Attractive discounts, coupons, membership passes, fast deliveries, a variety of fulfilment options (e.g., free curbside pickup, in-store pickup and delivery), availability of multiple grocery categories, etc remain the main drivers of Online grocery demand.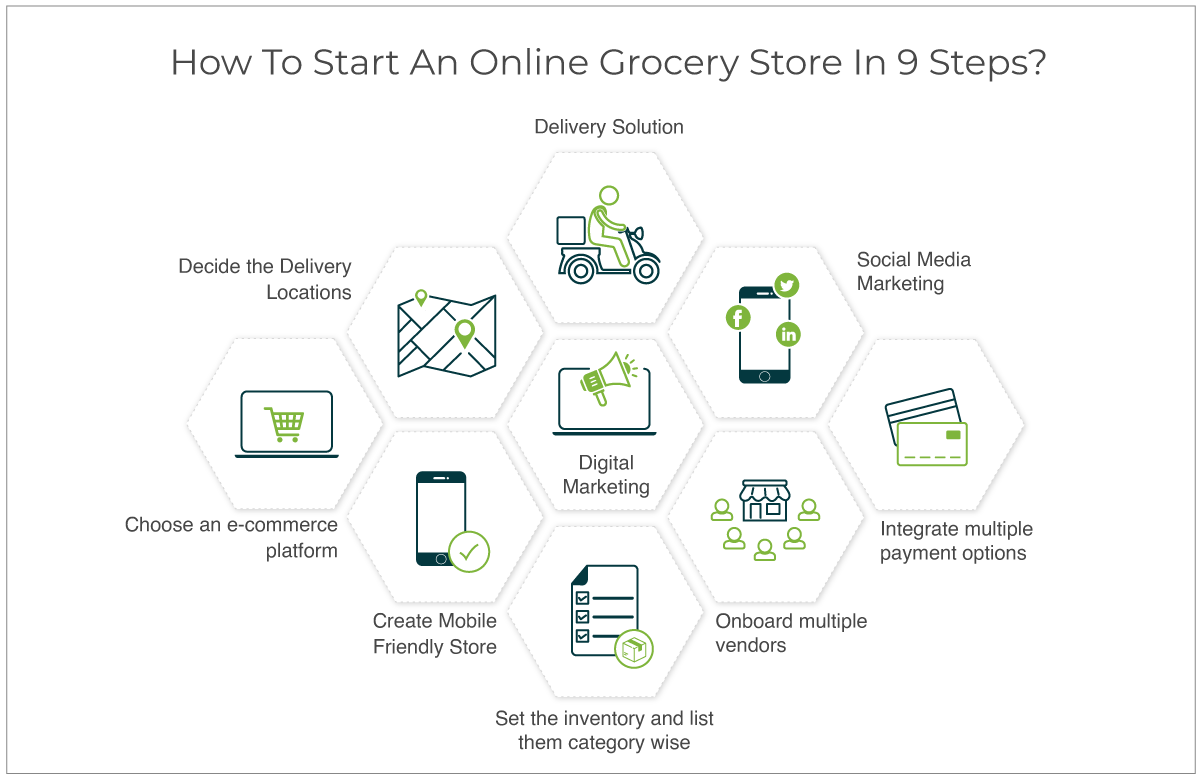 Source: Supermarket News
It is evident that launching an online grocery store can bring high returns due to growing consumer demand. Here comes the next part i.e. how to launch and scale a grocery multi vendor marketplace? To answer this question in an effective way, let's first learn about the strategies of a top hyperlocal Ecommerce grocery store ~ BigBasket.
Big basket: Growth story of India's largest grocery multi vendor marketplace
Today, BigBasket boasts of 6 million loyal customers, and sales of up to $2 billion in the year 2021. The market value of online groceries was about 100.7 billion Indian rupees. The multi vendor marketplace sells 40,000+ products from 1,000+ brands to 32+ cities in India. Currently, they ship 35000 orders a day (approx.) and the average order value is around Rs. 1500. (Source: Warc)
Their winning marketing strategy
During the pandemic (starting of 2020), Big Basket witnessed a whopping 300-350% spike in customer acquisition during lockdown

For customer acquisition and retention, they used to run Ad campaigns to promote their app and drive maximum number of installs and in-app engagement

BigBasket depends largely on Google's App campaigns for engagement to connect effectively with its users across YouTube, Search and AdMob

They have a solid organic presence i.e. their search engine optimization (SEO) is immaculate. Their webpages show on the first page of Google SERP for search terms like online grocery shopping, grocery online, online grocery, big basket pune, online grocery store, etc

About their social media presence, they used to run ad campaigns that encouraged target buyers to cook homemade food by utilizing fresh groceries items from BigBasket. They also roll out discounts and coupons to entice buyers and pump their spending
Their hyperlocal ecommerce delivery model
Big Basket follows two types of delivery models:
Inventory model: Company buys consumer goods from suppliers like P&G, HUL, farmers, etc, secure them into their warehouses, and deliver them directly on customers orders

Hyperlocal delivery model: BigBasket has partnered with 2000+ local grocery stores across India for faster delivery within one hour
For seamless deliveries, they are using technology like Automated and optimized route plans, GPS and AI-powered location tracking of logistics,
Their customer service strategy
The multi vendor marketplace bases its success on the three pillars (mentioned below) that seeded high customer loyalty and excellent customer feedback:
1. Same-day delivery across a city
2. 99.3% on-time delivery
Fact: In June 2021, BigBasket touched the milestone of delivering 10+ million orders, all because of their focus on faster delivery.
3. 99.5% order fill rate and no questions asked customer return policy.
Their website and app key features
BigBasket has both Android and iOS mobile apps which allow customers to order groceries on the go. Features such as "Smart-basket" predicts what a customer needs more often and reduces the time-to-order to "within 5 minutes".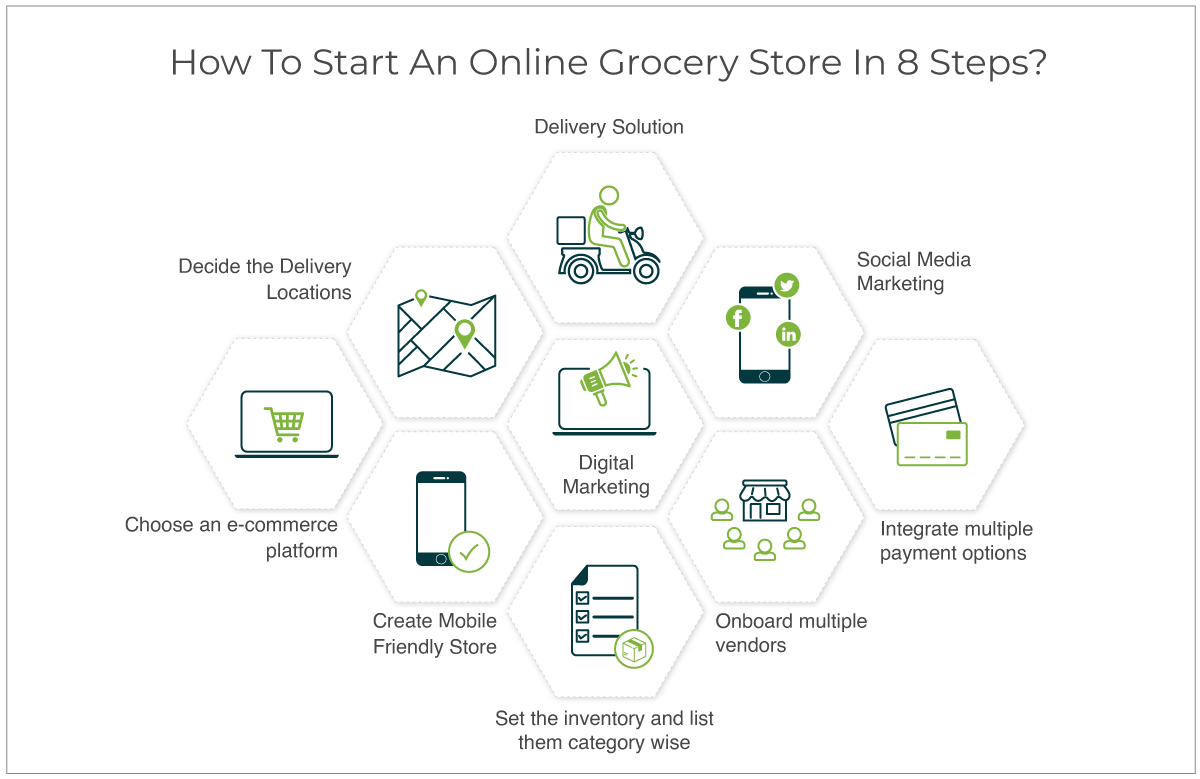 1. Decide the delivery locations
First research and ask yourself some definite questions to form a groundbreaking growth strategy. Here they are:
Which pin codes are you going to deliver groceries? How much demand is there for online grocery?

How are people buying groceries (online/offline) in your targeted area? What is the proximity of Grocery stores in a pincode?

What is the purchasing power of buyers in an area (like their income, financial status)?
A multi vendor marketplace Software can easily filter leads for you from different areas. It will also support you in gaining an edge over the other local brick stores in the revenue generating areas. But the question is how to choose reliable software? Find the answer in the next step.
2. Choose an e-commerce platform
Want to save time and money? Don't know how to code? If yes, then invest in multi vendor marketplace software like StoreHippo, where online grocery stores can be created in a few clicks with less or no code.
StoreHippo has an easy to use user interface and uses next-gen MACH architecture to build future ready grocery marketplace. It has pre-designed and customizable themes that take away the pain of hiring web designers. You can use drag-drop functionalities and a simplified back-end to customize page layouts and store themes.
Crucial features you need in a multi vendor marketplace software to Acquire Buyers
For buyers
Hyperlocal ecommerce delivery, Order tracking and Delivery Scheduler

Automatic location detection

Multilingual support on Site and app

Personalized email and in-app notifications

Multiple payment method

Omnichannel delivery options (buy online, pick up in-store; purchase offline, pay online)
For admin
Multiple Levels of Administrative Access

Vendor Approval & Management system

Product Approval System

Advanced Reports & Statistics - Subscription Packages Management

Tax & Currency Management

Delivery Staff Management

Integrated Shipping solutions and payments gateways
For your seller/vendors
Vendor dashboard with ability setup and update their product listing.

Tracking and analyzing sales reports

Inventory management system

Delivery Boy app or logistics support

Access to Marketing Tools
3. Set the inventory and list them category wise
Before moving ahead, be sure to list all the high demand grocery items popular across various targeted locations. The inventory list should cater to different segments of buyers.
Example: Some may be more into packaged or refrigerated food. While some may have more inclination towards "dairy and egg" or "fresh fruits and vegetables".
To be able to list products in your site or app, you need a powerful inventory management system. StoreHippo has an inbuilt inventory management tool. You can easily list products by creating categories and subcategories in a multi-tier hierarchy way. This will help customers in easy navigation, which results in higher engagement and conversion rate.
4. Create mobile friendly store
Customers might be browsing your online grocery store on smartphones while travelling or even when sitting in a cafe/office/home. Keeping that in mind, your store needs device responsive themes and templates that automatically adjust its size to the size of the device.
Eliminate the burdensome task of hiring skilled mobile developers to create mobile-responsive stores. StoreHippo offers 100+ mobile-friendly themes which lets you create online grocery stores in a few days, without coding and further optimization.
Additionally, online stores created via StoreHippo are hybrid mobile apps, also known as PWA (Prograssive Web Apps). PWA sites work efficiently across all types of devices, even when a user has poor or zero internet connectivity. To increase customer engagement, you can build Android and iOS apps right from StoreHippo's dashboard with zero coding.
5. Onboard multiple vendors
After you have convinced local grocery sellers and large FMCG suppliers to sell on the online grocery marketplace, it's time to give them a shop. Meaning, a unique seller dashboard, where they can manage all their product listing, deliveries and customer orders.
Make sure your ecommerce platform supports multiple seller integrations. StoreHippo has a plethora of features to support vendor operations. You can create and allot a unique dashboard to each vendor with limited access while keeping owner rights intact. This way, you can manage multiple vendors from the owner dashboard. You have full control to approve/disapprove their request like product listing, inventory updates, order updates, etc.
6. Integrate multiple payment options
After onboarding vendors and listing their products on your online grocery store. The next move is to integrate multiple payment options. The best tip is to offer each kind of payment method(COD, wallets, credit cards, net banking, etc.) so that customers don't divert during checkouts and you don't lose revenue. StoreHippo provides integrated payment gateways and wallets which you can activate within a few clicks without pesky codes. Ithas 60+ payment gateways that are reliable in processing.
7. Find a delivery solution
Some multi vendor marketplace software like StoreHippo offers integrated shipping solutions that simplify your job of searching and analysing a solution. Here are a few features of StoreHippo delivery solutions.
Low-cost delivery on your orders by using a variety of shipping partners and shipping aggregators that - and ship to 26000+ PIN codes across India

No upfront cost for Account setting with partner delivery solution

Option to choose international delivery partners for global expansion

Automatically sync orders from one platform to other (site to app or vice-e-versa) with zero manual intervention

Compare shipping prices of available delivery solutions

Get COD support and order tracking, highly necessary for hyperlocal ecommerce deliveries

Automatically import orders, edit shipping charges, generate shipping labels, update inventory
Apart from this, you can also manage delivery boys with Storehippo's delivery boy management tools. Make deliveries quick and manageable by sharing control of fleet management with your vendors. So that sellers can easily assign orders and communicate with delivery boys directly from their dashboard. You can even utilize the "Delivery Boy App", using which boys can update their order status, request order information, accept orders, etc.
8. Digital marketing
To be on the top of your customer's minds, you need a futuristic marketing strategy in place. Here are some key tips:
Start by making your store SEO-friendly (ranking higher in SERP) by making it relevant to your target audience via keywords optimization, link building, on-page optimization, etc.

Digital advertising is another way of generating brand awareness, website traffic, sales, and app users. Leverage Google shopping and search ads, Facebook Ads, affiliate ads, etc

Don't forget to add incentives like discounts, offers, coupons, etc to your ad campaigns for maximum customer engagement

You can distribute flyers banners and coupon pamphlets at local places to generate awareness among offline buyers
To carry out marketing operations easily, StoreHippo has developed multiple inbuilt tools. One of which is "Discount Engine", which lets you generate discount coupons and vouchers in a few clicks.
Next are SEO tools, mainly designed for indexing and ranking of your store on search engines like Google, Safari, Bing, etc. Easily set meta title, descriptions, page links, images, keywords of all webpages for easy discoverability in Search engines.
StoreHippo also supports integration with third-party marketing tools like Google Ads, Google Analytics, Tag Manager, CRM, etc. Explore more marketing tools here.
9. Social media marketing
Social media helps you advertise new deals and offers. It also helps you interact with the customers directly and get their feedback. You can introduce a new interactive quiz and games to know the psychology of your target audience and cater to them accordingly.
StoreHippo integrates with your social media platforms and helps you interact with customers. It even helps you examine the social media analytics and see how many leads got converted and through which platforms.
Final takeaways
All of the steps illustrated above will really help you in the process of starting an online grocery store. And the process becomes more simple with multi vendor marketplaces software like StoreHippo. StoreHippo is a feature-rich, multi seller marketplace that lets you create a grocery store in a simplistic manner. It has 120+ best-in-class built-in integrations that save time and money by keeping you away from buying additional plugins and software.
Get started today with a 14 day free trial of StoreHippo to experience its futuristic features and easy to use interface.