The festive mood has kicked in!
With diwali round the corner, it's time when customers hop from one marketplace website to another looking for the latest home appliances to make their homes smarter.
But is your kitchen appliances enterprise brand equipped to handle the traffic swell and set the cash counters ringing?
If not, now is the time you can brace yourself to break all your past sales records.
So, fasten your seatbelts as we are about to board the flight to a superhit Diwali!
Starting with some festive season insights from the industry:

$32 billion is the expected spending for the 2022 festive season sale

48% of consumers tend to shop more during the festive season as compared to the rest of the year

A 35% growth is expected in appliance sales this festive season

$ 111.2 billion is the expected market size of global ecommerce household appliances by 2022
After two consecutive damp seasons due to COVID 19, companies have high hopes of seeing an escalation in the demand across various product segments in the upcoming Diwali sale. The market growth can be attributed to the consumers' increasing inclination for smart equipment that simplifies their lives.
The 2022 Diwali sale is here to make up for the past two years that were hijacked by the pandemic. However, it was for the same reason that ecommerce boomed and penetrated into tier II, tier III, and beyond cities.
People are now conditioned to buying from various marketplaces and have adapted to digital payments. The pandemic disruptions have also enhanced the delivery game of the logistics aggregators that are now well equipped to handle peak seasons.
Given that, are you set for a smashing hit this festive season?
Let's find out.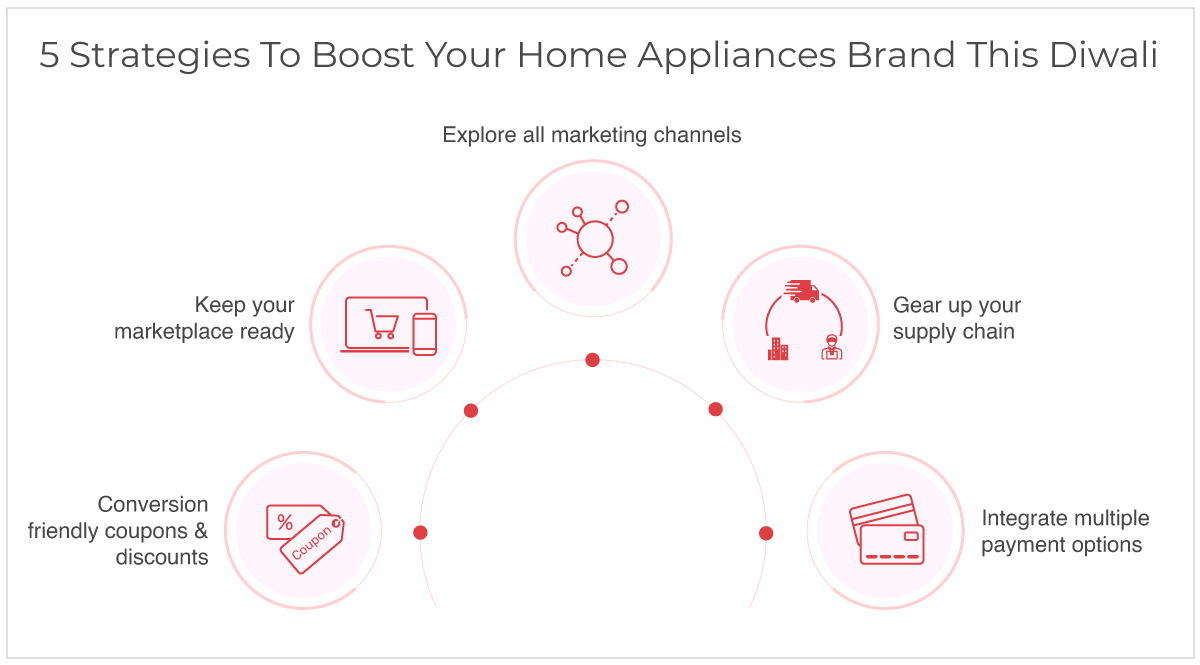 A bumper Diwali sale is incomplete without discounts and coupons. About 93% of consumers use a coupon or discount code throughout the year. Brands can nudge their customers to buy more by offering personalized conversion-friendly discounts on a variety of appliances.
During the festive season, people are looking forward to buying more at discounted prices. With StoreHippo you can create dynamic conversion-oriented promotional pages for various audience segments and offer personalized discounts to your customers.
The powerful discount engine from StoreHippo enables you to offer multi-level discounts to your customers. Here are a few smart ways to offer discounts without compromising your profit:
Product level discounts: 25% off on washing machines

Order value-based discounts: 15% off on shopping of Rs 1000

Coupon codes: Add one more item to unlock free shipping

Time specific offers or flash sales: Order within 6 hours to get 15% off

Group-based discount: 10% off for customers buying a vacuum cleaner

Seller or brand specific discount: 20% off on Panasonic home appliances

Buy one get one (BOGO): On purchase of a refrigerator, get one room refrigerator free
Along with the built-in discount engine, StoreHippo also enables your marketers to analyze their previous promotions, discounts, coupons, products and geolocations that worked best and bright in the most traffic. These data driven reports and insights make it easy to strategically plan your next move.
Once you have planned out the discounts and promotions for the bumper sale, you also need to attune your online marketplace to reflect the festive mood. The festive look and feel makes customers spend more by pushing them to make impulsive buying decisions. You can use bright colors and symbols associated with the given festival to jazz up your marketplace.
The small nips and tucks and jazzing up goes a long way in keeping the customers engaged. StoreHippo offers a rich themes library to choose designs from, along with the drag and drop tool to create the most engaging designs in no time. Even a novice user can create a professional looking marketplace website design within minutes.
To keep the customers hooked to your home appliances marketplace, you must also run a thorough check on the following points:
Improve your site speed and ensure it can handle high traffic

Jazz up your store with festive mood designs

Create a buzz about your festive sale using social media

Recover abandoned carts with personalized automated follow ups

Offer a seamless payment process with multiple payment options

Collab with your payment partners to offer exclusive deals

Keep your order placement process simple and effortless

Use product bundling to increase your ticket size
A good season sale does not come easy, it requires strategic planning and smooth execution. To help you make the most of the Diwali sale, StoreHippo gives you a gamut of marketing tools at your disposal. We also offer pre-integrated payment and logistics solutions, auto-follow-up for abandoned carts, cross-selling, up-selling, etc.
Almost 50% of customers shop on 4+ touchpoints regularly, making it essential to explore all marketing channels for maximum revenue generation. Modern buyers look for an enhanced engagement with the brand via multiple channels like mobile apps, PWA stores, social channels and through wearable devices.
Thanks to the rapid adoption of m commerce, 80% of the orders during Diwali sale or any festive season sale comes from mobile devices. With increasing smartphone penetration in tier II and tier III cities, mobile devices have become the customers' go to channel.
You need to prep your enterprise brand with omnichannel strategies to gain maximum market share during the festivities. Plan your marketing in a way that it offers special mobile centric offers and deals.
StoreHippo enterprise ecommerce platform offers complete omnichannel solutions for marketplace brands. The decoupled headless architecture enables home appliances marketplace brands to grow manifold and reach new customer segments by targeting buyers on multiple channels. Using the same backend logic and APIs used for building stores, brands can quickly add any new customer touchpoints and sales channels like mobile apps, PWA stores, social pages with buy now buttons etc.
Brands can leverage the following to target their customers on multiple channels
Send personalized offers to your target customers through email notifications

Use push notifications to inform customers about upcoming sales

Offer chatbots/chat supports to quickly resolve customer queries

Leverage affiliate marketing to promote your products and offers

Engage with customers on social media through personalized content
These battle-tested tricks can help brands market their Diwali sale to a vast audience and convert them into returning buyers. StoreHippo enables enterprise brands to power their marketing communications with live-chat and unified notifications, making the communication fast, easy and conversion-oriented with email, push, web and SMS notifications.
An efficient supply chain is the most important step towards a successful festive season sale. Did you know:
73% of people are more likely to decide to buy an item if it includes free shipping

92% of consumers surveyed said that they will buy again if the product return process is easy

49% of shoppers say that same-day delivery makes them more likely to shop online
Source: Invesp
The figures point out one thing- to boost your Diwali sale and retain customers, it is important to build a seamless and efficient supply chain that offers free shipping, easy returns, and quick deliveries.
When you chart out your marketing plans, make sure to provide complete information about the product and upload clear pictures and videos for your customers to review before they make a purchase. Also, enable review and ratings so that customers can share their first hand experience with the product. Collab with multiple delivery partners to ensure timely delivery even with extra load.
With all these things in the right place, there will still be returns coming your way. Keep your online marketplace ready to handle the returns smoothly and make deliveries quickly. StoreHippo offers a 360-degree product view feature including video options. The delivery boy management software from StoreHippo helps brands manage their fleet of delivery boys efficiently making shipments faster and error-free. Also, with 30+ pre-intergrated shipping partners, it becomes easy for brands to streamline their supply chain.
Data suggests that digital wallets are by far the most popular online payment method worldwide. Well, that's true. Users have at least 2 mobile wallets installed on their smartphones everytime.
With the growing usage of online banking, digital wallets, and mobile payment channels, it becomes imperative to give multiple payment options to your buyers to ensure smooth checkouts. When people have options to choose from, they feel confident and satisfied with the brand.
To improve your business during the Diwali sale and gain maximum customer footfall, integrate multiple domestic and international payment gateways on your platform. StoreHippo ecommerce solution offers 60+ pre-integrated payment gateways including mobile wallets and COD options making checkouts faster and smoother.
Bonus Tip: How to make your Diwali Sale customers loyal customers of your marketplace brand
We all know Diwali is the best time to impress your customers with attractive deals and prompt service, giving them the attention they are looking for. If you are willing to establish a long term relation with your customers, here are some bonus tips for you to maximize on the Diwali sale.
Start your sale at the right time. Starting too late will mean losing your customers to the competitors, similarly starting too early may not generate the expected revenue. So, make the right time!

Avoid late deliveries at any cost. Choose an efficient ecommerce shipping solution that can manage your deliveries well. Try offering same-day deliveries and easy returns and refunds.

Offer coupons and loyalty programs. This practice will make your customers come back to your online marketplace even after the sales are over. Also, make sure these coupons have an expiry date that pushes the customers to shop without delay.

Offer Diwali gifts. Customers love gifts, and gifts on Diwali are the icing on the cake. You can offer your customers gifts like candles, tote bags, earphones etc on a specified shopping budget.
These time-tested tricks will ensure you have returning customers in your home appliances marketplace.
With the festivities, come great opportunities to scale your business as there's a tendency to splurge in the audience. It's just the right time to capture the customers and take your home appliances brand to newer heights.
With the above mentioned strategies, brands can reap astonishing sales figures. But, brands need WOW marketing tools and futuristic features to make a kill in the ecommerce industry during the festive sale.
Keep your vendors updated on the previous sales data and trends so they stock up sufficient inventory well in advance. Jazzing up your online marketplace while also ensuring peak load tolerance and scalability for accommodating new products and venodrs go a long way in earning a wider audience base. Make sure your site works at top speed even during the peak load hours and days. With StoreHippo's gamut of features and cloud-based infrastructure your marketplace website is festive-season ready. You can execute your Diwali offer strategies smoothly and watch your revenue graph rise high.
Explore the amazing StoreHippo features by starting your 14-day free trial now.