What is the most comfortable unisex clothing?
It undoubtedly has to be a t shirt paired with whatever!
However comfortable and famous this wardrobe staple may be, marketing it is quite a task. With brands scampering to grab customer attention, making your t-shirt brand stand out and be customers' fave, can be quite a task.
While you have the best tshirts on your enterprise ecommerce platform, you also need the smartest marketing hacks to keep your buyers coming back to order often. This is where you need to plan your marketing with strategic hacks for discounts and promotions.
Not sure how to get started?
Well, we have curated the magic potion for you that can take your brand to new heights of success. Fasten your seat belt and get ready to fly high with the best discount and promotion strategies for your online t shirt brand.
Before we dig in, let us first understand the role of discounts and promotions.
Discounts and promotions serve as a ploy that attracts buyers to your store. Tell your customers they can save money with your offers and they will spend more, just to save money. It's a win-win!
Offering discounts is the greatest psychological hack used by marketers to lure customers into buying their products. A hack that never fails to boost conversions. It also helps build customer loyalty and increase brand awareness. So why not intrigue the users about your t shirt brand with discounts and promotions?
Wonder how discounts help nudge your customers towards a purchase?
Let's warm up some quick figures on discounts and promotions: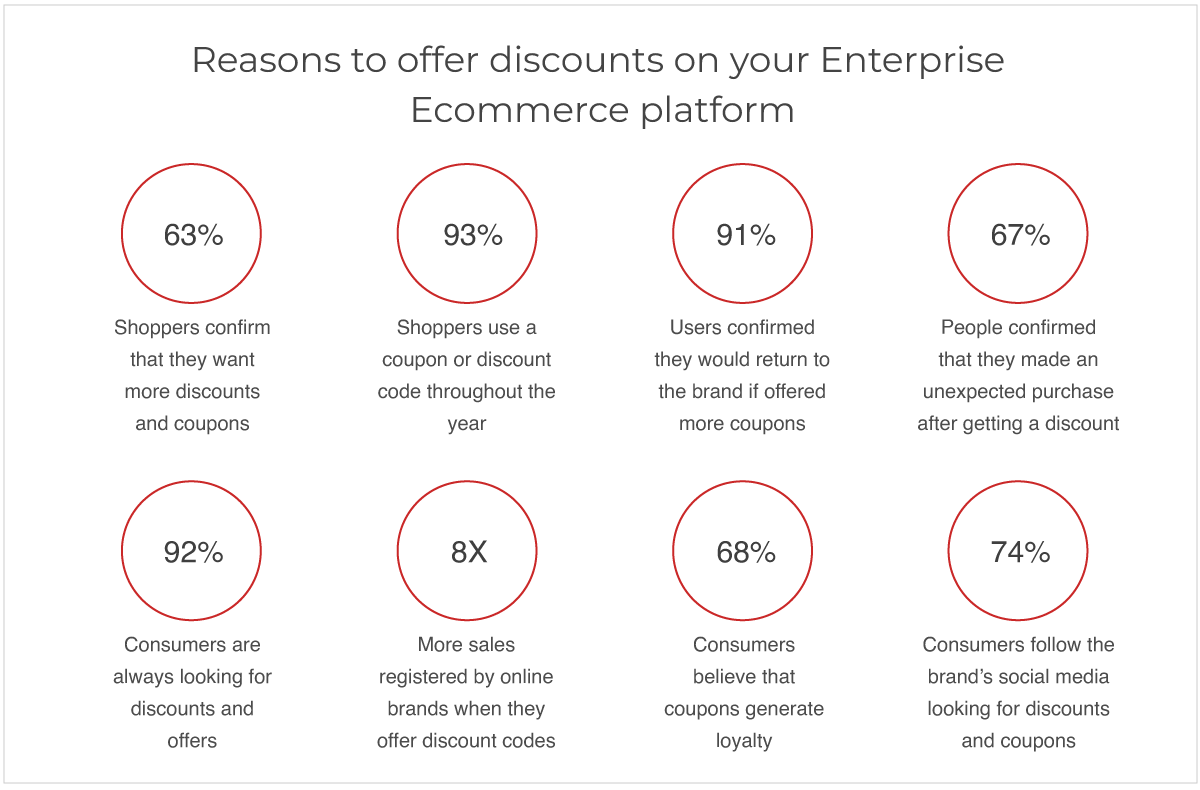 63% of the shoppers confirm that they want more discounts and coupons

93% of the shoppers use a coupon or discount code throughout the year

91% of the users confirmed they would return to the brand if offered more coupons.

67% of people confirmed that they made an unexpected purchase after getting a discount

92% of consumers are always looking for discounts and offers

8X more sales registered by online brands when they offer discount codes

68% of the consumers believe that coupons generate loyalty

74% of the consumers follow the brand's social media looking for discounts and coupons
Source: GrowCode
Consumers are never going to give up finding new ways to pay less! So let's also find new ways to offer more discounts without hurting the profit margins.
Are you aware of the ultimate goal while planning the discount strategy for your t shirt brand? Not sure?
To make your business profitable, your strategy should focus on;
Retaining your consumers

Offering them value in return

Building interest for your brand

Offering your buyers personalized experiences and deals
A t shirt is loved by all, irrespective of age and gender! Also, the best thing about this piece of clothing is that it is used throughout the year, in all seasons. With perennial demand, it becomes even more important to keep customers engaged in an innovative way.
The discounts and promotions should be designed in a way that your customers keep looking forward to the upcoming offers. Wondering how this can be done?
(i) Keep a tap on the orders and segment the repeat buyers into different groups. Then offer them deals specially crafted for them!
Earn a free gift voucher using 500 super coins

Get flat 20% off on orders above Rs 2,000/-
(ii) Engage your frequent buyers by creating a sense of urgency with personalized push notifications reflecting limited stock in the store.
Flash sale live from 8 PM till midnight, only for 4 hours

40% off only till stock lasts
(iii) Offering special discount schemes on new trendy collections or announcing clearance sales once in a while is a good idea.
Min 50 % off on the hottest and latest trends

30% off on the summer

t shirt collection
(iv) Define your discount based on the type or value of the order
15% discount on Polo T shirts

10% discount on all orders above say Rs 1,000
(v) Welcome your new customers with a welcome offer that makes them feel valued at your online marketplace
10% off on your first purchase

Refer to a friend and earn 200 reward points
When you build your enterprise ecommerce platform with StoreHippo, you are able to create multi-level discounts, that is, offering a unique discount on each product which gets applied automatically during checkout. Such discounts can make your products look more attractive and interesting. Your customers can avail of the offers based on a product type, product category, or their order value type, sounds fun right?
This way you let your customers decide the type of discount they want to avail of while shopping with your brand.
Free; this 4 letter word holds immense power.
A free item with a defined purchase is something we are sure no one can say no to. When you offer free items on certain products, it incentivizes the customers, and the probability of purchase increases.
Your enterprise t shirt brand might have a global or domestic chain of stores catering to customers in different countries, cities etc. Offering the same discount on each storefront might not be the ideal strategy. The best way to keep your customers engaged and also to measure the effectiveness of different deals is to try different offers and discounts on different storefronts.
When you are operating a multi store enterprise ecommerce platform spread across the globe, you might consider the following strategy
BOGO - Buy one get one free can be implemented in stores across India

Get 1 T shirt/scarf FREE while shopping during your birthday month - This can be implemented for the stores in the UK

On all shopping above $50, get a free KFC coupon worth $5 - The pull of free food can be leveraged for stores in the US
With different strategies, you can measure the ROI better and can also switch to the most successful strategies to boost sales across your stores.
The powerful in-built discount engine of StoreHippo allows you to implement various discount codes and features like BOGO offers across multiple stores from a common admin. BOGO offers do not cost anything extra but help in clearing old inventory, can be used as a cross-selling strategy for your t shirt brand and also allow you to experiment with a variety of marketing mixes.
When you talk about offering discounts to customers, discounts on unsold inventory go unsaid. You would obviously want to move your dead stock first!
But your t shirts are exclusive and premium, you want to keep them out of your frequent discounts. So what now?
Let us introduce product bundling for your enterprise store to save you from all the thinking. Here you bundle two or more t shirts and market them like this -
Combo couple's t shirt for the power couple

Family pack of hot graphic tee for the hot summers ahead

The coolest t shirt colour palette you must have this summer
The idea behind this is not just to make it cheaper to buy but also to make it look more accessible. When we pair two or more products, the new price, however, will be higher as compared to individual ones, but buying them together will surely be cheaper than buying them separately.
With this strategy, you increase the perceived value of the deal.
When you build your enterprise ecommerce platform with StoreHippo, its inbuilt product building feature allows you to offer a diverse combination of products to your customers. To top it all, it also helps in creating various bundled products based on your customer's browsing history and preferences. Offer such deals intermittently and watch your customers go gaga over such combinations!
Almost every brand offers discounts during festive seasons, let's do something that is not too common. If you are one of those brands that offer the same deals at the same time of the year, customers will lose interest in you. It is a billion-dollar idea to keep a mix and stay creative when planning offers for your customers
An effective strategy would be to offer your customers a deal while they are least expecting it. This could also be real-time when they are browsing your enterprise ecommerce platform. This might work wonders for your brand, the customers will be more than willing to make a purchase, even though the intent was mere window shopping. Let us understand with a few use cases -
10% discount on any 2 items of your cart - valid only for 12 hours

Free hair scrunchies on all orders above Rs 1,000
StoreHippo's ecommerce platform allows you to create real-time coupons with an expiry date, ensuring quick purchases. Personalized offer notifications for flash sales, customised also push your customers to take quick actions.
Studies have proved that 60% of people shop more just to qualify for free shipping. Now, this is interesting!
Though discount is the guaranteed way to increase conversions, free shipping doesn't stay much behind. Free shipping has proved to be very successful in driving traffic and increasing conversions. People would love to save that Rs 80 on shipping even if it implies that they need to buy for an extra 400. Let us look at a few shipping strategies that are bound to convert -
Free shipping on all orders above $50

Get 100% off on delivery charges by adding 2 more t shirts to your cart
However, implementing free shipping is not as easy as it sounds. You need to reach every corner your customers are in. StoreHippo provides simplified and low-cost logistics for your online business. With 30+ integrated logistics partners and shipping aggregators that deliver to 26000+ pin codes in India and 220+ global locations, isn't your shipping game going to be on point?
The ecommerce battle that you are in, can be won only by winning the customers first. It can be said without a doubt that customers can spend more to save more. It becomes imperative to plan out a discount and promotion strategy that can be used to leverage the customers. When you combine the above-mentioned strategies, you are able to create magic that pulls them closer to your brand.
StoreHippo has remarkable discount and promotion features that provide just the right assistance to your enterprise brand. With a gamut of marketing features along with a powerful discount engine, you can implement a variety of discount strategies tailored to your brand niche.
Ready to experience the magic discounts can pull off for your t shirt brand? Explore StoreHippo to establish your t shirt brand in the apparel industry. Start your 14 days trial now.