Whether you already have a retail or wholesale business, looking for options to expand online, or taking small steps into the ecommerce world, we are here to walk you through how to make an online store from start to finish.
Let's start with some reasons why you should have an online store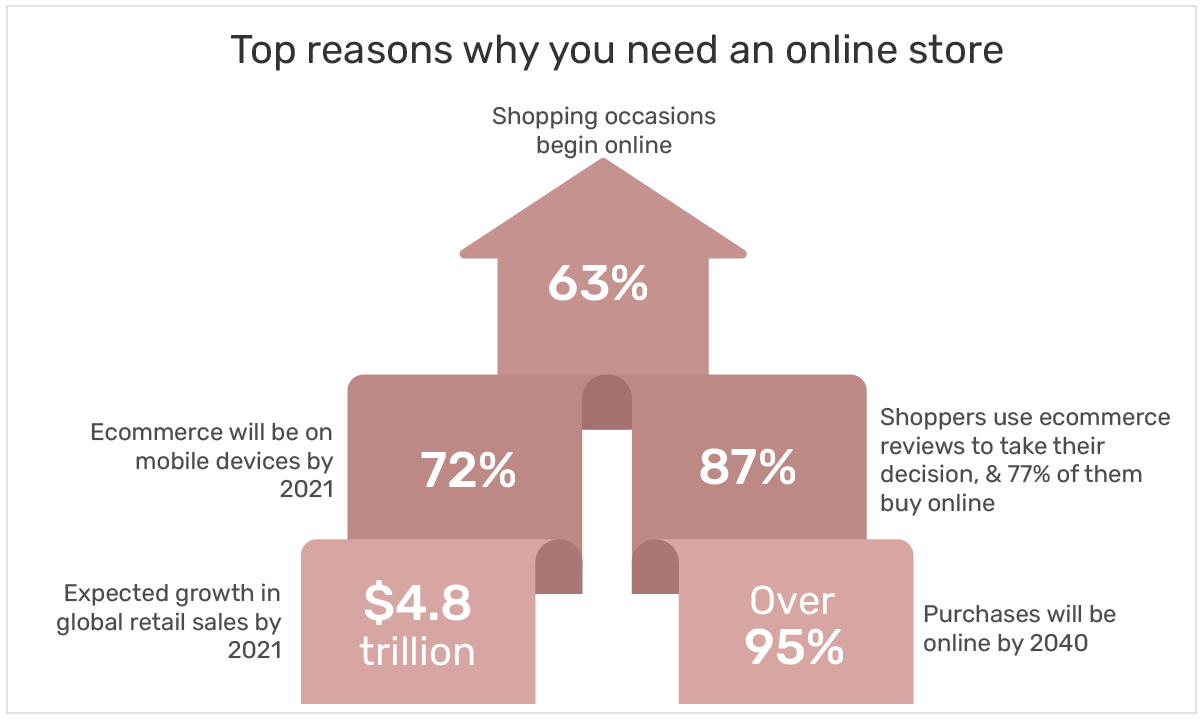 Global retail sales are expected to grow up to $4.8 trillion by 2021

72% of the ecommerce will be on mobile devices by 2021

63% of the shopping occasions begin online

87% of the shoppers use ecommerce reviews to take their decision, and 77% of them buy online

It is estimated that over 95% of the purchases will be online by 2040
Despite these stunning statistics, many brick-and-mortar stores still don't have an online business presence.
The statistics clearly shows that now is the perfect time to power up your online presence. And if you are concerned about the difficulties of creating your online store, let a sample and ready-to-use ecommerce software take this responsibility. Building an online store has never been easier with ecommerce platforms like StoreHippo. While some people suggest building it from scratch, most of the people are choosing the turnkey software that offers a full-fledged solution for B2C as well as B2B online businesses. Still doubtful about creating and managing your store? Ask yourself some questions and answer them as honestly as possible.
If you are looking for an ecommerce store with beautiful design, easy navigation, customized features, fast checkout, multiple payment methods, using an ecommerce software is the best idea for you.
If you want to create the store and start making sales, a ready-to-use platform can help you with automated marketing tools, customer targeting features, and more.
When do you want to start your online store?
If you have a limited time frame to start your online business, a ready-made solution is the best choice for you.
Do you have an IT team to create and manage your store?
If you don't have a team of developers and are still thinking about how to make an online store, a ready-made solution is the best way even if you are a tech novice.
This is one of the most commonly-asked questions when people think of starting a new business, be it online or offline. And of course, it is one of the smartest questions you can ask. Your budget is the key factor that drives most of your business decisions. The same thought process goes when you decide how to make an online store, and a lot of factors come into the picture.
Well, you must be guessing a one-size fits all answer here. But the fact is the cost could range from thousands to millions depending upon your business requirements and the choice of ecommerce platform. And there are certain choices that can save some money in the beginning but end up costing you more in the long run. Also, it is important to consider the money you will spend in improvement of the functions and experiences of your online store. And don't forget the marketing cost.
Does it all seem to be a huge cost? Here ecommerce software like StoreHippo comes to the rescue. It helps you tackle everything you need to create an online store and sell more. The best part is that you can start your online business at a fraction of the cost of building it from scratch without sacrificing the quality and save a lot of money too.
Simply, the choice of platform sets the foundation of your online business. The decision of a hosted or self-hosted solution will influence the future of your online store as it grows. Well, it is also possible to switch between the two, but it can be a very expensive affair in context to cost, time, and efforts. So, it is always better to understand the clear difference and make a decision. It is easier to take the decision once you understand the basics of ecommerce software.
The custom development of an online store can be very expensive and its maintenance never stops. You have to hire a permanent team of developers to maintain and update your online store.

There are many ready-to-go ecommerce platforms that are fully scalable and customized according to your business requirements.
So, the gist is that you need not reinvent the wheel and add a huge investment of IT team to your budget. The clear winner in this case is using a fully-hosted ecommerce software rather than building your online store from scratch.
This means to decide what you are going to sell and to whom. The best way to break this decision into three pieces: audience, market opportunity, and price. First, research about the categories in demand. You can search some Google queries to understand the number of times something is searched online. Secondly, understand the audience and find a category that is not being dominated by competitors yet. And lastly, choose a product that can be set to moderate price. Selling products at a moderate price is anytime easier than selling a lot of low-price products to earn online.
PRO tip – Don't jump into hobby categories without analysing the above factors. Yes, if you are personally interested in some category, it does not mean that it will go well in the market. Not every category can support a thriving business. If there is no market demand, it doesn't matter how great the product is.
Trying to get a good brand name or domain for your business takes a lot of brainstorming. In fact, your domain name should be the prior question before deciding on how to make an online store. But it is worth the effort to decide the right domain name as it will set your brand image in future. Once you are done with the job, just book your domain name to get started with your online store.
Ensure that you choose a robust and secure online platform that is designed to handle peak loads and serve you seamlessly without any down time. StoreHippo is an ecommerce software that powers up a diverse range of B2C as well as B2B stores. It offers a full-fledged solution to create your online store and built on next-generation technology to support everything you need to sell online.
Once you are onboarded with the best-in-class ecommerce platform and happy with your choice, sign up for the right plan that suits your needs. StoreHippo offers a variety of plans that suit your budget, business model, and growth ambitions.
Now that you have got your online store dashboard, you can get going with your choice of online store. StoreHippo is an ecommerce software that offers a rich theme library to create a stunning store in no time.
Once you've chosen a theme, it's the time to set up your online store according to your business flows and processes. Every business deals in a different manner and for the same reason, StoreHippo provides full flexibility to create your online store just the way you want. The extensive features, next-generation technology, and customizations help you create and sell online without any hassles.
And that's it. You are done creating your store on your own. Just test it well, create a social buzz and go live. Now, you are no longer wondering how to make an online store, you just have created one. Experience the super-fast process of creating an online store with StoreHippo.
Why is StoreHippo the best ecommerce website builder for your online store?
StoreHippo helps you to create, maintain, and ace your online store by providing a feature-rich ecommerce solution. It has been powering a diverse range of companies and industries with future-ready online stores, be it B2B or B2C businesses. StoreHippo does not only offer the easiest and advanced solution to create an online store but also offer extensive marketing features like power discount engine, marketing customizations to promote your business. What makes our ecommerce software even more exciting is it's mobile-first approach. You can easily build your Android/iOS mobile apps right from the admin dashboard of StoreHippo without any additional cost. Explore the comprehensive features of StoreHippo by starting your 14-day free trial now.