Do you sell consumers' goods online? Or do you deal in staples, packaged foods, beverages, home care, over the counter medicines? Do you know what is the future ecommerce trend in the online consumer goods market? Well, it is "quick commerce" or rather say, "quick hyperlocal deliveries".
Quick commerce is expected to grow 10-15x in the next five years. Consulting firm Redseer predicts that by 2025, q-commerce is all set to become a $5 billion market. In an effort to adopt the q-commerce business model and squeeze maximum profit, many ecommerce brands have now shifted from large warehouses in limited states to small warehouses located near the point of delivery. That's why it is necessary to offer a phenomenal delivery experience for brands engaged in the consumer durables business.
How can poor and good delivery experiences impact your business's revenue?
Let's learn through statistics: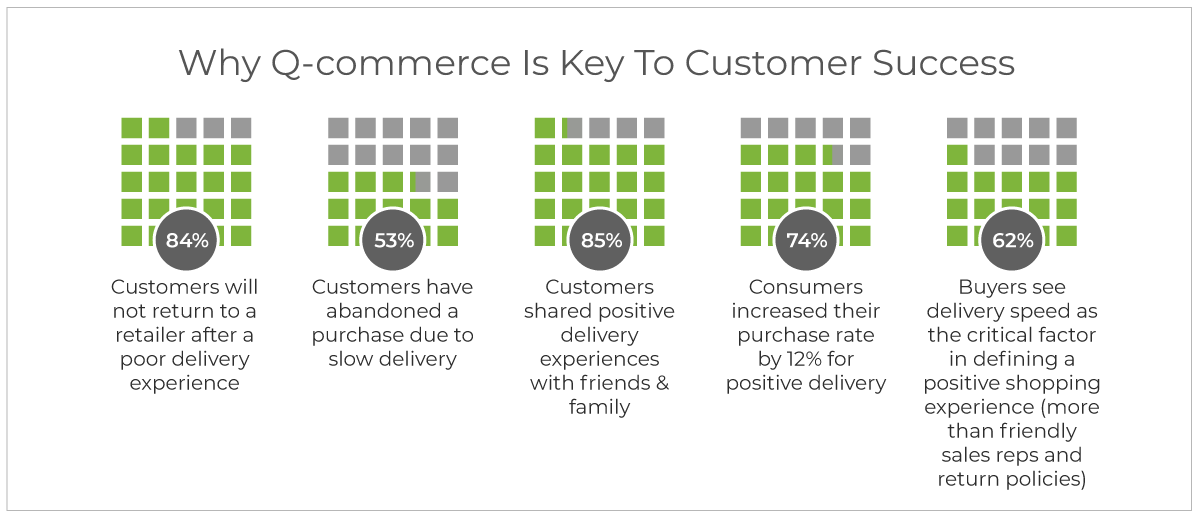 84% of customers will not return to a retailer after a poor delivery experience

53% of customers have abandoned a purchase due to slow delivery

82% of customers shared positive delivery experiences with friends and family

74% of consumers increased their purchase rate by 12% for positive delivery

62% of buyers see delivery speed as the critical factor in defining a positive shopping experience (more than friendly sales reps and return policies)
Source: Convey, Marketing Profs, Avionos
Quick Commerce = Speed + Convenience + Efficiency
The concept is centered around offering speedy deliveries and offering convenient shopping in an efficient manner. In simple words, it is the delivery of consumables within a span of 30-45 minutes. Many big brands like Flipkart, Swiggy, Dunzo, BigBasket and Zepto are already participating in the quick commerce revolution, and are also bagging the advantages of being early adapters.

80% of customers prefer same-day delivery, whereas 63% of them demand delivery between 1-3 hours

90% of consumers say they prefer home delivery to a store visit

1-2 hours of delivery time offered by Amazon Prime have intensified customer needs for quick deliveries
Source: Digital Commerce 360
Hyperlocal delivery refers to quick and cost-effective delivery of products in a small region i.e. pincodes or city, with help of local stores owners and warehouses.
How does it work?
Here online stores partner with local vendors in different areas to offer hyperlocal deliveries to customers in that area. They then set up small warehouses or hire a shipping partner that has a network of warehouses in their targeted areas.
Whenever an online order is placed, the local seller leaves the order at a nearby warehouse. After that delivery partner takes the responsibility of shipping the order to designated customers. This is how big brands fulfill delivery quickly.
Physical stores get a boost in sales by online orders being routed through them

Minimal efforts are required by e-retailers in the order fulfilment proces

Local stores/warehouses have good knowledge on local customers' likes and dislikes, thus helping in regulating the inventory quality and quantity on site

Local delivery boys employed by delivery partners have better knowledge of local routes and addresses, which further help in lowering delivery time
Hyperlocal delivery is the future of ecommerce, that's why many brands are adopting the hyperlocal delivery model.
Brands was rebranded as "Blinkit" to complement their goal to deliver goods in a few minutes, just like its competitors Big basket, Dunzo, etc. Blinkit has 250 dark stores and will have 550 in total in January 2022, to offer quick deliveries within 10 minutes.
What are dark stores?: Dark stores are small warehouses or stores located in areas of a city to facilitate fast deliveries.
Instamart delivers groceries ranging from 15 to 30 minutes. It first launched in Gurugram and Bengaluru and further expanded to 17 cities in India. Currently, it has recorded 2 million transacting users on its platform.

Building a hyperlocal ecommerce store seems to be daunting. You need an expert developer and designer who knows coding. And there is a lot of persuasion to onboard local vendors.
Cheer up! With an SaaS ecommerce platform like StoreHippo, the tasks of development and designing is taken care of. You don't need to hire fancy developers and designers. Neither you require coding nor you have to buy expensive plugins. Everything is already built in StoreHippo, which is totally customizable.
It offers a variety of cutting edge features, required to successfully run an ecommerce ecosystem.
Admin Features: Manage vendors, commissions and settlements, seller management, multiple payment gateways, shipment scheduling, in-built marketing tools, social login options, multi-currency and multilingual support, seamless third-party integrations, and many others

Vendor Features: Store management, order management system, catalogue management system, inventory maintenance, analytics and reports, track customers' current location, display shipping rates according to the region

Customer Features: Easy registration, customer profiles from where they can monitor order, returns, etc; personalized result filtering, advanced search tool, push notification, review & ratings, navigation features, Individual logins, and 100+ other features
Choose Your Product - You should have a clear analysis regarding the demand for the product.
Focus On Your Target Audience - List down the areas which you think will have maximum demand for your products.
Build Partnership - Find local store owners in your listed areas. Invite them to your platform and give them the opportunity to benefit from growing online shopping.
Choose A Hyperlocal Platform - When selecting an ecommerce platform, make sure that it meets your current and future business requirements. Do comparison studies and choose best. Good Luck!
Develop A Site And Mobile App - Start designing a device-responsive site and mobile app that allows users to shop for any devices and channels. Integrate payment gateways, shipping solutions, marketing tools, analytics software, CRM, social media pages. Onboard vendors and let them list their products. Build product pages and upload content.
Want to reduce the workload of managing orders and processing faster deliveries? Why not distribute the tasks, while still retaining admin rights? Sounds fascinating!
This is possible if you partner with local sellers and suppliers and bring them to your marketplace. Much of the task can be delegated, for example, ~ order management, product management, scheduling pick-up, etc.
Delegation Of Responsibility: As an ecommerce brand, you must have a lot on your plate, such as promotions, partnerships, funding, supply chain management, expansion plan. Hence, It becomes utterly difficult to manage every task effectively. Having multiple vendors can give ample amount of time to focus on expansion plans, as vendors can handle day-to-day tasks of updating their products, orders, pricing and shipments.

Lesser Expenses: As every vendor will be managing their shop on their own, you don't need to worry about every little thing. Your existing team can spend more time on scaling business and marketing

Scaling And Product Expansion: By delegating tasks, you can concentrate more on scaling and business expansion. You can expand your product portfolio by introducing new products and categories just by onboarding more vendors. The business diversification makes your business sustainable in the long run and prevents future risks
StoreHippo ecommerce platform allows you to onboard vendors via online registration forms. Through these forms, you can collect their store and personal information, along with proofs. This way you can evaluate whether the vendor is a good fit or not.
You can also allot a unique dashboard to each of the onboarded vendors.
Location-based marketing allows organizations to target consumers at a granular, person-level with online or offline messaging based on their physical location. By targeting small customer segments in an area, brands can easily win customers' hearts and trust while giving exemplary customer experience.
Using Digital Ads For Geo-Targeting
Your customer might be using Google and Metaverse (aka Facebook) owned platforms. To name a few of them ~ Google Search, Youtube, Play Store, Instagram, Facebook, Whatsapp, etc. Both the companies allow businesses to create hyperlocal ad campaigns to target their users (which are in billions). All you need is to specify the locations and type of audience you want to target. Locations can be pin codes, cities, states and countries.
Location-Triggered Notifications
Send push notifications on customer's mobile devices, by leveraging the geographic data and on-the-go technologies like geo-fencing and proximity, to know the customer's real-time location. Decide time and date to push a notification. You can trigger notifications while they're near your store or a competitor's store. For example - " Unlimited online deals and discounts to Delhihites, offer valid for today".
Location Tagging In Social Media Posts
Tagging helps platforms like Twitter, Facebook, or Instagram to use location tags to increase visibility. When users search for products based on location, your posts are displayed front and center with location tags.
StoreHippo has an intuitive discount engine through which you can create endless discounts and coupons for various products to increase sales and attract buyers. Release your creative juices by testing new types of discounts based on order size, payment mode (mobile, offline, credit card), product categories, etc.
You can even send these discounts directly to customer devices (mobile or desktops) via push notifications feature in StoreHippo platform. To widen your online reach, StoreHippo lets you easily integrate social media channels (Instagram, Twitter, YouTube) and advertising platforms (Google Ads, Facebook Ads) to divert traffic from these platforms to your site/app.
Want to avoid the pain of effectively handling deliveries? Partner with Hyperlocal delivery providers. The provider will then employ agents, local suppliers, stores, and warehouses to fulfill orders within 2-3 hours.
API Integration: APIs automates the entire order fulfillment process. For example, from order uploading and importing, order assignment, order status updation to delivery scheduling, real-time delivery tracking, order syncing, and even beyond. APIs alleviates manual work and human errors. Thus promoting efficient delivery management

Greater Area Coverage: Make sure that the shipping partner must have large coverage i.e. should offer shipping service to your target cities or pincodes. When signing up for StoreHippo ecommerce platform, you get access to multiple courier providers that deliver to 27000+ pin codes across India and also deliver to major global destinations

Account Creation And Shipping Fees: Make sure that you enquire about all charges and hidden fees before onboarding a delivery partner
Here is some good news ~ When you sign up for StoreHippo, you get discounted shipping rates on deliveries ( with selected partners ) and a zero cost shipping account. From the account, you can automate the entire logistics process i.e. send bulk orders, pickup schedule, order management, label generation, etc.
Delivery Boy Apps: With an inbuilt delivery boy management software, online marketplace owners can manage the delivery boys details and delivery order with an easily accessible app. StoreHippo offers a delivery boy app to ease the process of delivery assignment and minimize the manual tasks.
Delivery agents can install the app on their Android or iOS devices and can manage orders hassle-free. They can update order status, track orders received/deliveries, view order history through an interactive mobile dashboard.
Multiple Warehouses: Want to conquer a bigger market share via quick commerce? Integrate with a partner that offers multiple warehouses scattered across the country. Through them, you can choose a warehouse location near the customer's address. It accelerates the delivery via termination of extra in-transit time.
Q-commerce is now the future of ecommerce, especially in the essential goods market. There is tremendous growth potential and opportunity to improve customer experience via quick deliveries. The main driver for quick commerce growth is COVID 19, which pushed the young and old generation to shop online for essentials, electronics, apparels, etc, so that they catch the virus.
To tap this opportunity, you need an ecommerce platform with integrated logistics solutions.
Thanks to the intelligent logistics solution in StoreHippo, which makes the delivery process effortless. StoreHippo also offers a set of holistic features like delivery boy apps, vendor dashboard, seller registration forms, automated logistics solutions, multiple shipping partners, etc; to kickstart your quick commerce journey.
Want to experience how these features can really accelerate deliveries? Get started with 14 days free trial of StoreHippo to become the next big sensation in quick commerce.