All of us have come across some or other online marketplace while surfing for products online!
But, have you ever wanted to build your own marketplace website one day?
If yes, you have just come to the right place. We are going to explore the Indian ecommerce market and have a detailed discussion on how to create online marketplace in India this coming year.
Well, first things first!
Multi vendor marketplace is the hottest business model today.
Wondering why?
To answer this, let us look at some of the buying habits of the Indian shoppers on multi vendor marketplaces: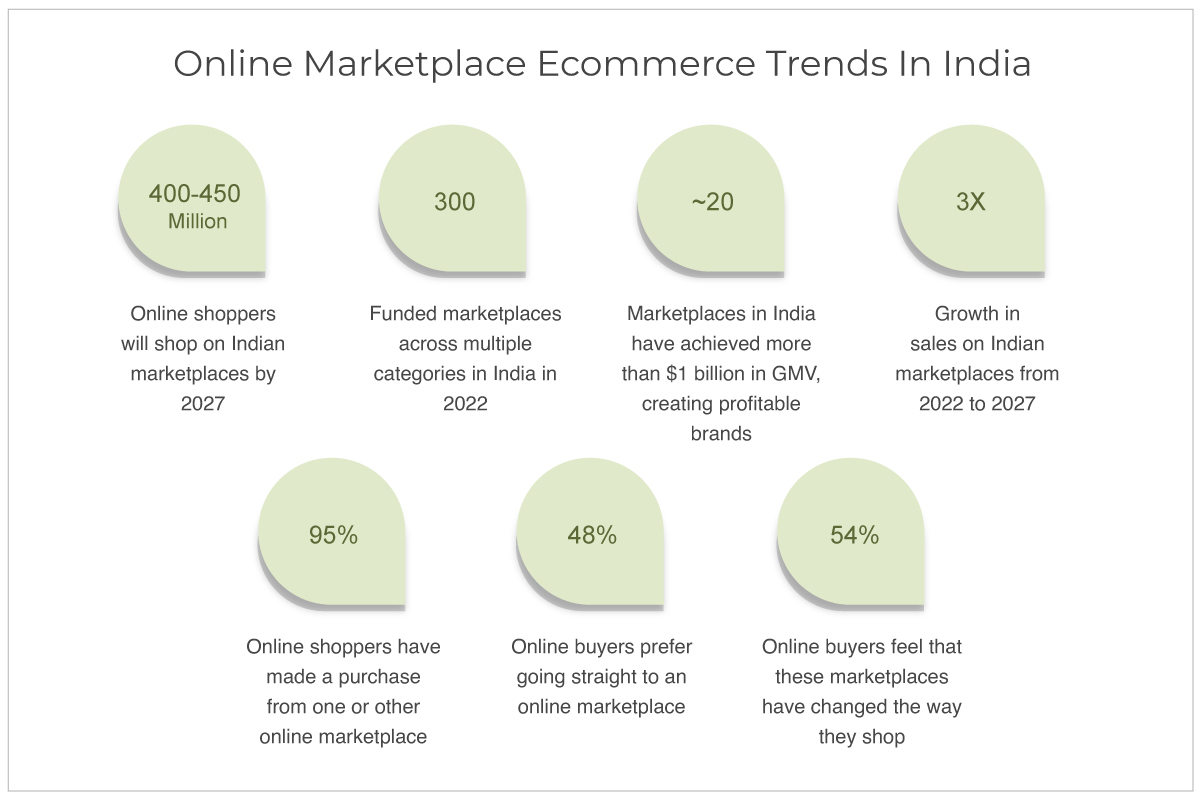 400-450 million online shoppers will shop on Indian marketplaces by 2027
300 funded marketplaces across multiple categories in India in 2022
~20 marketplaces in India have achieved more than $1 billion in GMV, creating profitable brands
3X growth in sales on Indian marketplaces from 2022 to 2027
95% of the online shoppers have made a purchase from one or other online marketplace
48% of the online buyers prefer going straight to an online marketplace
54% of the online buyers feel that these marketplaces have changed the way they shop
Source: Statista, Money Control
Reason enough to create online marketplace in India in 2023? It sure is.
Looking right at the figures, we are sure you are also awestruck by the tremendous growth of online multi seller stores in India. Before we dig deeper into the how to create part, let us understand the what and why of online marketplaces.
An online marketplace is categorized as an ecommerce portal where multiple vendors come together on a single platform to sell similar or different products and services. The ecommerce business model is also popularly known as a multi vendor marketplace.
The vendors on the online marketplace platform upload, display and sell their products and services to the vast customer base. These vendors pay a commission to the marketplace owner for selling their products on the marketplace and using varied features like shipping, logistics, etc. The marketplace is solely managed and run by the admin/owner, while the inventories and order fulfilment is taken care of by the vendors. Some popular examples of ecommerce marketplaces are Amazon, eBay, Flipkart etc.
It is for the amazing success of marketplaces like Amazon in India, that there has been a rage for online marketplace business models among enterprise brands. With a zero inventory business model, multi vendor marketplace is the best way to digitize the sales channels of enterprise brands with a wide distributor network. It is easy to scale, helps vendors penetrate the new Indian market and helps the business owners create multiple revenue sources.
Enterprise businesses can focus more on their business growth strategies, brand visibility etc and worry less about the inventory and shipping part of the business in an online marketplace set-up. Sellers on the marketplace get a wider audience base along with freedom from the burden of IT maintenance and customers can enjoy a wide range of products available at competitive pricing on the online multi seller store.
Climbing your way up in the ecommerce industry in India requires careful planning and strategic thinking. To create online marketplace, enterprise businesses can opt for either of the two options here:
Build the online store from scratch
Use a turnkey enterprise ecommerce solution
While both the options can be used to create the end product, building an online multi seller ecommerce store from scratch is a time-consuming and resource-intensive process. But, when you choose a turnkey marketplace solution to build your marketplace website, you not only save your resources but can also go to the market in record time.
However easy building an enterprise brand might seem to you, finding the best marketplace software is surely an uphill task. Don't you agree?
Launching your online multi vendor store is indeed an important step that can't be done wrong. When you choose a SaaS-based turnkey ecommerce solution, you make sure that the site is suitable for the customers and easy to scale up at any given point. Large enterprise businesses around the world are using the turnkey SaaS ecommerce solutions for the host of benefits attached.
Here is a list of advantages of opting for the SaaS-based turnkey ecommerce solution:
Cost effective solution as against the custom made online marketplace
Quick to go to the market unlike building the solution from scratch
Little to no technical knowledge needed to create, tweak or design
Cutting-edge technology that keeps you ahead of the competition
Automatic upgrade options keeing enterprises from the hassles of manual upgradation
Seamless integrations to build innovative marketplace solutions
Customizable backend and frontend solutions
Easy and quick to pivot to a variety of business models using the in-built solutions
StoreHippo, the best marketplace software is built on MACH architecture that helps enterprise businesses build agile solutions. With its decoupled headless architecture, StoreHippo offers a better creative control to businesses whilst also giving them freedom to experiment with unique business needs. It offers 300+ inbuilt features and 120+ integrations making it easy to build innovative marketplace solutions for enterprise business.
To create a successful marketplace website in India and be able to offer the best to all parties involved, enterprises need to look for some basic features in the online marketplace software they choose. These features are categorically used to make the buying journey smooth for customers, the selling process efficient for the sellers and doing business easy for the admin(s).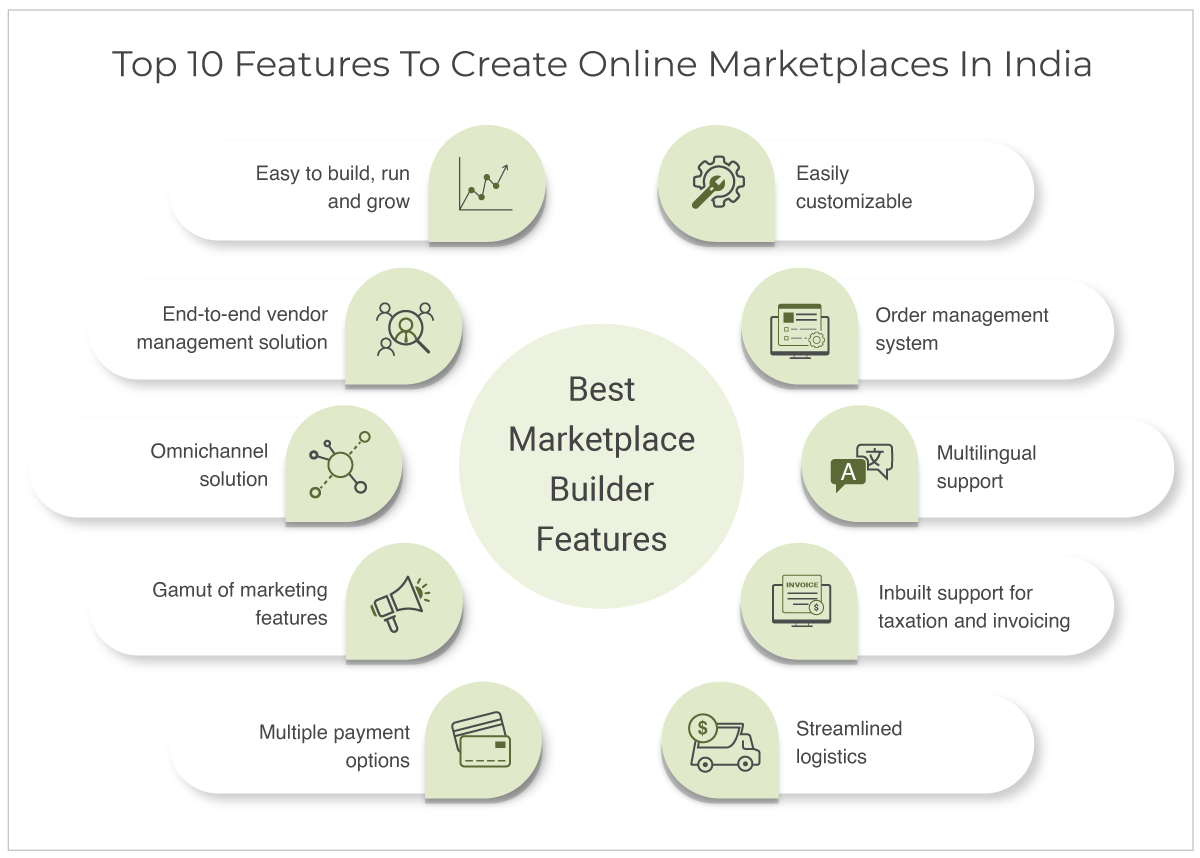 Here is a list of the top 10 features needed to create online marketplace in India:
Your online marketplace should be easy to use for all parties involved, i.e. the seller, the buyer and the admin. Making not only the buying easy for the customers, but also selling on the platform easy for vendors and managing the marketplace easy for the admin(s).
The marketplace website should have inherent flexibility that makes it easy to customize and change as per changing market demands.
The online marketplace software you choose must offer a complete vendor management solution that makes the onboarding process easy for sellers and can be done in a few clicks. It should offer a separate vendor dashboard to the sellers giving them the freedom to add products and manage their orders.
With a comprehensive order management system to manage the orders, inventory shipment etc, it becomes easy for the vendors to manage the supply chain.
The new-age customers like to shop on the go via multiple touchpoints. When you create a marketplace app for your customers, and are available on various channels, you get recognized as a customer centric enterprise brand.
India is a multilingual nation. The marketplace software with multilingual support is one of the important features to look for while building your marketplace portal in India. With support of multiple local languages, brands can reach far-off locations pan India.
While choosing the marketplace software, make sure it offers a gamut of marketing features to help you grow your business and reach unexplored markets in India. Look for features, like a powerful discount engine, dynamic forms, support for notifications, chat etc.
The best marketplace software is one that offers an inbuilt tax engine to automate and simplify your taxes. It should enable you to calculate common and unique taxes easily with its simplified tax rules. And having GST support is a must to handle various GST taxes for vendors across India.
When you offer multiple payment gateways to your customers, you let them know that you value their money. With multiple secure payment options on your marketplace website, you can sell better and increase your conversions.
Enterprise brands can find all these features and much more at StoreHippo. The marketplace solutions from StoreHippo are built on cutting-edge technology that helps the brands tap the ecommerce market of India. With the plug-and-play solutions from StoreHippo, businesses can build customized marketplaces across various industry verticals.
A marketplace builder that offers integrated logistics support, enables your vendors to grow their business manifold. You can boost your customer reach and increase conversions manifold by offering streamlined and timely deliveries.
The Indian ecommerce marketplace is flooded with a plethora of multivendor online stores like Nykaa, Amazon, Flipkart, Indiamart, etc. Enterprises everyday are coming up with out-of-the-box disruptive business models which need unique solutions to be implemented. With a turnkey, fully hosted and managed multi-vendor marketplace solution like StoreHippo, businesses can build a highly scalable online marketplace for the diverse Indian markets.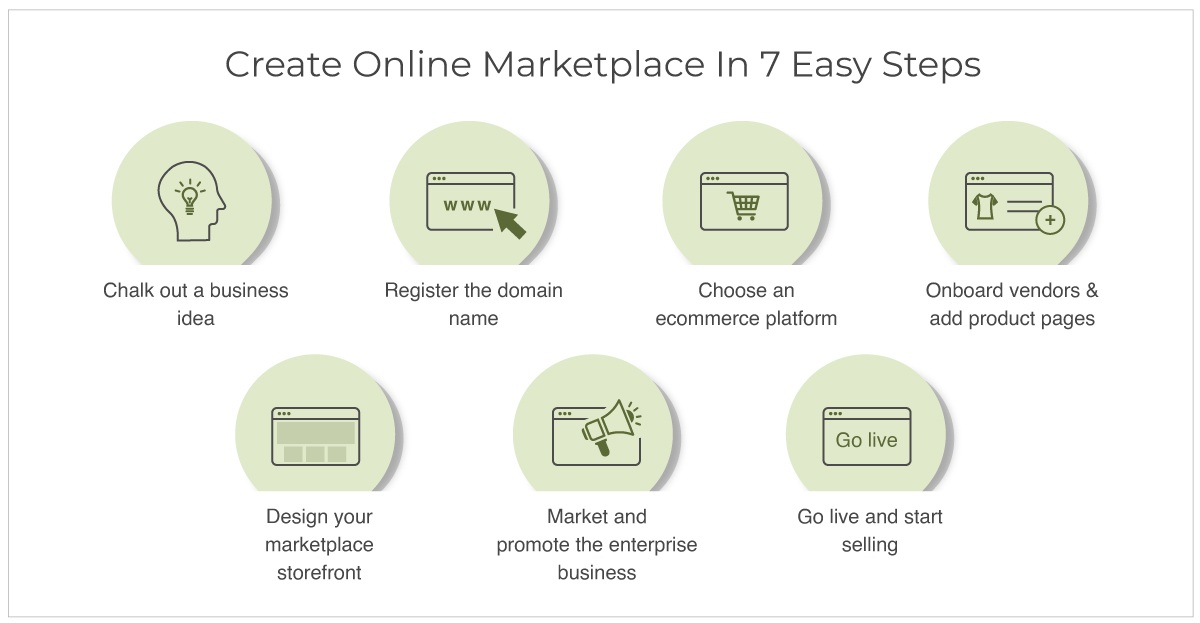 Let us look at the step-by-step process here:
Irrespective of the product you are planning to sell, you are going to face fierce competition in the Indian market. So, you might want to narrow down your business idea to a potential audience segment. Or, even better, find the perfect market segment by first conducting a customer survey to understand the existing market scenario. Then you have a marketplace website that caters to the needs of your audience.
Well, before you put your shoulder to the wheel, you need to find and register your domain name. And much to your surprise, a domain name is what makes people remember you. Make sure you choose a short, simple and attractive domain name for your enterprise business. An authentic registration is going to help you at various points like ensuring a secured site, or accepting payments. You will also be attrracting a good flow of vendors on your marketplace website with an SSL certification.
This very step defines the success of your enterprise business. The type of the platform you choose helps you build a reliable and user-friendly platform for your customers. With SaaS-based turnkey ecommerce software solutions like StoreHippo, you can build your desired business model in half the time and cost.
StoreHippo offers 360-degree ecommerce solutions with a richness of in-built features that help you customize your ecommerce platform to your unique business needs. Built on MACH (Microservices, API-first, Cloud-native, Headless) architecture, StoreHippo gives greater creative control to implement personalization and build innovative, tailor-made solutions for your online marketplace platform.
What makes StoreHippo the best marketplace software?
StoreHippo enterprise ecommerce platform offers 300+ inbuilt features to help build, run and grow your business
Built on the mobile-first principle all stores built on StoreHippo are PWA
Inbuilt marketing tools, customizable themes, a tax engine and CMS
Peak load tolerance with inherently scalable infrastructure
120+ pre-integrated solutions, 60+ integrated payment gateways and 30+ integrated logistics solutions
Now that you have your online marketplace platform ready, the next step would be to onboard vendors and list products on the marketplace. Since you have choosen the best ready-made solution for your online store, you can use the in-built tools to onboard vendors and add products seamlessly. Like StoreHippo comes with:
Individual vendor accounts and simple registration processes
End-to-end vendor onboarding and management solutions
User-friendly dashboards to help sellers manage their day-to-day business operations
Full approval flow control with the admin to approve or reject vendor products
Easy product management that helps upload bulk products using CSV
Once you have added products and onboarded vendors on your online marketplace, it's time you jazz it up well. StoreHippo comes with an in-built theme designer where you can choose from the rich themes library and play around to create the most stunning online store for your enterprise business. With the drag and drop feature, you can quickly align your store design with your promotional events or upcoming festivals by changing the design and banner with no coding required.
Building an online marketplace website comes with the great responsibility of attracting high quality traffic. Given the cut-throat competition, you might want to compel your customers with an effective marketing campaign before you start selling. StoreHippo comes with the following tools to help you attract customers:
Offer quick discounts using the powerful discount engine

Easily create dynamic landing pages to promote products specific to a geography, user segment, time or device

Engage your customers with the in-built unified notifications via email, browser and push

Boost reputation, audience base and conversions using your affifiliate network

Use the in-built SEO tools and blog engine to rank higher on SERPs
With all the details in place and with the best marketplace software at your disposal, you are all set to start selling in the Indian ecommerce market. However, it is wise to first test your site for any hiccups and fix those (if any) rather than going to the market and being intimidated by your customers. And when it's all sorted, you can start selling your products and run a successful business.
Enterprise businesses can create their online marketplaces quickly and seamlessly in a few simple steps with the help of comprehensive marketplace software from StoreHippo.
StoreHippo is categorized as the best marketplace software for its end-to-end solutions designed for a variety of enterprise business models. It is built on pure headless architecture that helps brands build extremely customized and personalized buyer journeys. StoreHIppo enables the brands to quickly add new customer touchpoints using the same backend logic and APIs used for building their online marketplace website.
The enterprise brands can quickly penetrate to the corners of the Indian ecommerce market and win the local Indian customers with hyperlocal ecommerce solutions from StoreHippo. It comes with an in-built delivery boy management software that enables businesses to manage their own fleet of delivery boys seamlessly. Brands can also communicate with these local customers in their native language using the multilingual feature from StoreHippo.
Built on mobile-first technology, StoreHippo enables all enterprise brands to quickly create a marketplace app from the central admin dashboard. All the stores built on StoreHippo are PWA stores that can run seamlessly even on entry level mobile devices and work with poor internet connectivity as well. StoreHippo comes with 60+ integrated payment gateways, 30+ logistics solutions and a gamut of marketing tools offering the brands a one-stop solution for all their ecommerce needs.
Businesses can seamlessly create hybrid solutions without the need of any additional plug-ins or extensions. With the drag and drop design tool, enterprises can quickly elevate the look and feel of their online marketplaces. It also enables the businesses to offer lucrative marketing strategies with its in-built marketing tools like discount engine, SEO and blog engine, unified notifications etc.
With the ecommerce world around us brimming with opportunities, now is just the right time to create online marketplace. And, with ssuch a detailed discussion above, we are sure you have access to the right tools and technologies to create a conversion-oriented marketplace website in India.
Are you ready to create online marketplace for the Indian ecommerce industry with StoreHippo? Explore the extensive features of the best marketplace software by starting your 14 day trial now.