Ecommerce being the hottest buzz in the market. We get to hear of new online marketplaces opening up every day. No doubt that ecommerce has emerged as one of the favorite business options today. Did you know that: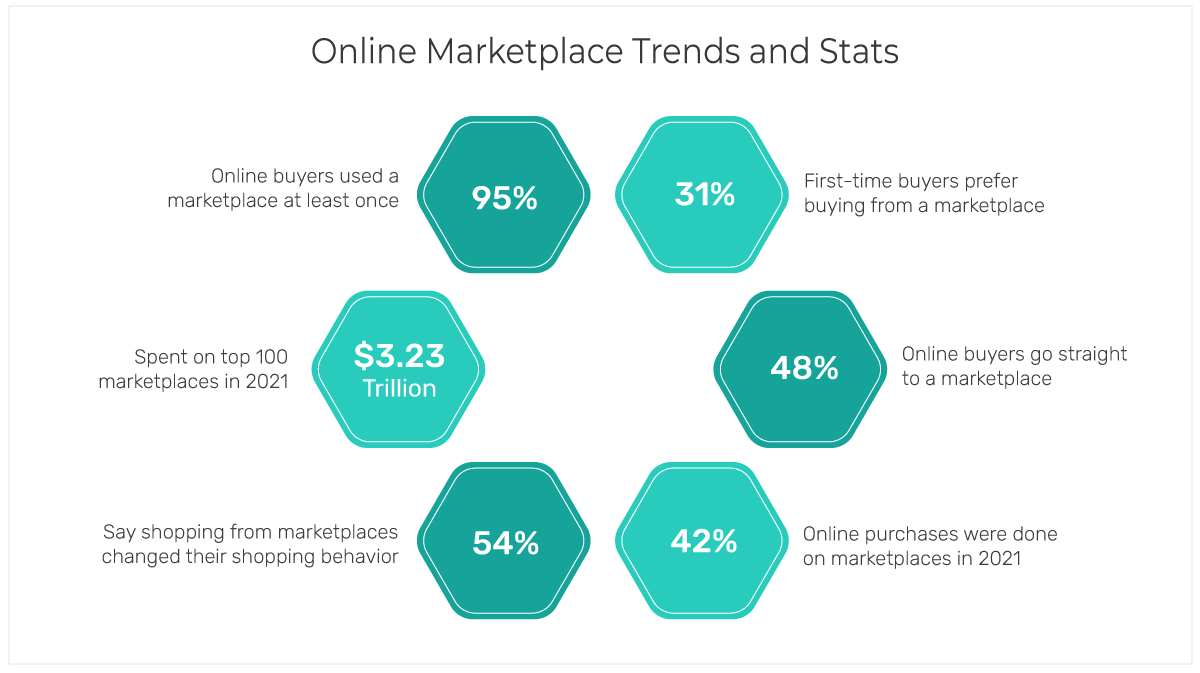 95% of online buyers have used a marketplace once in their lifetime
31% of first-time buyers prefer to buy from online marketplace
$1.97 trillion has been spent globally on the top 100 online marketplaces in 2019
54% of the buyers feel that shopping from marketplace has transformed the way they shop online
57% of global online sales are done on marketplaces
Have you ever wondered what makes it the most preferred option over other businesses? The answer is - it has huge potential to create multiple revenue sources. And cherry on the cake is that it requires minimal investment to make multiple revenue streams available for you.
We all know that starting an online marketplace with no revenue planning is not the way you can launch a successful business. In this article, we will walk you through the top ways to create multiple sources of revenues on your marketplace. Ready to bring your marketplace to life? Read on.
How to create multiple revenue sources on your marketplace?
Creating a multi-vendor marketplace can be a great way to make money from varied sources. The two most important steps to successful online business are to;
Without a great planning of revenue sources, you can't stay long in the competitive ecommerce industry. Apart from the commission on orders, these can be other revenue streams for the marketplace admin:
1. Sell your own products on your marketplace
While commission is one of the most common methods to monetize from a marketplace. Getting a cut from every transaction can add a lot to your revenues but selling your own range of products has the great potential for the online marketplace owner. In addition to the revenue part, you will also gain other things like goodwill, brand value, credibility which matters a lot for your business. You can easily launch a quality range of products, start selling just like a vendor on your own platform, your monetary gains.
2. By offering paid membership for value added services. Example; Amazon Prime
The membership fees have become one of the most popular revenue models over the time where the users are charged to get access to the marketplace. Under this model, the customers can save costs or find unique experiences. And for sellers, they can find new customers on the multi-vendor marketplace. The membership fee is always a good choice if you are providing a certain value proposition to the users. For example, Amazon offers free fast shipping for purchases, exclusive shopping deals and selection, and more to the Prime members.
3. Seller registration fees or membership fee for selling on your portal
Registration or sign up fee is a flat payment collected from the sellers when they apply to sell on your marketplace platform. It is one of the simplest and straight forward revenue models as you can charge sellers upfront. This source of revenue makes good sense to your sellers because paying a smack amount to join a multi-vendor marketplace is not a bad deal for them. Some of the tips to make this revenue model work are;
Ensure that the registration fees are feasible and affordable

Offer incentives for early bird sign up to create a sense of urgency among sellers

Emphasize on the benefits for vendors
4. Paid advertisement for some sellers or brands
This revenue model is little different from the product or seller promotion. Here, you allow the third-party advertisers to promote their products and services on your platform. If your online marketplace has a good number of online searches, you can charge advertisers to publish their ads on your platform. You can consider the ad placement of:
Text advertising like blog posts

Display advertising like banners, graphics etc.

Mixed advertising like sponsored third-party listing
5. Product listing fees
This business model works primarily on volume. This model was earlier used with classified advertisements. The value proposition for sellers is that they get a centralized place to display their products and catch the attention of customers. Here, the online marketplace owner charges sellers when they list their products on the platform and the fees are generally quite low.
6. Charges for displaying featured products
The featured product model works on a crowded marketplace where a lot of sellers struggle to catch the attention of customers. With the featured listing of products or services, the sellers buy enhanced visibility for their offerings. If this model is followed on a multi-vendor marketplace, the product listing on the platform is free. It is a very popular revenue stream for the platform and works best when you have a specific niche.
7. Affiliates and referrals
Running affiliate and referral systems drastically increase the number of customers on your marketplace and thus, drive more sales. In affiliate marketing, the third-party advertisers promote the products of your marketplace without any membership. And in referral marketing, the existing members of an online marketplace refer visitors to the platform based on their experiences. You can choose either of these options or run both at the same time depending on the capabilities of your ecommerce marketplace platform. Well, both are beneficial and allow you to build a great user base or a community.
Conclusion
Start and run a successful online marketplace with StoreHippo.
When it comes to the marketplace business model, there is no one size fits all approach. You have to cautiously design a revenue model for your marketplace platform considering the company size, location, industry, competitors, and nuances of your target market. The process of developing a business model sounds easy in theory, but it can get complicated in practice.
If you are also planning to start your multi-vendor marketplace and earn from multiple revenue sources, StoreHippo offers a unique solution with 300+ inbuilt features, dynamic marketing strategies, and let you diversify your business model for better ROI. And it's just not just a solution for your marketplace but also offers inbuilt solutions like multi store, multi-currency, multilingual support. With integrated shipping and payment gateway integrations, you can easily manage the orders, vendors, payments seamlessly. Now, what's stopping you from starting your online marketplace?
Explore the future-ready multi-vendor solution and get started with StoreHippo by scheduling your 14-day free trial now.