An online marketplace is perceived as a model that earns revenue at zero investment in inventory. With strategic planning, competitive pricing and the best vendors onboard, a multi-seller platform can prove to be the most rewarding business model for enterprises across industry verticals.
While the model is efficient, scalable and quickly profitable it is also the preferred shopping hub for online buyers.
Did you know that: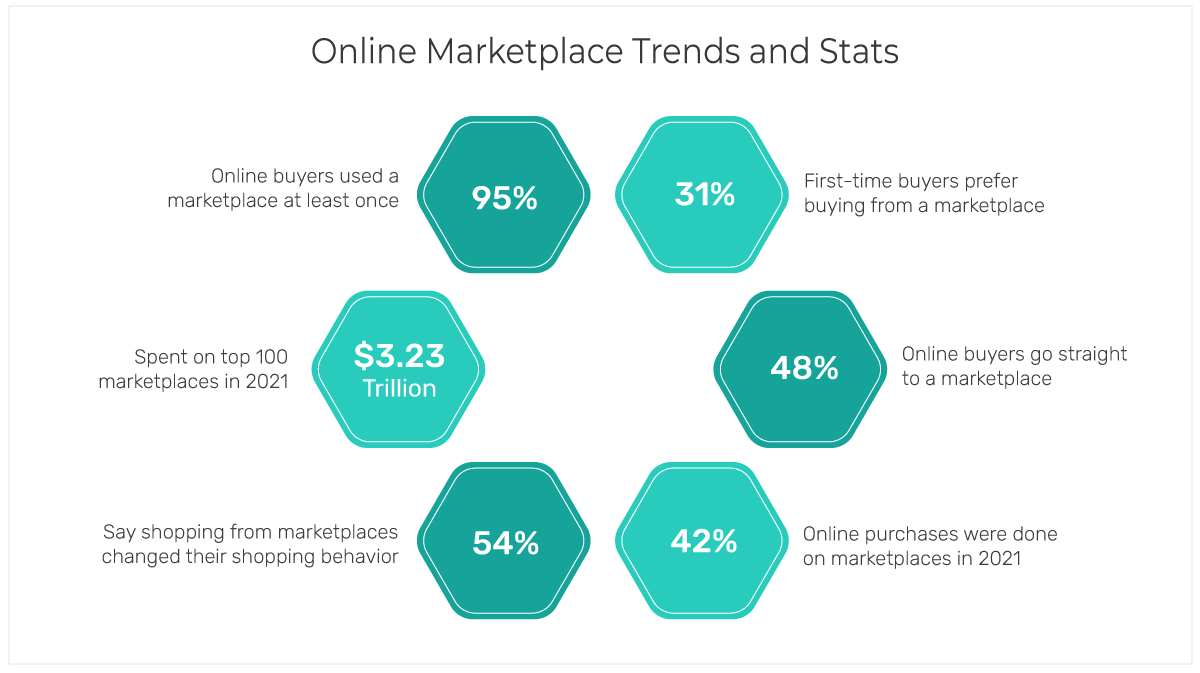 95% of online buyers have used a marketplace once in their lifetime

$3.23 trillion was spent by customers on the top 100 multi vendor marketplaces in 2021, a 64% increase from 2019

54% of the buyers feel that shopping from marketplaces has transformed the way they shop online

42% of all online purchases were done on online marketplaces in 2021

48% of online buyers land straight on a marketplace while shopping online

31% of first-time buyers prefer to buy from an online marketplace
Source: Digital Commerce 360
The trends make the picture clearer, customers love shopping on marketplace websites. Even B2B marketplaces are rapidly becoming the favourite shopping hub of new-age buyers who bought 50%-74% of their purchases on B2B marketplaces in 2021.
So whatever your industry vertical, building your own multi vendor ecommerce website gives you a winning edge over the competition by creating a large catalogue and competitive pricing which buyers prefer.
While we know that customers prefer shopping on marketplaces, is it reason enough for an enterprise brand to consider the business model? Can your brand garner the same trust and value if you work with a simple ecommerce website instead of an online marketplace?
Well, the answer is yes you can become a favourite brand even with a simple store as long as you create amazing experiences for your buyers. The only difference is that with the marketplace model, you can do it faster and without worrying about the inventory, order and fulfilment part.
Here is how a multi vendor marketplace is more suitable for enterprise brands than a regular website: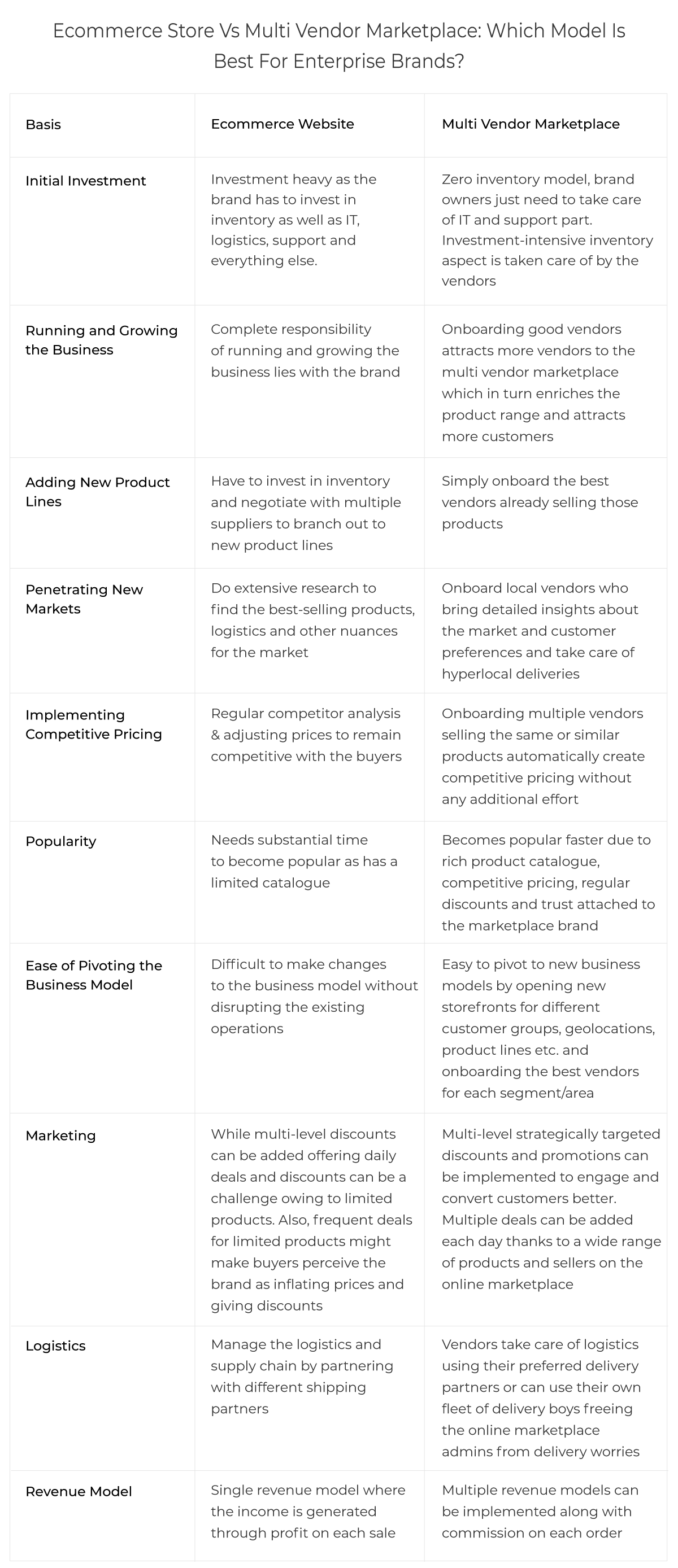 The table clearly shows how the online marketplace model is sets up an enterprise brand for faster growth. The ability to easily multiply the revenue channels with minimal investment makes the marketplace model lucrative for big businesses looking for disruptive growth.
However, starting an online marketplace with no revenue planning requires strategic and well thought revenue planning right from the start to make it a success. In this article, we will walk you through the top ways to create multiple sources of revenues on your marketplace. Ready to start earning more from your marketplace? Read on.
Creating a multi vendor marketplace can be a great way to make money from varied sources. However, to start on the right note, enterprise brands must set their priorities right. Here are the things that should be factored in to make the business successful;
Develop a viable business model

Plan the way forward

Decide on the revenue channels and how they will work

Optimize the revenue streams
Along with commission on orders, these can be multiple other revenue streams for the marketplace brand. Once you have decided to multiply the revenue streams on your online marketplace you need to build a detailed strategy and put in place the systems/flows/tools that will help in making the revenue streams operational.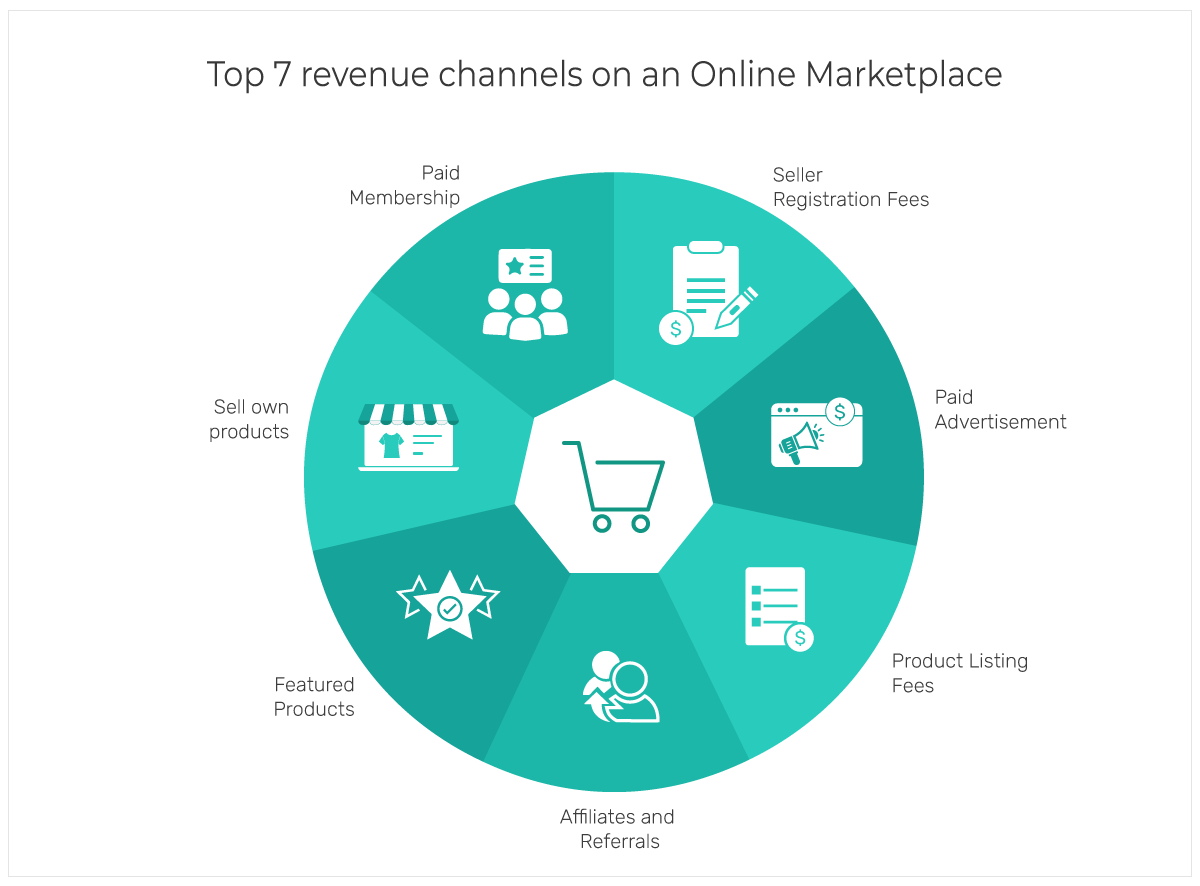 Here is how you can make your online marketplace successful and more profitable by adding the following revenue generating channels:
While the commission is one of the most common methods to monetize from a marketplace, going a step further and launching your own products on your marketplace is a tried and tested way to boost revenue.
Getting a cut from every transaction earns marketplace brands substantial revenue but selling your own range of products helps you utilize your marketplace infrastructure and insights to launch profitable and popular products.
In addition to earning additional revenue, your brand will also gain other things like goodwill, brand value, and credibility which matters a lot for your business. You can easily launch a quality range of products, start selling just like a vendor on your own platform, and grow your profit.
Offering premium services at nominal membership fees has become one of the most popular and lucrative revenue models for multi vendor marketplace websites. This revenue model ensures recurring income for the marketplace brand from customers who wish to avail of some premium services like faster delivery, access to special discounts or early access to new product launches.
The paid membership model goes a long way in engaging the buyers by helping them save costs or find unique experiences. And for sellers, this boosts the opportunity of selling more as when members are offered free or discounted shipping they tend to order more often.
The membership fee is always a good choice if you are providing a certain value proposition to the users. For example, Amazon offers free fast shipping for purchases, exclusive shopping deals and selection, and more to Prime members.
Registration or sign up fee is a flat payment collected from the sellers when they apply to sell on your marketplace platform. It is one of the simplest and most straight forward revenue models as you can charge sellers upfront.
This source of revenue makes good sense to your sellers because paying a small amount to join a reputed multi vendor marketplace is not a bad deal for them. Some of the tips to make this revenue model work are;
Ensure that the registration fees are feasible and affordable





Offer incentives for early bird sign up to create a sense of urgency among sellers





Emphasize on the benefits for vendors



This revenue model differs a little from the product or seller promotion. Here, you allow third-party advertisers to promote their products and services on your platform. If your online marketplace has a good number of online searches, you can charge advertisers to publish their ads on your platform. You can consider the ad placement for;
Text advertising like

blog posts





Display advertising like banners, graphics etc.





Mixed advertising like sponsored third-party listing



This revenue model works primarily on volume. This model was earlier used with classified advertisements. The value proposition for sellers is that they get a centralized place to display their products and catch the attention of customers.
Here, the online marketplace brand charges the sellers when they list their products on the platform and the fees are generally quite low.
The featured product model works in a crowded marketplace where a lot of sellers struggle to catch the attention of the customers. With the featured listing of products or services, the sellers buy enhanced visibility for their offerings.
If this model is followed on a multi vendor marketplace, the product listing on the platform is free. It is a very popular revenue stream for marketplace platforms and works best when you have a specific niche.
Running affiliate and referral systems have the potential to drastically increase the number of customers in your marketplace and thus, drive more sales. In affiliate marketing, third-party advertisers promote the products of your marketplace without any membership.
In referral marketing, the existing members of an online marketplace refer visitors to the platform based on their experiences. You can choose either of these options or run both at the same time depending on the capabilities of your ecommerce marketplace platform. Well, both are beneficial and allow you to build a great user base or a community.
When it comes to the marketplace business model, there is no one size fits all approach. You have to cautiously design a revenue model for your online marketplace platform considering the company size, location, industry, competitors, and nuances of your target market. The process of developing a business model sounds easy in theory, but it can get complicated in practice if you do not have the right marketplace builder at your disposal.
StoreHippo offers a unique multi vendor marketplace solution for enterprise brands planning to pivot to the marketplace model. StoreHippo comes with plug and play multivendor module that takes care of end to end requirements of a multi seller portal.
Built on MACH architecture, StoreHippo helps brands leverage the agility, control and power of headlesss commerce, microservices, API-first structure and scalability of cloud infrastructure to build innovative marketplaces.
With 300+ inbuilt features, mobile-first solutions, inbuilt marketing tools, 120+ integrations, you can experiment with your marketplace model and its revenue streams without bothering to buy additional pps or plugins. With built in support for a variety of B2B, B2C, B2B2C, D2C, hyperlocal ecommerce, quick commerce and omnichannel business models your can easily diversify your business model for better ROI.
StoreHippo is just not another online marketplace builder but it also offers inbuilt solutions like multi store, multi-currency, multilingual support. You can also build your marketplace apps right from your admin panel or convert your multi vendor marketplace website into PWA for better reach. With integrated shipping and payment gateway integrations, you can easily manage the orders, vendors, payments seamlessly.
Online marketplace model is versatile and suited for the market conditions of our age and times. With a feature-rich marketplace platform and the right business strategies in place, enterprise brands can create multiple revenue sources to grow the profitability of their business.
The marketplace model can also be tweaked in a number of ways to create hybrid marketplaces that hit a chord with the buyers and sellers. Hyperlocal, quick commerce, multi store and many other multi vendor marketplace models have already disrupted the ecommerce space. Driven by customer demands the marketplace model will evolve further to be the model of choice for enterprise brands planning quick and sustainable growth.
Ready to boost your profitability by starting your own online marketplace? Explore the future-ready multi-vendor solution and get started with StoreHippo by scheduling your 14-day free trial now.