Creating a B2B ecommerce website means opening up new sales channels for your business and reaching to new customers every day. Having an online business is everyone's dream these days but often people don't know where to start from. Earlier, it was difficult to commence commercial activities online because a lot many things were to be kept under consideration while moving online.
But today, the virtual world has changed and a single platform can make your dream come true. The online marketplace website has become an extremely popular idea because of low set-up costs and win-win business model.
Did you know?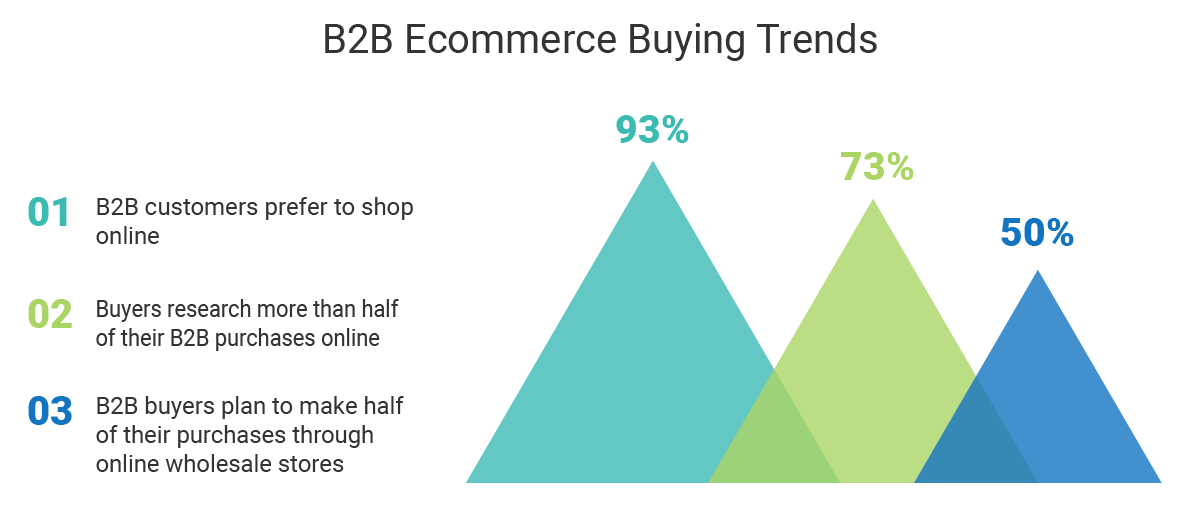 93% of B2B customers prefer to shop online?

74% of buyers research more than half of their B2B purchases online?

More than 50% of B2B buyers plan to make half of their purchases through online wholesale stores in the coming 3 years?
Aren't these reasons enough to start your B2B marketplace?
1. Super easy product management
Save time and make your product management easier with StoreHippo turnkey ecommerce solutions. Manage products in the backend with simple features like adding, editing, deleting, exporting, filtering, publishing, and unpublishing of single or multiple products. Also, get advanced options for uploading product image files.
2. Flexible commission system
No more hefty commission calculations. Set up a flexible commission system for vendors depending on their respective product categories or hierarchies. Simply, fix percentage wise commission rules and add further tax rules to get an automated calculation of total commission on each order.
3. Quick seller registration
Let your vendors enter into online business without any hassles. They can easily register themselves on the marketplace website in a few clicks and get them going. The vendor details like company name, address, payment details are captured in one-go.
4. Adaptive payments
StoreHippo is dedicated to offer maximum flexibility to the vendors with the automated payment processes. When the customer places orders from multiple vendors, the order amount gets split automatically. The seller amount and admin commission also get paid in their accounts directly from the payment gateway of the customer.
5. Customized pricing and quotations
The personalizing pricing features are some of the must-haves of marketplace websites. You can customize prices on the basis of location, login, wholesale and retail or set up your own rules. Also, allow your B2B customers to request custom quotes for your products for bulk orders and business enquiries.
6. User & role-based security
Manage your B2B setup with a granular permission system based on different user roles. It helps you to create a multi-vendor website that can handle information and database access to a variety of users.
7. Integrated shipping
Allow vendors to manage shipping of multiple products and orders without any hassles. The easy view of order details, real-time order status, order shipping, generating and printing invoice, cancellation of order are some of the features provided to vendors. Give a boost to your business and let them reach beyond the geographical boundaries.
8. Unified notifications
Power your communications with unified notifications on email, SMS, web and push notifications. You can create a multi-vendor website with the global and custom notification features. The global notifications are set for important events like registration, order, shipping and payments while automating your communications. And the custom notifications can be set for specific scenarios like order feedback, refill order alter, and alike.
Do you also want to create a multi-vendor website to enhance the visibility of your wholesale business without hiring an IT staff? Let's understand how it works.
Step 1: Choose a brand name and book a domain for your business
Step 2: Collect relevant information about your manufacturers, retailers, brands, distributors, and sellers to get started
Step 3: Define possible circumstances and use cases for your business
Step 4: Choose the best ecommerce platform to support your B2B ecommerce business. While there are many options to build marketplace website scratch, a turkey solution like StoreHippo provides extensive customizations and flexibility to support your business.
Step 5: Define unique business flows to customize different entities like vendor payments, commissions, and other ledge rules as you create B2B ecommerce website with StoreHippo
Step 6: Choose best-in-class theme from extensive themes library and create a multi-vendor website by using drag and drop features
Step 7: Integrate key functionalities like shipping, payment gateways, custom CRM, ERP in your ecommerce business to streamline your online business
Step 8: Build your mobile apps on Android and iOS without any additional cost. Also, get the look and feel of native apps with PWA functions.
Step 9: Optimize your marketplace website with inbuilt SEO features to get top search engine rankings and digital marketing integrations.
Step 10: Go live with your new B2B ecommerce business and start promoting your site using inbuilt marketing tools.
A Road to success
The development of marketplace websites is all about choosing the right platform that will enable your business to operate effectively. Today, a single application can control everything including products, vendors, orders, inventory, pricing, sales, payments, shipping, and a lot more. This is all thanks to StoreHippo.
The multi-vendor marketplace solution is loaded with best-in-class ecommerce functionalities and covers all the aspects of running your online business. So, don't wait anymore and create your B2B ecommerce website without any hassles. Schedule a Free demo now to explore the features by yourself.