Taking businesses online in the present era is not a new thing. But let's face it – starting your B2B (business-to-business) website, building it from scratch, running a fully functional ecommerce website is daunting.
The enterprise ecommerce growth shows no sign of slowing down and in fact, it is hitting the highest mark over the years. A report by Statistica indicates that it has already surpassed the revenue of $12.2 trillion in 2019.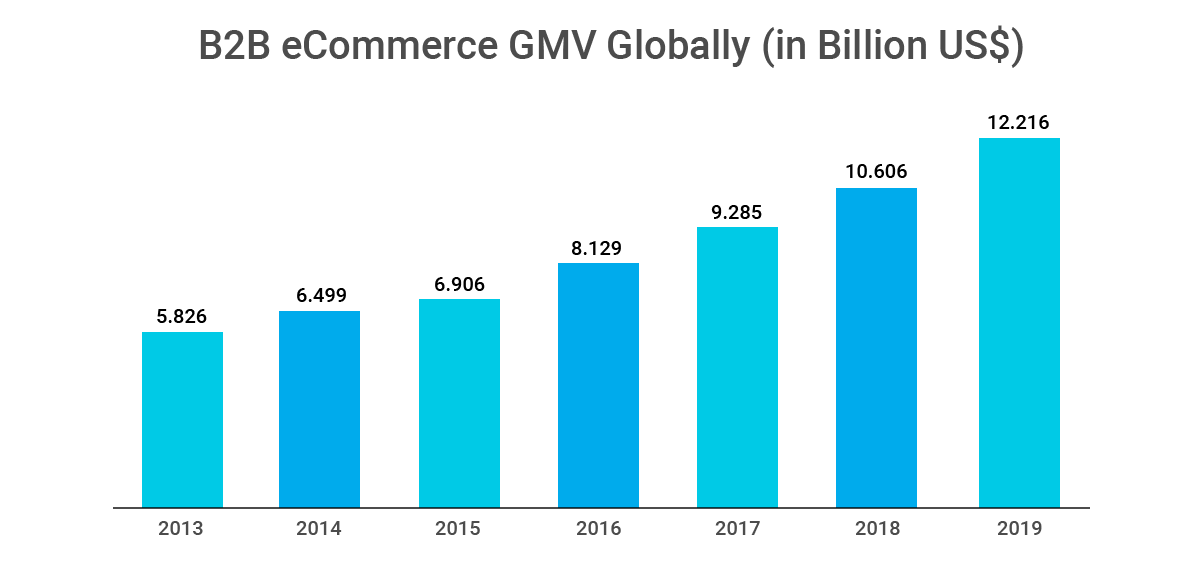 Most of the wholesalers want to build online marketplaces and stores because these numbers will continue to rise. Before we move ahead to know how to create a B2B ecommerce website, let's quickly understand the important basic concepts first.
B2B ecommerce website

– It provides features and tools for purchasing products and services for businesses over the internet. However, it needs to handle a lot of inherent complexities and unique business requirements.

B2B ecommerce platform

– It is a one-stop solution with out-of-the-box features and customizations. In addition to developing an awesome business-to-business ecommerce website, it also offers integrated like payment methods, shipping, and global solutions. It simply makes the business-to-business buying and selling easier while accelerating the business profits.
Are you also looking for a ready-to-use enterprise ecommerce solution? This guide is just for you.
Know the 5 simple phases to create a B2B ecommerce website and make it a BIG success.
1. Research and Strategy
Starting your online business gets way too easy if your objective is clear. So, the first step is to research and gather the project requirements. The primary data includes the business workflow, expected market response, and other considerations related to your business. Always remember to put your own point of view as well as the point of view of your customers and sellers. It is important to add enterprise-grade components to your website. Try to put yourself in the shoes of customers while researching and strategizing your B2B ecommerce website. It will give you a clear idea of the reasons why customers should arrive at your website.
2. Planning

Next comes the phase of planning your business. When you know the objectives behind starting your enterprise ecommerce business, you can start thinking about business module requirements, ways to automate your online business and increase efficiency, and alike. A B2B ecommerce solution enables ready-to-use modules for managing the vendors and business processes, automating the marketing activities that help your business grow.
3. Design and Theme Selection
Once you have decided the blueprint, it's the time to start taking action. Selecting the right design and theme builds the face of your online business. While deciding on the B2B ecommerce platform, remember these points:
Determine your business requirements

Ensure that your theme and design align well with your business goals

Note the total cost of ownership and ways to measure ROI
This phase provides an answer to the question – How to create a B2B ecommerce website since it allows you to decide the foundation, appearance, and feel of your website. The best B2B ecommerce platforms like StoreHippo offer beautiful designs and high-functionality themes for your website. The inbuilt solution has the capability to cater to the needs of wholesale businesses while offering new-age experiences.
4. Customization and Integrations
If picking a suitable design and theme is all about customizing the look and feel of your ecommerce website, then choosing your integrations is all about how your website behaves. It is one of the most crucial parts of your enterprise website and one of the most time-consuming business tasks.
So, the integrations are the third-party functionalities that help your business to work smoothly without any hassles. Choose a right B2B ecommerce solution that offers seamless integration and customizations. While this becomes a challenging task for many enterprise businesses, StoreHippo is here to make your online business path easier with pre-integrated payment and logistics channels, marketing, and more. It also allows you to integrate with your existing software like ERP, CRM, accounting systems to streamline business processes in a better manner.
5. Launch and Go Live

Once you are done with the aforementioned phases, you are all set to launch your enterprise ecommerce website. But before going live, always ensure that you have tested the look and feel, system integrations, workflows and processes. Also, it is recommended to opt for a soft launch so that you can understand the unexpected errors and resolve them.

After getting rid of all those teething problems, you can launch your website with marketing and advertising efforts. Start winning the online marketplace with B2B ecommerce solution to leverage the inbuilt marketing features to win the digital channel.
Top considerations before you launch your B2B ecommerce website
Hassle-free payment and shipping integration to give a seamless buying experience top your enterprise customers.
Marketing customizations

to personalize the marketing and promotion efforts for the customers based on order, devices, profiles.

Mobile-first approach to gain the maximum chunk of customers who prefer to buy from mobile devices. It does not only mean a mobile-friendly website though. A complete mobile-first approach by StoreHippo offers B2B online stores with additional PWA and mobile app experience.
B2B computability

to manage the complex sales cycle. A

B2B ecommerce solution offers multiple custom forms to speed up the business enquiry processes, multiple payment methods to speed up the payment process, and more.
Create your B2B ecommerce website with StoreHippo to maximize your profits
Well, you must have got the answer to "how to create a B2B ecommerce website" but if you are still not sure, how to maximize your business profits.
StoreHippo can help you to kick start your enterprise ecommerce business with everything you need. It offers a scalable and customization solution that grows with your business life cycle. Moreover, the modern tools, flexible platform, dynamic marketing features, and go-global solution is all what you need to gain enormous business profits. Start your 14-day free trial today to explore all these exciting features and much more.