Myntra is the go-to fashion marketplace for millions of Indian online shoppers across the country. With an operating revenue of INR 35.01 billion in the financial year 2022 (Source: Statista) the online clothing store is setting success goals for enterprise brands in the readymade garments segment.
Fashion is one of the fastest-growing ecommerce segments across the world as well as in domestic Indian markets. With projected revenue of $ 2.25 trillion by 2025 (offline+ online) of global apparel sales, building an online fashion marketplace is one of the highest priorities for enterprise garment brands.
Closer home in India, fashion is one of the hottest ecommerce segments driving the growth of ecommerce in India. With growing internet penetration and mobile phone along with the pandemic push, online fashion is now receiving huge traction even in tier II and III cities. No wonder building an online readymade garments multi vendor marketplace is one of the fast-catching trends for enterprise businesses in the clothing sector.
Let's have a deeper insight into the growth of the online fashion industry via Statistics.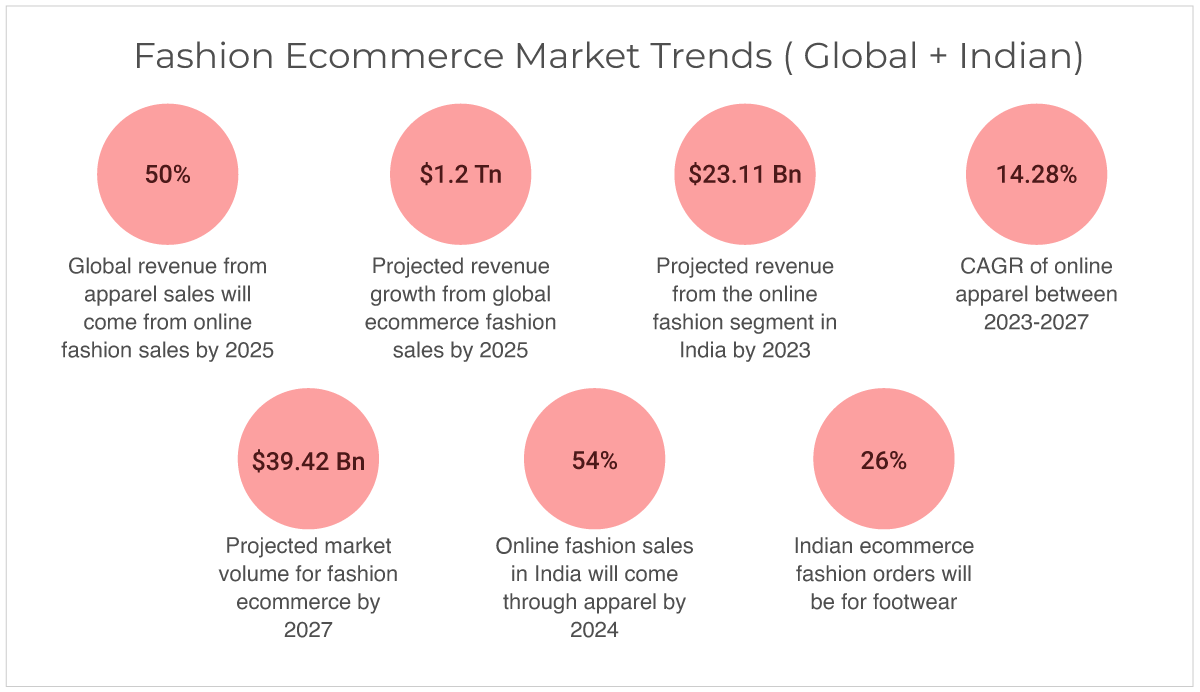 50% of global revenue from apparel sales will come from online fashion sales by 2025
$1.2 trillion is the projected revenue growth from global ecommerce fashion sales by 2025
$23.11bn is the projected revenue from the online fashion segment in India by 2023
14.28% is the CAGR of online apparel between 2023-2027
$39.42 bn is the projected market volume for fashion ecommerce by 2027.
54% of online fashion sales in India will come through apparel by 2024
26% of Indian ecommerce fashion orders will be for footwear
Source: Statista
Takeaway: The statistics clearly show that building an apparel multi vendor marketplace can be an effective way to grow your business.
Every upcoming fashion brand, before building its marketplace, would be keen to evaluate its successful competitors' strategies. That's why we have taken the example of Myntra, the largest fashion marketplace in India.
In this article, we will answer all the questions that you might have about Myntra. Some include:
What is their marketing strategy to acquire new buyers?


What advanced features and technologies are implemented on their marketplace app ?


What made them distinguished from other competitors?
We already saw through statistics where the online fashion industry is headed. Here we bring some more stats to help you in forecasting demand and formulating futuristic strategies for your readymade garments marketplace website.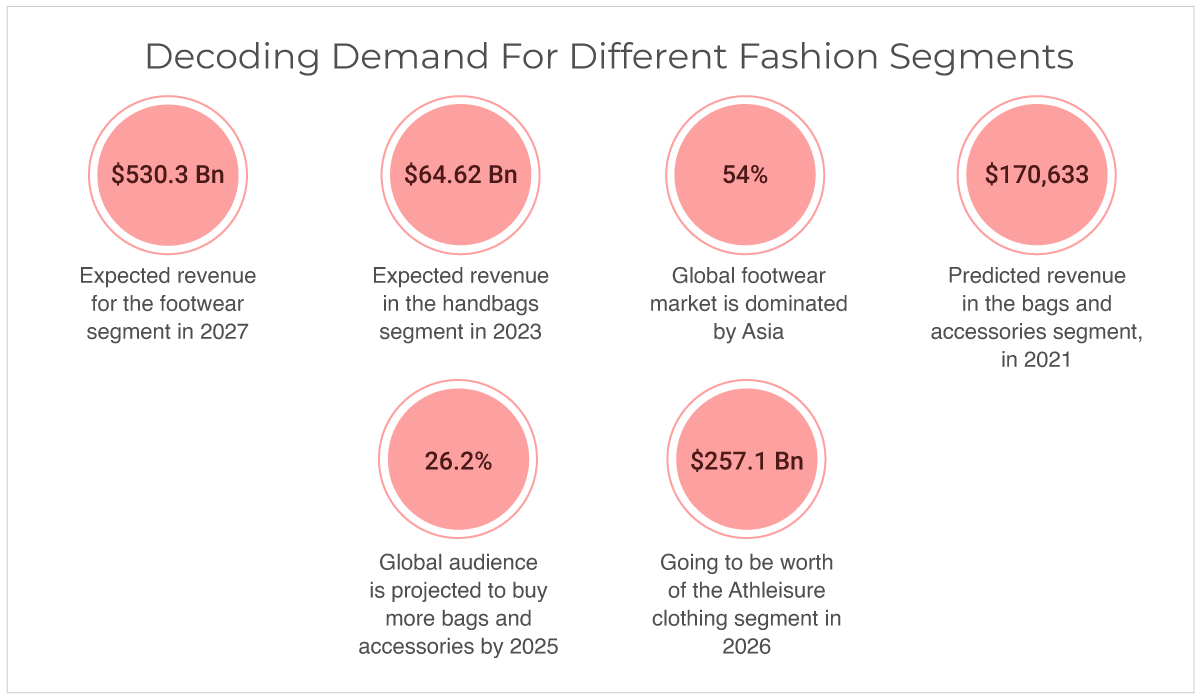 $ 530.3 billion is the expected revenue for the footwear segment in 2027 ( Statista )
$64.62 billion is the expected revenue in the handbags segment in 2023 (Statista)
54% of the global footwear market is dominated by Asia ( Statista )
$ 170,633 million is the predicted revenue in the bags and accessories segment, in 2021.
26.2% of the global audience is projected to buy more bags and accessories by 2025 ( Statista )
$ 257.1 billion is going to be worth of the Athleisure clothing segment in 2026 ( CNN )
Takeaway: You know where to focus when building a fashion marketplace website ie clothing (men and women), shoes, bags, sportswear, athleisure and accessories. Now let's explore how Myntra is tapping this demand to its advantage.
Let us delve into the details of Myntra's growth as the leading fashion hub in India.
Myntra is an online fashion store that has over 18 million monthly active users with 33 million visitors on its website domestically. It has partnered with 7,000 brands international and local brands. ( Statista )
Women's western and ethnic wear, men's Jeans and streetwear, and men's casual and sports footwear.
Delhi, Bangalore, Mumbai, Hyderabad, Pune from Tier-1 cities. Others are Lucknow, Guwahati, Bhubaneshwar, Jaipur, Dehradun, Imphal, Udaipur and Shillong from Tier 2 and 3 cities. Myntra also delivers to 27,000+ pin codes across the country. ( Your Story )
Influencer marketing: Myntra occasionally collaborates with influencers and celebrities with thousands or millions of followers on Instagram


Affiliate marketing: Their program called "refer and earn" gives an opportunity to bloggers/vloggers to earn commissions by writing reviews of Myntra products on their blog. This program assisted in boosting their site traffic and customer base


Twitter marketing: From time to time, Myntra arranges games, contests, etc to enhance customer engagement. For example, they ask people to share pictures of items they purchased and tag them in their tweets


Advertisements: To give an example - They ran 15-second video ad campaigns on multiple channels like TV, OTT platforms, social media and digital platforms. The campaign featured Youtubers and Bollywood celebs to create buzz about their "Big Fashion Festival". Resultantly, Myntra saw 18 million orders in total and delivered 11000+ items per minute. This again led to a 51% increase in traffic.


Email marketing: They regularly trigger promotional emails to notify customers about a sale, discount, or offers on specific brands with a call to action and adding a FOMO (fear of missing out) subject line


SEO: Myntra's site has been ranking first on Google for almost every fashion keyword. Their organic search traffic stands at 90.8M, whereas traffic from paid ads is 522.5K ( SemRush )
Image search feature: Users search for similar products simply by uploading an image on the online marketplace.


Search bar and filters: Users can easily find any product by either typing their or category. From discounts, prices, colours, and sizes to the pattern and even beyond, the filter got users' searches covered.


AI-powered outfit rating feature: To get AI ratings on their outfits, users have to capture and upload their photos to the app.


Instagram-like fashion feed: Customers can create their profile in the Myntra app and be part of the fashion community wherein the buyers can post their collections / outfits bought from your marketplace website have and also follow the fashion brands, and style icons.


Easy sharing of product: Share products via Whatsapp, Facebook, Twitter and Email with your friends and family for suggestions.


Try and buy feature: If users are unsure of size or quality, they can use this feature by ticking the trial and buy option during checkout.
Myntra has acquired Mumbai-based omnichannel retail platform Pretr, to boost omnichannel partnerships with brands on its platform. They introduced a program called Myntra-Mall that allows brands to display their inventory under one roof while creating a personalized customer experience on a digital platform. The program gave greater control to vendors. They can edit design and content through dynamic and customisable widgets. Further, auto-refresh options automatically update the brand's catalogue.
Now that we have decoded every aspect of Myntra's success and also got the latest data-driven insights, it's time to prepare a roadmap for your fashion online marketplace. Without further ado, let us get started:
Take reference from the above statistics and research local demand for the products you are willing to sell. Research your competitors to find which garments and accessories have evergreen demand. Once done with all the research, you will be able to shortlist profit-generating products.
Have you prepared the list of fashion products? Yes? Great, because you will need it to find relevant vendors who can sell them. You can reach local as well as famous brands and ask them to sell through your marketplace website. Discuss your growth strategy with your vendors to win their trust and gently persuade them to open a seller account.
Now this is a more laborious task than the above two. Marketplace Software is the base where you will manage your ecommerce operations. It has to be futuristic and feature-rich so that you can create a fashion marketplace app and site like Myntra. Here are crucial features to never miss in the marketplace software:
Admin specific features: Admin Dashboard, Sales analytics, PCI-DSS compliant Payment Gateways, Delivery Partner; SSL certificates; inventory management system; Inbuilt Marketing tools ; inbuilt PWA, Reporting and Analytics; Third-party integration support (like Chatbots, social media, ERP, CRM); Marketing tools, Multi-Currency and Language; Headless CMS; inbuilt MACH infrastructure (to get scalability and flexibility for future expansion), etc.


Vendor-specific Features: Vendor dashboard which must have the functionality to manage their inventory, orders, deliveries and sales; Analytics dashboard; Delivery Boy management ; seller registration forms, etc.


Customer Specific features: In- app notifications , SMS and Email notifications; Fast Checkouts, Custom Search, Search Filtering; Social media sharing, unique customer dashboard; Multiple Payment options , Omnichannel Delivery Options; Security Seals (to ensure customers that their card details are safe); Personalized Shopping feeds, one-click sign-up / log-in, and many others.
StoreHippo offers a next-generation multi vendor marketplace app and site builder that comes with 300+ advanced features (including the ones mentioned above). The fully hosted and managed marketplace solution takes away the IT burden from you giving you every tool and precious time to build your growth strategies and implement them in record time using the cutting edge technology offered by StoreHippo.
You can start by following the steps given below:
To welcome fashion vendors, it is crucial to have a definite procedure that could be followed all along. Like setting a registration form and a manual verification process. It will help in identifying the credibility of sellers and make them legally bound with your fashion marketplace.
StoreHippo provides a built-in Seller Registration form that can be used by Admin to smoothly onboard sellers. There are two ways you can sell on your portal, either by adding via admin panel or sellers can register themselves at the storefront.
Vendors can even add products and set different prices for a single product from their assigned dashboard. Another option is uploading products in bulk via CSV file. They can even generate invoices, manage shipping, track order status, etc. There are many other vendor-specific features in StoreHippo, check them here .
After you have onboarded vendors on your multi vendor marketplace, it's time to set up your vendor portal or site, so that you can easily onboard vendors and they can start selling.
With StoreHippo, you can create vendor-specific stores, right from your StoreHippo admin dashboard. For example, seller.fashionstores.com, which is the subdomain of your main domain ~ fashionstores.com.
With vendor portals, vendors get undivided attention on their stores. Also, using their unique dashboard your vendors can quickly login on the marketplace website and oversee all their product catalogues, orders status, reviews, sales, revenue, etc.
StoreHippo multi vendor marketplace builder offers pre-integrated payment gateways. Being pre-integrated in nature, owners can activate them fast, by following the help centre guidelines to integrate a given payment method. But before you add any, you need to evaluate a few things in a payment solution.
What are their processing fees for domestic and international transactions?


What are their minimum limits and annual fees?


Do they offer support for Chargebacks, Tokenization, and Multi-currency options?


Are they PCI compliant? What about anti-fraud features?
Find answers to these questions. Decide which gateway is economical and feature-rich, so that you can process payment efficiently.
StoreHippo offers 60+ integrated domestic and international payment gateways to ease the payment process of customers as well as vendors. You can avail of discounted rates for processing fees from some of our payment channels. Support for payment made using COD, wallet and offline methods is also available.
Want to impress your customers? Want their positive reviews flowing on your multi vendor marketplace? Then it is important to choose a reliable shipping partner with an excellent track record, fast customer service and technologically advanced features. Need directions? Follow the next section.
Omnichannel order fulfillment


Multiple shipping partners with bulk orders processing


Extensive delivery coverage


Economic shipping rates


Shipment tracking via SMS and Email notifications


Return and exchange pickup support


Offer automated order syncing and fulfillment.
You will feel lucky when you sign-up for StoreHippo. Why? Because it has partnered with 30+ logistics partners that deliver to 27000+ pin codes across India. Admins can easily set up their logistics account at zero cost with access to discounted shipping rates.
Once you have set up different shipping channels on your marketplace website, you can track vendors' orders, schedule deliveries, enable COD support, auto-sync orders, and do hundreds of other shipping-related tasks.
Just like Myntra, you can also create a phenomenal marketing strategy with effective tools and a skilled team. Let's explore the process to do it:
First Integrate all the third-party marketing tools and software on your fashion marketplace. This will include your Social Media Accounts, CRM, Customer Behavior Tracking Software (like Google Analytics, and Google Search Console), advertising tools (like Google Ads, and Facebook pixel), Email Marketing tools, conversion optimization tools, SEO tools etc.
Integrations are best to enhance your marketplace capabilities. With multiple tools at your disposal, you can have rich data and reports giving you detailed insights into the performance of your different channels and different strategies. This helps you strategize better and implement the best-performing strategies across different sales channels like marketplace app, social media pages, paid ads etc.
StoreHippo is an SEO-friendly platform that offers inbuilt SEO Tools. You can use the built-in SEO features to optimize your pages and rank higher on Google search for queries that your customers are typing.
For creating marketing offers, we have a powerful discount engine. You can create a variety of discounts like product-specific, time-specific, device-specific, and app-specific.
Another feature is support for notifications. Engage with customers by sending push notifications on the app or SMS notifications on their registered mobile numbers. Further, you get abandoned cart recovery support, under which you can send automated follow-up emails.
Also, the decoupled headless architecture makes it easy for your developers and marketers to create personalized buying journeys for the customers on your multi vendor marketplace. Using the built-in dynamic pages feature, you can create marketing pages on the go.
Building a Fashion multi vendor marketplace app and site requires tons of research, resources and effort. That's why we have written this article to guide you on how to build a future-ready apparel marketplace. We have also incorporated tips on how to grow in the online fashion industry.
Surely, StoreHippo can help a lot. Apart from the features discussed above, the most futuristic features in StoreHippo are headless CMS, MACH infrastructure , mobile commerce, PWA, codeless mobile apps, multi-store creation, and hyperlocal stores. All these features are made keeping future demand and growth prospects of an apparel online business in consideration.
Want to experience StoreHippo features for real? Grab your 14 days free trial of StoreHippo today.