Did you know that over 60% of the market share of the online B2B market space in India belongs to IndiaMART?
Well, it is not only a marketplace but a complete market ecosystem in the B2B ecommerce industry. IndiaMART works with over 7.3 million small and mid-size businesses, offering 87 million products and services to more than 160 million buyers.
Here are some latest stats from IndiaMART:

64 million monthly visits to IndiaMart's B2B online marketplace
60.68% growth in the consolidated net profit of IndiaMART Intermesh (Consolidated Company for business-to-business ecommerce) in Dec 2022
26.16% growth in Y-o-Y sales from 2021 to 2022
13% growth in revenue from operations in 2022 as compared to 2021
95% of the company's revenue from operations comes from subscriptions
23% CAGR for customer growth from 2023-2026
Source: MoneyControl, IndiaMART, CNBC
With the marketplace traffic getting tripled over the past few years, IndiaMART's marketplace is certainly a success story worth emulating.
So, first things first. Before you get into the nitty-gritty of building a B2B multi-seller marketplace like IndiaMART, let's understand what a B2B online marketplace is and how it can help you achieve business growth and reach new markets.
A B2B marketplace is an ecommerce website that brings together wholesale buyers and sellers and enables them to do business in one place. Just like its B2C counterpart, the products and services are displayed and sold online.
In a B2B marketplace, the sellers are wholesalers, manufacturers, and suppliers, whereas, the customers are other businesses. Large business transactions are processed online through the B2B marketplace.
The payment processes in a B2B marketplace are different from a typical B2C transaction. B2B orders usually have a more flexible payment structure due to the sheer volume. Orders can be paid for in parts, say a certain amount while booking the order and the remaining amount on order delivery or after a pre-agreed time between the seller and buyer.
A B2B online marketplace works basically the same as a B2C business but it has more complex flows as the order volume is big and there are different processes to negotiate and finalize prices.
B2B ecommerce adoption got a great push during the unprecedented pandemic disruptions. Enterprises that had been reluctant in adding digital sales channels to their business realized the potential of ecommerce and having an omnichannel presence.
Let us check some stats that underline the importance of going online for your business: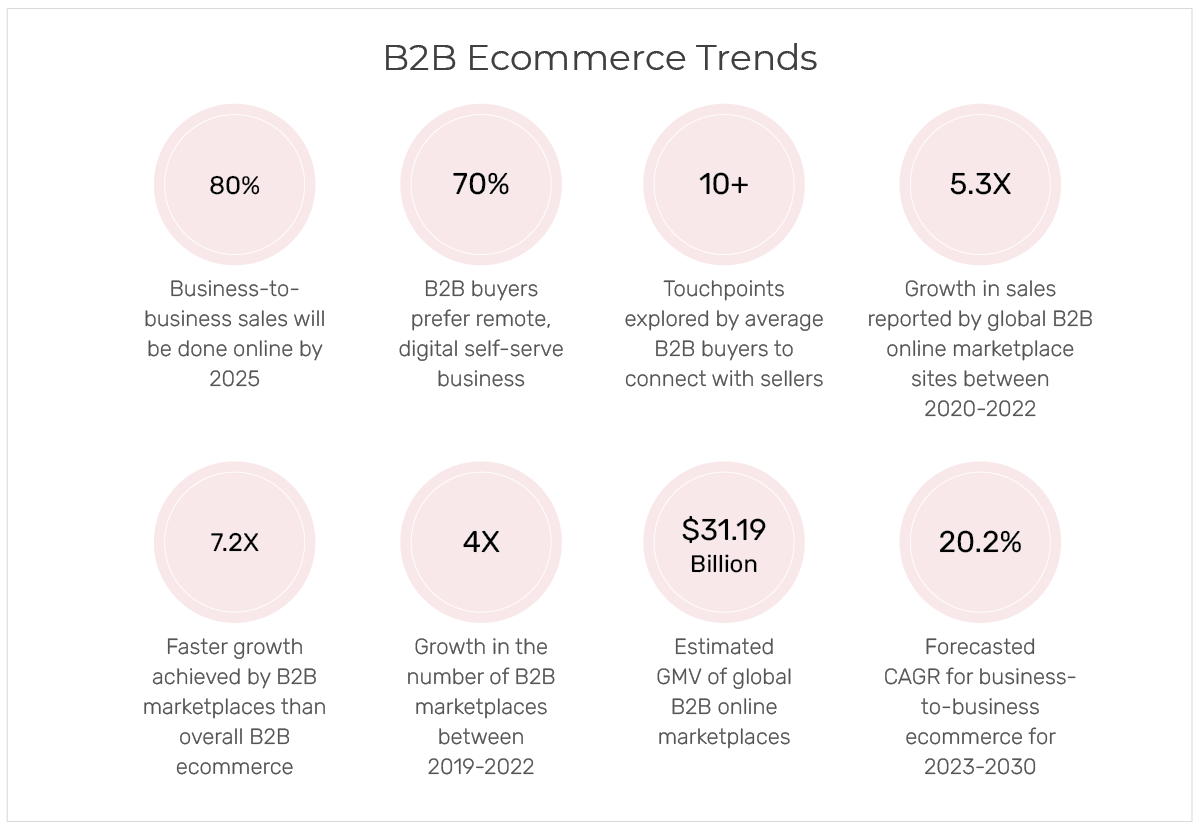 80% of Business-to-business sales will be done online by 2025
70% of B2B buyers prefer remote, digital self-serve business
10+ touchpoints explored by average B2B buyers to connect with sellers
5.3X growth in sales reported by global B2B online marketplace sites between 2020-2022
7.2X faster growth achieved by B2B marketplaces than overall B2B ecommerce
4X growth in the number of B2B marketplaces between 2019-2022
$31.19 billion is the estimated GMV of global B2B online marketplaces
20.2% is the forecasted CAGR for business-to-business ecommerce for 2023-2030
Source: Statista, McKinsey & Company, DHL Express
The stats clearly show that digital is the way to go for enterprise B2B companies as that is where the market and buyers are headed to. Also, B2B digital commerce has a steady growth forecast which means brands making an early start can have better chances of solidifying their market presence. With online marketplaces giving a better platform and tools for managing a large network of sellers, distributors, manufacturers and other partners associated with your enterprise wholesale brand, building a B2B marketplace is a smart business move for brands.
Building an online marketplace for your enterprise business gives you an edge over the competition. Here are some of the main benefits you can derive by building a B2B multi-vendor marketplace: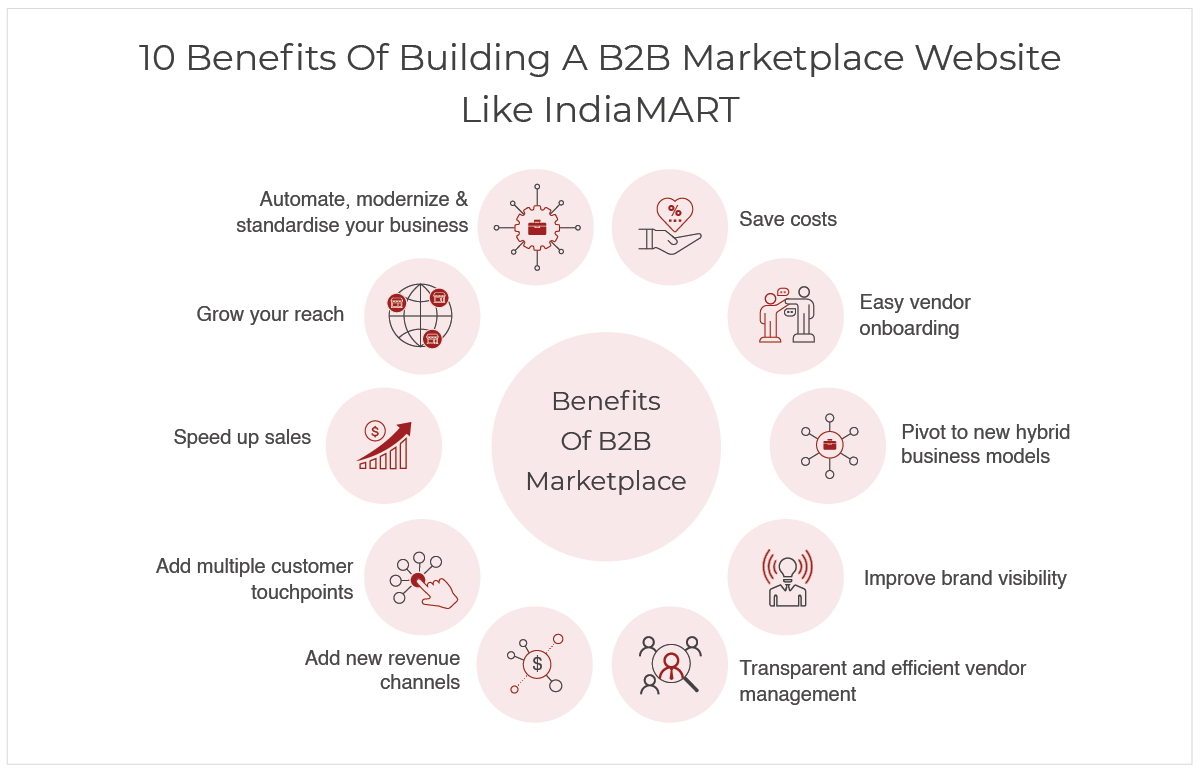 Automate, modernize and standardise your business processes for better control (over vendors as well as processes) and efficiency
Save costs on multiple levels like reduction in staffing cost, less CapEx etc.
Grow your reach to new markets and audience segments
Easy vendor onboarding across diverse industries and geographies
Speed up sales with automated self-serve sales processes on your B2B online marketplace
Easier to pivot to new hybrid business models that have the potential for market disruption
Add multiple customer touchpoints to engage and convert customers better
Improve brand visibility for better brand recognition and growth
Explore and add new revenue channels like subscriptions, ads, tie-ups etc. apart from commissions on every order
Transparent and efficient vendor management and control over vendor activities
While building a B2B marketplace website has huge benefits for the business owners it is also a very good opportunity for the sellers. Here are the benefits of joining an IndiaMART-like marketplace for the vendors: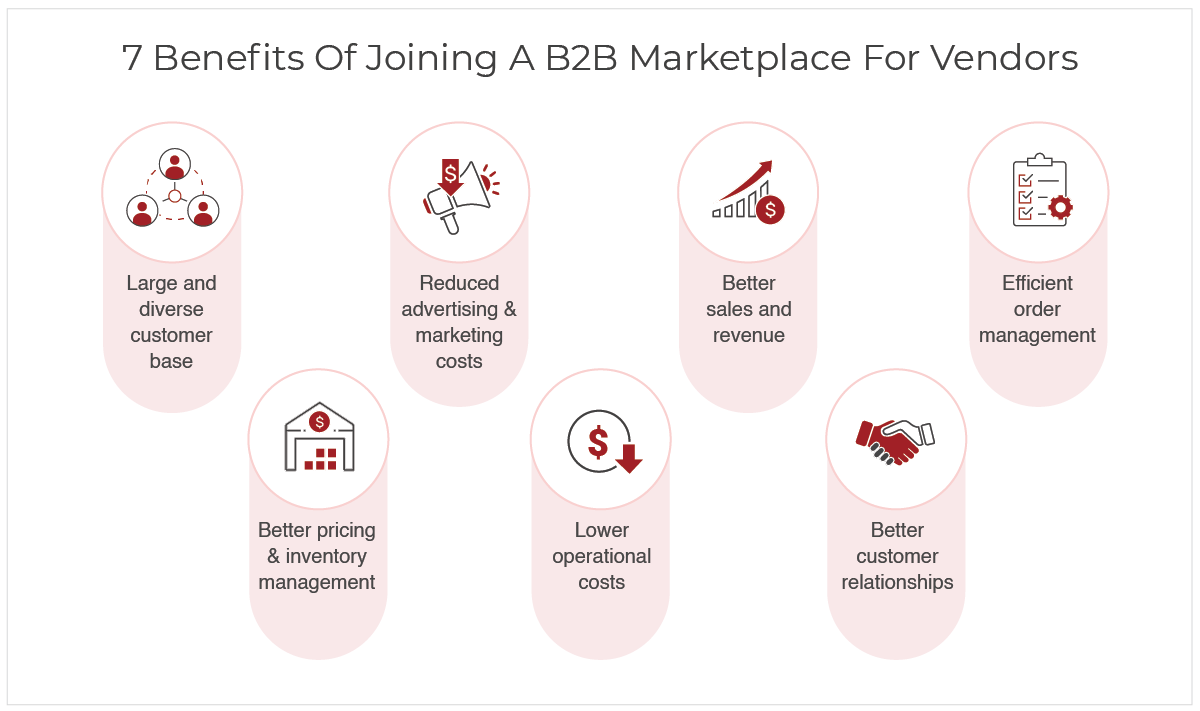 Access to a large and diverse customer base and huge traffic of the marketplace website
Reduced advertising and marketing costs as marketplace brands invest in marketing and promotions
Better sales and revenue due to exposure to a wider audience base
Efficient order management with automated and streamlined order management modules and software on B2B online marketplaces
Better pricing and inventory management with built-in tools and access to customer data in one place
Lower operational costs by outsourcing logistics, warehousing etc.
Better customer relationships with multi-channel digital support solutions
B2B marketplace websites are favorite shopping hubs for clients also. Customers love to purchase from reputed brands and IndiaMART-like marketplaces for the following reasons: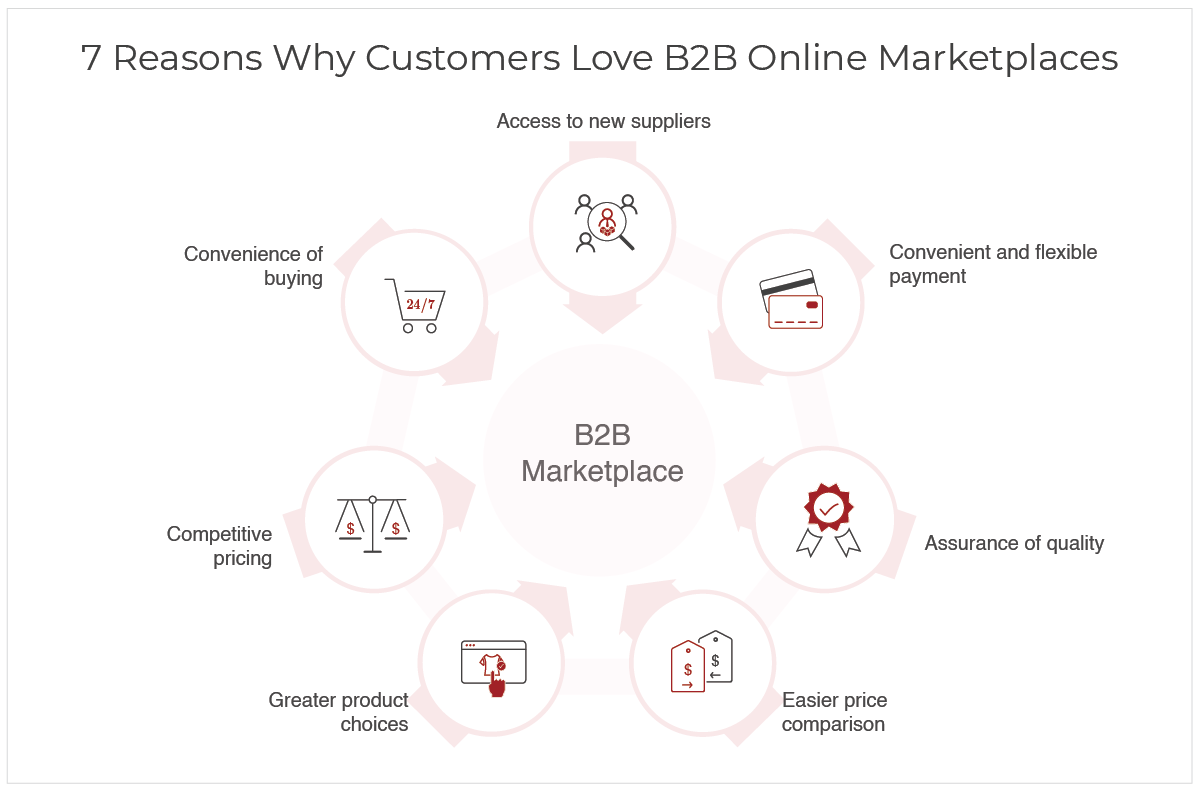 Convenience of buying from a one-stop shop that has sellers from diverse industries
Competitive pricing offered by different sellers belonging to the same industry
Greater product choices thanks to rich product catalogues offered by different sellers
Easier price comparison with built-in solutions and tools offered by B2B online marketplace
Assurance of quality and customer-centric policies of marketplace brand
Convenient and flexible payment and shipping options
Access to new suppliers across domestic and international markets
The B2B marketplace is a WIN-ALL deal. With the right strategies, planning and B2B ecommerce solutions at their disposal, enterprise brands can build a successful marketplace website like IndiaMART and set up their business for growth.
IndiaMART has gained tremendous popularity over the years and has been the go to place for vendors and clients looking for products and services. From three people in 1996, the company has grown to employ over 3700 people across different cities. IndiaMART is one of the few businesses that managed to generate business profits during the dotcom carnage.
If you are wondering how the company has achieved such big success, the answer is adopting digital commerce. IndiaMART has leveraged the B2B online marketplace to lead in the wholesale industry. Today, the company website gets over 64 million monthly visits with more than a lakh unique visitors daily. Going forward, the company is willing to invest in the B2B platform with the use of the vernacular, machine learning, voice, and more.
While the success of IndiaMART is awe-inspiring it is important to track the journey and strategies they used to create a niche for their brand. To help you replicate the success of India's leading B2B marketplace website StoreHippo brings details of B2B ecommerce solutions and strategies they used to reach the pinnacle of success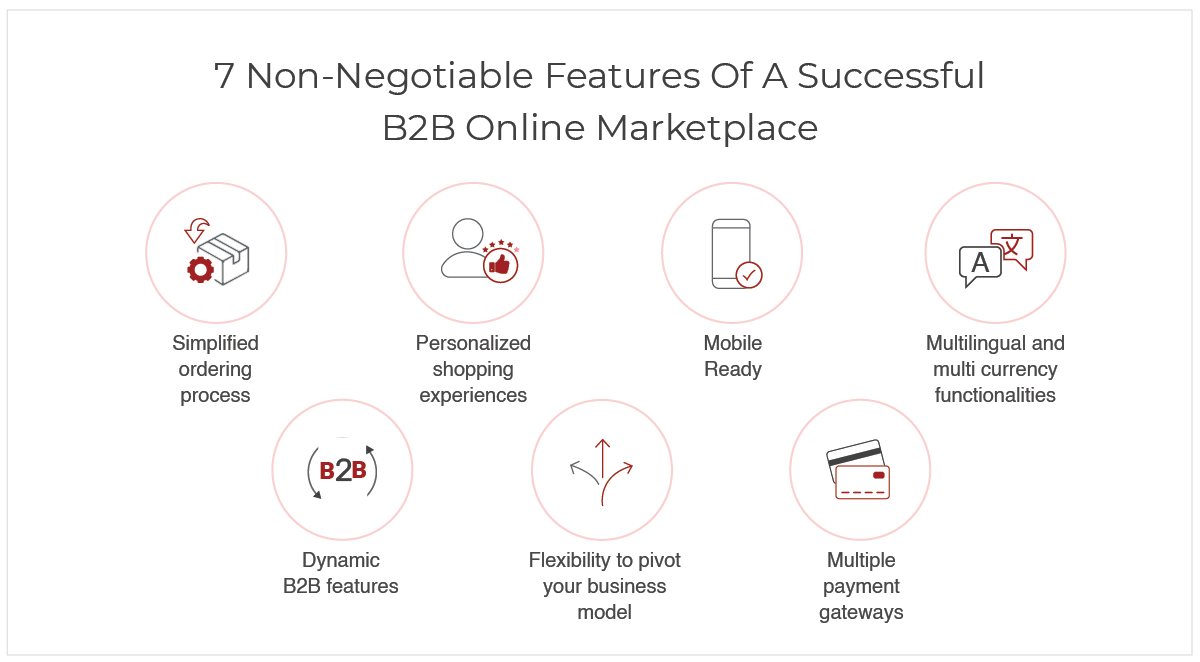 Explore the must-have features of a B2B ecommerce platform to leverage the right technology and tools just like IndiaMART.
The process of order management is the lifeline of B2B companies. Simplifying this process can empower your enterprise customers and make them loyal to your brand. However, B2B ecommerce flows are complex. To begin with, pricing for different clients cannot be uniform for all clients, the ordering process involves multiple negotiations, orders are usually placed in bulk and a high transaction amount is involved.
In nutshell, B2B companies require a flexible and scalable solution that can handle enterprise-level order volumes, multiple vendors, customers, and complex payments (B2B payments are usually not done in one go) etc.
To make the ordering process seamless and easy on your B2B online marketplace, StoreHippo comes with a host of B2B features like bulk order processing, RFQ, MOQ, multi-pricing ( pricing override, tiered pricing, form-builder and many more. StoreHippo's fully hosted and managed B2B ecommerce platform and built-in features ensure that your customers get an automated, self-serve environment that speeds up the overall sales process and aligns your business to receive more orders.
Unlike B2C ecommerce, B2B companies still struggle with personalized shopping experiences. 54% of B2B buyers expect personalised recommendations and feel frustrated when they are not suggested relevant products or services.
In the highly competitive market offering personalisation can make your brand appear customer-centric and will also boost customer engagement, conversion and retention. With a B2B ecommerce platform like StoreHippo, you can effectively personalize your customer experiences and dig into the behavioural and attitudinal attributes to sell better.
With headless commerce at its core, StoreHippo allows you to personalize the shopping experiences with customized pricing based on login, IP address, order volume, sales etc. You can also build a multilingual site, offer personalised landing pages, and shipping and payment channels and implement personalised discounts using the built-in discount engine.
The tailored shopping experience helps you to acquire new enterprise customers while retaining existing customers as well.
70% of B2B searches begin on a mobile device. While it seems to be obvious that brands need to have a mobile-ready solution for their customers, not all B2B ecommerce solutions are designed for a rich mobile experience. Offering a seamless mobile experience can take your business places and help your brand become successful.
StoreHippo understands the importance of going mobile for B2B companies and comes with a host of solutions to leverage m-commerce. Built on the mobile-first principle, StoreHippo comes with a built-in mobile apps builder than can create marketplace apps without the need for a single line of coding. All websites and marketplaces built on storeHippo are PWA which makes your website look, feel, and work like a native app across multiple devices.
StoreHippo also offers mobile apps for admins, sellers, distributors and delivery boys of your marketplace. This makes it easy for all involved parties to run and manage the business on the go.
Making your B2B marketplace accessible to the maximum number of people is possible with StoreHippo's omnichannel ecommerce solutions that prioritise mobile channels. Focus on mobile ensures the best mobile shopping experience for your customers and helps your B2B multi-seller store stand out.
Native experience is always awesome, isn't it? Do you remember purchasing the product from an international website where the content was in another language? No, it does not work that way.
Same as B2C, B2B is also evolving in context to the shopping experience of customers. To build a B2B portal like IndiaMART and make it an international success, you need to have features that can localize your international business. To put it straight, you would need a multilingual marketplace website, with local vendors, local shipping and payment solutions, multi-currency payments and invoicing and easy calculation of local taxes.
StoreHippo comes with built-in go-global features to localize your B2B online marketplace. StoreHippo allows your customers to access your B2B ecommerce website in their native language and make payments in the currency of their choice. It provides extensive support of 100+ languages, automatic translations, shows language based on the geography of users, and much more.
Using the multi-currency payment and invoicing solutions you can create frictionless checkouts. Also, the powerful built-in tax engine enables you to implement multi-level taxes and simplifies your accounting.
One of the top reasons why IndiaMART has achieved huge success is its technological innovation and digital transformation. It is an old-school thought that only B2C companies are leading the digital wave. B2B buyers expect the same easy of use and simplicity in B2B purchase processes as they have been receiving on B2C. If you cannot deliver an amazing website with a highly personalized user experience user expectations, you cannot excel in the B2B ecommerce world.
StoreHippo B2B ecommerce platform comes with 300+ enterprise grande features and 120+ integrations that help you build your very own, tailored B2B solution. Built on the MACH architecture ( Microservices, API-first, Cloud-native, Headless) StoreHippo gives enterprise brands the flexibility and creative control to create out-of-box B2B ecommerce solutions.
With a wide variety of B2B specific features of StoreHippo, you can build a B2B business designed for disruption. Some of the unique features offered by StoreHippo includes, pricing overrides, white labelling, wholesale and retail pricing,credit/wallet management, pricing comparison, 3-way chat between sellers-admin-clients, custom entities, form builder to create custom forms and many more.
These features along with the decoupled headless architecture of StoreHippo make it possible for you to build a B2B online marketplace on the lines of IndiaMART and tweak it further for dynamic market requirements.
Business models are changing at a speed like never before. The boundaries between B2C and B2B ecommerce have blurred. B2B brands have also realised the importance of catering directly to their enterprise clients in a seamless and user-friendly way like B2C and D2C brands.
In able to achieve this your enterprise brand would need B2B ecommerce solutions that support various business models like D2C, B2C, B2B2C, hyperlocal ecommerce etc. Also, along with support for multi vendor, there should also be support to build a network of stores for different geographies, vendors, customer segments etc. with these features at your disposal you can create a B2B marketplace that is in a position to replicate and surpass the success of IndiaMART.
StoreHippo offers plug-and-play solutions for multi vendor, multi store, B2C, D2C, B2B2C along with well rounded B2B ecommerce solutions. Building your custom or hybrid marketplace website is easy with StoreHippo's feature-rich, fully hosted and managed platform.
B2B customers have also evolved with the new-era of online shopping. And to get huge success like IndiaMART, you need to work on improving the conversion rates, increasing customer retention, and reducing shopping cart abandonment. There is no better way to do it than choosing the right B2B ecommerce platform that helps you integrate with multiple payment options.
With the 60+ pre-integrated payment gateways of StoreHippo, it is easier to provide multiple payment options including net banking, debit card, credit card, store credit for deferred payment etc. By making checkouts seamless on your marketplace website you can align your business for getting more orders.
Building a B2B marketplace website entails various technical and non-technical aspects you need to know before getting started. Here is the step-by-step guide on how to build a B2B ecommerce website easily with StoreHippo.
Step 1: Research about your core business idea and business model


Step 2: Decide the name of your business and get it registered, complete all the permits, clearances, and approvals


Step 3: Choose a relevant domain name for your business and get the domain registered


Step 4: Choose the suitable subscription plan of StoreHippo


Step 5: Choose your desired theme and get it customized according to your brand. Also implement other customizations to make your unique B2B online marketplace.


Step 6: Set up the process for vendor registration, logistics, and integrate with payment gateways


Step 7: Onboard sellers, distributors, suppliers, and manufacturers on your B2B online marketplace. And later, ask them to list the products and services on the marketplace


Step 8: Set up your payments and logistics channels
Step 9: Build your marketplace app using StoreHippo's built in apps builder
Step 10: Set up a support team to help your business merchants, test your site and go live
That is it, your IndiaMART is ready to give a new dimension to your brand. Implement your
Ready to claim your share in the B2B marketplace success? Want to take the next step and go online with your B2B marketplace to bring millions of sellers and buyers together? StoreHippo has you covered.
StoreHippo brings the most comprehensive B2B solution for your ecommerce business. The headless commerce platform helps you to connect with your customer on any number of touchpoints and allows you to build personalized buyer journeys.
You can build a secure, scalable and easily customizable B2B website. With the B2B specific features like minimum order quantity, request a quote, wholesale and retail pricing, location-based pricing, the IndiaMART success level is not too far. Along with the variety of business-to-business features, StoreHippo offers 60+ domestic and international payment gateways for managing the different levels of payments to your vendors, distributors and clients. On top of this, you can easily integrate with custom ERP solutions to offer streamlined revenue management. Don't wait anymore to get started with your B2B online marketplace.
Watch all these amazing features in action by scheduling your 14-day free online trial store today.