Did you know that over 60% of the market share of the online B2B market space in India belongs to IndiaMART?
Well, it is not only a marketplace but coined a complete market ecosystem in the B2B ecommerce industry. IndiaMART works with over 5 million small and mid-size businesses and offers 60 million products to more than 55 million buyers. With the marketplace traffic getting tripled over the past few years, this is just the beginning.
Do you also want to launch your own B2B online marketplace like IndiaMART?
So, first things first. Before you get into the nitty-gritty of building a B2B multi-seller marketplace, let's understand what a B2B online marketplace is and how it can help you achieve higher online business growth.
What is a B2B online marketplace?
A B2B online marketplace is an ecommerce website that brings together wholesale buyers and sellers and enables them to do business in one place. Just like its B2C counterpart, the products and services are displayed and sold online. On a B2B marketplace, the sellers are wholesalers, manufacturers, and suppliers, whereas, the customers are other businesses. The large business transactions are processed online through the B2B marketplace. A B2B online marketplace works basically the same as a B2C business but it has more complex flows as the order volume is big and there are different processes to negotiate and finalize prices.
What made IndiaMART a successful B2B online marketplace?
No wonder, IndiaMART has gained tremendous popularity over the years. IndiaMART is one of the few businesses that managed to generate business profits during the dotcom carnage. From three people in 1996, the company has grown to employ over 3600 people spread across different cities.
If you are wondering how the company has achieved such big success, the answer is - digital way of doing business. IndiaMART has leveraged B2B online marketplace to lead in the wholesale industry. Today, the company website gets over 3 crore monthly visits with more than a lakh unique visitors daily. Going forward, the company is willing to invest in the B2B platform with the use of vernacular, machine learning, voice, and more.
6 Must-have features of a successful B2B Marketplace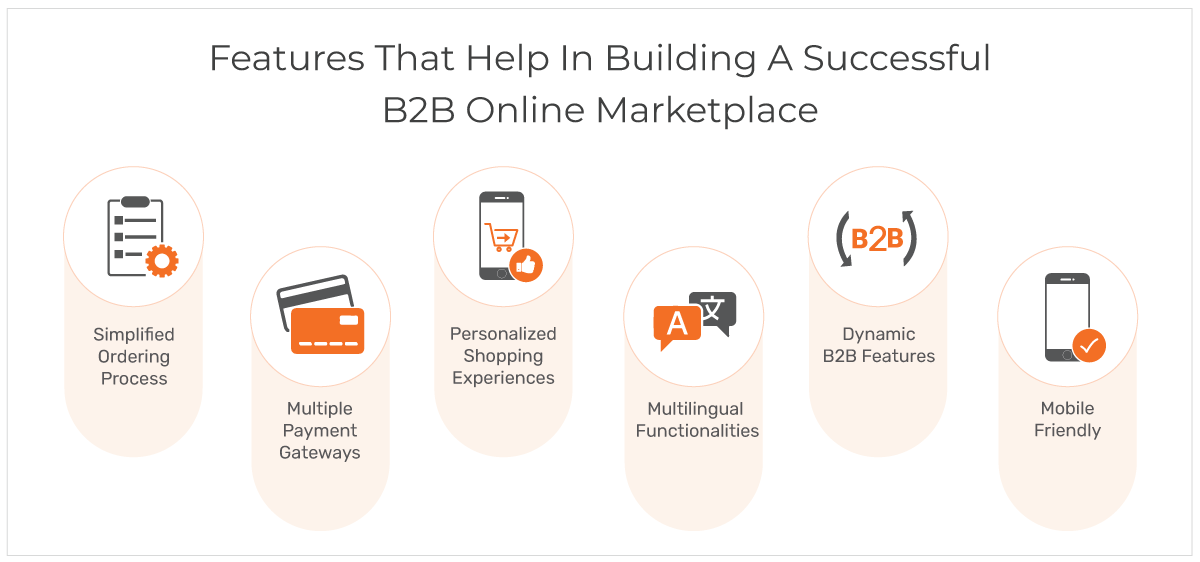 Explore the must-have features of B2B ecommerce platform to leverage the right technology and tools just like IndiaMART.
1. Simplified ordering process
The process of order management is the lifeline of B2B companies. Simplifying this process can empower your enterprise customers and make them loyal to your brand. However, B2B ecommerce pricing is a very sensitive factor and cannot be uniform for all the clients, unlike the B2C environment. B2B companies require a flexible and scalable solution that can handle the enterprise-level order volumes, multiple vendors, customers, and payments etc. No need to go for repeated manual processing, use one-click bulk order processing to handle hundreds of orders in one go. You can also increase your profit margins by setting up a Minimum Order Quantity for bulk purchases. A full-fledged B2B ecommerce platform like StoreHippo can simplify and automate the ordering process with its enterprise-grade features.
2. Multiple payment gateways
B2B customers have also evolved with the new-era of online shopping. And to get huge success like IndiaMART, you need to work on improving the conversion rates, increasing customer retention, and reducing shopping cart abandonment. There is no better way to do it than choosing the right B2B ecommerce platform that helps you integrate with multiple payment options. With the 60+ pre-integrated payment gateways of StoreHippo, it is easier to provide multiple payment options including net banking, debit card, credit card, subscription-based payments like Razorpay subscription, Stripe billing, and marketplace payments like Paypal Adaptive, pay-later options etc.
3. Personalized shopping experiences
Unlike B2C ecommerce, B2B companies still struggle with personalized shopping experiences. However, a B2B platform can help you take the customer experience to the next level of personalization and dig into the behavioural and attitudinal attributes. With headless commerce at its core, StoreHippo allows you to personalize the shopping experiences with customized pricing based on login, IP address, order volume, sales etc. The tailored shopping experience helps you to acquire new enterprise customers while retaining the existing customers as well.
Native experience is always awesome, isn't it? Do you remember purchasing the product from an international website where the content was in another language? No, it does not work that way.
Same as B2C, B2B is also evolving in context to the shopping experience of customers. To build a B2b portal like IndiaMART and make it an international success, you need the go-global features on your B2B online marketplace. StoreHippo allows your customers to access your B2B ecommerce website in the native language and make payments in the currency of their choice. It provides extensive support of 100+ languages, automatic translations, shows language based on the geography of users, and much more.
5. Dynamic B2B features
One of the top reasons why IndiaMART has achieved huge success is its technological innovation and digital transformation. It is an old-school thought that only B2C companies are leading the digital wave. Today, most millennials are involved in the B2B purchase process and expect an amazing website with a highly personalized user experience. If you cannot deliver the user expectations, you cannot excel in the B2B ecommerce world. With a wide variety of B2B specific features of StoreHippo, you cannot lag behind the industry. Some of the unique features offered by StoreHippo includes customized quotations, enquiries, pricing overrides, white labelling, wholesale and retail pricing, comprehensive tax rule engine.
6. Mobile friendly
This seems to be an obvious feature but not all B2B ecommerce platforms offer mobile-friendly websites. And not only friendly, but the PWA feature of StoreHippo also helps you to make your website look, feel, and work like a native app across multiple devices.
Now is the time to make your B2B marketplace accessible to maximum people. StoreHippo ensures the best mobile shopping experience to your customers and in addition, you can get your Android/iOS mobile apps at no extra cost.
9 Simple steps to build your B2B online marketplace with StoreHippo
Building a B2B marketplace website entails various technical and non-technical aspects you need to know before getting started. Here is the step-by-step guide on how to build a B2B ecommerce website easily with StoreHippo.
Step 1: Research about your core business idea and business model

Step 2: Decide the name of your business and get it registered, complete all the permits, clearances, and approvals

Step 3: Choose a relevant domain name for your business and get the domain registered

Step 4: Choose the suitable subscription plan of StoreHippo

Step 5: Choose your desired theme and get it customized according to your brand

Step 6: Set up the process for vendor registration, logistics, and integrate with payment gateways

Step 7: Onboard sellers, distributors, suppliers, and manufacturers on your B2B online marketplace. And later, ask them to list the products and services on the marketplace

Step 8: Set up a support team to help your business merchants

Step 9: Test your site and go live.
How StoreHippo helps you build your own B2B online marketplace?
Ready to claim your share in the B2B marketplace success? Want to take the next step and go online with your B2B marketplace to bring millions of sellers and buyers together? StoreHippo has you covered.
StoreHippo brings the most comprehensive B2B solution for your ecommerce business. The headless commerce platform helps you to connect with your customer on any number of touchpoints and allows you to build personalized buyer journeys.
You can build a secure, scalable and easily customizable B2B website. With the B2B specific features like minimum order quantity, request a quote, wholesale and retail pricing, location-based pricing, the IndiaMART success level is not too far. Along with the variety of business-to-business features, StoreHippo offers 60+ for managing the different levels of payments to your vendors, distributors and clients. On top of this, you can easily integrate with custom ERP solutions to offer streamlined revenue management. Don't wait anymore to get started with your B2B online marketplace. Watch all these amazing features in action by scheduling your 14-day free online trial store today.