With more and more people shopping for groceries online, it is indeed good news for all grocery sellers out there!

But are you aware of the customer expectations from a grocery multi vendor marketplace?
Are you equipped enough to sell grocery online?
Which business model will help you escalate your grocery business?
A list of problems? Well, not anymore.
Let us first understand the hyperlocal grocery market with some figures:

$ 250.26 billion is the expected growth of the online grocery sale by 2025
$ 24 billion is the expected growth of the e-grocery revenue by 2025
$ 3,634.3 billion is the expected hyperlocal commerce market reach by 2027
$ 81.5 billion is the expected hyperlocal grocery delivery market reach by 2032
Source: Statista
Also, with increased digitization, India is the fastest growing grocery market. It becomes evident that when you decide to sell grocery online, you are able to bring high returns, setting your online business on an upward growth trajectory.
So what's the next step now? How to launch your hyperlocal grocery multi vendor marketplace?
To build an effective strategy and choose the right ecommerce solution provider, let us first look at a few must-have features for a grocery marketplace.
When you plan to sell grocery online, it becomes imperative to offer an engaging and seamless buying experience both on your online stores and on mobile devices. Infact, it would be surprising to know that 86% of buyers are willing to pay more for a great customer experience.
Here are some tried and tested tips and features that can make your marketplace app the customer's go-to grocery shopping destination: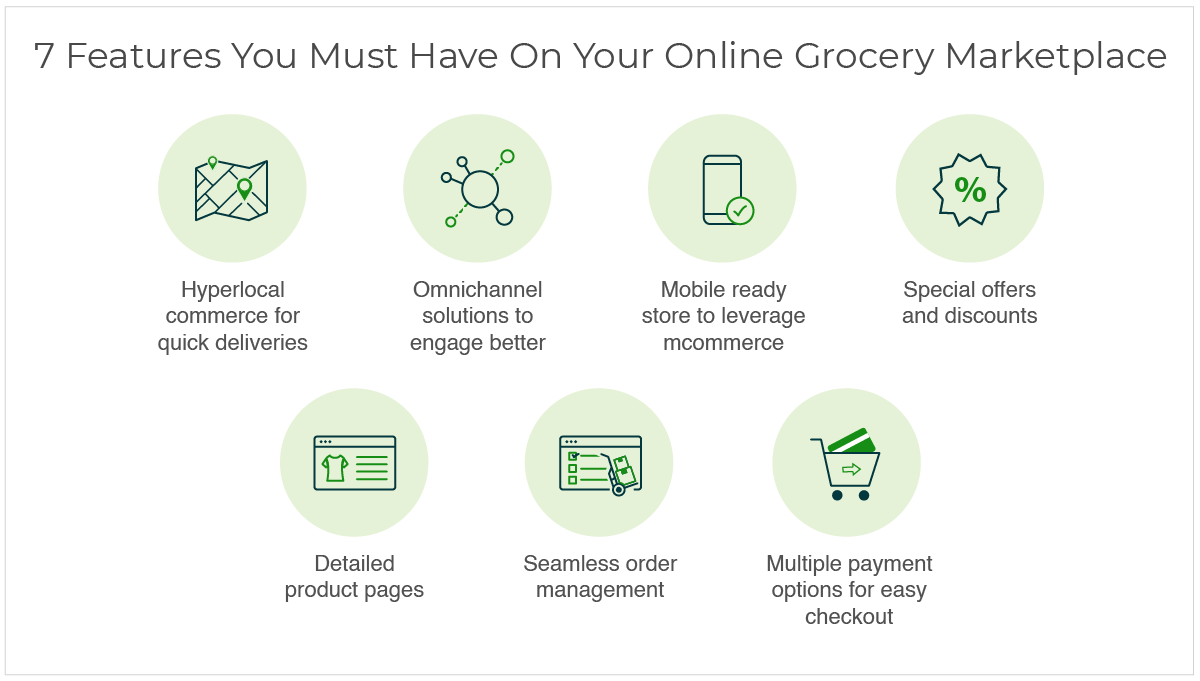 The one thing that goes hand-in-hand when you sell grocery online, is hyperlocal deliveries. Right from receiving an order to dispatching it from the store and delivering the product to the buyer's doorstep, the smoother and quicker the process is the more satisfied and content your customers are.
So what you need to do is go for hyperlocal commerce and eliminate all possible delivery hiccups. As people are opting to shop grocery from the comfort of their homes, they expect their orders to be delivered instantly. StoreHippo offers a comprehensive location-based ecommerce solution to help you offer customized services and quick delivery with its location-based settings.
With the growing demand for omnichannel solutions in the Indian ecommerce market today, brands are more inclined towards providing a strong omnichannel customer engagement. More than 80% of the brands are investing in omnichannel solutions today. And as a grocery brand, customers expect to engage with you on multiple channels.
To sell grocery online, sellers need advanced yet easy-to-use omnichannel enterprise ecommerce solutions. StoreHippo comes with next-gen omnichannel solutions to help your grocery brand adapt to the changing buyer behaviour. With StoreHippo's omnichannel solutions, you can achieve the following for your grocery brand:
Quickly add new customer touchpoints using the same backend logic and APIs
Create consistent buyer experiences across multiple channels
Centrally control and improve operational efficiency of all your sales channels
Get better customer insight from multiple channels to leverage the most profitable channel
Get channel-specific insights to leverage data-driven strategies
With omnichannel solutions, you can quickly take your multi vendor marketplace brand ahead of your competitors.
Did you know that two-thirds of online grocery orders today are made from mobile phones? It is indeed tough to sustain the ever-growing ecommerce industry in India without being mobile-ready. It is no more a time-consuming task to create Android or iOS mobile apps.
With StoreHippo m-commerce solutions, you can seamlessly create mobile apps right from the admin dashboard. Built on mobile-first technology, StoreHippo offers various mobile-ready ecommerce solutions for your grocery brand. Also, the online stores powered by StoreHippo are PWA (Progressive Web Apps) that look, feel and work like mobile apps even on entry-level devices in low internet connectivity.
81% of Indian shoppers look for discounts and promotions while shopping online. It, therefore, is important to offer special discounts to sell grocery online and become your customer's favourite. Special offers like flat 10% off on the first order, free gifts on orders above Rs 2,000, etc. are bound to attract customers to your grocery store.
But wondering how to be able to run offers and discounts seamlessly? StoreHippo comes with a powerful in-built discount engine that helps you create a variety of discounts and coupons for your online store. You can experiment with various marketing techniques and achieve greater ROI by offering multi-level discounts like product-based, order-based, time-specific, device based etc. to your customers.
Before making a purchase decision, every online shopper looks for detailed product information and images. Is your grocery multi vendor marketplace able to provide complete product information with multiple images and a 360-degree view?
StoreHippo helps you build comprehensive product pages with its product management system. You can offer a better look and feel of your products with a variety of product images and videos that help you engage better with your customers. You can display various product options and offer a better look and feel with a variety of images and videos to help customers understand the product better.
To manage multiple grocery orders coming on your hyperlocal commerce online store, you need an advanced and seamless order management process. Once you have streamlined your day-to-day operations, inventory planning and order fulfillment, you can become a customer's go to grocery shopping brand.
StoreHippo offers an end-to-end order management system that saves time and makes your order management processes faster. You can get complete order details of the orders you receive in your admin dashboard, where you can add new orders manually and perform a variety of other operations on your orders.
Grocery shopping should be easy. A long and complex checkout process is a roadblock to achieving your sales targets. A great and most loved grocery multi vendor marketplace is one that offers multiple payment options to their customers with a much easier checkout process.
StoreHippo offers a host of digital payment solutions. With 60+ pre-integrated payment gateways, you can provide your customers ease of shopping and choice of using their preferred payment options. StoreHippo also enables you to implement multiple payment gateways based on the location or device of the buyers.
Since there is no earth of grocery online stores in the Indian ecommerce market, you need to implement unique and out-of-the box solutions. With a turnkey, fully hosted and managed multi vendor marketplace solution you can build a scalable grocery marketplace. And once you have all the right features in your chosen ecommerce platform, you are all set to kickstart your grocery online business and create your own multi vendor marketplace.
The most important step towards building a grocery marketplace is choosing the right e-commerce platform that helps you create user-friendly hyperlocal online stores. StoreHippo offers SaaS-based turnkey ecommerce solutions to help you build your desired business model in record time.
With its 360-degree ecommerce solutions, StoreHippo comes with a host of in-built features to help you build customized ecommerce platforms for your grocery business. StoreHippo also provides a greater creative control to implement personalization and build innovative, tailor-made solutions with its MACH (Microservices, API-first, Cloud-native, Headless) architecture.
With the right multi vendor marketplace platform in place, the next step would be to onboard vendors and list their products on the marketplace. With a ready-made solution like StoreHippo to build online marketplace, you can use the in-built tools to onboard vendors and add products seamlessly.
StoreHippo offers comprehensive solutions that make it easy not only to onboard the vendors but also to manage them seamlessly. With complete end-to-end vendor management solutions, StoreHippo creates individual vendor accounts with simple registration processes. StoreHippo also comes with an user-friendly dashboard to help the sellers manage their day-to-day business operations seamlessly.
To sell groceries online, you need to have your online store on mobile devices as well. M-commerce is the new buzz in the retail industry and with the increased adoption of quick shopping in India, it becomes imperative for grocery sellers to have their presence on mobile devices.
Built on mobile-first technology, StoreHippo offers a variety of mobile-ready solutions. It offers a variety of apps for admins, vendors, delivery boys etc making it possible for brands to run their business on the go. The online stores powered by StoreHippo are PWA stores that look and feel like mobile apps even on entry-level devices with poor internet connectivity.
While shopping online on any multi vendor marketplace, every customer has their own preferred payment method. While some would prefer COD or offline payment methods, some would prefer mobile wallets or cards as well.
StoreHippo comes with 60+ pre-integrated payment gateways. It also offers an unmatched flexibility to integrate multiple payment channels on the online store. You can integrate COD, card payment, net banking, mobile wallets, etc on your grocery marketplace.
52% of online shoppers said that delivery speed influenced their purchase decisions. With an increased demand for quick deliveries, how do you feel about hyperlocal commerce?
A successful grocery marketplace is one that offers quick deliveries to its customers. StoreHippo helps you boost your conversions with location-based ecommerce solutions. It offers customized services and quick delivery with location-based settings like geolocation tracking . You can also create multiple sub-stores based on customer geolocation to cater to the unique needs of your targeted customers.
Once you have all the things in the right place, you also need to market your products and your multi vendor marketplace as a whole. Not sure why? Well, suppose a customer looks for a product online, like canned milk, and your website appears in the top 10 results of Google, there are high chances for the customer to visit your grocery marketplace and make a purchase.
StoreHippo offers effective SEO optimization and multiple SEO elements like meta titles, meta keywords, alt tags, sitemap etc. It also comes with a host of marketing tools like a powerful discount engine, personalized notifications, abandoned cart recovery etc to help you market your grocery brand well. You can also use the inbuilt blog engine from StoreHippo to publish a variety of content and build a unique brand presence.
Now that your marketplace is all set, you can seamlessly sell grocery online in the Indian ecommerce market. However, before going live, it is always wise to first test your site for any hiccups and fix them (if any).
When you build a successful and unique grocery multi vendor marketplace, you can not miss out on hyperlocal commerce solutions. With StoreHippo and its host of in-built features, you can create conversion-oriented multi vendor marketplaces in just a few steps. You can also set up individual sub-stores for your dealers or retailers to maximize the benefits of hyperlocal ecommerce with StoreHippo.
All set to build your grocery multi vendor marketplace with the exclusive features from StoreHippo? Start your 14-day free trial now.