The "multi vendor marketplace" or the "zero inventory model" has taken the ecommerce sphere by storm. While Amazon and its skyrocketing growth popularized the model, various adaptations of the marketplace model by successful brands like eBay, IndiaMART, Zomato, Urban Clap etc. made the multivendor marketplace model the most coveted business model.
The resounding success of all these brands can be attributed to their choice of the business model along with strategic marketing and expansion plans. Along with these factors, an invisible factor that charted the success graph of these brands was their cutting-edge multi vendor marketplace platform.
Yes, without the best technical solution at their disposal, all these brands would have failed miserably to create the kind of user experiences needed to make their brands popular.
Why choosing the best Multi Vendor Marketplace platform is important for brands?
Building a marketplace portal from scratch is an option for enterprise brands that have lots of time and resources at their disposal. For the new entrants in the ecommerce market, a smarter strategy is to rely on a battle-tested customizable multi vendor marketplace platform that reduces the time to revenue.
However, with a host of online marketplace builders in the market, choosing the right-fit solution for starting a brand new online marketplace can be a challenge. To make an informed decision, you should check your marketplace solution on the following parameters:
Does it offer a well-rounded solution which can be tweaked for your unique requirements?

Is it easy to use and customize?

Will it be able to grow as your business grows?

Does it upgrade automatically to keep you ahead of market trends?

Can it be tweaked to pivot to new business requirements and new business models?

Does it offer easy-to-use solutions for managing the vendors?

Are you getting a transparent pricing structure?

Do you get after-sales support?
Check out your chosen multi vendor marketplace platforms on these parameters and choose the one that fulfils your needs. This way you will be able to go with a stay-on platform that helps you focus on business growth rather than being worried about your IT solutions. Also, implementing business plans and marketing strategies is easier on customizable and flexible multi vendor marketplace platforms.
What makes StoreHippo different from other Multi Vendor platforms?
StoreHippo offers a comprehensive multi vendor ecommerce website solution for different marketplace models using the multivendor set-up. Built on cutting edge MACH ( Microservices, API-first, Cloud-native, Headless) architecture StoreHippo gives enterprise brands the power, flexibility and creative control to build innovative hybrid solutions. Out-of-box multi vendor ecommerce marketplaces powered by StoreHippo have the potential to disrupt the market and create a niche for brands.
Here is why brands should go for StoreHippo online marketplace builder: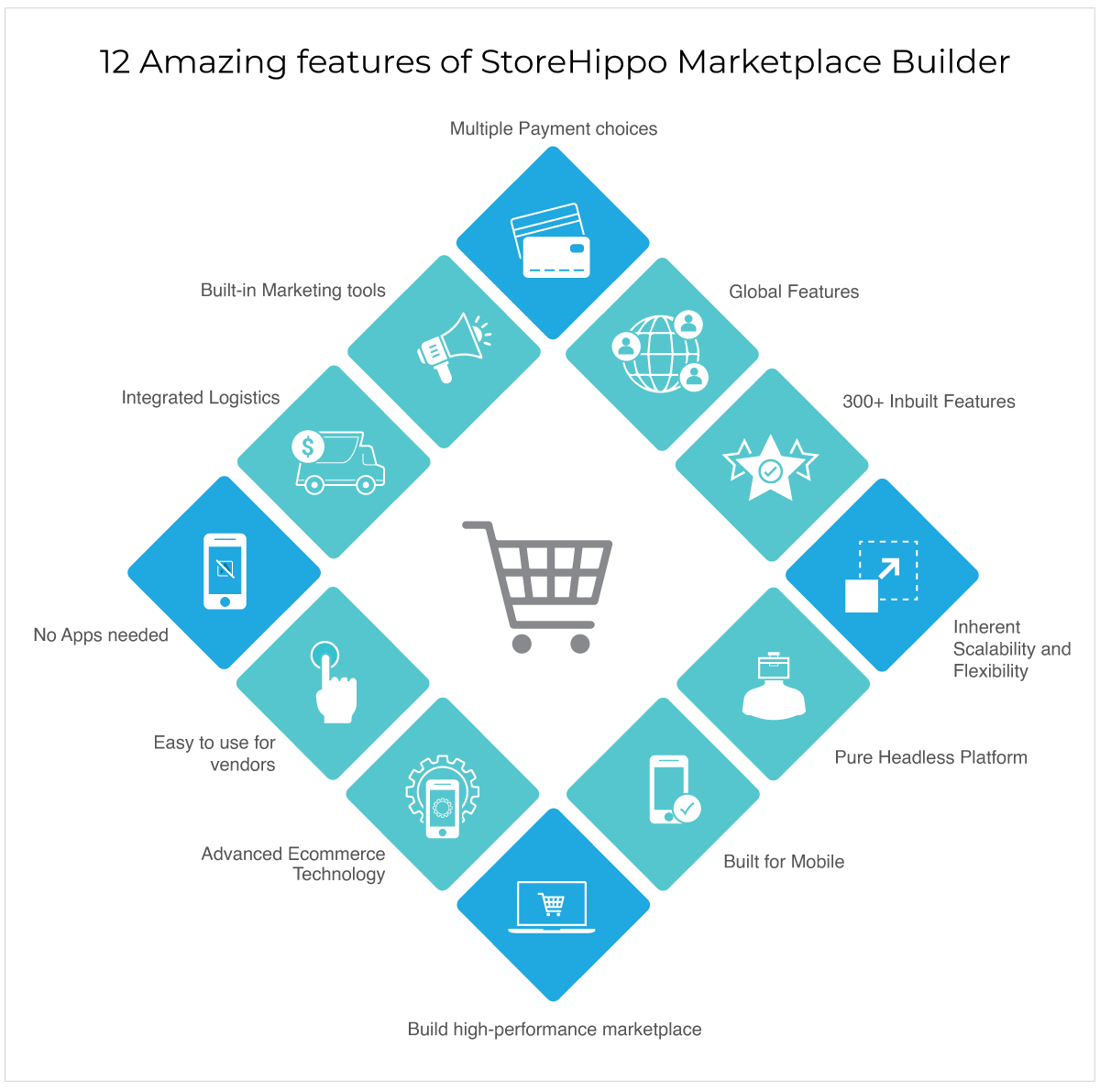 1. Inbuilt solution, no apps needed
Unlike other app-based solutions, StoreHippo does not require multiple apps to build a fully-functional online marketplace. With our best marketplace builder, you can easily set up a multi vendor marketplace, onboard vendors, and make vendor payments right from the central dashboard. It also allows you to manage products and inventory of your vendors, control the product prices, setup vendor commissions and taxes, add vendor-specific discounts etc.. Simply put, you need not look anywhere else with our full-fledged multi vendor solution.
2. Easy to use for vendors
Vendors are not usually tech-savvy and aiding them with an easy-to-use marketplace solution is imperative for smooth business. StoreHippo multi vendor marketplace platform is designed in a user-friendly manner and has an intuitive admin interface for the vendors. The platform offers a smooth learning curve to your vendors and even a novice vendor with basic computer or smartphone knowledge can be onboarded easily without any hand-holding. Along with quick and easy vendor registration, the platform provides an individual vendor dashboard, seller page to showcase the vendor's products, order and shipping management, and more to help your vendors manage everything online.
3. Advanced ecommerce technology to support your next-gen online marketplace
With StoreHippo, you can build horizontal, vertical, service aggregator, B2B, D2C or hybrid marketplaces using the most advanced ecommerce technology. Unlike other platforms that offer apps or extension-based multi-vendor solution with complex coding and syncing of different apps developed by third-party developers, StoreHippo offers a DIY multi vendor marketplace platform with well-rounded multi-seller solutions for B2B and B2C brands . Also, you can make customizations, tweak your marketplace inside out with modular designs.
4. Build high-performance multi-vendor eCommerce stores
Around 70% of online customers abandon their orders before checkout due to many reasons like slow website speed, load time delays, lack of security, and alike. With StoreHippo, you can create your fast-loading online marketplace that loads in a fraction of time to keep your customers engaged and interested in buying from your multi vendor ecommerce website. StoreHippo uses SPA to build fast-loading pages that ensure high performance of the website. With its unmatched average API response time of <50ms, and a highly scalable infrastructure for peak load tolerance StoreHippo powered online marketplaces are a cut above the rest.
5. Built for mobile
Mobile is the most preferred channel for online buyers. While mobile was an afterthought for Shopify multi vendor marketplace, the mobile-first approach of StoreHippo makes it the best marketplace builder. The multi vendor stores powered by StoreHippo are mobile-ready to help brands engage their customers on various mobile devices. The platform comes with an inbuilt mobile apps builder that builds marketplace apps without any additional cost or coding requirements. Moreover, it offers PWA marketplaces that work like apps on all devices. Also, StoreHippo has built in apps for vendors, delivery agents as well as admin to manage the business on the go.
6. Creative freedom of pure Headless platform
StoreHippo is built on the decoupled headless architecture. With StoreHippo you can leverage the headless commerce approach to design out-of-box multi vendor marketplaces. With our multi vendor marketplace platform, you can use the same backend logic and APIs to add multiple customer touchpoints for your multi seller store. You can easily build personalized and seamless buyer journeys across multiple channels. Implementing extreme personalizations is also easy with the headless solutions which enable tweaking the frontend and the backend independently without disturbing the core logic.
7. Inherent scalability and flexibility
StoreHippo offers inherent flexibility to build a variety of innovative multi vendor marketplaces. StoreHippo's extensive customizations enable enterprise brands to create tailor-made online marketplaces. Brands can even go for hybrid marketplaces that combine two or more popular business models like hyperlocal commerce and multi-seller, multi store and multilingual along with a multi vendor ecommerce website.
StoreHippo also comes with built-in drag and drop tools to customize themes and features to create personalized landing pages for different buyer groups. Brands can tweak the frontend and backend with equal ease and extend the existing entities or make new ones for unique brand requirements.
The cloud-based infrastructure gives StoreHippo elastic scalability. Brands can scale their multi vendor marketplace to any number of products, sellers, geo-locations etc. without worrying about scalability. This enables brands to plan strategic growth without worrying about replatforming as the business grows.
8. 300+ Inbuilt features to grow your business
With StoreHippo powering your online marketplace, you have no dearth of features and tools to grow your business. StoreHippo multi vendor marketplace platform offers a gamut of inbuilt features and tools designed for your business growth. It offers 300+ inbuilt features to experiment with your business. You also get data-driven insights to strategize your business with reports on best-selling vendors, products or regions. It also allows you to improve organic search traffic with SEO tools.
With StoreHippo enterprise brands can easily set up their B2B or B2B2C marketplace and also build multiple stores to sell to customers of different geo-locations.
9. Global features to reach international customers
The go-global features of StoreHippo like multilingual and multi-currency support make it the best multi vendor marketplace builder. Taking your business to international markets becomes easier when you can localize your multi seller store by adding the local language, currencies, payment solutions and logistics partners. And StoreHippo lets you do all of this!
Unlike Shopify's plugin-based solution, StoreHippo offers an inbuilt multilingual solution that allows online marketplace mobile apps in multiple languages.
10. Multiple payment choices
With StoreHippo, you can enjoy a highly transparent payment system unlike hidden charges on payment gateways offered by Shopify. Pay zero additional transaction charges up to 200 times your subscription value when using the StoreHippo multi seller solutions. StoreHippo offers 60+ integrated domestic and international payment gateways to help enterprise brands offer seamless checkouts to their customers as well as easy payouts to their vendor partners.
The built-in adaptive payment feature helps in distributing payments between multiple vendors of a multi-product order without any manual intervention, making it easy to manage multi-product orders in a single cart.
11. Built-in marketing tools
StoreHippo thinks of business growth right from the start and offers a gamut of inbuilt marketing tools to help businesses plan strategic growth. We offer inbuilt marketing tools along with unified notifications to engage and convert your customers. StoreHippo's powerful blog engine enables to build a marketplace brand through content. Its discount engine helps in creating multi-level promotions for better customer engagement and sales.
StoreHippo also integrates seamlessly with the best-in-breed marketing software ( for mailing, customer retargeting, social media promotions etc.) for strategic marketic. The inbuilt abandoned cart recovery tools helps in converting lost sales through auto-follow up drip mails and help in boosting sales on the multi vendor ecommerce website.
12. Ship anywhere with integrated Logistics
Support your vendors in delivering faster and better using integrated logistics solutions from StoreHippo. We help you grow your multi vendor ecommerce business and reach global markets with integrated global shipping solutions. With our easy-to-setup shipping management solutions and 30+ shipping partners and logistics aggregators, you can add multiple shipping partners of your choice, automate your shipping processand reach 26000+ domestic PIN codes along with all major global destination. Also, the inbuilt delivery boy management module helps you to employ and manage your own fleet of delivery boys without any hassles.
Get your one-stop Multi Vendor Marketplace solution with StoreHippo
Now when you know the enormous benefits of the multi seller business model, choosing the right multi vendor marketplace platform becomes the foremost priority. While offering best products always attracts customers, having the right technology and easy to use marketplace solution remains the priority in choosing the right ecommerce solution for any business model.
With a rich set of above-listed features, a fully hosted and managed platform and MACH architecture at the core, StoreHippo offers future-ready multivendor marketplace solutions for brands of every scale and size.
StoreHippo also offers complete omnichannel solutions for brands planning to adapt to leverage the new-age buying channels.
Don't wait anymore to get started with your own multi vendor marketplace powered by StoreHippo. Explore all our features by scheduling your free demo with our experts right away.