Is your ecommerce platform getting good traffic from all over the world, but losing majority of them at checkout? In such scenarios many of us end up in self doubt, wondering if the problem lies with delivery duration or unknown shipping charges that customers end up paying.
Well, yours is not the only store facing this dilemma.
But before understanding the reason, you first need to open up to the fact that cultural differences actually affect the way customers prefer doing online payments. There is a big myth about e-commerce sites that cater to an international clientele. Customers generally think they are ending up paying more at check out when the final amount is not displayed in their local currency. Plus area wise additional charges could also be included like added tax, credit card exchange rates and foreign transaction fees.
Associating your ecommerce website to international business definitely gives brand recognition. But it is also a big step that needs consideration and planning before execution. That's where you can use a Multi-Currency feature in your store to grab the foreign traffic and boost your conversion sales.
You must be thinking why multicurrency? Well actually, it is mainly to make the customers draw on the currency they are already using at ease.
Being a customer, I have experienced such unwanted psychological influence while buying products from foreign e-commerce website. Am I going to get overcharged? What if they deduct more money while transaction? And what not! But being on both sides of the situation, I can clearly say, single currency checkouts are good for neither.
We all know the market has been typically dominated by currencies like Euros and dollars. This has barred many shoppers in dilemma, from completing their transaction. Study shows that approx 13% of online shoppers abandon their cart when prices are in a foreign currency. Fortunately, the industry has been finding some promising solutions to such loopholes. We now have an array of payment options for the customers to go for. In fact, the latest stats show that 67% of consumers have started buying products from foreign websites due to lower prices.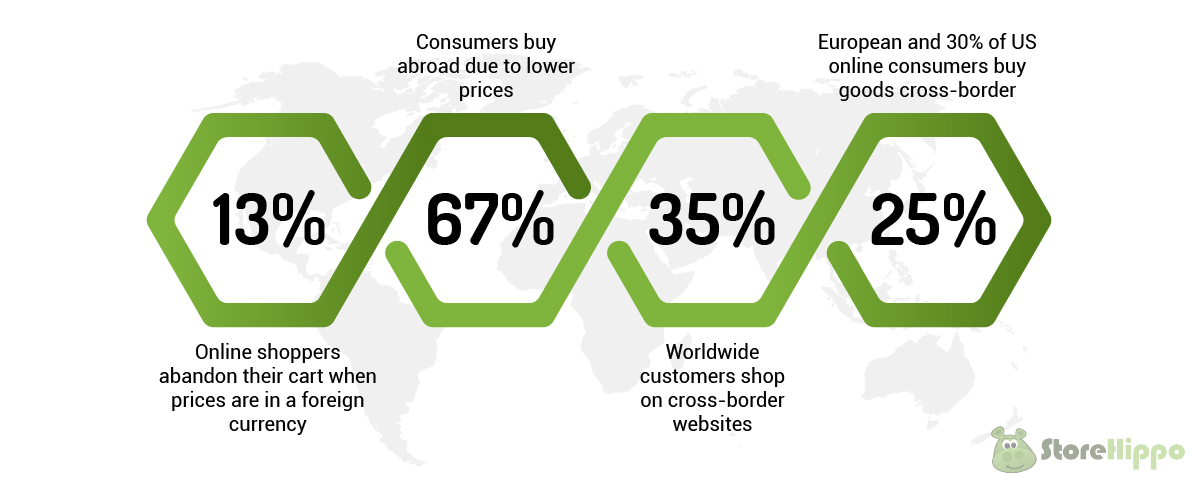 The customers are now aware of the changing trends of ecommerce website. In fact 25% of European and 30% of US online consumers buy goods cross-border. And as the demand is going up, the multicurrency payment support will play a critical role in facilitating the global business.
You may not acknowledge it now if you are still planning to get an online e-commerce store, but yes, multicurrency has a lot of advantages of its own. It has proven to be a life-jacket for businesses that were on the verge of sinking. So trust me, you want this thing on-board.
While it has many advantages, I will try listing down some of the main points that comes with the multicurrency package -
Boosting Conversions -

Who doesn't want business? I do, and so do you. So why let the customer turn away just because the e

-commerce website deals with single currency. Multicurrency support not only attracts more cross boarder customers, but also gives you global brand recognition. Customers will feel more comfortable and trust your brand.
Avoiding Extra Charges for customers -

You may not realize but there are a certain amount of target audiences who are charged more while payment due to currency conversion fees. Why let the customer pay extra when you can avoid it. Relationship building is important.
Streamline Accounting Consolidation -

Every business has to consolidate their finances and bank statements at the end to measure the profit or loss. Practically, if you have multiple

e-commerce websites with multiple currencies to target each geographical area, you will waste a lot of time and effort compiling the sales data. Implementing a multi-currency website saves the hassle. You can get all the financial statement in form of the base currency you set
Ensure Customer Loyalty - Transparency is a very important factor in online business. Being transparent about the pricing is the first step towards fostering repeated sales.You must understand that a business is successful when the customer and seller both are satisfied.
Increase in International Business -

Customers will not make a purchase from a single currency

e-commerce website as they may worry that it is not aimed to them. Offering a multi-currency feature on your website will allow customers to make payments in their currency allowing you to take a permanent plunge into the international market.
Pricing Display Consistency -

Pricing display is very crucial in winning customer trust. Multi-currency guarantees that the end user will see your product's pricing displayed in a simple, rounded number to which they're accustomed. Say, for example, Rs. 199 rather than Rs. 197.37
Reduce Cart Abandonment, Refunds, Charge-backs –

It's a tried and tested fact

that the

e-commerce websites with multi-currency support reduces shopping cart abandonment and minimizes refund and chargeback rates. For any currencies you do not specify localized pricing for, the prices will be displayed to customers using real-time foreign exchange rates. Customers will definitely appreciate the effortless buying process in their preferred currency.
For now, you already know the need and advantages of having multi-currency support for your business. I am pretty sure I must have convinced you hard enough to get this feature and why it is a must for your online store. But, what next?
Keeping all the calculative measures and aspects of global exposure in mind, StoreHippo has incorporated the best and necessary features combined in one single platform. We know how important an efficient multicurrency e-commerce platform is for a successful online business. Thats why you must not compromise on quality and features. So go for a platform that offers more help than hassle. Because in the end your time is important.
Listed below are the important features we have integrated, that will help your business grow worldwide -
Automated Currency Rates

- StoreHippo knows how precious your time is. Therefore we offer

multi-currency support that lists all the currencies on your site and update the current rates automatically on daily basis.

This way you will not have to

cross check the currency fluctuations and update currency rates manually.
Support for Unlimited Currencies

- StoreHippo

e-commerce platform

offers unlimited currency support to your online business. We know how important it is for you to

reach new markets. Therefore we help you give your customers the freedom to buy products in their local currency.
Location-Based Currency Switch

-

StoreHippo provides features like IP based auto-switches that can detect currencies as well as locations. This way customer will not be burdened by additional exchange rate charges. We make sure the payment process remains more transparent in our

e-commerce platform.
Store-Based Currency Support -

StoreHippo gives you the flexibility to s

et sub-store based currency and let customers choose the currency based store they prefer. You can always set the base currency and get all product prices, discount, listing etc. in the desired currency for different sub-stores.
Full Template Support

-

Go for an in-built support for all types of currencies. This way you will not need any additional plug-in or app for currency conversion. StoreHippo gives full support for currency conversion for your

e-commerce website

themes as well.
Switch between Auto/Manual Conversions -

StoreHippo makes sure

your platform has this feature. This way you can control currency conversions with manual overrides. It will also allow customers to manually select a preferred currency and proceed further.
Control Currency Format -

Look for a multicurrency support that offers rounding off currency value as well as currency format. StoreHippo gives the flexibility to set different rounding rules on different currencies for accurate real time conversions.
Automatic Conversion at Payment Level - With StoreHippo you can get payment support for any chosen currency. For example, if the payment gateway only supports limited currency, you can easily convert the transaction in desired format on your e-commerce platform

and bill the customer accordingly.
These features are not only important performance-wise, but will also influence your brand name globally. StoreHippo provides these features with maximum flexibility so that your customers keep coming back to you and maximizing your ROI.
Wondering how to set up a multi-currency website? StoreHippo ecommerce platform has everything sorted for you. It is very easy to implement such services in StoreHippo stores. Once you enable the multicurrency settings, you can easily implement desired currency in your store. By adding the desired currency in the Settings > Currencies section in StoreHippo Admin Panel, you can simply execute multicurrency feature for products, sub-stores, invoices, and orders.
For Products

- When the customer selects a certain currency for their

e-commerce website,

all the prices of the products will get converted into the same currency. The user experience will improve as they will trust the brand and will not bother about conversion rates anymore.
For Orders

- When the end-user orders a product, the entire checkout procedure will be carried out in the desired currency selected.
For Invoices - When the system generates invoice for the orders, the final billing will appear in the currency selected by the end user.
For Sub-Store

- The end users can carry out the buying process in their native currency as per their location. StoreHippo

e-commerce platform lets

the admin set different locations and currencies for their online store which helps the customers in having a smooth experience.
Adding a currency - To add a new currency, go to the admin panel settings > currencies and click on the "Add New" button in the top right corner. Clicking on the button will open the following form with the fields
Select the currency you want to use

Select the symbol of the currency you want. Eg. $ for USD

Select the decimal point and conversion mode
You can set things up in your e-commerce website, according to your preference and save the final setting, so that things get implemented accordingly.
Setting default Currency - To make a currency default, go to the admin panel settings > currencies
Click on the ellipsis button

Select the "Make Default" option

Save changes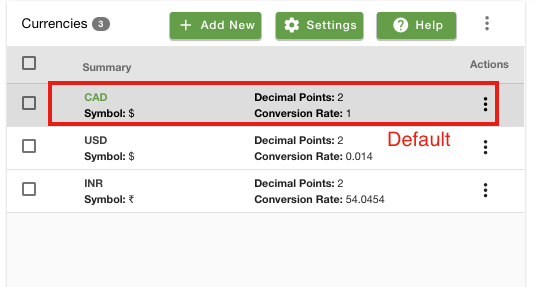 These are a few easy steps that will help you add and set your preferred currency as default. However you can always consult the helpline when needed.
Now that you are all set to launch your own e-commerce platform along with multicurrency features, you can explore more prospects to unlock better sales revenue and build an internationally acclaimed brand.
StoreHippo believes in delivering highly flexible and feature-rich services. At StoreHippo we give you the freedom to expand your business and think beyond the horizon. With balanced features and pocket-friendly costs, StoreHippo has revolutionized the way vendors manage their e-commerce stores.
Get the best solution to make the best store. For more information or any assistance, feel free to call on +91-80101 17117 or reach us at [email protected]