Do you want to create the online store of your customers' dreams?
Are you looking for the best ways to drive more sales and conversions?
Headless commerce offers just the same. Headless is rising its "head" in the ecommerce space by empowering online businesses to deliver excellent customer experiences. Today, when customers are looking for on-the-spot purchases and instant satisfaction, your store needs to be available wherever the customers are.
This is where the concept of headless commerce comes in. It promises the freedom to sell anywhere without any development and design constraints. With the headless solution, the world is your storefront.
Sounds interesting, right?
Let's explore the ins and outs of the headless solution
Understanding headless commerce
It is an ecommerce solution that separates the frontend commerce from the backend functionality. It solves the purpose of customizing the head (interface, digital marketplace, social commerce, and more) without interfering with the backend. With this solution, it gets way too easy to create unique shopping experiences for your customers and ensure consistency regardless of where and how the customer is interacting with it.
How headless commerce works?
Simply put, headless works using APIs (application programming interfaces) to facilitate the sharing of data between servers. API acts as the middleman to collect and deliver the data between the frontend and backend of your site. The best part is that headless allows you to add new images, new features, new payment options, marketing channels and so on, to improve the customer experience and online sales.
Isn't it amazing to sell to customers on multiple touch points across the globe while sitting in one place? This is why headless has gotten plenty of hype in the ecommerce landscape. Let's explore how adopting headless solution can improve online selling better and smarter.
How headless commerce makes your online selling better?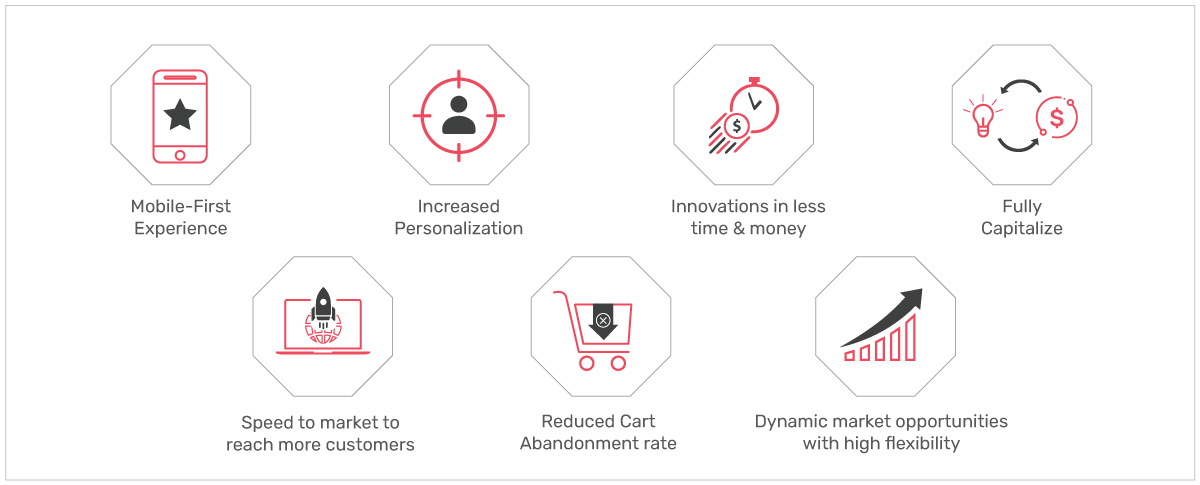 Headless helps the old-age issue of developers who are unable to work on front- and back-end systems in tandem. With a headless solution, the customer-facing work can be done separately, without any dependency on back-end work, and vice versa. Simply put, it expedites your changes and market experiments. With this speed, you can get more market insights in no time, reach new geographies, and ultimately more customers.
2. Increased personalization to upscale online shopping experience
Unique customer experience is one of the core benefits of headless commerce. It allows you to build personalized customer experiences , regardless of which device they're on. You can instantly split test what you build to optimize the customer experience and conversion rates. Personalized offerings provide the much-needed agility to keep up with the changing customer acquisition trends. The headless solution offered by StoreHippo gives you the much-needed ease of use coupled with high-end personalization options to enhance online shopping experience like never before.
3. Reduced cart abandonment rate to retain more customers
Whether a customer is using their cart as a "bookmarking" tool in the browser or just passing the time adding products in the cart, cart abandonment is a major problem in ecommerce. In fact, ecommerce as a whole sees an average cart abandonment rate of 75.6%. Are you wondering how headless can help here and push your online sales? Well, the online stores experience glitches that trigger cart abandonment. It can be website crashes, site errors, mobile compatibility issues especially during sales and launches. Here, headless commerce comes into the picture. It helps you improve the store performance and makes it faster, responsive, easier to maintain and update.Things tend to be less clunky and overall site performance becomes significantly better. Thanks to the flexibility provided by headless solutions like StoreHippo, you can easily mitigate the technical and experiential glitches.
4. Fully capitalize on IoT to create omnichannel marketing potential
There are millions of IoT devices in use worldwide. And the ubiquity of IoT is having a dramatic impact on the ecommerce journey. Modern shoppers research and buy the product through multiple devices like desktop, tablet, mobile, and more. For instance, they might begin their research using a smart speaker like Amazon Echo to find a good brand, then browse through that brand's product selection on their smartphone and ultimately make a purchase on a laptop. So, it makes a lot of sense to adopt a headless commerce platform like StoreHippo to capitalize on IoT completely. The platform facilitates an omni-channel experience and is inherently flexible, allowing you to sell on mobile devices, Alexa skills, cutting-edge web apps, or whatever happens to be popular at the moment.
5. Create a mobile-first experience to increase conversions
As mobile commerce continues to evolve, customers are taking advantage of instant shopping capabilities and high convenience. Many traditional online stores use native mobile apps that require customers to download the app to their device, which doesn't always happen. Today, customers don't want to wait for a site to load or for an app to download. Here, you can leverage the benefits of headless commerce. It seamlessly allows customers to enjoy the complete functionality of mobile apps with PWAs - like speed, and smooth page transitions without installing anything to their phone. So, it is a wise strategy to adopt a headless platform like StoreHippo that supports PWA (Progressive Web Apps) experience for your online store.
6. Pushes innovations and save time and money
Headless helps your online business to bring more innovation to the dynamic ecommerce industry . Adopting headless commerce saves companies a lot of money and time with its super flexible approach. It helps you to make changes in periods of peak traffic without any technical hassles. When an online store fails to handle a large volume of traffic, it crashes and loses significant sales. Thankfully, headless architectureis designed to scale instantaneously to prevent traffic spikes from crashing the system. With dynamic scaling abilities users can enjoy uninterrupted flawless service, even when things get busy. The headless platforms like StoreHippo also makes it easier to add more bandwidth to carts and payment systems at peak times to make your online sales much better. It clearly indicates that having a headless commerce system in place will be time and money-efficient.
7. Respond to dynamic market opportunities with high flexibility
Headless lets you bring in additional functionalities and features to respond to new marketing opportunities even with limited developer resources. You are all set to explore new integration solutions without heavy investments. You just need to adopt an ecommerce platform with headless support like StoreHippo. It gives you an easy way to adapt your strategy to capitalize on micro-moments of ecommerce shopping. Whether you have identified a new opportunity to contact customers with personalized promotion, offer, or incentive, you can easily set up and deploy the same with StoreHippo. Headless commerce strategy makes it easy to respond to emerging opportunities when they are new and exciting.
Why is StoreHippo the best headless ecommerce platform to make your online selling smarter?
Looking ahead, headless commerce architecture is set to continue gaining traction and will likely become the go-to approach for every online business that wants to tap multiple ecommerce channels including smartwatches, WhatsApp, and more. If you are also an ecommerce business looking to create unparalleled customer experiences, StoreHippo is a one-stop solution that helps you leverage the benefits of headless commerce . With evolving consumer demands for personalised and convenient service at every touch point, it is time to transform your online store into an experience-led platform with StoreHippo.
It offers 300+ API endpoints to create the most personalized and unforgettable omnichannel buying experiences for your customers. It offers a highly scalable platform to scale your frontend as well as backend according to the dynamic nature of online businesses. With 300+ inbuilt features , mobile-first approach, PWA (Progressive Web Apps) support to provide native app experience, powerful discount engine to create personalized offers, StoreHippo offers best-in-class experience for your online business. It also helps you to integrate seamlessly with a variety of applications like ERP, CRM, payment, shipping, marketing to create tremendous opportunities for your business. And that's not all.StoreHippo has a lot to explore along with the headless commerce solution. Schedule a 14-day free online store trial to explore all features of the platform and start your smarter ecommerce journey.