The next generation of ecommerce is here. It's fiercer and faster and customers are lapping it up like never before.
Yes, we are talking about Quick Commerce, the hottest ecommerce trend which is already showing signs of disrupting the online grocery and consumables segment.
Here are a few trends and stats to help you understand how this hybrid business model is all set for disruption.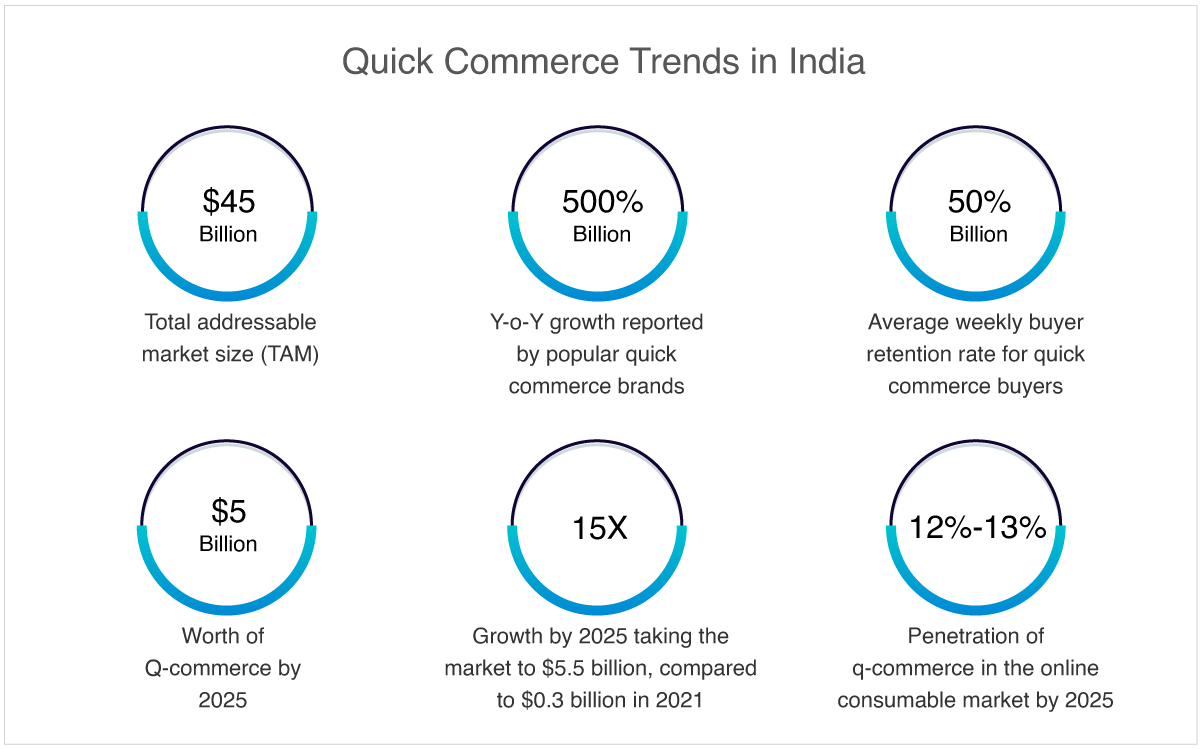 $45 Billion- Total addressable market size (TAM)

500% - Y-o-Y growth reported by popular quick commerce brands

50%- Average weekly buyer retention rate for quick commerce buyers

$5 Billion - Worth of Q-commerce by 2025

15 X - Growth by 2025 taking the market to $5.5 billion, compared to $0.3 billion in 2021

12-13% - Penetration of q-commerce in the online consumable market by 2025
Source: RedSeer
The stats say it all, the quick commerce model has arrived in India with a bang!
Before we move ahead, let's first understand how qcommerce is different from regular ecommerce.
Quick Commerce is a niche ecommerce segment that is centred around quick delivery of everyday essentials.
In simple terms, Q-Commerce = Ecommerce done faster.
Quick commerce means faster ecommerce deliveries ( within 10-30 minutes of placing the order). These orders consist mainly of consumable items like groceries, fruits, vegetables, FMCG products, stationeries, personal care products, medicines and sometimes food items like bakery products. Quick commerce in nutshell is all about convenience and improving the user experience in the Kirana/grocery sector.
However, the brands have evolved and used the opportunities to cater to seasonal demands for non-essential items also. For example, many Qcommerce brands offered flowers and gift options on their portal for Valentines Day, Holi related food delicacies and sweets along with colors and other Holi essentials during Holi etc.
Typically, the q-commerce brand sets up micro warehouses called dark stores at different locations to service the online orders quickly. Alternatively, they can also partner with local kirana and grocery stores to fulfil the orders in 10-20 minutes.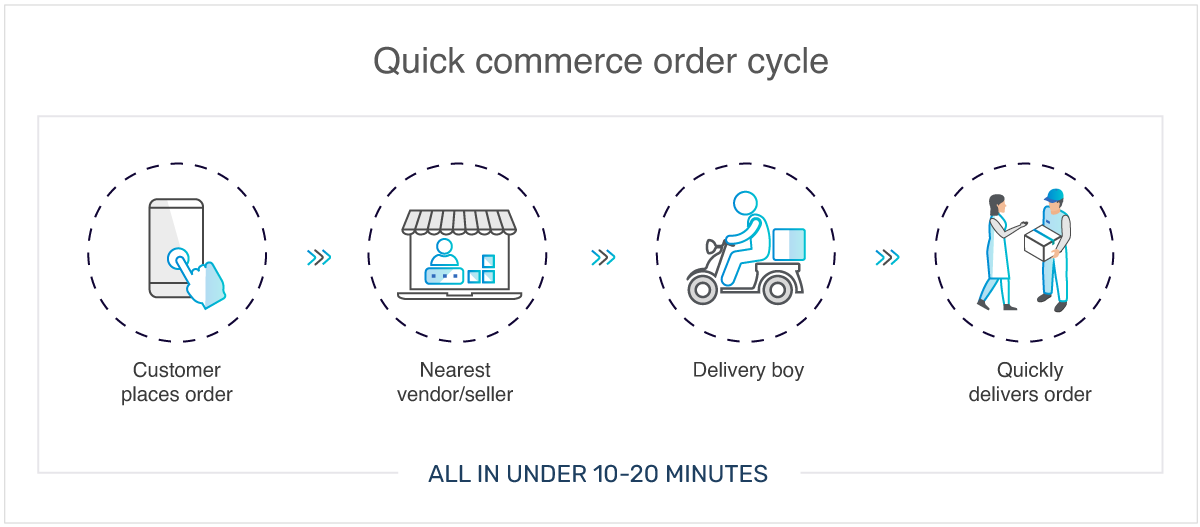 A typical quick commerce brand has the following flow for setting up the business and fulfilling orders:
A qcommerce brand is set up with serviceable areas within a city or across the country

The brand sets up micro warehouses in different locations for servicing orders quickly

Alternatively, local grocery/Kirana/daily essentials stores that have their own warehouses can be onboarded as sellers on the quick commerce marketplace

Orders placed by customers are automatically routed to the nearest warehouse or the seller closest to the customers' location

Each sub-store/micro warehouse has its fleet of delivery agents who are well aware of a given locality and they deliver orders in the shortest possible time
The complete order cycle of a quick commerce order usually takes less than 60 minutes, i.e, from the time a customer starts searching for products online to finding the qcommerce brand and finally ordering and getting the order delivered is typically done in 20-40 minutes.
With the COVID-driven conditioning for convenience, online consumers have shown a preference for micro order sizes and faster fulfilment. Impulse purchases by tech-savvy millennials and Gen Z buyers have also accelerated the demand for better supply-side conditions.
Taking the cue from these customer behaviour insights, retail bigwigs like Flipkart Quick, Blinkit, Zepto, Apollo, Swiggy Instamart, and many others have quickly and aggressively pivoted their business model to win in the new-found Q commerce battleground.
Mid-size enterprises that already have a significant local presence are also vying for their own spot in the qcommerce market. However, the micro warehouse based quick commerce model entails huge resources and time investment which is not feasible for small and mid-level enterprises.
The hyperlocal model is a smarter alternative for such enterprises that have the experience and expertise to grow quickly in the qcommerce domain.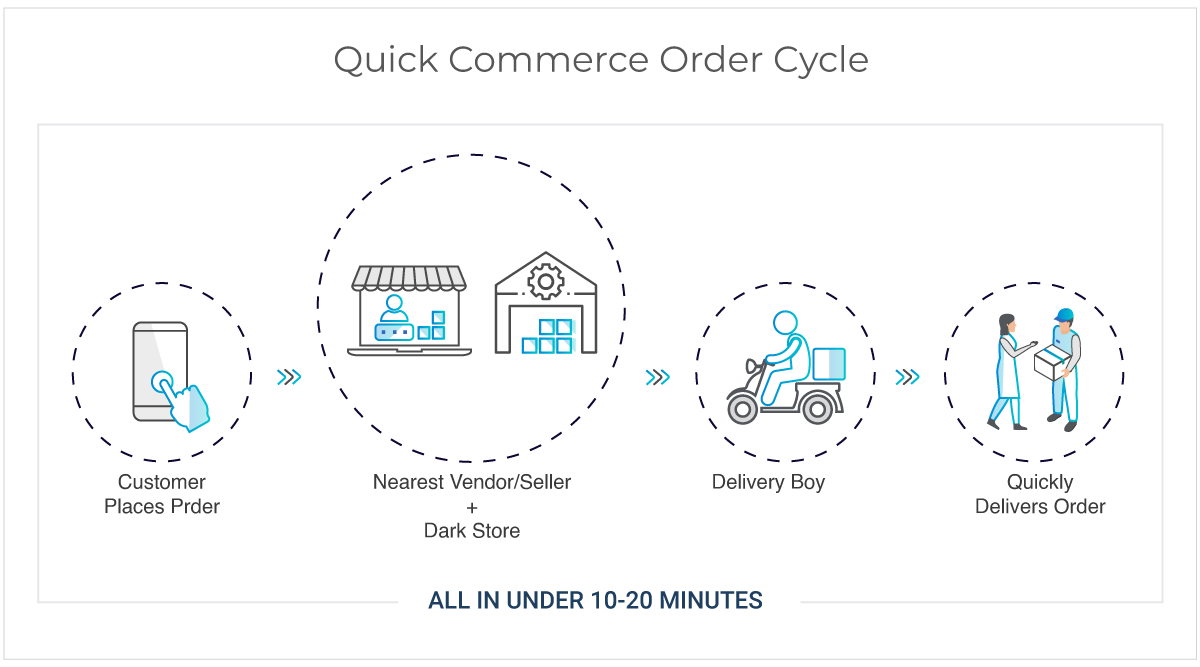 A hyperlocal marketplace model is an improvement over the inventory-based micro warehouse model as it frees the enterprise brand from the burden of stocking up and managing inventory. Also, it brings in local stores as vendors who already have a fairly good and nuanced understanding of the given location, its market size, customer preferences, local seasonal peaks etc.
Here are some other advantages of building a dealer vendor based hyperlocal marketplace for quick commerce brands:

By doing away with the inventory-based model qcommerce brands no longer need to set up warehouses and stock them up with inventory. They can use a turnkey marketplace solution combined with multi-store set-up and have their Quick commerce brand up and running. The onboarded vendors take care of the inventory and delivery agents. The quick commerce brand can manage all its vendors for different locations, their respective inventories and delivery agents from a common central admin dashboard.
Setting up a hyperlocal marketplace is a cost-effective solution compared to building a qcommerce brand from scratch. With no costs involved in setting up and managing warehouses, the qcommerce brands save a lot on CAPEX and resource hiring costs.
The expenditure thus saved can be used more strategically to grow the business and build data-driven expansion strategies.
With the hyperlocal marketplace scaling to new product categories or new geo-locations becomes faster. Currently, most of qcommerce activity is concentrated in tier 1 cities. However, there is a growing demand for such services even in tier 2 and 3 cities.
Qcommerce brands built on the hyperlocal marketplace concept can simple onboard new vendor stores from new geolocations and start operating in these areas. Also, expanding to new product lines becomes easier as the quick commerce brand can partner with the most reputed dealers for those product lines and leverage the dealer network across the country to fulfil customers' orders.
The hyperlocal ecommerce market is changing rapidly driven by customer demands. To cater to the changing market demands brands need to think of innovative hybrid business models that can be implemented quickly. It becomes easier for brands already using a cutting edge hyperlocal ecommerce solution to pivot to new business models. They can quickly adapt to the market dynamics by tweaking their flow to build new disruptive hybrid models that take them miles ahead of the competition.
Personalization is the success mantra for modern brands whether it is quick commerce or any other business model. Implementing personalization becomes easier in a location-based hyperlocal marketplace. Brands can not only personalize the prices and deals but they can also offer personalized languages, landing pages, payment options, customized delivery solutions and any other personalization that can help them sell better. With an advanced solution provider like StoreHippo implementing multi-level personalizations is a breeze.
While customers love shopping online, they also want to hop into real stores on certain occasions. With the dealer/vendor based hyperlocal ecommerce set up for your quick commerce brand you can actually make it happen. While you add new touchpoints like apps, marketplace, social commerce etc. you can also partner with your vendors and use their physical store to offer a phygital experience to your buyers. Certainly this would be a major differentiating factor over your quick commerce competitors and would help you gain loyal customers while leveraging the omnichannel strategy.
With so many obvious advantages the dealer-vendor based hyperlocal marketplace is certainly an improvement over the inventory-based Q commerce model. However such an extensive hyperlocal set up can be run and managed smoothly and efficiently only when it is powered by an advanced solution that takes care of every aspect of the business.
StoreHippo offers an end-to-end hyperlocal ecommerce solution built on the decoupled headless architecture. Powered by MACH architecture for ecommerce, hyperlocal marketplaces built on StoreHippo are inherently scalable and flexible. They can be easily customized to suit the unique needs of a Q Commerce brand.
To get started with a qcommerce business, brands can partner with StoreHippo and get a comprehensive hyperlocal marketplace solution which includes:
Complete marketplace solution to set up a quick commerce brand powered by the dealer network instead of a cost-intensive inventory model

End-to-end hyperlocal marketplace solution that covers every aspect of vendor management right from onboarding the local Kirana and grocery stores to payouts, commissions, discounts and shipping management

A variety of mobile apps to completely run and manage the business on the go using different inbuilt apps like mobile apps for the customers, for the vendors, for admin(s0 and the delivery boys

Comprehensive order and inventory management solutions with centralized control

Inbuilt solutions to add new customer touchpoints like mobile apps, online marketplace, mobile store, social commerce etc. and go omnichannel

Native multi store ecommerce set up to create multiple location-based stores managed by a common central admin

Multilingual solutions to build quick commerce apps and websites in multiple languages

Inbuilt delivery boy solution to manage own fleet of delivery agents for each location and vendor/local store

Seamlessly integrates with a variety of third-party tools and service providers to help you build your unique solution using your preferred ERP, CRM, POS, accounting, marketing, payments and shipping solutions

300+ inbuilt tools and 120+ built-in integrations which help brand build their tailor-made solutions
Quick commerce has changed ecommerce and conditioned customers for instant gratification. The next battleground for qcommerce brands would be to engage and retain customers with offers and services that go above and beyond what the customers have already been accustomed to.
That's where a next-gen hyperlocal marketplace solution powered by an advanced ecommerce platform like storehippo can make a difference. With StoreHippo to power their Q Commerce journey, brands can easily penetrate new markets, offer seamless and personalized omnichannel buyer journeys and quickly adapt to changing market conditions.
Qcommerce brands vying for customer attention and retention need to be quick in planning and implementing strategic marketing and expansion plans. Storehippo with its inbuilt set of features and tools along with a complete solution for B2B, D2C and B2B2C business models makes it easy for brands to design and create the most unique quick commerce brand.
Ready to set foot in the quick commerce battleground? Start on a strong footing with StoreHippo by your side. Explore our features and solutions, book your free demo right away and take a tour of amazing things you can do for your business!