Building a multilingual website is the right start to tap into the global markets. It helps you to connect with the global audience.
Don't you want to take your business global?
It's not that difficult as it used to be. The world is a smaller place now and it's quite easy to access even the remote corners. If you start an ecommerce operation, there is a very high probability that people from other countries will come across it. And if you have the goods to serve them, you shouldn't miss that chance just because they can't understand the content of your website.
You need to be well prepared in advance to tackle challenges like these.
75% of consumers worldwide prefer to buy from websites in their own language. (Source: Translatorthoughts

)

By communicating in the 10 most popular online languages you can reach approximately 77% of all global Internet users.

(Source: Designingit

)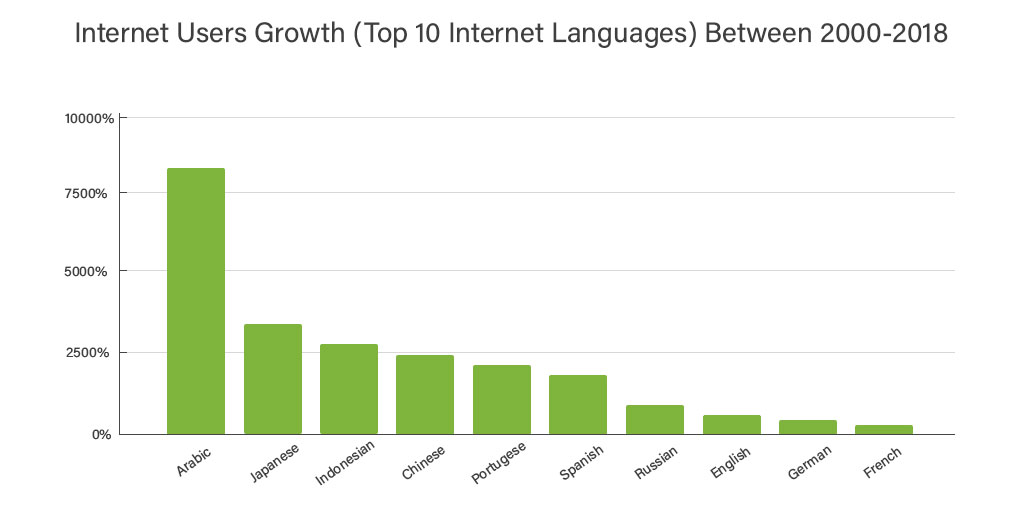 You see now? Notice the trend? English is the default language people make their websites in but English is not even in the top 5. Due to a huge ecommerce growth and internet penetration in the Middle East, Arabic has seen a massive growth of 8616% in a span of 18 years and is still growing. Due to internet consumption by Asia's huge population, Japanese, Chinese and Indonesian languages have also gained traction with 3434%,2845%, and 2391% growth respectively.
English has only seen 648% growth in 18 years. So if you still don't have a Multilingual website, buckle up!
Did you know? 73% of the people said they constantly encounter sites that aren't available in their native language. Make sure your ecommerce website isn't one of those websites so that you don't lose any business.


While looking for a platform to build your website, you have to make sure that they can make your website loaded with rich features and tools to have multiple languages on it. You definitely want an easy and hassle-free solution.
Wondering where to look for it?
Well, Choosing the right service can be a challenge too.
Major platform providers like Shopify, Magento, WooCommerce will give you these features with the added expense of subscribing to the services of a third party addon. Magento can be a little complicated as you need to manually translate every element of your website such as Product, Category, etc. Ecommerce platforms like Shopify, WooCommerce rely on plugins and you need to customize every element manually.
Chances are, if you are a Shopify/Magento/WooCommerce user, you can relate to what message we are trying to get across and when you are done reading this, you will get the gist on why StoreHippo stands out.
With StoreHippo subscription, you don't need to worry about any plugins or manual tedious steps.
People look for many features while looking for such platforms. Platforms like Shopify Plus, StoreHippo, etc are well known to offer a wide range of features for an online store. Both of these provide polylingual functionality, however, the implementation varies on the platforms.
However, before you sign the dotted line it becomes imperative that you do thorough research and check the reviews and comparisons to understand the subtle differences that really matter.
Just to get an idea, check out the comparison between StoreHippo and Shopify. See how their multilingual functionalities differ.
StoreHippo has polylingual features integrated with its ecommerce services subscription. All you have to do is pick one of their plans and get started. Your website will be ready to be polylingual from the go. Even adding the language and managing them is really easy. All you have to do is select the languages at the backend to publish your website. You can even add new languages With StoreHippo ecommerce solution you can convert your online store into a website with multiple languages and establish your brand better in global markets. StoreHippo can help your website have the following functionalities.
Access to unlimited languages.

Automatic Dynamic Translation.

Complete control over content translation.

Custom rule-based translation.

CSV import and export while building the website to handle translations.

Ease of scalability without worrying about the website's load time.

Support of mobile app translation.

Bulk

multilingual translations settings at the backend.

Auto-Translation of the checkout page.

Create different sub store with different languages based on location and demographic.

This feature allows customers to view the store in their native language as determined via geolocation.
To create a website that supports multiple languages and allow your customers to access the store in the language of their choice, you just have to add languages you want to the backend. Almost all standard entities such as Products, Categories, Collections, Brands can be translated and appear multilingual. For example, in Product translation, product data including name, description, etc are translated. In the same way Categories, Collections and Brand's information can be translated.
You don't have to buy any extra plugin to get these functionalities. So the cost of running your website remains constant. Polyglot functionality on a website is something basic that you should be given from your platform provider without you asking for it.
Shopify is a major brand when it comes to online store builders. Their platform doesn't provide you with the multilinguistic feature inbuilt but there are add-ons in Shopify plus app store that you can buy. There are add-ons like Weglot, Langify, Langshop, etc that can make your store support more languages. Different extensions have different functionalities. Some of them may have automatic translation while some static. When you use these add-ons, your website will have the following capabilities-
Access to unlimited languages.

Dynamic and Static content translations.

Integration with Google translation.

Updates and backups on the cloud.

Compatibility with Shopify and

Shopify Plus

themes.
These features are cumulative of multiple add-ons. There are some add-ons that don't even help with dynamic auto-translation. And you need to pay extra for these add-ons. So you need to watch out there if you are working on a budget.
You can either use the platform dependant on plugins like Shopify Plus or you can choose something like StoreHippo which gives you these features integrated. It's your choice. But beware! Using separate plugins can mean that your website may have limited features and you might have to add more plugins for other features. There may be compatibility issues among different addons causing incoherent translations. Dependancy on google translate would also not be smart as there have been issues with incomplete translations.
StoreHippo's 'Multilingual' helps you discharge the true potential of your business by taking it global for better progress across distinct locales. And they help you do it by making things extra simple for you. Your website will be versatile and robust when it comes to catering to the global demographic.
Anyway, it basically boils down to your chosen ecommerce platform. Sign up for StoreHippo and explore its benefits yourself.