The brick and mortar retail players should be a worried lot. If they want to turn a blind eye to the imminent threat of the booming E-commerce market, they would be fooling themselves big time. Take a cue from the US, where brick and mortar players literally bled in the last decade.
Brick and Mortar Retailers (US) Market Value 2006 vs 2016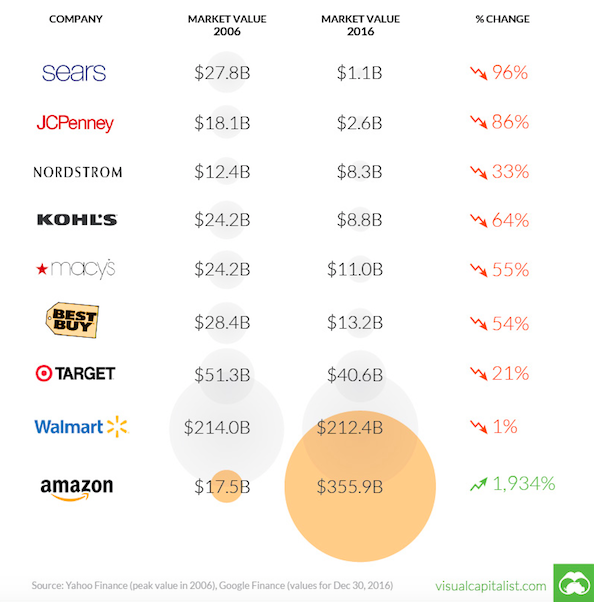 Courtesy: VisualCapitalist
There are many who will argue that India is a unique market and it will not be prudent to put both US and Indian markets in the same basket. The Recent success of DMart IPO and failure of Snapdeal strengthen this argument. However, there are many reasons why brick and mortar players in India are going to follow the same track as their US counterparts.
E-commerce is here to Stay
E-commerce in India is still in its nascent stage. The problems with E-commerce players like Snapdeal can be considered as teething problems of a nascent industry that is growing and learning. The business models might change but E-commerce is here to stay and achieve a hockey stick growth.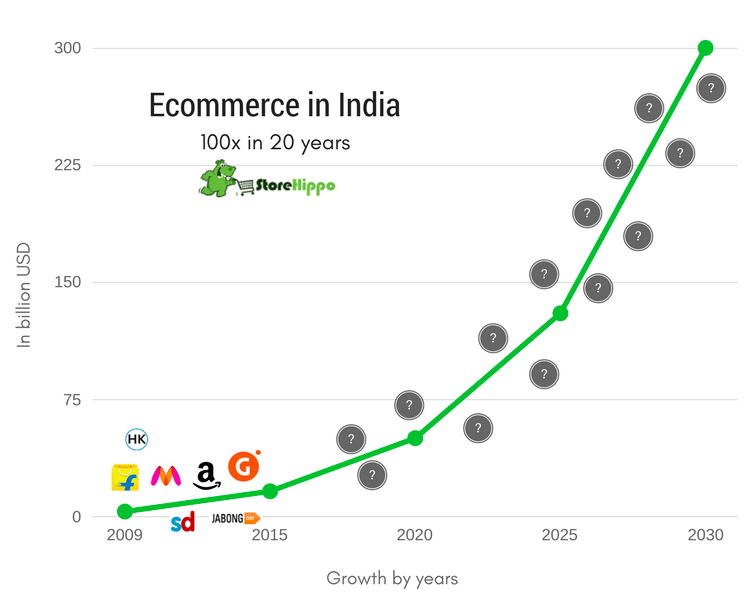 Some factors are never going to change and they would catapult the E-commerce industry;
People are going to be busier (and lazier)
We are living our lives in the fast paced lane. Multitasking is no longer a choice but more of our modus vivendi. Imagine you are driving home from your normal workday and need to order some stuff. Would you queue up at a brick and mortar shop to get these?
Never!
All you need to do is, tell your voice assistant to order the stuff and charge your stored payment method. That's it, you will have all the ordered goods delivered at your doorstep.
Internet Penetration will continue to grow
Internet penetration in India is still way behind USA and China and there is no reason why it would not follow the same curve.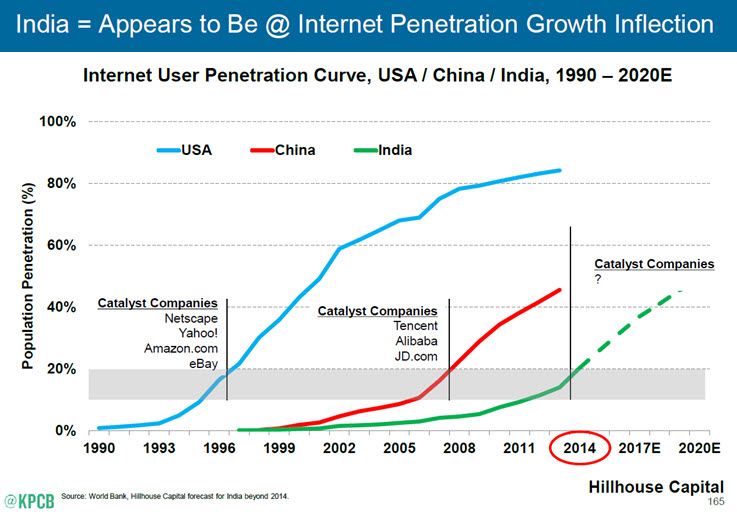 Reliance Jio has acted as a catalyst in bringing the data prices down significantly and that will only boost the penetration of the Internet in India. Other players will be forced to invest in their infrastructure to reduce the prices further.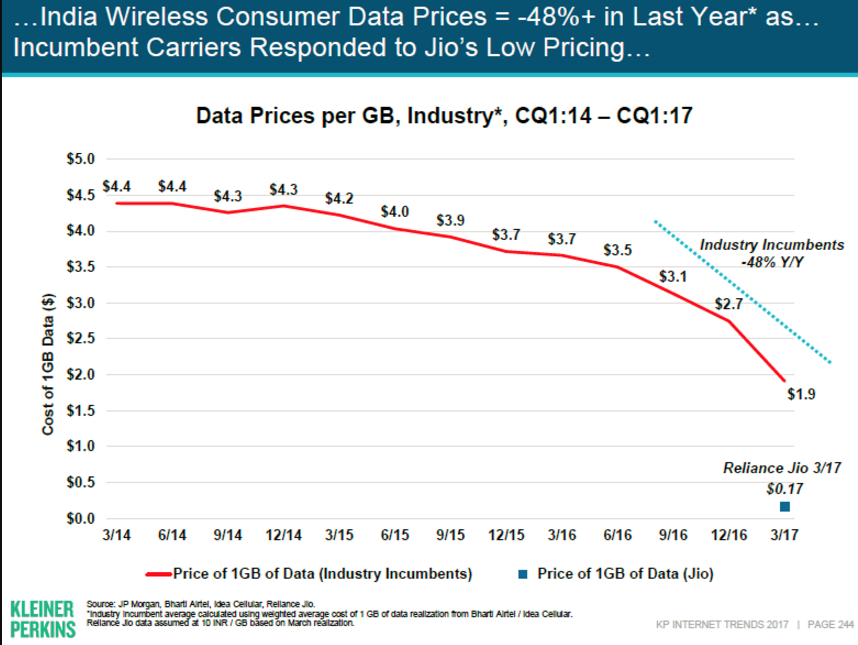 Delivery is going to be cheaper and faster
Logistics once considered the biggest pain point of Indian E-commerce has come a long way. Logistics companies are investing astronomical sums to improve their services and operations. GST and lesser paperwork have made it more streamlined.
Shipping aggregators like ShipKaro are making the logistics services available on a single click and taking care of complexities associated with the Cash On Delivery model. The cost benefit from the efficiencies of scale is being passed to the end customers.
Online payments will cost almost nothing to merchants
Like energy is eventually going to be almost free, there is a huge downward pressure on the fee charged on online payments. With Government promoting local payment methods, accepting online payments is also going to cost close to nothing to the online merchants very soon.
All these factors put together only lead to the conclusion that if brick and mortar retailers have to avoid the fate of their US counterparts, they need to act NOW and take steps before it's too late.
StoreHippo offers a hosted and fully managed solution that helps brick and mortar retailers to build and scale their online offerings and complete with online marketplaces. Powered by mobile-first technology stack, the E-commerce platform offers unmatched flexibility that is often required by diverse and complex business models in India.