Service aggregator marketplaces like Urban Company, Zomato, Uber, etc. have disrupted the ecommerce market like never before. All these brands started by creating an ecosystem that organized and utilized the fragmented services space. But was this factor enough for the kind of growth service aggregator brands witnessed?
Wonder what accelerated the success of these brands?
Well, service aggregator multi vendor marketplace brands are cashing in on Convenience. The aggregator brands have brought together the best service providers on a common platform for customers to review, compare and make an informed purchase. To top it all the customers can do it all right from a marketplace app and avail of the services right at their doorstep.
With customers lapping up the services offered on aggregator platforms, the model has become the much sought-after business strategy for brands looking forward to pivoting their business and growing their reach to new customers and markets.
But before we delve deeper, let's understand the Service Aggregator model and how it works.
What is a service aggregator online marketplace?
The aggregator business model is a variation of the online marketplace model. In this model services of various vendors/service providers are aggregated on a marketplace platform under one brand name. The aggregators brand onboards various service providers signs the contracts with the vendors and provides services to the end customer under the brand name. The quality of services and terms of services are controlled by the aggregator brand and not the individual vendors.
Here are some of the key characteristics of a service aggregator marketplace:
All the service providers are organized as one brand

The service provider vendors abide by the terms and conditions of the brand. However, vendors are partners and not the employees of the brand

The service aggregator platform has to plan engaging and beneficial offers for customers as well as its vendors

High and standardized quality of service should be offered by all the service provider associated with the aggregator marketplace

The main revenue for the service aggregator brand comes from the commission paid by the service provider vendors

The brand owners also earn revenue by offering paid ads to their vendors and premium services to the customers

Dispute handling is done by the service aggregator marketplace brand and not the individual seller partners
With the right structure, terms of service, and quality standards in place, any new aggregator brand can attract and onboard the best service provider partners. With the best service providers and smart marketing strategies, even a newly launched service aggregator brand can change the market dynamics.
Future of the Service Aggregator Marketplace Model
The service aggregator multi-vendor marketplace sector is all set for witnessing significant growth in the years to come. The primary reasons contributing to the fast adoption and popularity of aggregator platforms are:
Increase in the adoption of on-demand services

Rapid urbanization

Customers' preference for convenience

Pandemic push for D2C and availing services at the comfort of home

Guarantee of reliable service from a reputed brand

Easy, systematic, and quick grievance redressal if any
By organizing the scattered and non-standardized services, service aggregator marketplaces have brought about a change that has set new standards. Conditioned by the superior service offered by such aggregator platforms, customers stay loyal to no-fuss services offered by aggregator brands.
How the Service Aggregator Marketplace segment is growing
The leading service marketplaces are charting new success records each year. Here is a snapshot of what four top service aggregator brands have achieved in the recent years:

Service Aggregator Marketplaces Growth Trends
11.5 million orders on Urban Company for CY 2021

1.6 billion is the expected orders volume per year for food aggregator Zomato by 2026

188% revenue growth for medical service aggregator Practo in FY 2021-2022

6,368 million trips completed by Uber drivers globally in 2021
The stats clearly indicate that this model is going to stay and rule the digital commerce market.
Step-wise guide to building and launching a Service Aggregator Marketplace
The customers have been conditioned to brands offering efficiently operated on-demand services. Enterprise brands can cash in on this opportunity by launching their own unique aggregator marketplace for services.
If you are also looking for a practical and detailed guide to help you in building your service aggregator multi vendor marketplace here it is: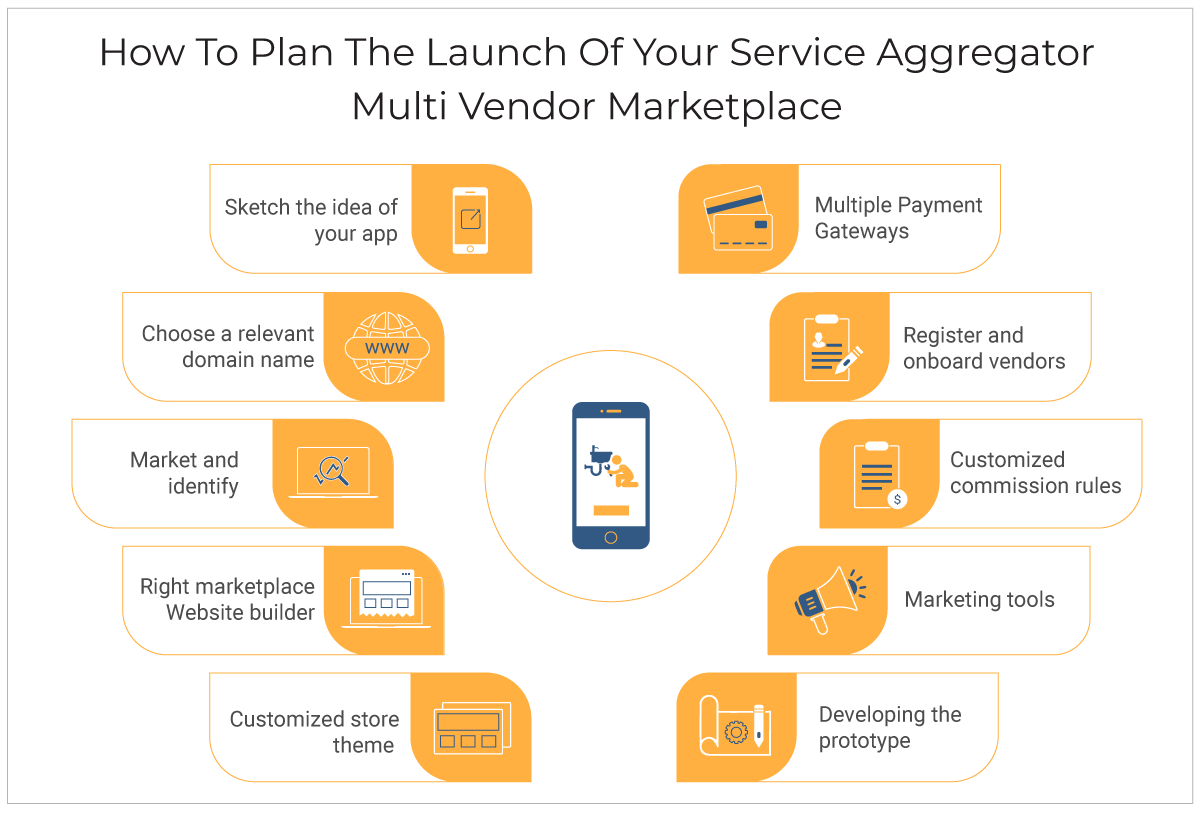 1. Sketch the idea of your app
To create an on-demand service marketplace like Urban Company, you need to identify a problem that can be solved by your business model. Think about the tangible benefits your brand can offer to your customers. Work upon the idea in terms of the market size and frequency of orders to arrive at a sustainable and scalable business model.
2. Choose a relevant domain name
Domain names have a massive impact all over the web and app market. Try to choose a relevant domain name so that customers can relate your brand name with the service offerings.
3. Analyze the market and identify the need
Conducting a market analysis helps you to understand the features to be offered in your service aggregator multi-vendor marketplace. Data-driven insights can give you better understanding of the market, target audience, services to be offered etc. and help you build your unique service aggregator multi vendor marketplace.
4. Choose the right marketplace website builder
Finding the right ecommerce solution for your service aggregator business goes a long way in ensuring the success of your brand. You need to choose the best-fit marketplace solution provider.
Go for a cutting-edge multi vendor ecommerce solution like StoreHippo to build a variety of service aggregator marketplaces like Ola, Zomato, Urban Company, Airbnb etc. Along with inbuilt features, StoreHippo also offers a variety of marketing, payment and logistics solutions, and inbuilt mobile apps builder to build your marketplace app.
5. Build engaging and conversion oriented theme
Your service aggregator multi vendor marketplace should be easy to use and engaging enough to keep your customers loyal. Choose a technology platform that comes with customizable themes which can be adapted to your marketing strategy on the fly. StoreHippo allows you to pick the theme of your choice and customize it with drag and drop tools.
6. Integrate your store with multiple payment gateways
Did you know over 28% of online customers abandon the cart due to complicated checkout processes and lack of preferred payment methods? For the same reason, you need to integrate your service marketplace with modern-day payment methods like wallets, UPI, net banking, debit and credit cards, and many more.
StoreHippo is a one-stop marketplace website builder that helps you easily integrate your store with 60+ payment gateways to ensure frictionless checkouts and reduced cart abandonment rates.
7. Register and onboard vendors
A service aggregator multi vendor marketplace is all about vendors. In fact, this is why we call it a multi vendor marketplace. With a flexible platform like StoreHippo, you can easily onboard vendors on your service marketplace platform, set up rules for commissions, taxation, payouts, delivery charges, etc. and manage all your vendors seamlessly with inbuilt vendor management module.
8. Set up customized commission rules, payments, taxation and delivery
No more manual commission calculations while paying to multiple vendors with StoreHippo multi vendor service aggregator marketplace. It simply helps you set up a flexible commission system for vendors depending upon the respective product categories and hierarchies. With StoreHippo, you can simply fix the vendor commission rules, add further tax rules and delivery costs to get an automated calculation of the total commission of vendors.
9. Market your aggregator brand
Once you are done setting up the marketplace, it is time to market it well. And for this purpose, you will need inbuilt marketing tools in your marketplace website builder. Well, you can straight away implement your marketing strategies with the inbuilt marketing tools of StoreHippo. It helps you to offer customized deals and discounts, manage abandoned carts, integrate with the best marketing software to promote your online marketplace website and apps
10. Developing the prototype
This is nothing but giving a perfect shape to your business idea and turning it into reality. To turn the rough sketch into reality, you need the best marketplace website builder to support all your marketplace needs. A prototype also makes it easier to attract investors as it indicates the tangible benefits instead of just visualizing the product description.
11. Test your marketplace, create a market buzz and final launch
With a full-fledged marketplace website builder like StoreHippo, you can easily build your service aggregator marketplace with the shortest go to market time. As soon as you build the store, test your online service marketplace to find any possible bugs. When you are satisfied with the online marketplace, create a pre-marketing buzz on social media, reference and network and finally launch it in the market.
Why is StoreHippo the best Service Aggregator Marketplace website builder for you?
StoreHippo is a power-packed solution to build your online service marketplace. The mobile-ready platform comes with a gamut of 300+ inbuilt features to power your operations, marketing, logistics, payments, and everything you need for your online store. Along with the tested service aggregator solution, StoreHippo also offers an inbuilt multi-store setup to roll out a chain of online stores dedicated to a certain geography, audience segment, or service line.
We call StoreHippo the best marketplace website builder because it offers additional integration benefits to enable service aggregator marketplaces to build a disruptive solution. The go-global features of StoreHippo allow you to foray into international markets while adding a local touch with multilingual service aggregator websites and mobile apps. The multi-currency payment support also facilitates frictionless checkouts and ultimately, boosts sales conversions.
StoreHippo also powers up your service aggregator multi vendor marketplaces with streamlined deliveries. The delivery boy management module helps in setting up and managing the deliveries (for business models like food delivery). In addition, the mobile-first architecture of StoreHippo helps the online service marketplace in reaching more customers by leveraging m-commerce. It offers PWA-enabled online stores that work seamlessly on entry-level devices. This helps in connecting hinterland customers to online services even if the internet speed is poor.
Ready to create your very own service aggregator multi-vendor marketplace? Explore all the amazing marketplace features by starting your 14-day free trial now.