Today, it is impossible to ignore the success of Amazon and Flipkart...!!
Once the co-founders of Flipkart, Binny and Sachin Bansal said "We were not thinking about numbers then, but we knew SOMETHING BIG can be built out of ecommerce".
They have surely realized the potential of ecommerce very soon and explored the brimming potential of the multi vendor marketplace. Let's talk numbers.
Here are the impressive ecommerce sales worldwide from 2014 to 2021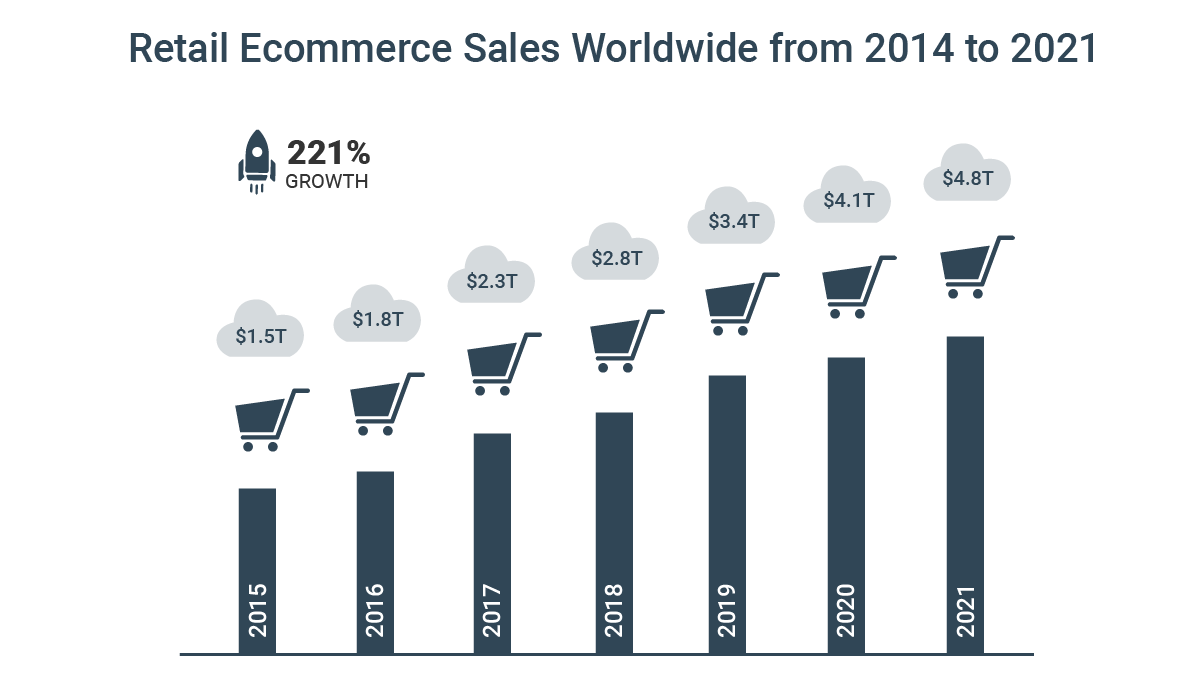 Amazon has surely shown us that there is a bright future of ecommerce. It has inspired most of the business owners to start an online marketplace platform.
To save all your time and efforts to research, here is your complete business plan to start an online marketplace platform like Amazon.
Steps to Start an Online Marketplace Platform Like Amazon: A complete business plan
Step 1 - Market study to identify the need and supply gap
Timing of launching your online business is everything. Like, the best time to start an ice-cream brand is during the summer season.
So, the first step to launch your online marketplace is to identify the gap between need and supply. Accordingly, choose your business niche and the launch time. The most preferable time to launch your business is when the demand is excessive and supply is limited. it will help you create a strong foothold in the market.
Step 2 – Choice of target audience and geography
Now that you are sure about your business niche, choosing your target audience and market geography should be the second step. Well, you cannot expect people to buy from your multi vendor marketplace if you don't know who you are selling to. Some of the quick questions you ask are:
What is your online store all about?

Who are the customers seeking for your business offerings?

What does your online store represent?

Who are your ideal customers?

What is the most preferable geography for your business?
Once you have identified the target audience and geography for your business, you can make an online store look perfect according to the expectations of your prospective customers.
Step 3 – Vendor onboarding for your marketplace
If you are aiming to start an online marketplace platform like Amazon, you should think scalable and profitable right from the start. Vendors are your indispensable assets and they are the ones who drive your online marketplace.
For the same reason, the onboarding of vendors is a very important step. You will face a lot of competition in selling products online, so find the vendors who can offer the best quality and best prices. It's not all, easy and quick vendor onboarding is also very important. With StoreHippo, you can onboard multiple vendors easily by offering a simple registration process and ensure to bring true value to the market.
Step 4 – Documentation and domain registration to start the business
Now, it is the time to go ahead with one of the most crucial parts of starting an online business – registering and completing the legal formalities.
Apply for the director's identification number with necessary documents

Ensure your Permanent Account Number (PAN) and Digital Signature Certificate

Decide the company name

Apply for the company name registration

Register the domain for your business website

Apply for the Goods and Service Tax (GST) certification
Step 5 – Finding the right ecommerce marketplace solution to build your multi-vendor marketplace
While you are building a multi vendor marketplace, you can choose to build a website from scratch or build it with a fully-hosted and managed ecommerce solution.
So, let's talk about the difference between building from scratch and a pre-built ecommerce platform. There are many advantages of pre-built platforms over building your own website. Some of them are:
Saves a lot of money

Saves the hiring of IT resources

Automated marketing solutions

Vendor and customer management at a central place

Ready-made beautiful website themes for your business, and a lot more.
For example, if you deal with online fashion, you can choose a colourful website with a lot of space to accommodate visual content. You will not need to waste your time and resources on building the website from scratch. With StoreHippo, you can simply play around the ready-made themes, technology, and solutions that can help you achieve online success.
Step 6 – Selecting the business model (B2B or B2C)
If you are thinking to start an online marketplace platform, selecting the business model holds the utmost importance. The B2B online stores require enterprise-grade features streamlined business processes, managed dashboard for manufacturers, distributors, brand owners, and retailers. Whereas, the B2C stores require more user-friendly features and capabilities to handle the peak load.
Whether you decide to build a B2B or B2C business model, StoreHippo can help you big time. It has already built many successful stores that have helped the clients to set up, manage and succeed in their online businesses.
Step 7 – Cost to start an online marketplace platform
Simply said, you need not incur heavy costs to start an online marketplace platform if you have chosen to build it on StoreHippo. Still, some of the factors to be considered are:
Choice of business models (B2C, B2C, or any out-of-the-box model)

Project complexity and customizations

Choice of the solution – custom-built, turnkey solution with plugins, fully-hosted and managed multi-vendor solution

Additional requirements like mobile apps etc.
One of the most common reasons for the popularity of the online marketplace on ecommerce platforms is its low setup costs. And another benefit is the win-win condition for all the parties i.e. marketplace owner, sellers, and customers. Don't think any more about building your marketplace website with StoreHippo. Check out the different pricing plans for your multi-vendor marketplace now.
Why Choose StoreHippo to start an online marketplace platform?
The win-all formula of an online marketplace is here to stay and we want you to make the most out of it. StoreHippo offers a fully scalable marketplace solution and comes loaded with over 300 inbuilt features for your online business. Choosing the ready solution for your multi vendor marketplace helps you start your online business at a fraction of the cost of building it from scratch.
StoreHippo has the multi-faceted expertise of building and managing a variety of vertical and horizontal marketplaces for B2B as well as B2C businesses. The platform is very flexible to help businesses implement out-of-the-box models with customized solutions. Start your 14-day free trial to explore our multi-vendor marketplace platform.