In the last few years, ecommerce has developed extremely fast, with significant players showing an inclination towards the marketplace model. Businesses like Amazon and Alibaba are already the giants of the marketplace led model.
Some of these marketplaces are retail-based like Nykaa, while others are service-based aggregators like Zomato. There are a lot of things you can do with a Multi-vendor market as the possibilities are endless as nothing, but your imagination holds you back.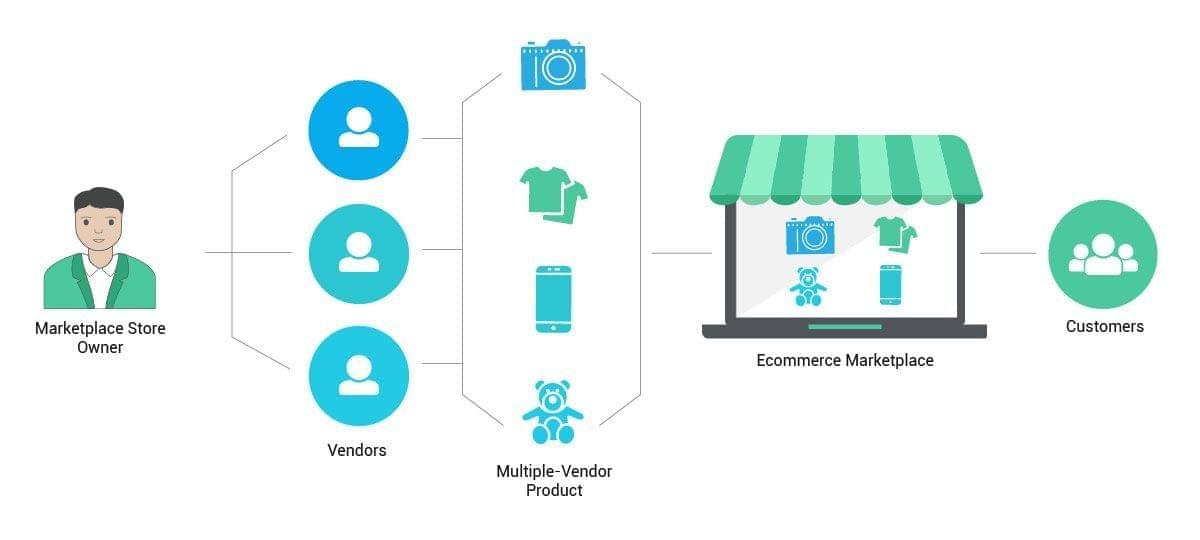 Managing promotions and marketing of a single store might sound like less work, but in reality, it's much harder. The range of products is limited, and there are not many unique products to pull buyers, diminishing your odds of better conversions.
But with a multi-vendor marketplace at your disposal, opportunities become endless. You can either run everything yourself or expand to make your brand more prominent. Multi-seller marketplaces draw substantial volumes of traffic, allowing you to sell a lot of products in one place. By offering more prompt payment methods and a streamlined checkout process, you can provide a very smooth shopping experience to your buyers.
With multiple sellers selling on your marketplace, you don't have to manage any inventory, let alone buy them. It's the seller's responsibility now.

You can monetize your marketplace by charging your sellers commissions for using your platform.

Not investing in the website's inventory eliminates the financial risk substantially. And with sellers looking after the Inventory management, logistics, etc. you will have more time and money to focus on the development and growth of your ecommerce marketplace.

With a little research and demand analysis, you can expand your product line and enhance your supply chain more conveniently and speedily. All you have to do is find the right partner and add them to your marketplace.

Your website will notice more buyers after offering a wide range of products and services. The masses prefer massive reputed marketplaces like Amazon because they are perceived as more secure. Marketplaces, over the years, have been able to establish a stable seller-buyer relationship. They are now a trusted and more convenient way of communication for them. You can encourage your vendors to lower prices and buyers will come running.

Websites hosting a Multi-vendor marketplace are more comfortable to promote. One can't stress this any better than this, more sellers, more benefits. Your sellers will efficiently help your marketplace, as they would push more stock. A positive word of mouth in the community and a good following is a gift you can't take for granted as a business.

Your chances of getting international recognition and conversions get higher as buyers and sellers from all around the globe will reach out to you.

If your marketplace gains a decent following, then you can even look for investors who would be readily willing to invest in your marketplace. Marketplaces are exciting for investors as chances of success are quite high.
Did you know?

By the end of 2018, multi-vendor marketplaces accounted for more than 50% of global online sales.

The top 100 players running a marketplace are accountable for more than 90% of the global marketplace sales.

A study says that over 60% of online sellers will list their products on marketplaces or sell third-party products on their core commerce sites by 2020. (Source: Gartner)
Aren't the trends promising and make you think about trying the marketplace model for your online business? They sure do!
But how to go about it?
StoreHippo is a very good and a safe bet if you are looking to reap all the benefits mentioned above in a single comprehensive multi-seller B2B ecommerce platform. Built grounds up on mobile-first technology, our adaptable and highly customizable platform helps to create different types of marketplaces for Business to business and B2C models. The extensive features and inbuilt tools make it easy for the business owner to register and manage vendors and their products. The broad features equip you to take your business global and help you to gain a strong global following for your brand.
With StoreHippo's multi-seller solution, you can indulge in different marketplace models and cater to a wider audience. This will definitely up your odds of better conversions. StoreHippo's multi-seller lets you create a:
Niche-Vertical marketplace (e.g. Nykaa)

Horizontal marketplace (e.g. Amazon)

Service Aggregator marketplace (e.g. Zomato)
Following are some manageable and powerful features of StoreHippo multi-vendor marketplace which will help your business grow.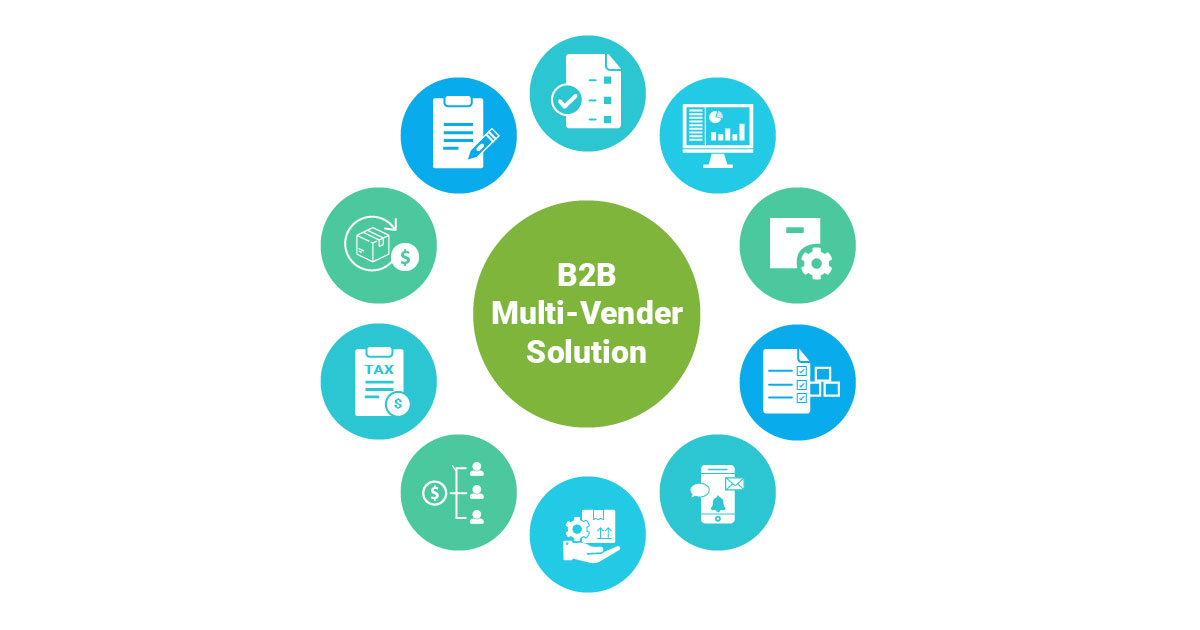 Sellers can quickly and easily register themselves on your marketplace. They can create their vendor accounts by merely filling out a simple registration form.
It will encourage more sellers to get on your platform as experience will be hassle-free for them.
With a streamlined and focussed approval flow, you will have complete authority to approve or reject the products listed by the sellers on your marketplace.
It will help you to maintain top-notch quality control of your multi-vendor marketplace. It will help you to enhance your brand's image, and your marketplace will pull more crowd.
StoreHippo provides your sellers with a separate admin panel for each of them. It's quite easy to handle interface, allowing vendors to manage inventory and order status easily.
With this feature, your sellers will get a sense of transparency as they get to explore a multitude of features to manage such as order summary, sorting functionality, sales report, best selling products, revenue details and much more.
Sellers can easily manage products, and they can even add, edit, upgrade products by logging into their dashboards.
Product management becomes organized and fun to work with our B2B ecommerce platform.
Define compliant commissions for sellers, depending on their hierarchy or product categories or only your choice. You can add flat figures or percentage wise commission rules. You can even get a complete seller ledger to calculate and track the payments / receivables for the sellers. With that, you can view complete details of vendor ledger including transactions, pending orders and invoices.
With your platform monetized, you can make a substantial passive income.
Organize your inventory easily as you can monitor vendor-specific inventory and keep track of available stock and products with them.
Keep your buyers duly notified of the available stock by displaying 'Stock out' on products unavailable at the time.
Send Notifications to sellers, admins and customers informed using email, SMS, browser and mobile push notifications.
Stay on top of every business activity with timely notifications at various activity levels maintaining supreme transparency.
Your vendors can run their operations without any intervention. Orders can be easily managed in our easy to use admin panel.
This takes a huge load off your chest and makes your life easier.
If a buyer is buying multiple products from a multi-vendor marketplace, the order amount automatically gets split by Payment gateway making things really easy for everyone involved in the transaction.
With an easy to understand tax engine, the seller can control taxes in any way that is required. Product level taxes give sellers the freedom to decide and apply different charges on their products.
Simplified return and refund flow rids you of the responsibility and lets your sellers deal with it. Get the ability to provide an easy return or refund for each product shipped by different vendors. Sellers can also manage reimbursement at their end.
This helps boost customer experience and trust by giving them proper support when they need it.
Let's assume, to conclude, that each business has different tastes and requirements. Hopefully, we emphasized the most outstanding features and solutions, offered by our platform. Depending on your priorities, every platform and approach can be analyzed at the same time as an advantage or disadvantage.
So, you can trust the quality guaranteed by StoreHippo to ensure your multi-vendor store's flawless operation.
Sign up for StoreHippo's trial version and help your online business to stay aggressive, popular, and always on top.