Payment gateways are essential for every online business. In our previous blog, we discussed how to choose the most suitable payment gateway for any business. We also promised to bring to you an exhaustive list of payment gateways with expert reviews for each one.
We present for you payment gateway list of the top 5 Indian players that are popular and trusted by online retailers. We have also taken care to introduce you to the gateways that are easy to integrate and offer free setup which is the core requirement of a new online business.
StoreHippo offers free integration with all the gateways listed below.
Let us have a look at the best features and rates of the most popular payment gateways in India;
CCAvenue
The favourite payment gateway of etailers. Four out of five online businesses in India opt for this free payment gateway for website. CCAvenue is a trusted name and has been around for 15+ years. The free set up, extensive range of payment options and lots of user friendly features have made it popular with online businesses of every size. It has also introduced UPI payments to make online payments, even more, simpler for customers.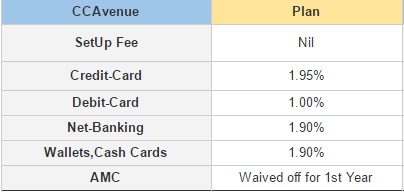 RazorPay
It is a payment gateway aggregator and provides quick and paperless onboarding making it the preferred payment gateway for many. They provide multiple payment options in form of net banking, credit/debit card payments. They also accept popular wallets MobiKwik, PayZapp and PayUmoney that help in selling better on any web store. It also provides seamless user experience as the checkout page appears as pop up and does not lead to another site.
PayU Money
PayU Money offers easy payment gateway integration process that is quick and easy. You don't need to open a new bank account and your old account can be linked to receive payments. It partners with many banks to provide net banking facilities. The security aspect of PayU money is also very robust and it has a 2 days payout window which is good for small merchants. The payment gateway charges for setup are ZERO hence, this is a preferred gateway of a host of popular Ecommerce sites.
UDIO
Udio offers both payment wallet and payment gateways options to collect payments. The best part of this gateway is that apart from the regular features of any payment gateway it also offers payment collection via a link sent through Email/ SMS/ WhatsApp etc. This increases the possibility of a conversion manifold. They also provide detailed reporting to understand the day to day business and transactions better.

EBS
EBS is one of the best gateways for online payment offering good services and secure payment with high payment success rate and good fraud prevention measures in place. They offer 100+ payment options and offers the features that can be used to create customized payment experience for users. It has a good UI and makes the process of going to market fast and simple thus helping businesses market products easily.

Bonus Gateway
Instamojo
Instamojo is a unique online payment system which has a host of Ecommerce features to enable easy online payments for etailers. It allows customers to make payments through credit/ debit cards, net banking, payment wallets, UPI etc. which can be accepted by the merchant by sending a link over WhatsApp, @username from Instamojo and payment APIs. The pricing is based on successful transactions and is very transparent.
The setup is absolutely free and needs no paperwork. In fact, you can start accepting payments even before setting up your online store. The easy setup and multiple ways to accept payment has made it the first choice of startups and small businesses in India.
Conclusion
Now that you have a comprehensive payment gateway list of Indian payment processors, all you need is compare their features and go for the one that best suits your business requirements. StoreHippo offers pre-integrated payment gateways with all its plans. You can check the other gateways available with our platform on StoreHippo Payment Gateway page.
Keep watching this space as we are going to review the Best International Payment Gateways for Ecommerce in our blog.