Ecommerce has changed the way businesses were done less than a decade ago. The exponential ecommerce growth has made businesses big and small hop the ecommerce bandwagon to grow their reach and conversions.
While going online has become fairly easy thanks to a host of ecommerce platforms, it becomes imperative that you choose an ecommerce solution provider that supports your current as well as future business requirements.
Instead of considering a simple online store builder, you need the best ecommerce platform that offers 360-degree solutions. Your ecommerce solution should give you complete control of your business along with the tools and a complete ecosystem to build, run and grow your business.
To help you make an informed decision let us understand the basics of an ecommerce platform, its various types, the must-have features and finally how to evaluate and choose the best one for your business.
What is an ecommerce platform?
An ecommerce platform is a software solution that allows you to sell products and services online, fulfil your orders and market your business to grow it. A modern ecommerce website builder helps you sell your products on multiple channels visited by your customers.
A modern ecommerce platform not only offers digital solutions for selling your products and accepting payments, but it also helps in running the end-to-end business on multiple sales channels.
The future-ready ecommerce platforms come equipped with advanced order management systems, marketing solutions, shipping solutions and much more. The aim of these ecommerce website builders is to help merchants manage and merge their offline, online and any other business channels.Which is better turnkey ecommerce platform or building an online store from scratch
Businesses oftentimes are faced with the choice of building an ecommerce website from scratch or finding the best online store builder. Here is a comparison table showing a comparison of both the options and their relative merits.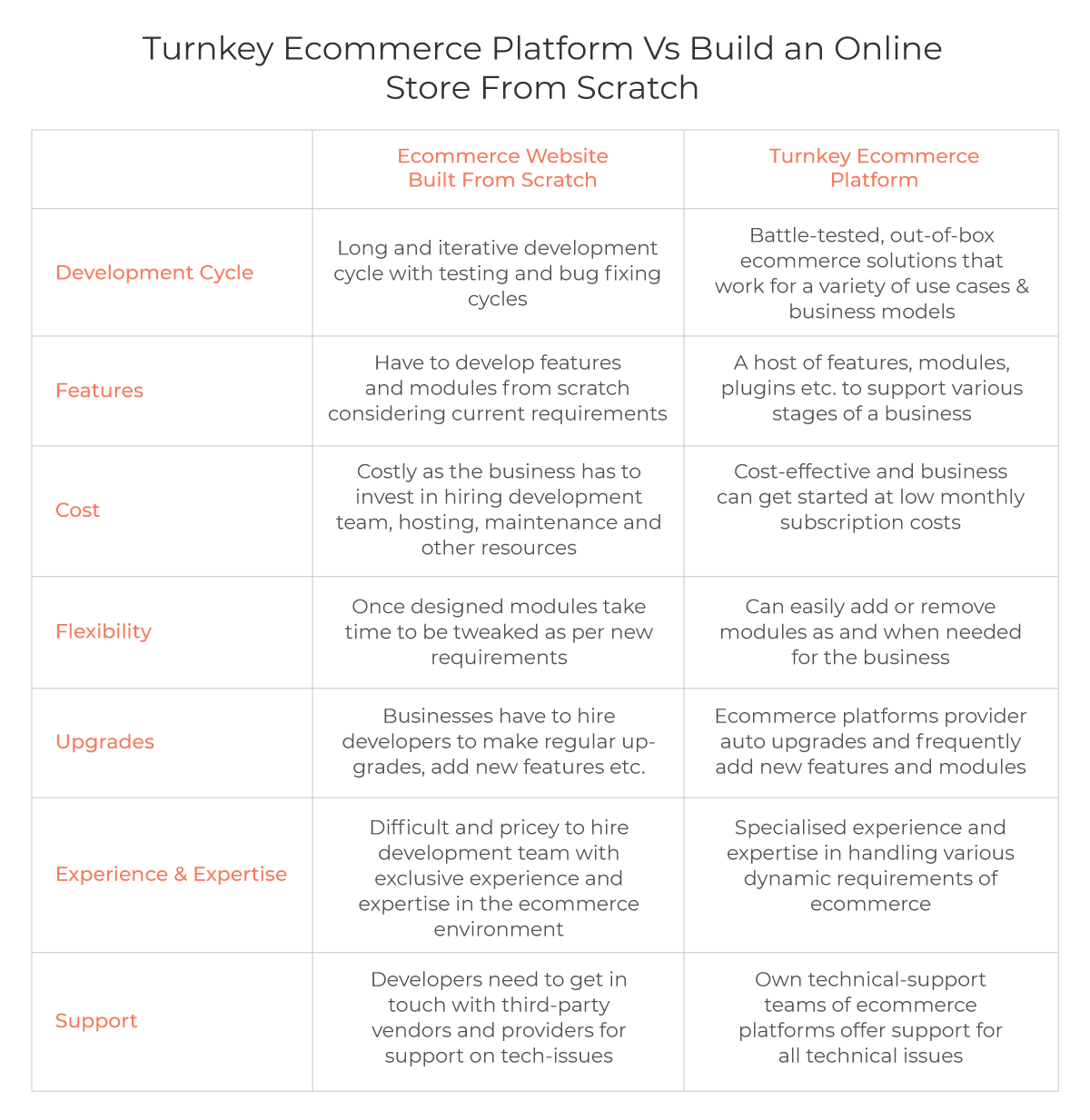 The table clearly indicates that turnkey ecommerce platforms make it easier and faster for businesses to start their online journey. By opting for a feature-rich ecommerce website builder businesses can save a lot of time and resources and have an advanced ecommerce solution with quick-go-to-market.
What are the different types of ecommerce platforms?
To make your ecommerce website available and accessible to your customers, you need to host it somewhere. Simply put you need to store all the data of your online store on a server to make it available for the customers and your internal teams.
Based on the kind of hosting solutions they provide, the ecommerce platforms can be classified as fully hosted or non-hosted.
1. Fully-Hosted
When you go with a hosted ecommerce platform you do not need to worry about hosting services or pay for it additionally. With hosted ecommerce solutions businesses don't need to be bothered about coding expertise, technical support and other hassles of maintaining a server.
Fully hosted and managed ecommerce website builders like StoreHippo offer complete hosting solutions for every online store built on the platform. This frees the business from monitoring and maintaining the challenges of hosting and frees their time for business planning.
2. Non-Hosted
A non-hosted ecommerce platform( also called self-hosted) is one where the merchants need to arrange for their own server space by either building one or renting server space from popular server providers. This requires the merchants to hire additional resources for maintaining, upgrading and fixing bugs and errors if any on the servers. This makes the ecommerce platform costlier and resource-intensive.
Usually, open-source ecommerce platforms are non-hosted. Merchants have to buy extra server space to manage their peak load traffic. This becomes a costly solution as the server space remains unused most of the time.
Different ecommerce business models and the best ecommerce platform for them
Ecommerce markets are witness to a variety of disruptive and innovative business models. However, ecommerce businesses can be defined into the following major types and their combinations:
B2C(Business-to-Consumer)
In this business model, businesses sell their products or services directly to individual customers. An advanced version of B2C ecommerce is now being referred to as D2C(direct-to-consumer) where brands are going directly to customers by eliminating the middlemen involved in their sales process.
Such businesses need future-ready ecommerce platforms with advanced capabilities to handle the requirements of large scale businesses.
B2B(Business-to-Business)
In the B2B ecommerce model, one business sells its products or services to other businesses. Usually, B2B orders are purchased in bulk and usually sold to end customers by the buyer on a profit margin. For example, retail shops buy t-shirts from wholesalers, customize them and then sell them to end customers.
B2B ecommerce businesses need ecommerce website builders that can support a network of distributors, dealers etc., have differential pricing options, can easily manage bulk order processing, offer support for inbuilt and custom forms like RFQ etc.
C2B(Consumer-to-Business)
In this business model, individual consumers sell their products or services digitally to other businesses. This type of business needs ecommerce platforms that can handle a large number of sellers, each with his/her individual dashboard and pricing options.
Ecommerce portals like Fiverr, Upwork etc. are examples of C2B business model where businesses can buy services from professionals.
C2C(Consumer-to-Consumer)
In the C2C ecommerce business model, individual customers come together on an online marketplace to sell and buy products and services from each other. Ecommerce marketplace sites like OLX, Craiglist, eBay etc. are examples of this business model.
The best ecommerce platform for a C2C business is one that is flexible, scalable and easy to customize for the unique requirements of such a business.
B2B2C(Business-to-Business-to-Consumer)
B2B2C is the business model where a business sells its products or services to the end customers in partnership with other businesses. The end customer is clear that he/she is buying the services from the original company via another company/service provider. For example, grocery aggregator platforms like BigBasket, Grofers, food aggregator platforms like Swiggy, Zomato etc.
The ideal ecommerce platform for B2B2C businesses is one that has inbuilt features and tools for the service aggregator marketplace model along with support for multi-store ecommerce, hyperlocal ecommerce and an inbuilt delivery boy module.
Ecommerce trends to guide you in choosing the best ecommerce platform
Ecommerce has been witnessing a paradigm shift thanks to the changing buying behaviour, technologies and disruptive business models. Also, the COVID 19 pandemic gave a big push to e-commerce and accelerated it by 5 years(Source: IBM report).
Along with the digital-native brands, traditional offline brands are also taking the D2C route to grow their reach. From large B2B businesses to services aggregator solutions for food delivery and taxi services to Fintech, Agritech, Edutech, Healthtech etc. are giving a new meaning to ecommerce and going digital.
Here is a sneak peek into the growth trajectory of ecommerce and how it is adapting to changing buyer expectations.

22% of global retail sales are expected to happen through ecommerce in 2023, over 2X growth from 2017. (eMarketer)

$ 200 billion is the expected growth of the Indian E-commerce market by 2026, over 5X growth from 2017. ( IBEF)
How eCommerce is evolving
Ecommerce platforms have also given a great push to ecommerce growth by offering a complete ecosystem and turnkey solutions with quick go to market. In keeping with the changing buyer behaviour and shift towards multi-channel shopping it becomes imperative for brands to go with ecommerce website builders that are aligned with the evolving ecommerce landscape.
Here are few trends that shed light on the hottest ecommerce trends
1. M-commerce rules

72.9% of global ecommerce sales will be via m-commerce by 2021 [Statista]

$3.56 trillion is the estimated mobile commerce sales in 2021, 22.3% more than 2020 [Statista]
2. Speed matters

7% decline in conversion rate by a 1-second delay in page load time

32% increase in the probability of bounce rate as page load time increases from 1 second to 3 seconds(Google)
3. Personalization pays

91% of consumers are more likely to buy from brands that provide relevant offers and recommendations ( Accenture)

86% of buyers are willing to pay more for a better customer experience (SuperOffice)
4. Ace local to win global

75% of global customers prefer to buy from online stores in their native language

77% of global internet users can be reached by having the 10 most popular languages on your site
5. Future proof with omnichannel

50% of customers regularly use 4+ touchpoints for shopping. On average, buyers use 6 touchpoints for finalising their purchase. (Marketing Week)

90% of customers expect consistent interactions across channels (SDL)
It is clear from the above that digital businesses now need to sell through multiple touchpoints with mobile being the most preferred channel of online buyers. Also, if you do not have a high-performance site you will be losing a great deal in actual conversions. What's more, you can no longer craft one-size-fits-all deals.
Your customers crave personalization!
And naturally, then you need to power your business with an ecommerce platform that helps you build tailor-made solutions for your unique requirements.
While you are comparing all the available online store builders look for a one-stop solution that makes it easy for you to build and run your business. It is always better to go for an ecommerce platform that offers end-to-end solutions and frees you from the hassle of dealing with a number of third-party vendors.
As a rule of thumb, your decision should be guided by how easy it is for you to run the business and how your ecommerce website builder helps you in crafting the most amazing buyer journeys.
Best Ecommerce Platform For 2021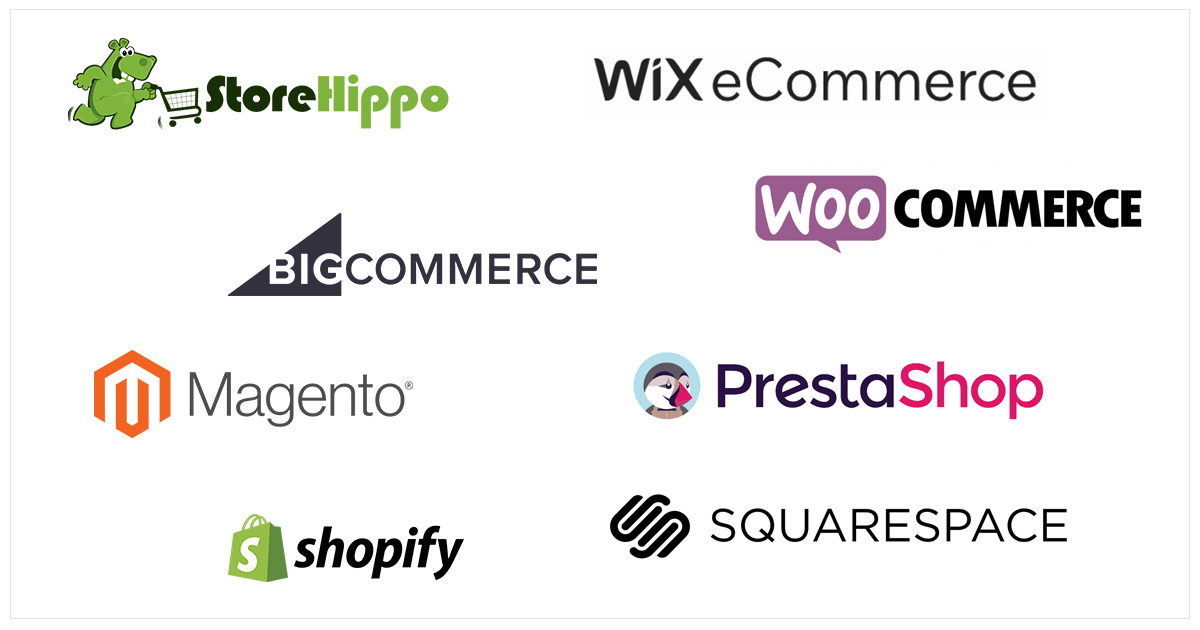 Deciding the right ecommerce platform for your business boils down to the one that best fits your business model. It should not only cater to your current requirements but also have capabilities to support your growth.
Here is a list of the best ecommerce platforms for 2021 and beyond
1. StoreHippo - Most flexible ecommerce platform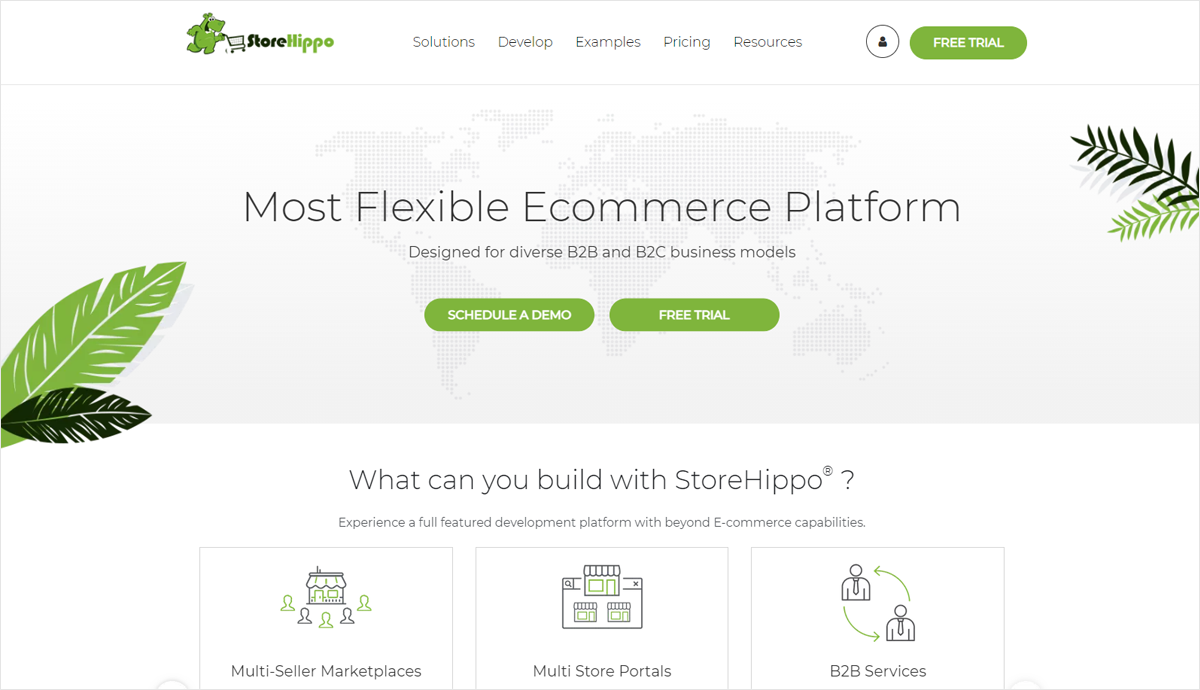 StoreHippo is a mobile-ready, extremely customizable and fully integrated SaaS-based, DIY ecommerce platform. Designed to support a variety of ecommerce businesses like B2B, B2C, D2C, B2B2C and custom business models across industry verticals, StoreHippo comes with a host of native features and tools. StoreHippo is easy to use and offers plug and play solutions for businesses of any scale and size.
Built on the MACH architecture, StoreHippo ecommerce website builder lets you create out-of-box ecommerce solutions for your business. You can easily go omnichannel and add multiple customer touchpoints using the decoupled headless architecture and APIs. Ecommerce websites built on the StoreHippo ecommerce platform have an average response time of less than 50 ms, making them fast and engaging.
StoreHippo offers a rich themes library with drag and drop tools for easy customizations. The multilingual ecommerce platform also supports multilingual themes(including RTL languages). You can easily translate the static and dynamic content into the preferred language of your customers. The mobile-ready ecommerce website builder also enables you to add device-specific themes for your online store. Built on the mobile-first principle, StoreHippo also offers a mobile admin for doing business on the go.
StoreHippo ecommerce platform also provides native solutions for complex business models like multi vendor marketplace, multi store ecommerce set up, tailor-made solutions for enterprise businesses. Its glocal solutions enable localization for your international business with multi-currency, multilingual and hyperlocal ecommerce solutions.
StoreHippo is an SEO friendly ecommerce website builder that has a host of inbuilt marketing tools to help you grow your brand. Its inbuilt blog engine helps in engaging customers better by building your brand identity. StoreHippo hosted ecommerce platform also has a discount engine to help you strategise and plan your discounts and promotions. You can also seamlessly integrate with any marketing software of your choice. You can set automatic follow-up emails for abandoned cart and recover lost sales.
What makes StoreHippo the top ecommerce platform is the fact that it also has integrated logistics solutions for domestic and international deliveries. The inbuilt delivery boy module enables merchants to have their own fleet of delivery boys and mobile app to manage them.
With 60+ integrated payment gateways, StoreHippo enables you to personalize your checkout flow for different devices or locations. StoreHippo also has a powerful tax engine and invoicing tools to take care of the accounting and compliance requirements of your online business.
With its rich features, tools and expertise in powering businesses across 40+ verticals and 25+ geographies, StoreHippo is an obvious choice for businesses looking for a one-stop hosted ecommerce platform.
Pros
300+ inbuilt features for 360-degree ecommerce solutions

Builds PWA stores and has an inbuilt mobile apps builder for creating Android and iOS mobile apps right from the admin panel

Fully integrated ecommerce platform with 120+ integrations

MACH architecture that gives speed, agility, flexibility, extensibility and scalability for building disruptive ecommerce solutions

No plugins, apps or extensions are needed to build an online marketplace or multi store ecommerce platform

Easy multichannel selling(social platforms, marketplaces etc.) and quick addition of new customer touchpoints

PCI DSS compliant and FREE SSL(even if you have multiple stores)
Cons
High-end ecommerce features like multi vendor marketplace, multi store network etc. are available only with the Business and Enterprise plans

Users have been asking for marketing services going forward

Lacks its own POS system
Price
Professional-$45/month

Premium-$89/month

Business Plan - $179/month
2. Magento- Non-hosted ecommerce platform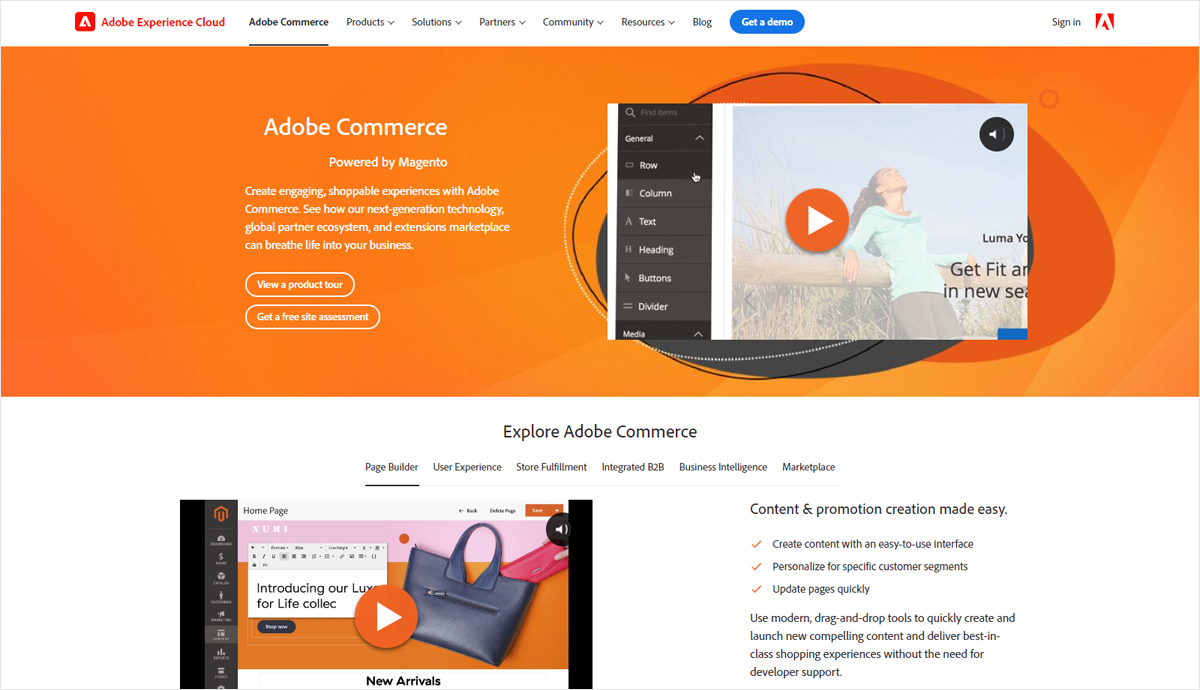 Magento is a well-known non-hosted ecommerce platform. As it is available for free it is often used by businesses starting their online journey for the first time. However, you will have to pay for the server and hosting services. Magento is often called the coders ecommerce platform as it is customizable and allows seasoned developers to build tailored ecommerce solutions. extensively created for the coders who are on the lookout for a flexible and powerful system that is modifiable.
However, Magento has a complex learning curve and only coders with prior experience in handling the platform can create and manage advanced ecommerce solutions.
Pros
Customizable and extensible ecommerce platform which can be used by seasoned developers for building custom solutions

Easy to get started

Plenty of features and extensions

Easy integrations with mailing software
Cons
A developing platform and frequent upgrades necessitate ecommerce platform migration in the long term

Complex coding and needs experienced developers to set up an online store

Frequent security breaches and buggy code

Custom development needs time and money

Lacks tools to create multichannel strategy easily

Difficult to implement multiple currencies

No mobile app feature
Price
Custom pricing only
3. WooCommerce open-source ecommerce platform
WooCommerce is an online store builder that enables ecommerce ability in websites built on the WordPress platform. While WordPress is a CMS, the WooCommerce add-on, along with other plugins/apps makes it a functional online store for businesses planning to sell online.
WooCommerce open-source eCommerce platform offers customizable themes which can be tweaked as per the brand's unique requirements. The ecommerce platform is flexible and can be altered to suit any business vertical's needs. WooCommerce offers a plethora of apps and plugins to add various functionalities to an ecommerce store.
However, since there are 400+ extensions/plugins, you would be using a lot many of them to build a fully functional ecommerce store. This also means that the chances of things breaking is quite high. With limited support from WooCommerce this becomes quite a challenge.
Pros
Completely free and open-source eCommerce platform

Easy set up and smooth learning curve

Basic themes and plugins are easy on the pocket

Large support community of developers to help with technical issues
Cons
Advanced features are available only with paid plugins

More suitable ecommerce website builder for small businesses rather than fast-growing and large size companies

Prone to frequent issues due to multiple plugins

Need IT team to maintain and manage hosting and related issues

Lacks PCI compliance
Price
No fixed cost depends on requirements and charges are different for different business specifications and plugins.
Enterprise Plan- $359+/month
4. Bigcommerce hosted ecommerce platform
Bigcommerce hosted ecommerce website builder is a popular ecommerce solution provider for businesses of every scale and size. With its customization options it can be used by large businesses as well that need tailor-made solutions.
There is no need to get apps for core features if you opt for BigCommerce ecommerce platform. It also offers APIs for third party integrations, pricing overrides, advanced filtering etc. for large businesses. which enables businesses to use the desired third-party software for their business.
Designed for large selling requirements this plan offers features like advanced filtering, price lists for pricing overrides, API calls for third party integrations etc. The platform is built on the mobile-first approach but the features are not as strong as other platforms like StoreHippo.
Pros
Plenty of features to run everyday ecommerce business

Easy integration with popular marketplaces

Multichannel selling on popular marketplaces and social platforms like Amazon, Facebook etc.

Host of SEO tools

Integrated payment gateways

PCI complaint
Cons
Limited themes which are very similar in look and feel

Expensive as compared to other ecommerce platforms with similar features

Need to buy paid extensions for multi vendor marketplace, multi store ecommerce and multilingual websites

Limit on annual sale for various plans compels the merchants to shift to higher plans as the business grows

Lack of flexibility and steep learning curve
Price
Standard- $29.95/month

Plus- $79.95/month

Pro- $299.95/month

Enterprise- custom pricing
5. Shopify online store builder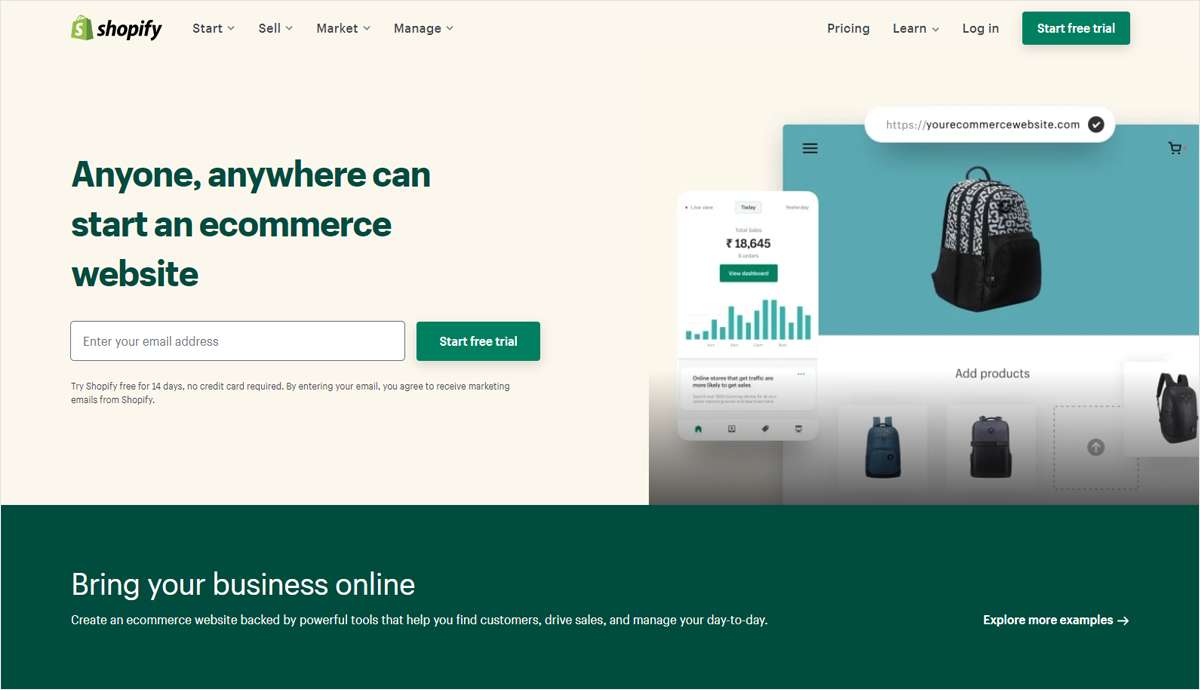 Shopify is a hosted ecommerce platform with many features supported by apps and plugins. Shopify makes it easy to build an online store quickly and also offers support for multi-channel selling.
With the Shopify ecommerce platform's apps ecosystem, a simple ecommerce store can be extended to build complex ecommerce set-ups. Nevertheless, you would need technical know-how and understanding of the platform to choose the right apps and sync them together to get the desired results.
Shopify apps can take care of all aspects of an online business but most of these apps are paid and might need additional budget on top of the regular subscription cost. Shopify also has a network of payment systems but they are available in limited countries as of now.
Pros
A large number of add-ons and plugins and paid themes(few free themes also)

Integrates with

Variety of plugins to set up multi vendor marketplace and multilingual sites

Easy integration with shipping and marketing apps

Has its own POS system
Cons
Apps based architecture necessitates using and syncing multiple third-party apps

Apps can inflate the overall cost of the multi vendor marketplace software

Developer proficient in Liquid needed to make changes to the platform and sync multiple apps
Price
Basic Shopify- $29/month

Shopify- $79/month

Advanced Shopify- $299/month
6. Wix eCommerce website builder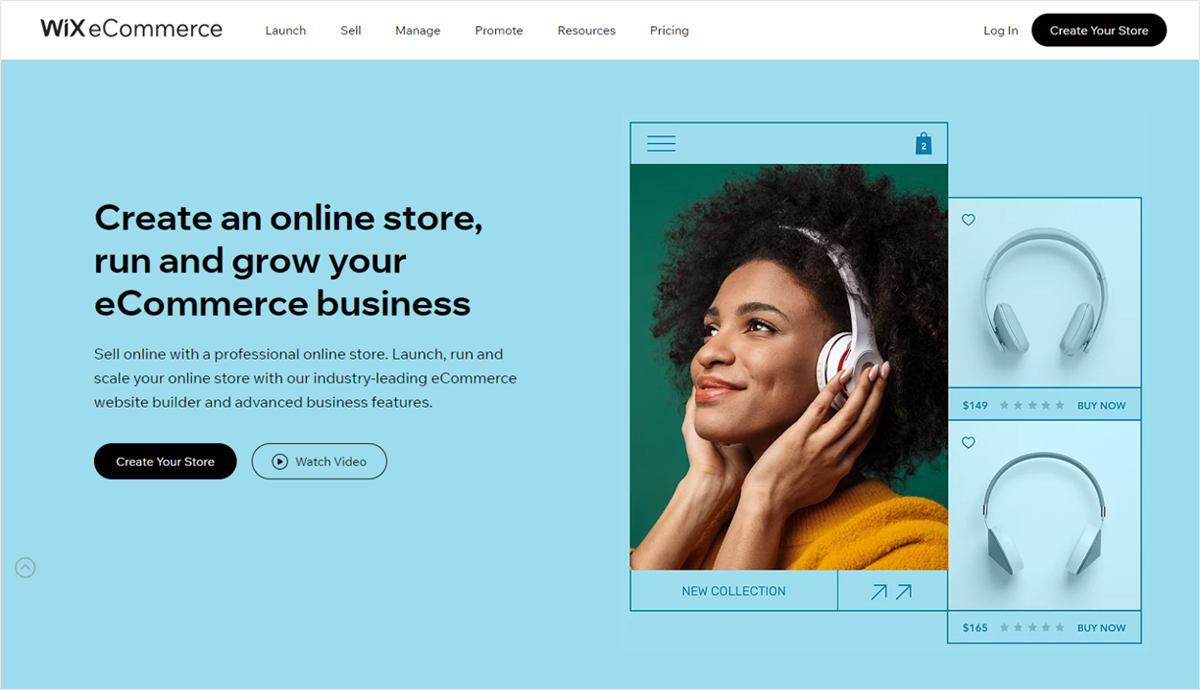 Wix ecommerce platform is an affordable ecommerce platform with easy to use drag-and-drop feature. With Wix ecommerce website builder, small businesses and solopreneurs can build a basic online store for free. However, for adding the ecommerce capabilities you will have to move to a paid plan.
Wix hosted ecommerce platform also has customizable templates along with features to track orders, accept online orders, sell on multiple channels, create campaigns for abandoned carts. It also has a free logo maker which helps businesses create their own logos. Wix ecommerce platform also offers free HTTPS for businesses.
However, Wix lacks many features needed for inventory management. This can be a problem area for product-based businesses that need constant inventory updates.
Benefits:
Free to use, for larger stores and ad-less sites upgrade is needed

500+ templates

Variety of apps to extend your website

PCI complaint

Can customize product pages
Cons
Limited scalability

Free plan forces branding of Wix through ads

Premium plans offer a single site for each plan

Analytics and tracking available only with paid plans

Migrating site from Wix is an arduous process involving extra costs for recreating the site
Price
Business Basic- $23/month

Business Unlimited- $27/month

Business VIP- $49/month
7. PrestaShop open-source eCommerce solution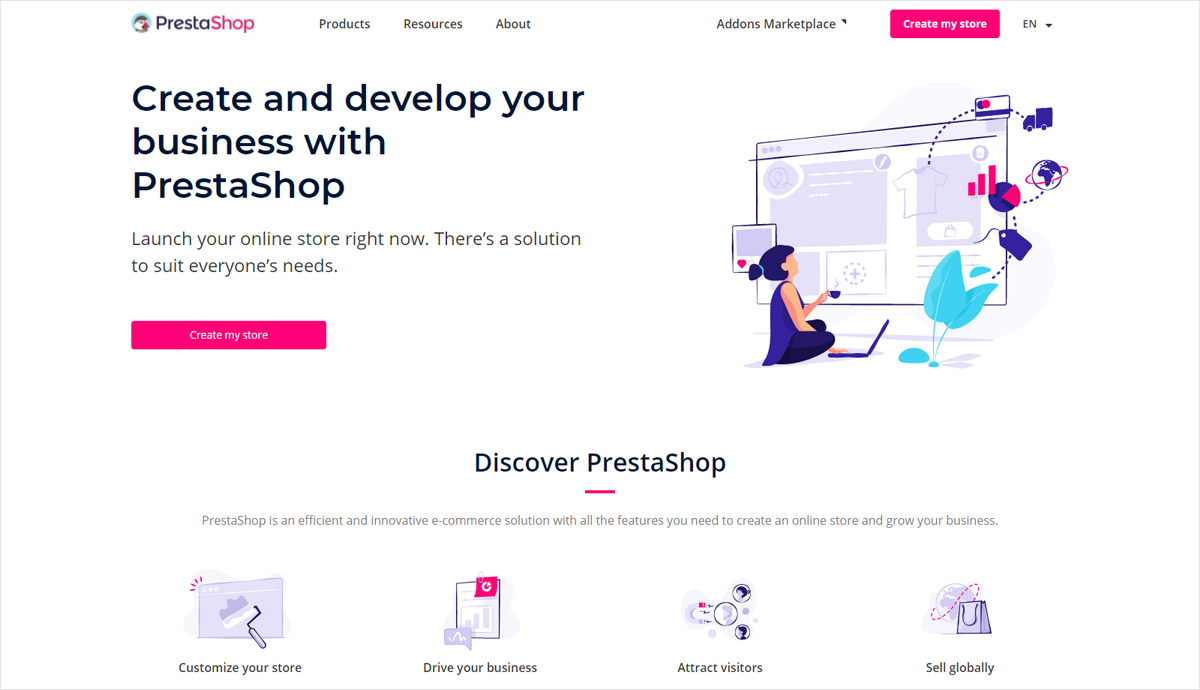 Prestashop is an open-source eCommerce platform suitable for the requirements of SMEs. Although setting up an online store on the Prestashop ecommerce platform is easy, but customizing and adding various third-party plugins requires some technical know-how.
Businesses might need specialised developers for set-up and maintenance as there is no free official support from the Prestashop team. Integrations and syncing plugins can require a lot of trial and error and troubleshooting.
Prestashop ecommerce solutions give the store owner a great deal of control over security and privacy settings. It also comes with tools and features for inventory management and tracking, shopping cart, global selling features and analytics and reporting.
However, managing the third-party hosting, various plugins and troubleshooting with limited technical support or proper documentation make the Prestashop ecommerce platform a bit cumbersome to manage.
Pros
Easy to use as compared to other open-source eCommerce platforms

Lots of plugins to choose from including free ones

Large number of choices for customizations

Many payment options to choose from
Cons
Limited scalability makes it unsuitable for large businesses

Lack of professional designs for large businesses, customizing templates is costly

Requires technical know-how to customize the open-source eCommerce platform

Paid support. Lacks documentation as compared to other ecommerce platforms

Expensive additional features
Price
Free
8. Squarespace website builder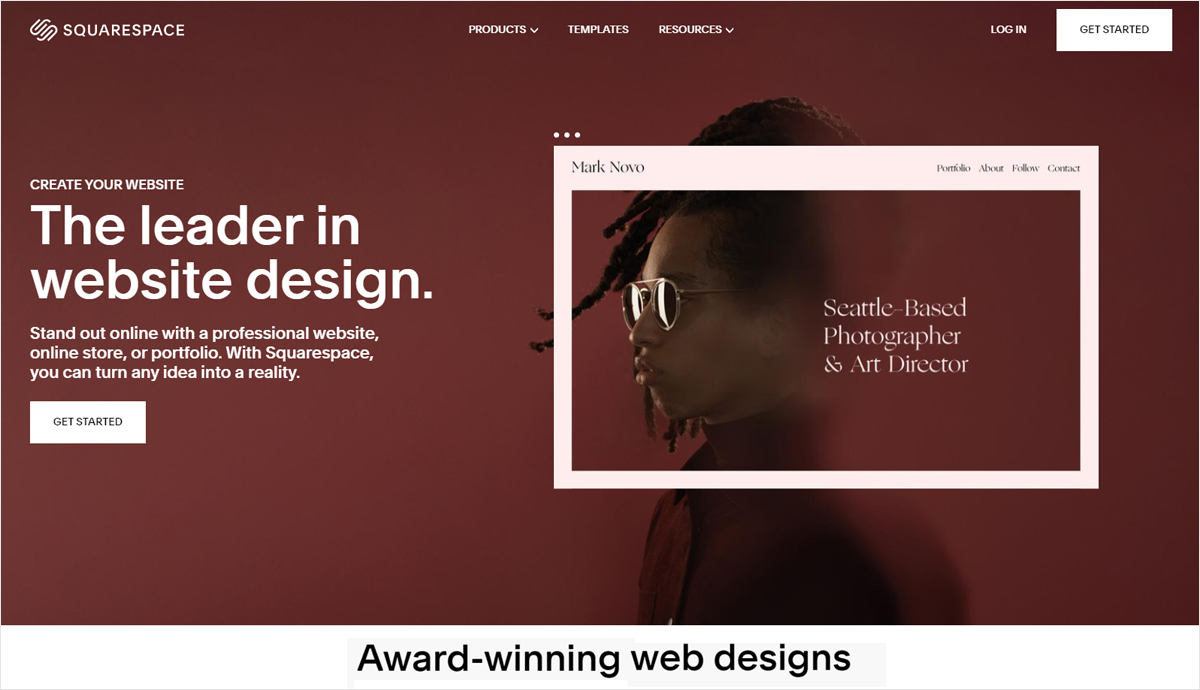 Squarespace is another ecommerce platform that requires little technical knowledge for setting up an online store. With its drag-and-drop functionality, it offers an easy to use website builder which requires customization or additional tools to make it ecommerce-able.
It is a good option for businesses that are heavily content-based. It has customizable URLs and supports multiple authors for publishing the content. It also supports social media integration, RSS syndication and integrations with third-party marketing tools.
Squarespace ecommerce website builder has good enough tools for inventory tracking. Higher plans also have capabilities for selling subscription-based products and digital products.
Pros
Easy to use with simple plugins

Clean and intuitive admin dashboard

Automatic updates take care of security and malware issues

Can add ecommerce tools from third-party providers
Cons
Difficult to use the "Pages" tool and get it right navigation setting for pages

Drag and drop feature doesn't always work as desired

Design options are limited. Better designs need add-ons that need technical expertise to implement them.

Limited payment integrations
Price
Personal: $16/month

Business: $26/month

Basic Commerce: $35/month

Advanced Commerce: $54/month

Enterprise pricing available on demand
How to choose the best ecommerce platform for your business
Now that you have the complete details of the top ecommerce platforms, you can carefully analyse which one is the best fit for your business. Along with your unique business requirements and the available features you also need to consider other aspects in your ecommerce website builder like:
Does it offer various plans that suit your budget

Are you getting support for various business models

Can you customize the frontend as well as the backend for your unique requirements

Are you getting support for secure payment gateways, digital wallets, net banking and other digital payment methods that ensure frictionless checkouts

Does your ecommerce platform have the scalability to support your growing business

Will it be easy to add new customer touchpoints and sales channels

Can you easily integrate with the best-in-breed software to extend your online store

Will it be an easy to use ecommerce platform for the owners, their teams, vendors, delivery agents, customers and any other partners associated with the business
A positive answer to all the above questions will help you choose the right ecommerce website builder for your business. Merchants looking for all these features in one place often choose StoreHippo fully managed and hosted ecommerce platform for their business.
StoreHippo top ecommerce platform is invested in staying ahead of ecommerce trends by constantly upgrading its features and using the next-generation technologies like MACH(Microservices, API-first, Cloud-native SaaS, Headless Commerce) architecture for ecommerce. This gives enterprise businesses the flexibility and agility to build disruptive business models tailor-made for their unique needs.
Also with a host of inbuilt features, 300+ API endpoints and 120+ built-in integrations StoreHippo ecommerce website builder allows businesses to explore and experiment with novel and out-of-box ideas easily.
Conclusion
While every ecommerce platform has its pros and cons the best ecommerce platform for any business is the one that best fits its unique requirements. While a free and open-source eCommerce platform might be suitable for small businesses, going with a hosted ecommerce platform with native features and 360-degree ecommerce solutions like StoreHippo can be the best choice for fast-growing and high-volume enterprise businesses.
It is imperative that you choose a stay-on ecommerce platform that saves you the hassle of platform migration as your business grows. Do check the listed ecommerce website builders for their relative merits and shortcomings yourself. Begin with the first in the list and start your StoreHippo free trial right away!