Do you want to multiply your D2C sales? Want to achieve multifold growth in revenue for your enterprise ecommerce brand? Not sure what could be the secret recipe to boost your D2C commerce sales this year? It's time to revamp your entire direct-to-consumer marketing and sales strategy.
But before that, you need to know a few factors that help in multiplying D2C sales. Read below:
Advanced features that make buyer journey seamless

Hassle-free mobile shopping experience

Targeting right audience

Multi-level personalization like personalized prices, landing pages, emails, ads and so on.

High-quality product images, videos and content

Effortless checkouts

Full transparency in shipping fees and returns
So if you want to electrify your D2C enterprise ecommerce sales, we are listing down 8 actionable steps to overcome above setbacks and uplift direct to consumer sales.
8 Proven Steps To Multiply Your D2C Sales
Are you all ready to get crisp and hot tips? You will be glad to know that these steps are the real strategies adopted by enterprises, which resulted in stunning returns. So let's uncover them: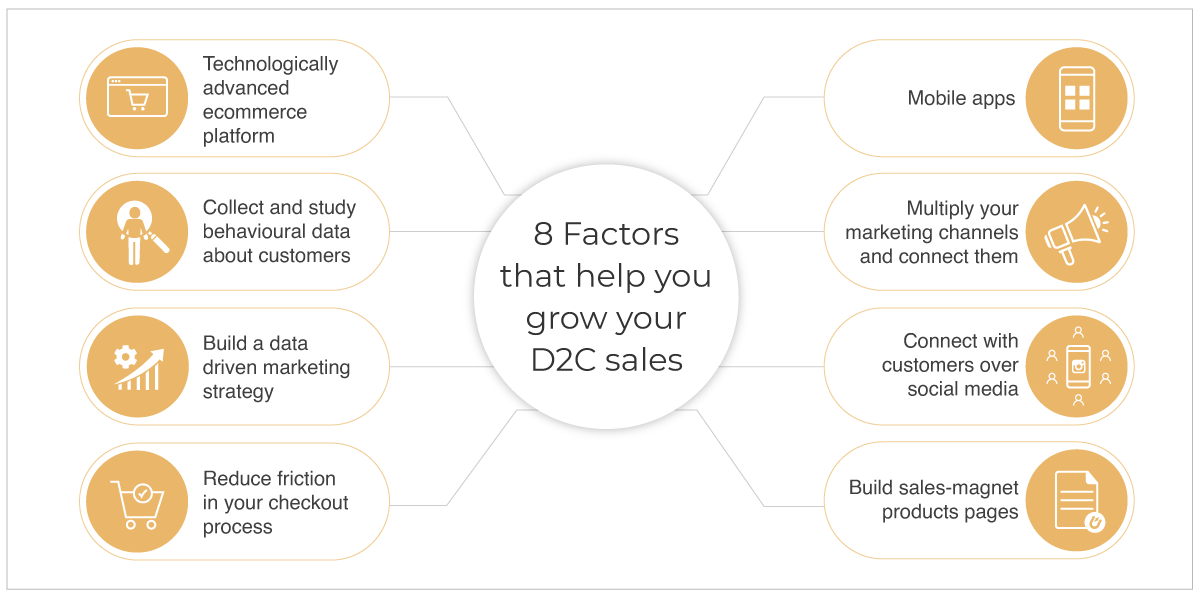 1. Technologically Advanced Ecommerce Platform
Have you ever evaluated the drawbacks of your current enterprise ecommerce store builder? Or did you face a lack of flexibility and scalability in managing ecommerce operations? Well, there can be one of the many reasons listed below on why reconsider your ecommerce platform:
Rigidity in adapting to changes

Low security

High infrastructure and training cost

Design, Speed, Mobile-friendliness

Lack of personalization features

Integration bottlenecks

Unavailability of international retail
Given these limitations and many others, you need a platform that is future forward, scalable, flexible and with inbuilt tech-stacks that pushes your sales.
How Does StoreHippo Help You Overcome These Limitations?
A. Flexibility to customize: Since technology changes faster than ever, you need a platform that enables you to stay ahead of market changes. StoreHippo gives your D2C brand the flexibility to do extensive and fast customization as per the changing market demand and business goals. You can tweak internal flows and processes, product catalogue and prices, storefronts, site themes, forms, checkouts, discounts, and so on.
B. Extensive Security: StoreHippo has built-in features of the latest AngularJS and unique threat intelligence of Microsoft Azure that automatically protects from security threats. The PCI DSS compliant platform builds secure online stores.
Plus, all the payment gateways are PCI DSS compliant that encrypts transactional details and prevents cyber-attacks. For additional protection, you also get a free SSL certificate.
C. Advance Level Personalization: StoreHippo has a package of advanced tools to implement direct to consumer personalizations. With these tools, you can personalize product pricing, site content into multiple languages, payment options, user's homepage feed (as per their location and interests), promotions, recommended products and many other elements.
Some of its marketing tools include a powerful discount engine to offer user-based or device-based discounts, personalized landing pages, product recommendations, live chat support, coupon builder, checkouts, analytics, unified notifications (SMS, email, in-app), abandoned cart management, etc.
D. Seamless Integration: StoreHippo also offers inbuilt integrations — such as pre-integrated inventory management, shipping solution, secure payment gateways, email marketing software, etc.
E. Mobile Commerce: StoreHippo is a mobile commerce ready platform that lets you build mobile-friendly sites, PWA stores and mobile apps that need no coding.
With pre-designed templates, mobile-responsive themes, headless CMS and a built-in mobile app builder — you can give an unparalleled shopping experience, not only on mobile but also on any device or channel.
F. International Commerce: StoreHippo offers "go global" features like multi store ecommerce to build unique stores for each country, multilingual and multicurrency capabilities to expand in global markets.
Business Benefits
Greater scalability

Unparalleled site speed

Reduced costs

Rock-solid privacy and security
2. Mobile Apps
Apps are playing a substantial role in enterprise ecommerce success. Do you know why? Let's see:
Mobile Apps: Ticket To Valuable Customers
54% of total ecommerce sales are made via mobile

65% of buyers compare prices while they're shopping in a physical store

60% of users make faster purchase decisions on mobile

3x higher conversion rates are driven by Apps than websites
Sources: KPMG, Google
Do you see? Mobile has now become a mainstream shopping channel for buyers. From a business perspective, this is a huge opportunity to multiply online conversions as well as increase the customer base. It's time to build a strong mobile presence for your D2C brand. And you can achieve it by developing a mobile app that offers a phenomenal mobile shopping experience to your buyers.
Tips To Make User-Friendly D2C Apps
Driving app engagement, registrations, and new D2C buyers become smoother when you make apps more user-friendly. Let's explore how:
Implement one-click functionality to streamline mobile registration/sign-up

Add mobile wallets and UPI for instant payments

Give multi-device synchronization to allow users to finish an abandoned transaction across any device

Create a two-step or three-step checkout page

Offer Faceted search feature to let users easily find products by typing

Send relevant push notifications to bolster user retention

Integrate chat support tools
How To Acquire App Users?
Focus on using highly-effective advertising channels — Facebook and Google Ads App Campaigns

Leverage the credibility of internet influencers to bolster your direct-to-consumer app's downloads and awareness

Launch a referral program to existing app users to invite their friends and earn rewards. 92% of people trust referrals from friends (Nielsen)

Include social sharing buttons in your app
Business Benefits
Accelerated buyer journey

Wider reach and accessibility

New marketing opportunities

Access to valuable customer data
StoreHippo lets you achieve all of these benefits as all the online stores built on StoreHippo are Progressive Web Apps(PWA). PWA makes your site look and function like a native app on any browser or device.
3. Collect And Study Behavioural Data About Customers
Customer data allows you to predict the future i.e. anticipating D2C customers' needs and behaviour. Thanks to recent advancements in machine learning, accurately predicting your customer behaviour is now possible.
How To Collect Customers' Data?
To get started, connect your D2C site with your social media pages, heatmaps tool, Google Analytics, Google Ads, CRM, embed checkout form, etc to track and capture visitor behaviour data

Use web cookies to track the activities of D2C buyers on your enterprise ecommerce site. Cookies can track buyers' site usage like pages they visit. Later this information can be used to enable personalized shopping experiences on a buyer's second and recurring visits

Long-form questionnaires to ask your customers about their preferences and their contact information

Run Google display ads and Facebook ads to capture affinity users. These are direct-to-consumer users that are most likely to convert as customers
For example, a D2C beauty brand can tell Facebook to show ads to buyers who are females between the ages of 20-50 and have a history of buying cosmetics.
Once you integrate tools and gather data, the next step is to filter and segment the quantitative and qualitative data.
Qualitative data include their favourite shopping channels, purchase histories, browsing data, etc. Quantitative data include — IP address, device IDs, email address, mobile number and demographics (age, location, gender, etc).
Build various cohorts (small groups of customers) and put the customers in one cohort that shares similar demographic characteristics. Cohorts gives critical buying behaviour insights, helping you in personalizing marketing messages for every customer.
Business Benefits
Personalized advertising and email marketing campaigns

Heightened customer interaction

Better customer relations

More sales and revenue
With StoreHippo's inbuilt analytics, you can easily get core insights on your customers' behaviour and business data. You can even integrate third-party analytics platforms like Google Analytics to obtain deeper insights on customer journeys.
4. Multiply Your Marketing Channels And Connect them
D2C Customers are more dynamic and demanding than never before. Today they want to shop at any time and from anywhere — from physical stores to direct-to-consumer online stores. Don't believe words? Surely studies by Forbes and Harvard can help:
Customers Omnichannel Behaviour: From Visit To Purchase
81% of buyers check the internet before visiting a store

82% check their phones before they purchase in-store

73% of 46,000 shoppers which are surveyed by Harvard used multiple channels
Therefore, it is important that you capitalize on all the relevant D2C online platforms. With direct channels, the company is fully responsible for delivering products to consumers.
Top Online Marketing And Sales Channels
Multi vendor marketplaces like Amazon, eBay, Flipkart, AliExpress, Etsy, Myntra, etc

Mobile apps

Brand ecommerce store

Social media commerce platforms like Facebook Shops, Instagram's "Shoppable Posts" feature, Pinterest's "Shop the Look" ads, Snapchat, Tiktok, etc

Google Ads like shopping ads, display ads, video ads, app ads and search ads

Use Emails as gives highest ROI and customer personalization, compared to all channels

Verified regional retail stores
Business Benefits
Boost your product awareness and sales

Increase consumer engagement and conversion rates

Connect with customers on their favorite channels
Ensure An Omnichannel Experience With StoreHippo
Your online and offline channels offer consistent experience. Meaning, customers should get personalized experience across all channels. The only way is to shift to headless architecture and leverage integrations.
With StoreHippo headless architecture, you can create a personalized and memorable omnichannel buying experience for your customers. And offer them consistent messages(prices, promotion, service, inventory) on your website, app, social media pages, email, and chats. StoreHippo comes with 300+ inbuilt features to help you build an omnichannel experience for your customers.
5. Build A Data Driven Marketing Strategy
Instead of trusting your intuitions, you make big decisions based on direct-to-consumer data. This approach improves the chances of exceeding the expected marketing ROI.
Data Driven Strategies You Need Right Now
Personalized Email Marketing: Email marketing generates an average ROI of 122% and is considered as the best content distribution channel. You can send relevant emails to customers according to their preferences
To further automate and ignite your email marketing, use automated emails tools like Mailchimp, SendGrid etc. that give scheduling, tracking, bulk sending, pre-designed templates and analytics capabilities.
Fact: Images and videos in emails can boost click rates by 300% (Toolbox)
Hyper-targeted Notifications: Push notifications drive direct-to-consumers sales by inviting shoppers to buy their favourite items, new product releases, upcoming sales, complete their checkout, limited-time price drop, discounts, free shipping alerts on their next purchase, and more

Data analytics: Integrate your site with data analytic tools like Google Analytics, CRM, Facebook's analytics, heat-mapping tool, Email marketing tools, and other social media(Instagram, Twitter, Linkedin)

Remarketing Google Ads: Retarget existing customers who have visited your website or purchased products or viewed items or installed the app, or any other action by running Google Display Ads and App engagement ads
Business Benefits
Deeper knowledge of best-selling products, conversion-triggering search keywords, sales-specific channels and locations

Effective allocation of marketing budget into right marketing channels, locations, products category, age-group, etc
StoreHippo gives you the right marketing tools such as email marketing tools, push notifications, SEO tools, data analytics. It also supports integration to advertising platforms like Google Ads, Facebook Ads, etc.
6. Connect With Customers Over Social Media
We can give you plenty of reasons why social media is a sales magnet for your D2C enterprise ecommerce brand. Here are a few:
Social Media: Hub Of Your Target Customers
52% of all online brand discovery still happens in public social feeds (Hootsuite)

71% of customers shop based on social media referrals and user-generated content shared by influencers
What's even more incredible is that people are now using social media in unique ways —from entertainment to researching products, shopping, and sharing brand experiences.
Tactics To Engage And Convert Social Media Users
Social Media Ads: Best platform to magnify your D2C sales is Facebook and Instagram. As you can promote through various ad formats ~ Image, Video, and Carousels

Social commerce: Sell D2C products directly from your social media without redirecting buyers to your websites. It shortens the distance between discovery and checkout and can improve your conversion rates. Facebook, Instagram and Pinterest offer native shopping solutions for enterprise ecommerce businesses

Do event-based marketing: Explore into trending topics and leverage the hype of popular events like Valentine's Day, Christmas, Black Friday, etc to provide fun, shareable content

Compelling Call to Action: Using clear words like "download", "follow", or "buy" "learn more" can result in up to 23x the engagement rate compared to posts without any CTAs

Post user-generated content: Boost your engagement rates by posting user generated content — it can be videos, images, stories, and so on. Best example is Burberry i.e. "Art of the Trench" campaign. They encouraged users to post photos of themselves wearing Burberry's trench coats
Through the campaign, they saw an increase in sales by 50% and generated 1 million new Facebook followers.
Business Benefits
More authentic engagement and traffic

More loyal customers

Better retention rate

Boost in social media followers
To help your brand flourish over social media, StoreHippo lets you add social media icons on all the product pages via theme builder. So that buyers can easily share your product to their social network. You can even link your social media pages with websites, apps and other analytics software for cross-channel marketing.
7. Reduce Friction In Your Checkout Process
$4 TRILLION worth of shopping carts were abandoned last year (Business Insider). Out of which 63% was recoverable. Your checkout process is a key step in driving conversions for your enterprise ecommerce site.
Brands that enable easy buying experience are 62% more likely to win a quality sale (HBR)
How To Optimize D2C Checkout Experience?
Here are top recommendations on how to excel the checkout process to reduce cart abandonment rate and uplift your sales.
Embed security and trust seals on the checkout page

Reduce form fields and only ask for essential information. Use auto-fill for existing buyers

Don't require direct-to-consumer shoppers to register before check out

Offer multiple payment options and display trust seals during the checkout process

Enable back button fully functional and remove distractions like header and footers

Highlight benefits like free shipping, easy returns, etc

Provide live chat support

Send abandoned cart email series to recover lost revenue
Business Benefits
Higher conversion rates

Increased customer loyalty

Reduced cart abandonment

Great user experience
Make your checkouts extraordinary and seamless with StoreHippo advanced checkout capabilities like social login features. It allows visitors to login with social media without creating an account. You also get 50+ payment gateways that are 100% secure and reliable shipping providers to process deliveries accurately.
8. Build Sales-Magnet Products Pages
Want the customer to add the item to cart and immediately checkout? It is possible when you build highly persuasive pages. . A well-designed product page can boost conversion by 400% and reduce the bouncing back of users from your website. So get ready to add below elements to make your page persuasive.
Must-Have Elements On Product Pages To Boost Purchases
Genuine Rating and Review: It is proven to increase direct-to-consumer conversions by as much as 270%

High quality Videos and Images: They help in accelerating customer engagement and product sales, and winning customers' trust

Attractive Discounts and Coupons: Use discounts to reward loyal customers, increase sales during festive season, reduce cart abandonments, retarget inactive users, and even beyond

Transparency in Price and Delivery: Improve your customer satisfaction and loyalty by showing delivery prices, extra costs, return/exchange policy on the checkout page. Also give them the ability to track deliveries in app and on site

Product Descriptions: To write persuasive descriptions, you should avoid excessive jargon, use compelling words, explain benefits, leverage customer video testimonials or text reviews, etc
Fact: 87% of buyers see product content extremely crucial during the buying decision (OneSpace)
Business Benefits
Helps in selling more products

Increases add to cart clicks and purchase rates

Improves product credibility
StoreHippo offers you full freedom in designing a products page via its professional looking, customizable themes. Using our theme builder, you can simply drag and drop the available page elements(like rating and review widget, images, slider widget, FAQ widget) to create sales-friendly pages in minutes.
Final Words
Sales is oxygen to your D2C enterprise ecommerce business. It is what keeps your business profits flourishing and motivates you to further scale into other markets and products. With a next-gen ecommerce platform and the steps above, you can steadily grow your sales and see favorable results over time.
But having a technological advance ecommerce platform like StoreHippo, all your tech-related limitations can be circumvented.
StoreHippo provides enterprise-grade features, primarily Next Generation Technology stack and marketing solutions that simplify the job of marketers and developers in acquiring new customers, and thereby, more sales.
Get started with 14 days free trial of StoreHippo enterprise ecommerce platform to shoot-up your D2C sales.