We bet you are looking for ways to maximize your profits and ace your multi vendor ecommerce game!
Well, the first step is to be adept at adjusting to the changing ecommerce trends.
Can you do that?
Wondering if that is possible at all.
Let us pop it to you - yes, it's feasible.
It is seemingly viable for an online marketplace to adhere to evolving trends by leveraging quick strategies.
Before we hop on the latest trends for your multi vendor marketplace, let us first look at the multi vendor ecommerce buying habits: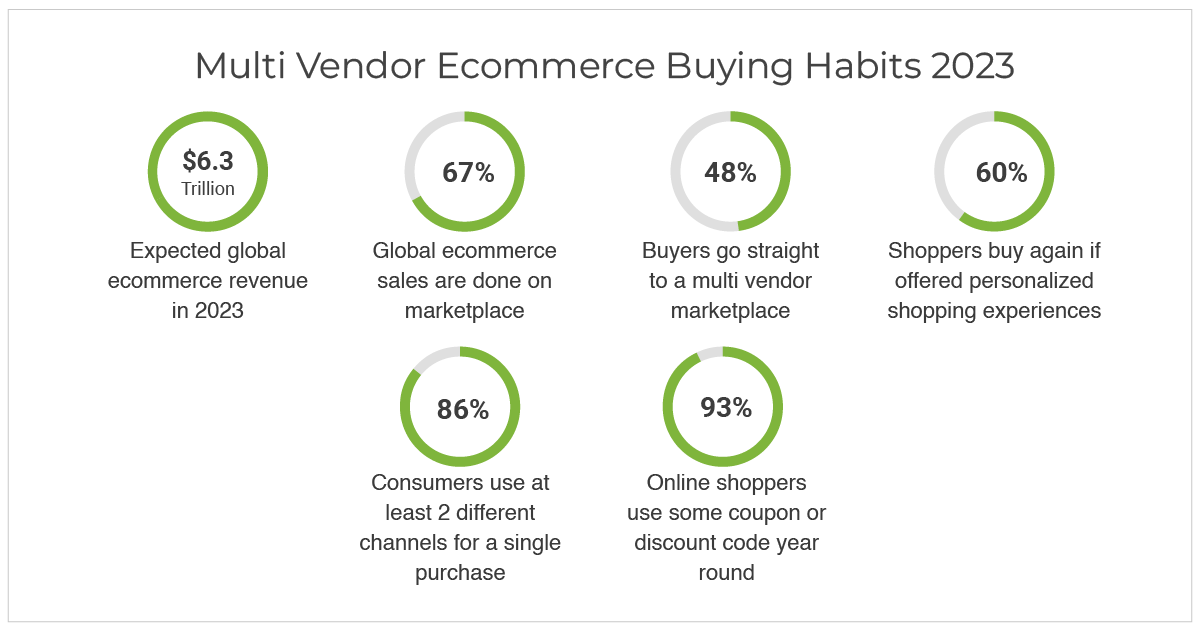 $3.64 tn is the expected global ecommerce revenue in 2023
67% of global ecommerce sales are done on marketplace
48% of buyers go straight to a multi vendor marketplace
60% of shoppers buy again if offered personalized shopping experiences
86% of consumers use at least 2 different channels for a single purchase
93% of online shoppers use some coupon or discount code year round
Source: Statista
The digital-age buyers have time-and-again showed that handheld experiences no longer make a difference. What pushes them towards making a purchase is a personalized shopping experience with a focus on factors and elements like fast shipping, quick delivery, the ability to order on the go, etc.
The question here is if you are able to provide a mix of these elements on your online marketplace!
If not, now is the time to equip yourself with the latest ecommerce trends.
Wondering what these trends are?
Let's have a closer look.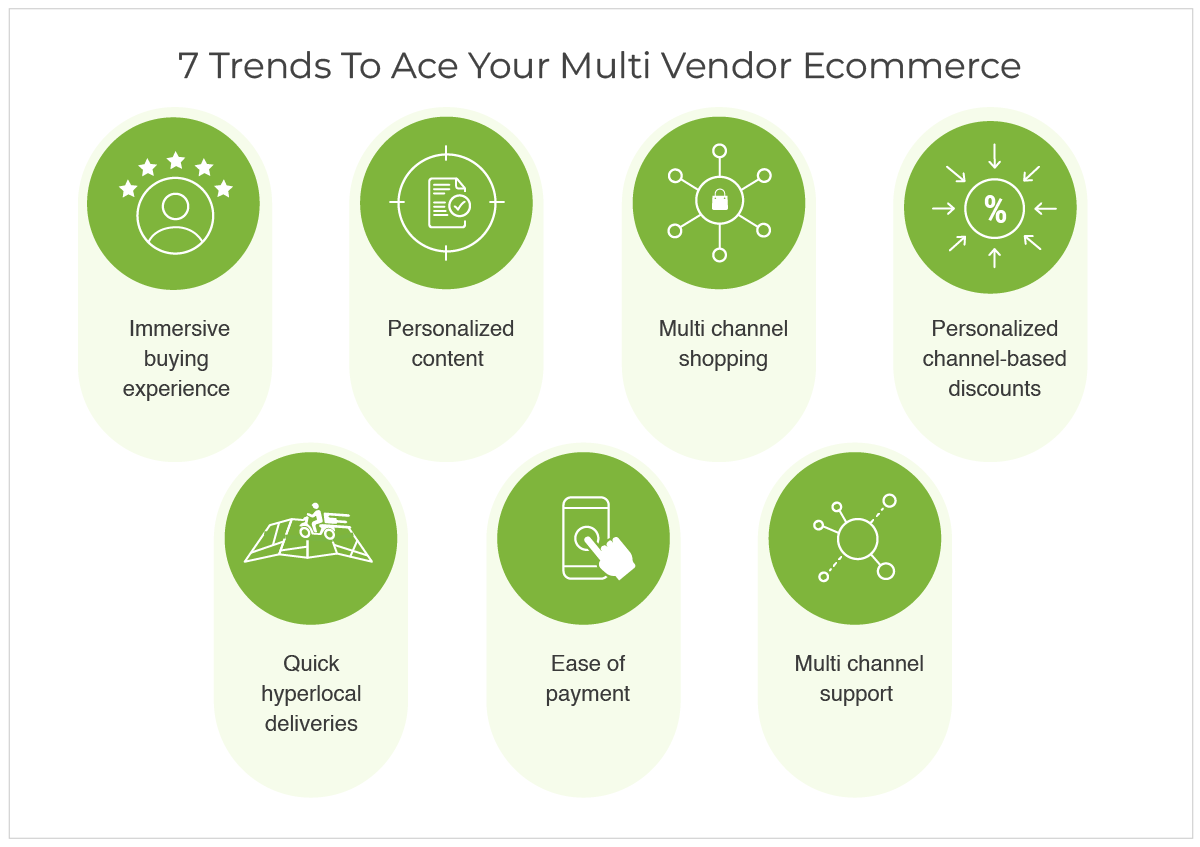 The purchasing decisions are highly categorized by an immersive buying experience today. The customers look for an enhanced shopping experience on all channels with an attractive design.
StoreHippo ecommerce platform comes with a rich design theme library to help you choose and play around with your store's layout. The easy drag-and-drop tool helps even novice users to create beautiful professional-looking designs for the marketplace. You can seamlessly change the banners, sliders, product placements etc without the need for any coding.
In the hyper-personalization age, 90% of customers are willing to spend more on companies that provide personalized customer experiences. Is your online marketplace attuned to providing your customers with a personalized shopping journey? If not, hurry up!
You can offer extensive personalized content to your customers with StoreHippo ecommerce solutions. StoreHippo helps you create multilingual content for your customers with its multilingual ecommerce solutions. You can seamlessly translate your website content in 100+ languages including RTL languages like Arabic and Hebrew. With the hassle-free automatic translation tool, you can create personalized multilingual marketplaces in just a few clicks.
Interacting and engaging with a brand on multiple platforms is no longer an alien concept. Customers today tend to discover your brand on various diverse platforms like marketplace websites, marketplace apps etc. How well are you equipped to offer an omnichannel shopping experience to your customers?
It's time to establish omnichannel retail strategies to attract and retain loyal customers on your multi vendor ecommerce platform. Wondering how to go about it? Built on headless architecture, the StoreHippo ecommerce solutions help you add multiple touchpoints using the same API and backend logic. The easy-to-use omnichannel solutions help you improve your conversion rates across all channels. You also get access to better customer insights from different channels so you can leverage data-driven insights to achieve higher ROI.
Did you know that almost 80% of customers are willing to share their personal information in exchange for better and personalized deals? With personalized discounts and offers influencing the purchase decision of your customers, you can ace your multi vendor ecommerce game by offering channel based deals that suit your buyers.
StoreHippo offers a powerful built-in discount engine and advanced promotion tools to help you offer multi-level discounts to your customers. It helps you create and implement product-level discounts, order-based offers, flash sales, brand-specific promotions etc. You can also have transparent communication with your customers using the unified notifications feature from StoreHippo. You can send auto emails, PUSH and web notifications, or SMS to notify your customers about upcoming sales and discounts.
Customers fancy quick hyperlocal deliveries today!
41% of the customers will pay more just to get same-day delivery. Yes, as you offer quick deliveries on your multi vendor marketplace, you will become the most loved brand for all your customers. Wondering if it is feasible for your pockets to create a shorter and more seamless supply chain?
It is, with StoreHippo. It comes with over 30+ pre-integrated logistics providers to streamline and automate your delivery process. You can pick and choose from the best-fitting solution for your enterprise business and create a quick supply chain for your customers. You can also import orders from different channels and align them all for quick timely deliveries. You can easily set up rules to implement taxes, shipping charges, delivery timings, etc. based on customer location IP detection.
While creating an online marketplace, the most important aspect to take care of is a seamless payment process. Customers do not appreciate complex or long checkouts. As you offer a frictionless payment process to your customers, you can ensure repeat purchases and win the multi vendor ecommerce battle.
StoreHippo ecommerce solutions offer 60+ domestic and international payment gateways to help you create a seamless checkout process for your customers. You can offer multiple payment options like debit and credit cards, digital payments, net banking, etc. With StoreHippo, you can also offer loyalty rewards, cash back, store credits from refunds, etc that your customers can use while shopping.
Is your multi vendor marketplace giving due attention to your customers? Are you there for your customers post-sales? If not, now is the time to change your approach.
64% of businesses notice growth in their sales when they offer good customer service. It is however quite a task to be able to connect with all your customers on all the channels. Wondering how to offer multi channel support to your customers?
Well, with StoreHippo. Yes, it offers seamless integrations with multiple channels for you to connect with your customers at multiple touchpoints. You can connect with the best live chat software and chatbots on your online marketplace. You can seamlessly install various chat apps in your admin panel. You can also integrate with the best CRM software to cater to a variety of customer queries like delivery tracking, cancellations, refunds etc.
Customer buying habits and online shopping expectations are changing tremendously. With continuous changes in buying patterns, it can be an uphill task to ace multi vendor ecommerce. Online marketplaces need modern ecommerce solutions to meet the expectations of buyers, manage the business in an effortless way, and plan strategies to hack growth.
To ace the marketplace model and plan unprecedented growth for your brand you need a future-ready marketplace solution that fulfills your brand's current demands and aligns well with your future goals.
StoreHippo multi vendor marketplace solutions offer future-ready technology and MACH architecture to build agile and scalable multi vendor solutions. With native marketplace solutions and 300+ built-in features, you can seamlessly build a unique marketplace website to ace your multi vendor ecommerce game. Explore the enterprise-grade features by starting your 14-day free trial now.