By 2025, 80% of business-to-business sales will be done via B2B ecommerce.This figure alone is indicative of the transformative force ecommerce has been across industries and business models.
And yes, this transformation is reshaping the way businesses operate and interact with each other. The traditional B2B landscape has undergone a fundamental shift. Business presence, deals and closures are no longer offline, face-to-face negotiations and paper-based transactions.
This is the era of - Omnichannel Engagements, Self-Service and Digital Transactions.
And if you thought that's all about the new-age B2B ecommerce, you are in for a surprise!
Sample some insights and trends to fully understand where B2B digitization is headed.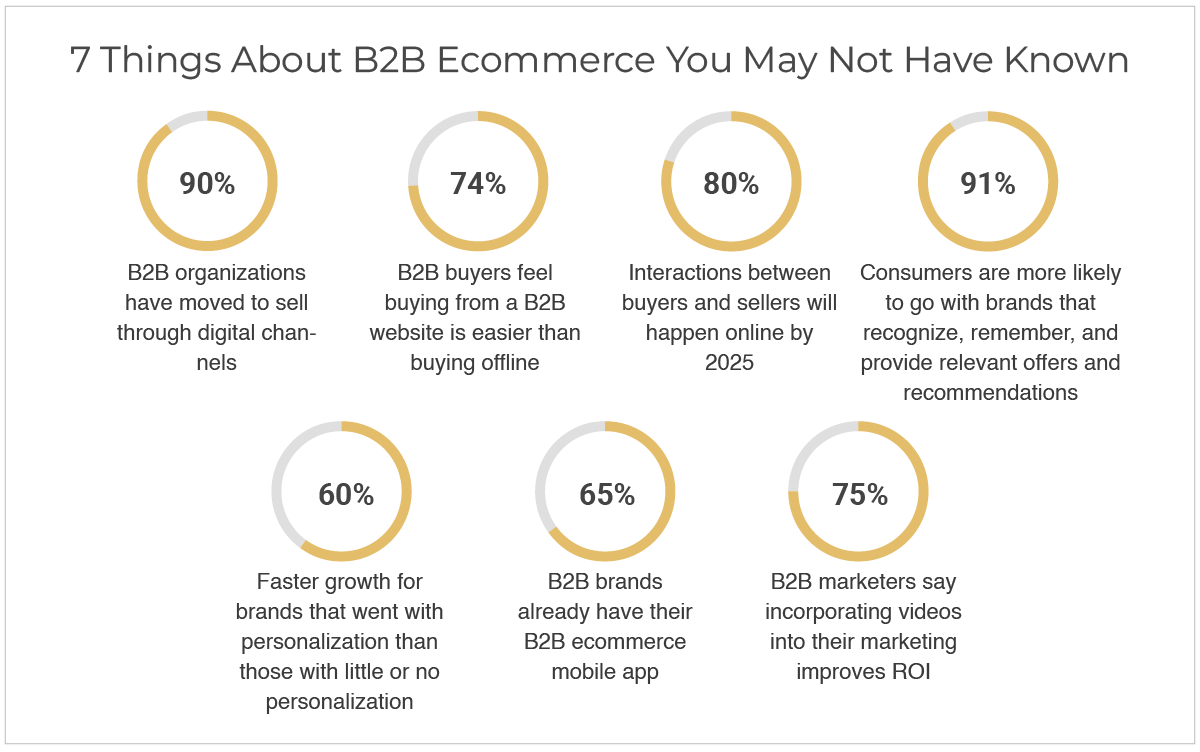 90% + of B2B organizations have moved to sell through digital channels
74% of B2B buyers feel buying from a B2B website is easier than buying offline
80% of interactions between buyers and sellers will happen online by 2025.
91% of consumers are more likely to go with brands that recognize, remember, and provide relevant offers and recommendations
60% faster growth for brands that went with personalization than those with little or no personalization.
65% of B2B brands already have their B2B ecommerce mobile app
13 pieces of content checked by B2B buyers (on average) before making a purchase decision
75% of B2B marketers say incorporating videos into their marketing improves ROI
Source: McKinsey & Company, Statista, Accenture, BCG, Gartner
The statistics speak volumes, right from the sales channels to buyer interactions and preferences everything about B2B has changed. Mobile is the way to go for enterprise B2B brands, personalization is driving growth and content plays a pivotal role in boosting ROI. Embracing these trends is not just a choice but a necessity for businesses aiming to thrive in the modern B2B marketplace ecosystem.
Find these latest trends overwhelming and wonder which are the most essential ones to implement for your business.
Worry not, for we got you covered.
Here are the 7 most important things you need to know about new-age B2B ecommerce
Does your B2B company still give more importance to doing business offline with help of a sales rep? If yes, here are some figures you need to check;
70% of B2B customers prefer doing business remotely
57% of buying process is completed even before B2B buyers connect with any sales representative
90% savings in sales and operating costs for businesses having a B2B ecommerce platform
97% of B2B ecommerce buyers are willing to make self-serviced purchases digitally
Source: McKinsey, Hubspot
The verdict is unanimous, ecommerce is the way to go for B2B companies looking for better engagement and growth.
With that said, wonder why business buyers prefer ecommerce over traditional route?

Here are the reasons:
B2B Ecommerce makes businesses available 24X7 for their clients. That is an inseparable part of ecommerce. With your enterprise brand's multichannel online presence, your buyers can easily evaluate your products and services at their convenient time, make supplier queries or even compare prices and products. In a nutshell, your customers get the control they crave. Isn't that the recipe for engaged prospects that convert into loyal buyers? It sure is.
Shopping on a B2B ecommerce platform gives a streamlined and easy-breezy experience to buyers. With powerful search capabilities, self-servicing features like RFQ, tiered pricing, real-time support and interactions with sellers, B2B buying has become as simple and fine-tuned as B2C.
On B2B marketplaces buyers can directly connect with as many sellers they wish and evaluate the quotes from their preferred sellers to make informed decisions. This speeds up negotiations and also results in better customer satisfaction.
B2B websites offer transparent and clear information, validated by other buyers in the form of user generated reviews and ratings. This gives credibility to sellers and products and makes for faster sales closure.
B2B ecommerce saves substantial CapEx for the sellers. As a result the sellers pass on the price benefits to their customers. Buying on B2B sites is a winning proposition for businesses.
With so many benefits, certainly, buyers will prefer buying on B2B ecommerce sites rather than in the offline set up.
The product pages we see in B2C websites are generally short, highly visual, and optimized for quick purchases.
But when it comes to making Business to Business purchase decisions, things take a slightly different turn. For one, they take longer time. Two, they often require more information and more research time. And three, they require more decision-makers compared to a typical B2C purchase.
That's why good product pages on a B2B marketplace are those that align with requirements of a B2B buying cycle. Below is a list of few things to consider when designing your B2B product pages. Let's take a look.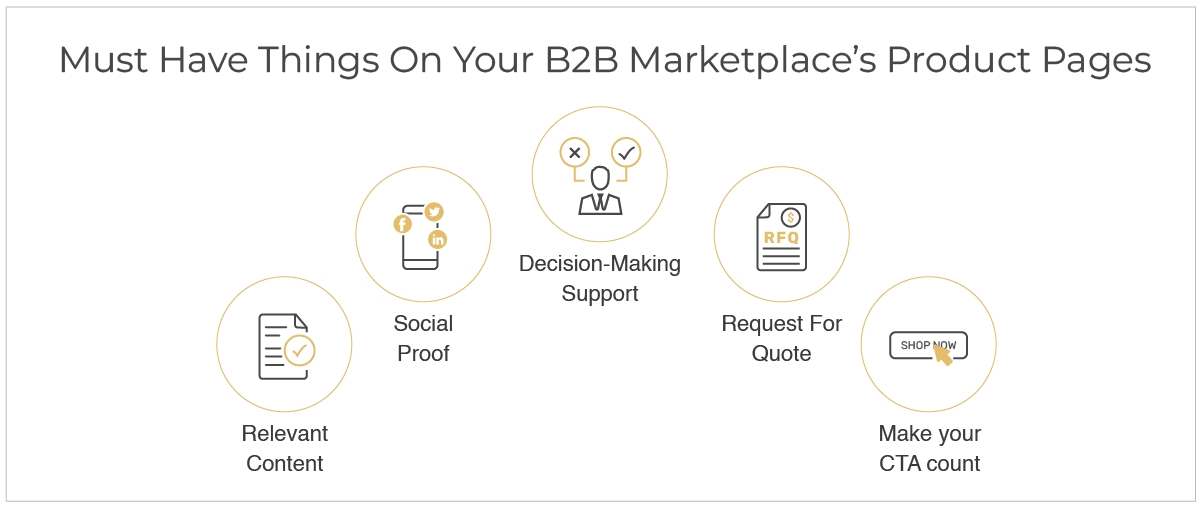 Don't cram too much information on the pages, instead focus on a few key messages. If the leads want to learn more, they can download the brochure etc. Also, offering separate landing pages for each product, will help with the SEO.
Do not forget to add social proof on product pages. Today's buyers are smart, they want to know what their peers think of your products/services. You can add testimonials, peer reviews, and case studies to help build trust.
Many B2B product pages focus only on adding long lists of features and technical specifications. Try including the benefits as well to pique your buyers' interest and help them make an informed decision.
B2B purchases are different than B2C buys. Apart from knowing product details buyers also need to know the various specifications and pricing quotes from different sellers. Having a request for quote button not only saves manual time in connecting with each seller but also promotes your B2B marketplace brand as customer-centric.
Whenever you visit any business website, the only CTA you will find is "Contact us to buy our product". Only if things were that simple.
They aren't. So what you can do is include softer CTAs that add value to your brand reputation and establish your B2B company as a trusted brand. Here is what you can add to your product pages, "Sign up for a webinar", "Download a brochure" or "Read a case study".
With product pages that work like your sales representative, your B2B marketplace is bound to have better customer engagement and eventually conversions.
Personalization is no longer a B2C thing. B2B ecommerce success is hugely dependent on how personalized your sales channels and offerings are.
Doubt the fact? Here is some proof:

89% of buyers only consider brands that understand their specific requirements
78% of B2B buyers expect offers to be personalized to their previous engagements
Source: Accenture
Ready to implement personalized buyer journeys on your B2B ecommerce platform? Let's begin from the start.
Well, to begin with, personalization is not only about addressing customers by name. It's more about showing that you value them and are willing to do whatever it takes to build stronger relationships with them by offering them tailored products and services.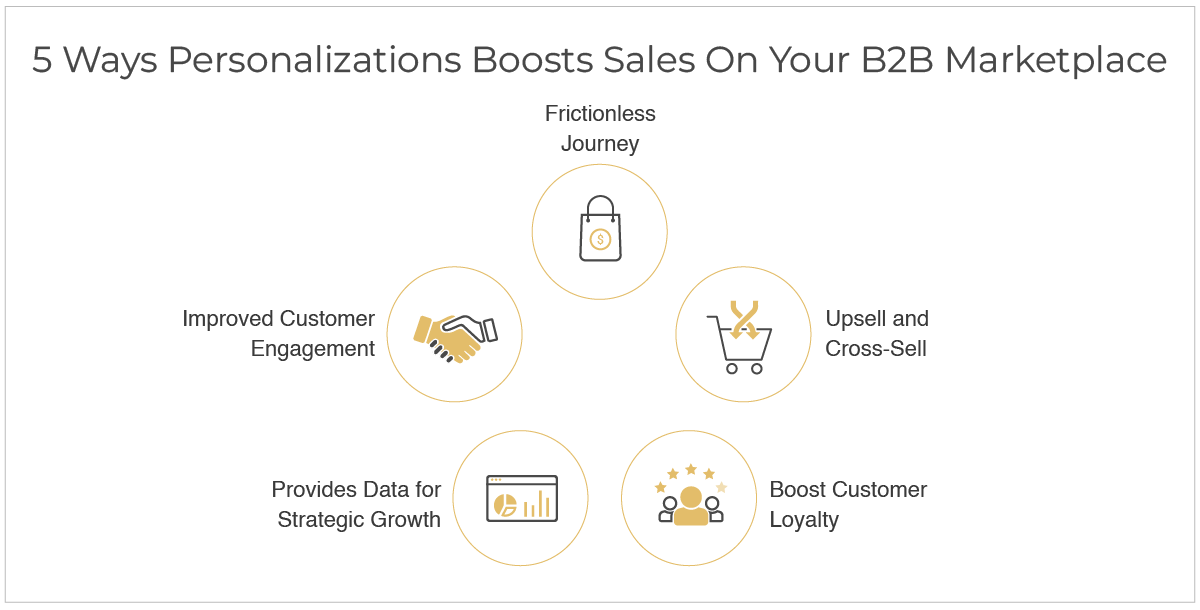 Want to know what your B2B enterprise brand can gain with personalization. Here is the list:
Personalizing your B2B buyer's journey makes for a smooth, engaging and memorable buying experience. You see, nobody likes to fill out random forms, especially not your prospects. But with personalization, you take the information you already have and use it to send personalized recommendations, prefill forms, send meaningful offers etc. This saves a significant amount of time for your B2B Ecommerce buyers as they do not need to repeat themselves every time they visit your website.
Personalization helps in creating a smooth and frictionless buyer journey which gives your buyers personalized recommendations, payment options, shipping solutions, price range etc. Such offers make your customers come to your B2B marketplace regularly and eventually end up spending more and more time. This, in turn, will help improve the chances of conversion.
Personalization also allows you to recommend precise products to your B2B customers. How? By generating results that are based on effective data gathering. These results can then be used to offer each customer whatever matches their preference, and then upsell and cross-sell related products to boost the ticket size.
Personalization helps foster a sense of value and importance which in turn leads to brand loyalty. When you present your customers with content and offers that reflect their organization's needs, you send a message that you care about meeting those needs. And customers love that. Loyal customers not only come for repeat purchases but also become the greatest brand ambassadors by recommending your B2B marketplace to others.
Collecting and analyzing customer data for personalization efforts also provides valuable insights into customer behavior, preferences, and pain points. Your B2B brand can use this data to make informed decisions about product development, marketing strategies, and customer service improvements.
Personalization is a powerful tool for B2B ecommerce growth and your business should take all steps to implement it strategically.
Should you share prices on your B2B ecommerce website? Is it safe?
Let's answer these questions. But before that, let's have a look at some reasons that are holding you back from publishing your prices on your ecommerce website.
You are scared because you do not want your competitors to learn about your prices. (Spoiler alert: they already know)
You would like the prospect to contact for pricing information in the hopes of engaging them further
You do not want any conflicts with your B2B marketplace sellers, distributors and other business partners
You have some discounts and want your sales team to have some flexibility regarding closing the sale by offering discounts as personal favor
So many reasons for not doing it. If this is why you are not putting up prices on your B2B website, there are two important factors you need to consider.
First, as we already spoiled it for you, your competition knows your pricing since they are already selling against it. This is no secret at all. But if they don't, then they are so clumsy at their jobs that you have nothing to worry about.
Secondly, if you still decide not to reveal, your prospects will find out the pricing information even without your help. Believe us, they have ways. They can research on the net, ping analysts, post queries to B2B industry email discussion groups or simply ask their friends around.
Okay, so now that we know hiding the pricing information won't work in your favor, how are we going to solve this dilemma? Simple, by showing a range of prices on your B2B marketplace website to help your prospects make an initial budgetary decision.
Wonder how this might help?
Check it out:

When your B2B company openly displays multi-tier prices along with other charges ( shipping, taxation,handling charges etc.) it fosters transparency and builds an environment of trust. With different prices targeting different order volumes and customer segments, buyers have a feeling of trust for your B2B ecommerce business and are likely to engage more with your brand.
With a clear understanding of prices and other costs, the purchasing process is better defined and streamlined for both buyers and sellers. Buyers can quickly assess whether a product or service fits their budget and needs, which in turn cuts short the time in lengthy price negotiations. Also, for sellers, the time and resources spent on price quoting and negotiation is reduced considerably.
When you have clearly listed prices on your B2B marketplace website you have better chances of attracting more qualified leads. On the very first visit, your buyers get a clear understanding of prices which oftentimes is a key decision-making factor. Reviewing prices takes your leads into the later stages of their decision-making process and helps in closing a purchase faster.
Usually, B2B companies do not disclose their price upfront. And if your B2B marketplace shows prices clearly, you are perceived as a customer-centric brand. This feeling establishes your brand as an industry leader that is transparent and customer-friendly.
We know that B2B buyers prefer self-service options on a website. With clearly stated prices, buyers are better positioned to independently explore product options and pricing. This in turn reduces the need for direct sales interactions for basic information.
While disclosing prices is a winning strategy, you might play on it and do a quick check if your site visitors actually want the pricing information. You can do this by creating a price page and then strategically placing direct CTA to it throughout your B2B ecommerce website. This enables you to measure results and then display prices where needed and avoid where you want to offer custom pricing. Measure the results and determine whether publishing the prices is a good move or not.
Discounts (or added services) have always been looked upon as a marketing investment to help land B2C customers. But can it be used for B2B marketing as well? Of course, it can be.
However, the discounting strategy here (like everything else) takes a slightly different approach. While planning discounts on your B2B marketplace, you need to evaluate what your sellers would be comfortable dispensing. Along with that, you also need to consider what kind of savings you would be making in your marketing expenses and does those savings compensate for the discounts being offered.
Though discounts can help sweeten any deal, they come with a major flaw. That is, once you have offered products at discounted rates to your customers, it is a tad bit difficult to sell the same products without a discount in future. If you are offering something for $5000+ 10% off today, your prospects will expect to pay the same amount for a reorder after a few months.
So, is there anything we can do about it? Of course, there is. A better approach in this regard would be to offer better services and volume discounts on your B2B ecommerce platform rather than just offering discounts.

Here is how you can do it:
Offer better discounts depending on the volume of products or services purchased. Volume-based discounts encourage clients to buy more. When buyers increase their order quantity, they receive a higher percentage discount. This approach incentivizes larger purchases without lowering your base price.
B2B payments follow a lengthy cycle. However, you can incentivize faster payments by offering discounts to your customers who pay promptly. For instance, you could offer a 3% discount if the invoice is paid within 10 days. This discounting strategy ensures cash flow without reducing your standard pricing.
Bundled deals are a tried and tested discounting strategy in B2C and it works even for B2B ecommerce. Create bundled packages of products or services that come at a discounted price when bought together. Customers perceive value in such bundles and are more likely to buy more items in a bundle rather than buying them individually.
This bundling strategy allows you to price premium products at their original price and offer discounts where you have a better margin to create an illusion of heavy discounts. that offer savings when purchased together. This strategy also promotes cross-selling.
Loyal customers are the biggest assets for any B2B company. Here is how they impact your business:

65% of a company's business (on average) comes from existing buyers
75% of buyers prefer B2B companies that offer rewards
25%-95% increase in profits by growing customer retention by just 5%
43% of consumers spend more money at businesses they're loyal to
67% more spent by loyal customers as compared to new customers
Source: Zippia
Loyal customers add so much value to any business. By designing loyalty programs where repeat buyers are rewarded with loyalty points, money-back guarantee, exclusive access, or special perks you can take your B2B ecommerce platform's marketing many notches higher. Design loyalty rewards in a way that they lead to repeat purchases or offer freebies. This way you get more orders without compromising profitability.
When you offer additional services or features at no extra cost, your customers perceive it as a better offer than price discounts. You can offer such deals through free shipping, extended warranties, free training sessions, priority support, or customization options. These value-added services enhance the overall customer experience and justify the price point of your products.
Before building such strategies it is important to understand and analyze your B2B marketplace customers' needs, preferences, and purchasing behaviors. Tailored offerings that align with your target buyers' expectations and goals pay rich dividends in the long run. Additionally, ensure that all your discounts or incentives are clearly communicated to maximize their impact.
Video marketing is doing wonders for B2B brands. It is no longer a nice-to-have thing but a necessity that unlocks B2B growth.
Check out why and how:

70% of business buyers watch videos that can help them reach their buying decisions
66% increase in qualified leads for B2B brands having videos
54% increase in brand awareness for B2B companies having videos
71% of B2B marketers produce videos
Source: Google, Wyzowl
Videos impact your buyer journeys in many ways. Whether it is a brand promotion video, testimonial video, how-to guides video, case study video or any other educational video, it establishes your brand as an industry leader.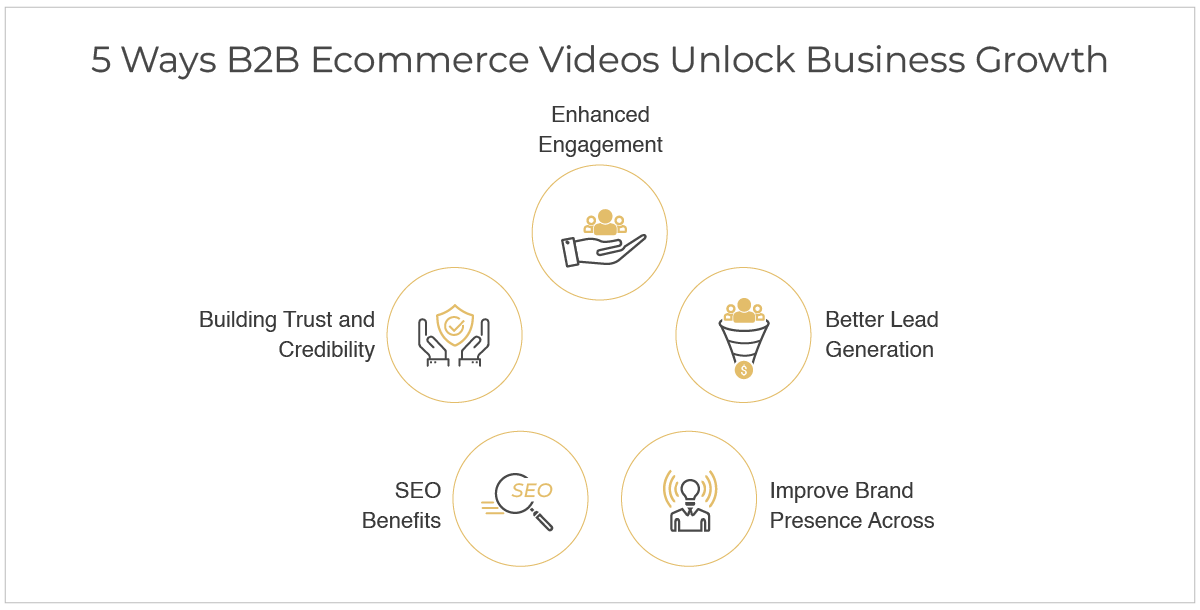 Here is how your B2B marketplace can unlock benefits from adding videos across the website:
Videos engage better than text or static images. Conditioned by watching videos across social platforms, buyers prefer video content that conveys information in a dynamic and visually appealing way. Engaged visitors are more likely to stay on your website longer, explore your content, and remember your brand.
Video can work as a powerful lead generation tool when you use your case studies and customer testimonials to showcase how your B2B company helped other clients find solutions for their business. Do include strategic CTAs in your videos, such as book a demo, forms for capturing additional information, contact details etc. so you can target visitors with your products, services and offers.
Videos also help in reaching a wider audience base across social platforms. With social commerce gaining momentum having a brand presence in your buyers preferred content format i.e; videos goes a long way in boosting your B2B ecommerce company's presence.
Videos have clear-cut SEO benefits for your B2B marketplace. Google's algorithms prioritize websites with video content, leading to better search rankings. Videos are also more engaging and hence increase the overall time visitors spend on your site. This sends a positive signal to search engines further improving your overall SEO performance.
Videos can establish your brand as an industry leader by showcasing your expertise, share industry insights and sharing pro-tips. This exercise builds trust and also instills confidence in your brand and offerings.
Videos are a great tool to elevate the buying experience on your B2B ecommerce platform. The key here is to create two different types of videos; one designed to raise awareness and the other designed to drive purchase. Both of these videos often work together to smoothen out the buyer's purchase journey.
Buying on mobile is the new norm. The device we are addicted to serves far greater purpose than just texting and social media. It is the channel that can bring the highest engagement and conversions for your B2B marketplace.
Check how m-commerce is reshaping B2B sales: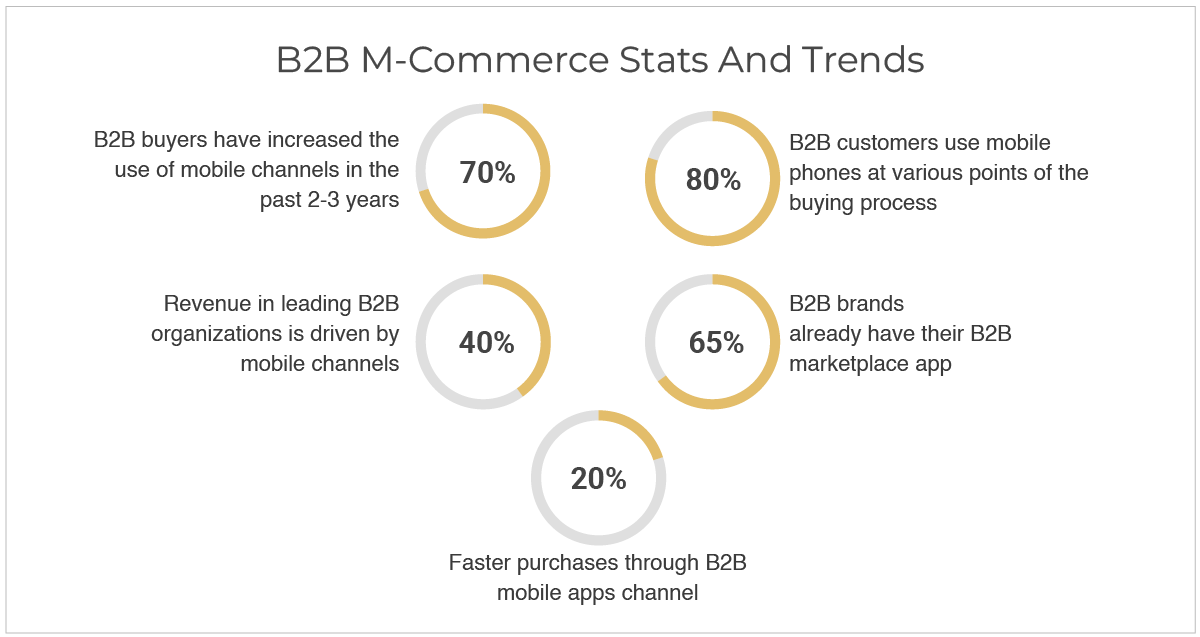 70% of B2B buyers have increased the use of mobile channels in the past 2-3 years
80% of B2B customers use mobile phones at various points of the buying process
40% of revenue in leading B2B organizations is driven by mobile channels
65% of B2B brands already have their B2B marketplace app
20% faster purchases through B2B mobile apps channel
Source: Bugsnag, Boston Consulting Group, Digital Examiner
Mobile is where your buyers are. While you build mobile channels for your brand it is also important to build the right strategies to unlock the full potential of m-commerce for your B2B ecommerce company.

Here is how you can leverage M-commerce to scale your business:
To maximize the results of mobile commerce your B2B ecommerce brand needs to create multiple mobile touchpoints to connect, engage with and convert buyers. Build your PWA stores and mobile apps to offer a more immersive and tailored experience to your buyers by offering ease of ordering from anywhere anytime.
Google favors mobile-optimized websites. Continuously monitor and optimize the performance of your B2B mobile commerce platform. Fast load times, reliable responsiveness, and minimal downtime are essential for a positive user experience.
Build your mobile commerce website and app with responsive design optimized for various screen sizes and devices. Your B2B marketplace website and apps should be easy to navigate, have clear and intuitive menus, advanced search and filters and a frictionless checkout. Offer a clean and clear mobile buying experience with a mobile-friendly interface.
The best thing about building PWA stores and mobile apps for your B2B company is that you can implement personalization through real time notifications. You can use data and insights collected from mobile browsing and buying to offer personalized product recommendations, pricing, and content to your buyers. You can send personalized recommendations to gently nudge your buyers towards conversions.
Make it easy for your B2B marketplace clients to buy from your brand, pay using easy digital options aligned with mobile payments and manage their account and orders easily on mobile devices. Implement features like wishlist, saved shopping carts and multiple payment options to make reordering effortless.
Building your brand's mobile presence can establish you as a B2B market leader that enables buyers to shop on the go. You can also have more sellers on your marketplace when you implement mobile admin for vendors and sellers.
Knowing B2B ecommerce tips to success can be useful only when you have the right B2B ecommerce solutions to implement them. With StoreHippo B2B solutions to power your brand you can do amazing things with your business and create a niche for your enterprise wholesale brand.
Here is how StoreHippo B2B ecommerce platform enables enterprise brands to unlock B2B success:
Next-gen technology that helps in building tailored solutions for enterprises across industries and geolocations
Plug and play solutions that do not need additional paid apps or plugins
MACH Architecture that gives you the scalability, flexibility and better creative control to grow business horizontally and vertically
Headless B2B ecommerce platform that enables to add multiple touchpoints using the same API and backend logic and implement personalization easily
Mobile-first principle and built in mobile apps builder helps leverage m-commerce to unlock brand's potential and reach a wider customer base
Mobile apps for marketplace buyers, admin(s), vendors, delivery boys etc.
Native B2B ecommerce solutions with a host of B2B features like tiered pricing, bulk order processing, MOQ, RFQ, custom forms, custom invoices, multi-currency support, built in tax engine, audit log etc.
Built in product, order and vendor management solutions with support for detailed product pages, 360-degree product view, videos, RFQ forms, reviews ratings etc. on your B2B marketplace
Support for multi vendor marketplace, multi store, B2C, B2B2C, D2C, hyperlocal commerce and other hybrid custom business models
Built in multilingual and multi currency support
SEO-ready ecommerce platform with built-in blog engine, support for videos etc. to build a strong branding
120+ pre-integrated solutions for CRM, accounting, shipping, payments, marketing etc.
Unified notifications, discount engine, abandoned cart follow up, wishlist, review and ratings and other features to strategize marketing
Built in reporting engine and seamless integrations with popular marketing and analytics tools
30+ integrated shipping partners and 60+ integrated payment gateways
PCI DSS compliant B2B ecommerce platform with free SSL, audit log and multi-level security
StoreHippo has the experience and expertise of powering successful B2b companies and has helped brands unlock their potential by building an omnichannel presence in no time.
Taking your wholesale brand the B2B ecommerce route offers a huge potential if you strategically plan your growth. To help you plan your growth StoreHippo not only provides the right tools and B2B ecommerce solutions but also brings insider tips compiled from successful enterprise brands.
By leveraging these 7 lesser known B2B ecommerce tips and tricks you can chart a blueprint for your brands success and future growth. StoreHippo is here to support you every step of the way, to help you excel in the competitive B2B ecommerce landscape.
Ready to explore StoreHippo future-ready B2B ecommerce platform and implement strategies that maximize your B2B ecommerce potential? Get started right away with your 14-day free trial.