Willing to amp up your mobile commerce presence?
Don't know where to start?
Wondering what steps to follow and how to leverage m-commerce to the benefit of your enterprise brand?
Before delving deeper into the process of building a marketplace app, let us first overview how mobile commerce is the new age mantra for your business growth.

$510 billion is the expected mcommerce sales in 2023
40% growth in mobile commerce sales expected from 2023 to 2025
75% of total online purchases are done through a mobile device
69% of internet users prefer checking reviews on their smartphones to visiting an offline store
60% of shoppers say the possibility of shopping via mobile is a deciding factor when choosing a brand
Source: Statista
The above data suggests that for unrestrained growth, brands need to have a well-defined marketing strategy with a special focus on mobile commerce as all their customers are on mobile devices.
Customers are addicted to their smartphones, making m-commerce a permanent thing now. Mobile devices hold the power to make everything seamless, from connecting with people, to binge-watching, from buying groceries online to ordering food and everything in between.
So, irrespective of your brand and business model, you need enterprise ecommerce solutions that make it easy for you to build a successful mobile commerce presence for your brand.
The top reasons why your enterprise brand needs a seamless m commerce presence are:
Acts as an additional sales channel
Boosts your traffic
Helps offer personalized marketing
Promotes impulsive buying
Well, now that you have various reasons to build your mobile commerce presence, let us explore the how part.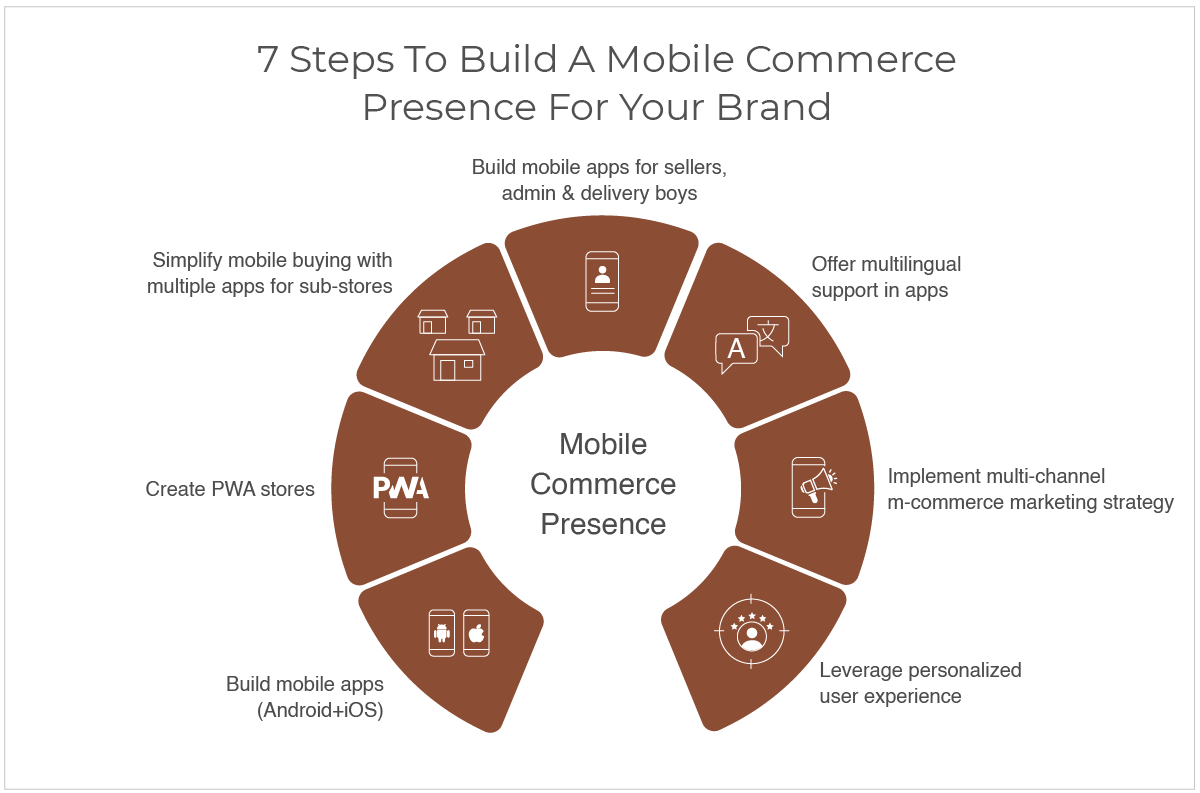 The secret recipe to keeping your customers engaged and entertained is offering a seamless shopping experience on mobile devices. The ease and convenience that shopping on mobile apps offer, make it the most preferred shopping channel. Customers can make a purchase on the go and save time without having to wait for the site to load.
StoreHippo enterprise ecommerce solutions are built on the mobile first principle that offers a variety of mobile-ready solutions. With the inbuilt mobile apps builder from StoreHippo, you can build Android and iOS mobile apps without any coding, in a single click, and at ZERO additional costs. It helps you get more footfalls, engage better and convert faster.
It's great that you have built mobile apps for your business, but are your ecommerce web stores mobile friendly? Well, not all of your customers are in favor of keeping heavy apps on their mobile devices. Also, just having mobile apps limit your brand from far-off locations where customers are using entry level devices. To reach such markets and capitalize on the penetration of mobile commerce and smartphones, you need PWA stores.
Using Progressive Web Apps(PWA), StoreHippo builds Ecommerce Websites that look, feel and work like mobile apps. The online stores powered by StoreHippo are hybrid mobile apps which run seamlessly even on entry-level devices and with poor internet connectivity. With PWA stores you can offer native app-like experiences to your customers.
Since mobile is where your customers are, it becomes imperative to also create multiple mobile apps for multiple sub-stores of your ecommerce brand. As you target different sets of audiences with different mobile apps, you simplify buying for your customers and eliminate distractions. You can grow your conversions and gain better insights into user behaviour with segmented and personalized marketing with multiple apps for sub-stores.
With StoreHippo you can easily create a separate marketplace app for different sub-stores right from the admin dashboard at no additional costs. For example, if you have www.fruitbasket.in and www.fruitbasket.com, catering to Indian and global buyers respectively, you can create two different apps for both of these storefronts. Having dedicated apps for different audiences makes it easier to evaluate the performance of different stores and the behavior of customers, giving you strategic insights.
While building a successful mobile commerce presence for your enterprise brand, you need to take into account not only your customers, but also your sellers, admin and delivery boys. Mobile commerce applications give freedom and flexibility to the admin to run business on the go.
Business admin can overview their business from the app and take informative decisions based on the customer and vendor data, different analytics and reports etc. Similarly, the vendor app gives the vendors an easy-to-use mobile solution for managing their products, inventory, price requests, fulfilment and more on the go.
StoreHippo enterprise ecommerce solutions come packed with mobile solutions to help you leverage m commerce seamlessly. Along with Android and iOS apps, StoreHippo also offers a variety of m commerce apps like the marketplace app, vendors app, admin app and delivery boy app to facilitate complete business operations on the go.
68% of online customers like to interact with brands in their local language. Yes, surprising. With multilingual support on your marketplace apps, you can easily tap into new markets and build a wider customer base. There's no denying that with a marketplace that communicates in multiple languages, you open your brand to business opportunities in not only global markets but local markets as well.
StoreHippo offers multilingual support for mobile apps to help you engage your customers better. Be it Android or iOS apps or PWA stores, you can give your buyers the option to browse and buy from your brand in their native language. Reports suggest that when buyers get the content in their native language the sales volume can increase by 22%-30% on enterprise apps. Isn't that an easy way to grow your business, it certainly is!
Customers today look for a multi-channel shopping experience while making an online purchase. Are you able to interact and engage with your customers on various mobile devices is the concern here. When you offer multi-channel buying options to your customers like mobile websites, PWA stores, mobile apps etc, you sell more and sell big. 1 in every 3 purchases is made on impulse, and with a multi-channel mobile commerce marketing strategy, you can cash in on the opportunity to boost your sales volume.
With StoreHippo, you can seamlessly offer a multi-channel m-commerce shopping experience to your customers. StoreHippo's ecommerce platform is built on the mobile first principle and offers a variety of mobile-ready solutions. You can seamlessly build PWA stores and mobile apps without any coding.
83% of consumers are willing to share their data to create a more personalized experience. As an enterprise brand, you need to quickly adapt to the changing dynamics of the ecommerce industry. The modern age customers like to feel acknowledged and be treated special, and when you do so, the chances of having them again on your marketplace app increases.
StoreHippo helps you keep your customers engaged and hooked to your enterprise brand by offering a variety of tools for quick and easy personalizations.The flexible enterprise ecommerce solutions from StoreHippo is built on the decoupled headless architecture that can be tweaked inside out. You can implement multi-level personalizations like building multiple mobile apps for different locations, audiences, or different categories.
No wonders, mobile apps can help brands create brand awareness and achieve higher ROI. While creating a successful mobile commerce presence for your enterprise brand, you need an advanced enterprise ecommerce solution.
StoreHippo helps build mobile ready websites that run like apps. You can also seamlessly build your own mobile commerce application, directly from your dashboard at no additional cost. You also get enterprise-grade features like rich themes, marketing solutions, SEO support, order and delivery management, logistic support, marketplace integration, etc. You can also monitor the performance of your mobile ecommerce site with the inbuilt analytics tools from StoreHippo.
Are you ready to create your marketplace app with StoreHippo. Explore the advanced m-commerce features by starting your 14-day free trial now.