Do you think that Instagram is just a social media platform to share photos and images? Then, think again!
Instagram has demonstrated a meteoric rise as a primary tool for social commerce. With its look at it, click it, buy mode of shopping features-the app has positioned itself as the new kind of digital mall. And while Instagram is the most popular, it is not the only platform tapping into revenue streams.
The exponential rise of Social commerce
474.8 billion U.S. dollars in revenue was generated in 2020 through social commerce

28.4 percent is the expected compound annual growth rate (CAGR) from 2021 to 2028
The rising shopper's frenzy on social media has persuaded brands to integrate social platforms with their omnichannel marketing strategy.
Let's find out the multiple social media channels that can help you connect to more customers.
Where can you find social commerce?
Instagram
19 percent of B2C and 12 percent of B2B respondents stated that Instagram was the most crucial platform for their business.(source:Satista)
With over one billion active users per month, companies prefer Instagram because many shoppers turn to Instagram
to discover new products.

to look for a new thing to buy

to check out what their favourite influencers are talking about
Facebook
There are about over 1.4 billion daily active users on Facebook. Amazing, right? The Facebook store is the best way to begin social commerce for your brand due to its scale and targeting data. You can directly showcase your products on Facebook or can redirect buyers to your store.
Snapchat
Once an app designed for photo filters, Snapchat is gradually edging its way into the social commerce game by way of augmented reality. Snapchat is trying to project itself as a future-forward company catering to Gen Z shoppers who want much more from their shopping experiences.
Pinterest
Users can purchase the products on Pinterest by selecting the "buyable pin" buttons. The platform is another form of excellent omnichannel marketing strategy that supports brands who use inspiration to attract sales. Pinterest understands the consumer's choices and buying patterns, and that's why it has piqued marketers' interest.
Live shopping
Live shopping, or live stream shopping, is another digitized omnichannel home shopping experience via social media, websites, and apps. Live shopping enables users to receive real-time comments, reviews and recommendations of products. In addition, influencers and buyers can share their purchases with their friends and followers, ask queries about the products, answer questions, etc.
7 Reasons to use social commerce for your ecommerce brand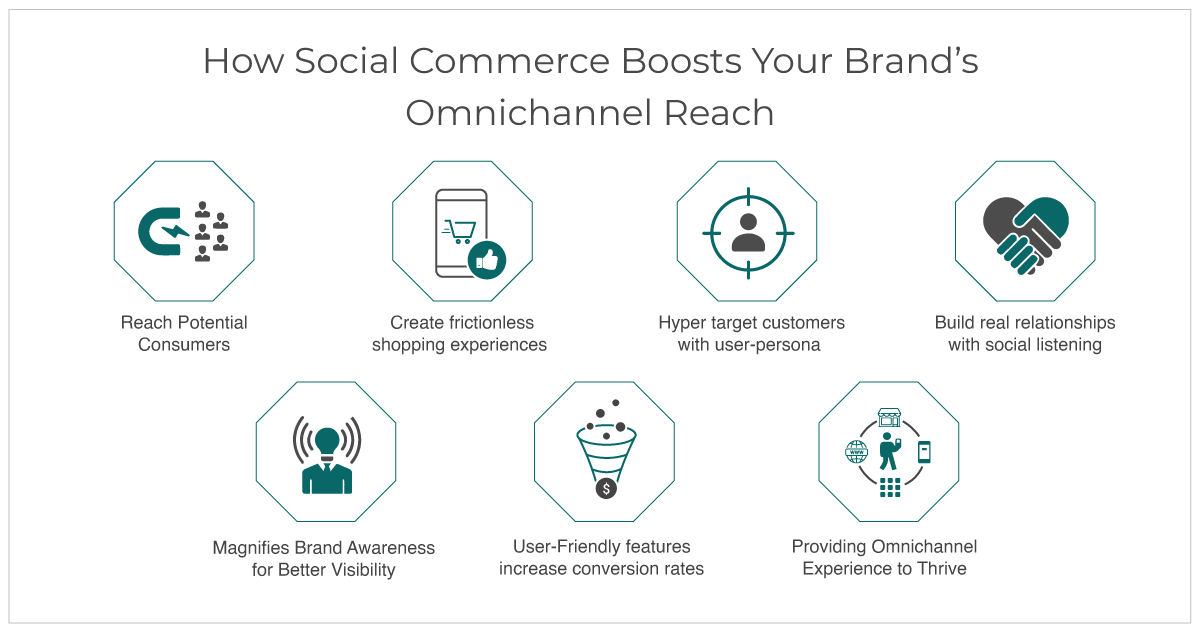 Social commerce offers you exciting shopping opportunities right on the digital platforms that your audiences most prefer. And shouldn't you be taking advantage of it? If you are still not convinced, here are the top 7 reasons why social commerce is worth a shot.
1. Reach potential consumers
Social media has made shopping more fun and interactive. It now accounts for social commerce and much more than just socializing with friends and family. Consumers engage in various actions like seeking inspiration from people and brands, posting reviews, and directly messaging brands for purchase. As more and more consumers join social media sites around the world, businesses using social commerce are paving the way for their growth by making their brand more accessible to all.
2. Create frictionless shopping experiences
Nowadays, consumers are shopping in more locations than ever. They have many sites to choose from-whether online or offline before making their purchase. An omnichannel retail strategy that includes social media enables real interaction. It allows your buyers to shop across any medium anywhere and at any time. This results in a unique, complete and seamless shopping experience for your customers that breaks down the barriers between channels.
3. Hyper target customers with user-persona
Social commerce enables brands to reach target audiences based on the staggering wealth of customer data. It lets brands tap into consumers' behavior and places the products right in front of their eyes where they will ultimately purchase them. Social monitoring and listening allow you to tap into what your audience is interested in, possibly revealing shared interests and concerns you wouldn't have associated with your target market. Hence, developing user persona through social commerce can help you target different buyers.
4. Build real relationships with social listening
When you develop an omnichannel marketing strategy, you can't ignore social media channels. Brands that engage with consumers on social media channels enjoy higher loyalty rates because customers like to know that you have a voice as a brand.
Social media allows you to see how someone is talking about your brand and customer experience. It is a vital part of the omnichannel customer experience and enables brands to offer incredible customer service.
5. Magnifies brand awareness for better visibility
Social media has become the most direct form of communication for the digital generation. This means that it should be a part of your omnichannel experience as it will help you improve your brand's visibility. As many people talk about a brand, it reaches a wider audience, creating brand awareness and raising its social presence.
6. User-friendly features increase conversion rates
90% of social media users access these platforms via mobile devices. Social commerce user-friendly features have made it the most popular choice for shopping. Consumers can easily discover the brands by searching for product-related keywords, add them to their cart, and buy them with a single click. Social media makes shopping a social experience by tapping into the consumers' behaviours without interfering with their social activities.
7. Providing omnichannel experience to thrive
A retail omnichannel strategy is essential for increasing your physical and online sales, building relationships with the customers, establishing your brand, and increasing the customer's share of spending. For instance, you can announce your latest sales on social media and ask consumers to check your physical stores. Similarly, you can invite buyers to follow your social accounts when they purchase from your retail stores. This helps in improving reciprocity when engaging with a customer.
How StoreHippo helps leverage social commerce for your brand's success
Easy social media integration
StoreHippo aids in social media integration where you can create a brand page and interact with your customers. Businesses can benefit from social commerce when they add social media buttons to their online store. Most of StoreHippo's themes come up with a feature to display the social media links. Our inbuilt social media plug-ins help you share your content or products to get the maximum mileage and wider reach.
Analytics to understand user persona
StoreHippo enables you to integrate analytics tools such as Google Analytics and Google Search that help you understand your customer needs. For an omnichannel experience, you can even personalize the content that is relevant to your buyer. The inbuilt social media plug-in blog posts can also help you share the content.
The mobile social commerce solutions
StoreHippo's mobile-first technology builds PWA ecommerce websites that just look, feel and work like apps on all devices, i.e., mobiles and desktops. You can easily leverage social commerce through your website, or PWA or mobile app that can be used to share your products and content across various social media channels.
Headless commerce architecture
StoreHippo offers more than 300+APIs for higher and faster conversions. Thus, it ensures that customers receive a seamless buying experience on all social media channels. Battle-tested solutions and headless commerce solutions enable brands to move quickly ahead to sell omnichannel across multiple customer touchpoints.
Conclusion
Once you embrace social commerce, your customers will notice that you take social media seriously. It won't be long before the results will show with your continuous efforts. You can have loyal customers that can increase your sales and profits. And what's more, satisfying customers will be your brand's biggest promoters.
You can't talk about giving your customer an omnichannel experience unless you don't include social media interaction. Start your free trial with StoreHippo to deliver an amazing customer experience and reap profits.