Are you planning to launch your enterprise marketplace?
Juggling your choice of marketplace software but not able to zero in on the best one for your brand?
Need advanced marketplace software that can be tailored to your brand's unique needs?
Let's make the task easier for you by doing some reverse engineering. So let us first define the goals and then find the means, i.e; the best marketplace software to help you get started.
We know that the marketplace model comes with a host of benefits and is a virtual goldmine for all the parties involved. Here are a few trends that further highlight the growing popularity of the marketplace set up: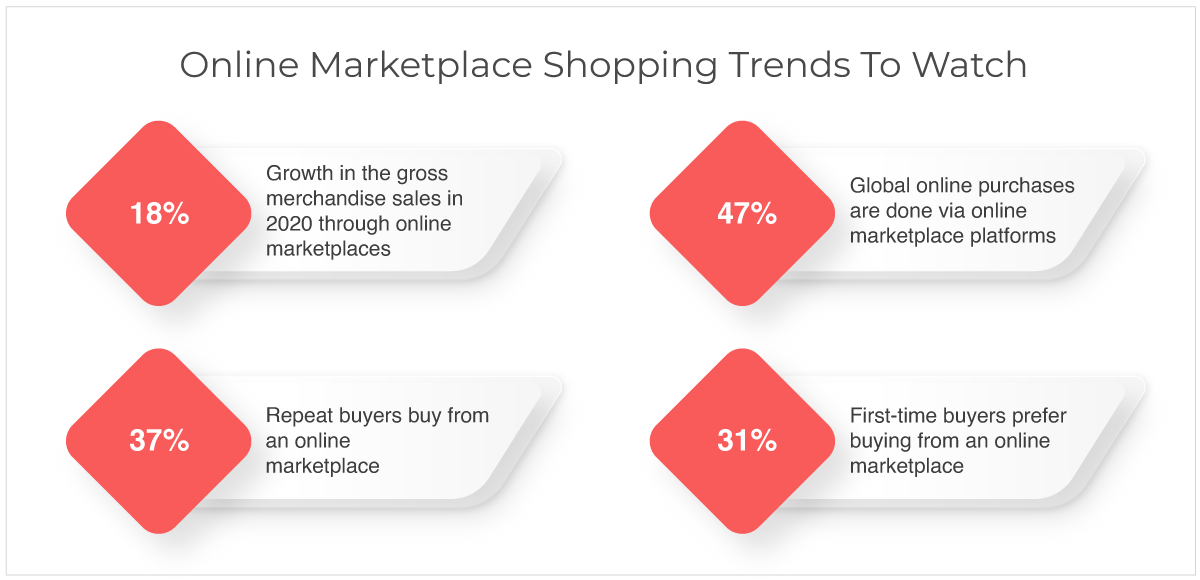 18% growth in the gross merchandise sales in 2020 through online marketplaces

47% of global online purchases are done via online marketplace platforms

37% of repeat buyers buy from an online marketplace

31% of the first-time buyers prefer buying from an online marketplace
Clearly, online marketplaces are loved by the buyers. Reason enough to consider the business model.
But that's not all. Here is why brands are increasingly opting for a marketplace portal for their business. Building a marketplace website helps enterprise brands;
Create a niche brand by onboarding the best vendors on your marketplace

Create multiple revenue streams without investing in inventory

Experiment with hybrid business models for disruptive growth

Build a scalable business model for quick growth

Easily diversify to new product/industry verticals
Well, with the goals clearly lined up, you now just need to find a marketplace website builder that helps you achieve these. Before we go into checking out the features let's first understand what an enterprise marketplace builder comprises.
An enterprise marketplace software is an advanced ecommerce platform enabling large enterprise brands to sell their products or services to their customers. The enterprise ecommerce platform is different from regular marketplace solutions in ways that they are designed to handle the complex and unique requirements of high-volumne businesses.
The enterprise ecommerce platform comes with advanced ecommerce features to make innovative, custom marketplaces for B2B, B2C or hybrid business models. With the right enterprise marketplace software brands can experiment with various business models and create disruptive enterprise marketplaces. To do so, marketplace software should be easily customizable, agile and support a variety of business models like multi store solutions, multilingual websites, hyperlocal ecommerce features etc.
StoreHippo is an inherently scalable, fully hosted and managed enterprise marketplace platform that offers comprehensive enterprise-grade features for building big marketplaces with a large vendor/dealer network. StoreHippo can easily manage the complexities of large businesses allowing them to reach and grow in new markets.
Building, managing and growing a large marketplace is no mean feat. It takes a host of advanced features and tools to build a successful enterprise marketplace. To build, run, grow and stay ahead of the competition, enterprise brands need to be future-ready with futuristic features in their enterprise marketplace software.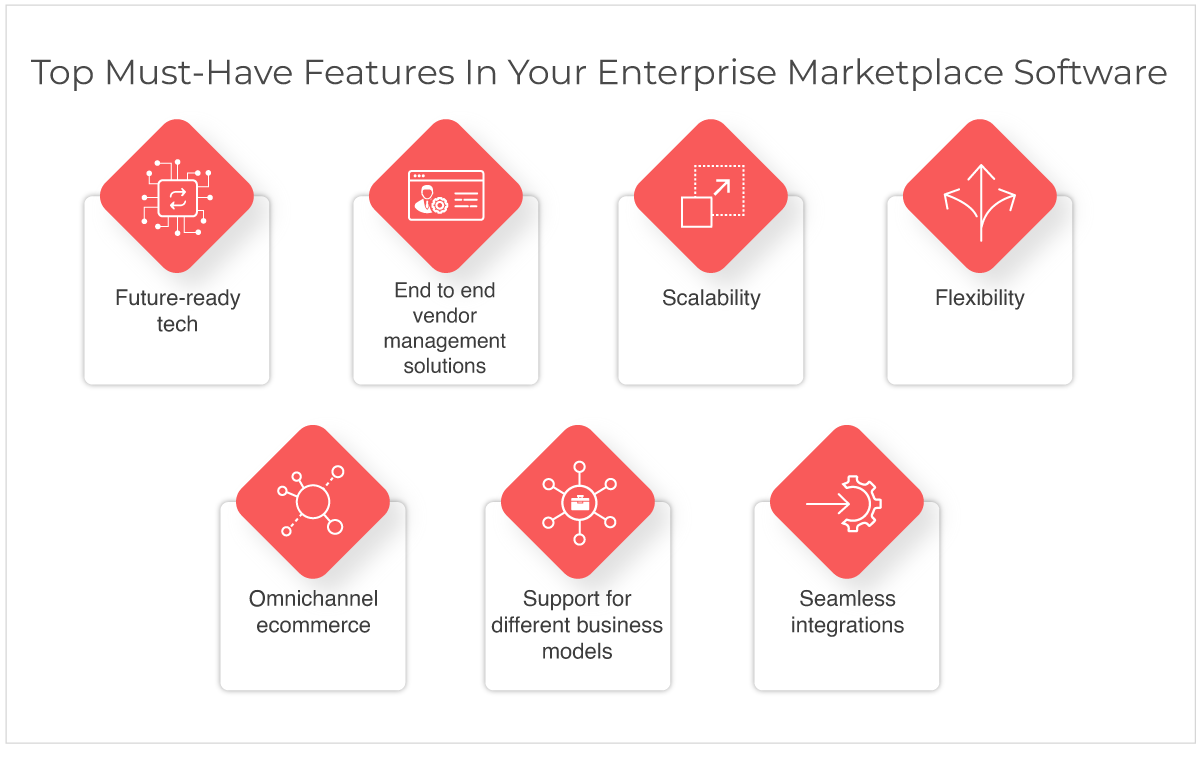 Here is a list of 7 must-have features in your enterprise marketplace software
Well there's no denying the fact that two enterprise businesses never have similar requirements. Given the current market scenario, businesses need to remain agile and customer centric. To build innovative marketplace solutions attuned to the dynamic market trends, enterprise brands need greater creative controls and cutting-edge technology solutions that help them design tailored solutions.
Brands need next-gen technologies that future-proof their business and offer 360-degree enterprise marketplace solutions to run and grow the business in a hassle free manner.
StoreHippo is an advanced multi seller solution provider powered by next-gen MEAN (MongoDB, ExpressJS, AngularJS and NodeJS) stack and SPA (Single Page Application), that helps build cutting-edge ecommerce solutions for businesses of every scale and size. Built on the powerful MACH architecture, StoreHippo enables enterprise brands to experiment, innovate and scale without compromising on performance. With the decoupled headless commerce solutions, brands can easily create highly personalised buyer journeys and go for targeted marketing for faster growth.
With a vast vendor/dealer network for their online marketplace, it can be a daunting task for enterprise brands to manage their vendors, their products and calatlogs, orders etc. In such cases, enterprise businesses need a marketplace solution that offers automated solutions and an easy to use vendor management module that streamlines day-to-day business processes and operations.
StoreHippo offers a comprehensive admin dashboard that reflects the overview of everyday business activities and vendor performance. Admin can access the fine details of the business like vendor-specific sales, revenue, best-selling products, etc. from the admin dashboard of their marketplace website. The marketplace admin also has the power to add, approve or reject vendors and their products, view complete vendor details, calculate his commission and payouts, and analyze performance of the vendor, online store and traffic.
Is your brand able to offer a seamless buying experience to the buyers even when it scales up to millions of customers and thousands of products? Many enterprise businesses tend to ignore the speed and scalability of their site whilst dealing with high volume of products, users, customers and orders. Scalability and performance should always go hand in hand and your marketplace website builder should be designed to offer top-notch speed even if your brand scales up astronomically. This is one of the most important features to look for in your marketplace software.
StoreHippo comes to your rescue with its secure and inherently scalable cloud-native infrastructure. It supports the growth of enterprise brands and helps them plan growth strategies without worrying whether the marketplace platform will be able to accommodate their growth or not. The elastic scalability of the cloud-native infrastructure along with auto-provisioning of servers ensures that enterprise brands need not worry about peak load tolerance or growing exponentially.
Choosing a flexible ecommerce platform is the ultimate shortcut to your business growth. A flexible platform helps your enterprise marketplace to adapt quickly to the dynamic market and customer requirements. Rigid platforms that fail to offer quick and easy customizations can be the biggest deterrent in your enterprise brand's growth. To race ahead of competition your brand needs to be equipped with tools and features that make customizations a breeze.
StoreHippo multi vendor ecommerce platform can be completely moulded to fit the unique needs of your business and make your disruptive business ideas a reality. Unlike some of the major ecommerce platforms that can be only limited to front-end changes, StoreHippo platform can be tweaked in and out. StoreHippo comes with built-in entities which can be extended or customized to suit the unique flows and requirements of enterprise brands. With the ease of tweaking the frontend as well as the backend, building a future-ready enterprise marketplace becomes a reality for brands. Brands can also add different flows to grow their revenue streams.
Did you know that 90% of the customers look for consistent omnichannel interactions with enterprise brands. If you have not yet implemented omnichannel enterprise ecommerce solutions to target, engage, and convert your customers.Now is the time to get started. With customers looking forward to a brand presence across their favourite channels, going omnichannel is the fastest route to better customer engagement and boosting your conversions manifold. Building an omnichannel presence also gives your enterprise marketplace a modern appeal. So your marketplace software should come with built-in omnichannel solutions to help you leverage multiple sales channels for business growth.
StoreHippo offers native omnichannel solutions for the multi channel needs of your brand. The omnichannel solution helps enterprise marketplaces offer personalized customer experience on channels your customers love to shop on. With omnichannel solutions at hand, brands can target product-market mixes for increased customer engagement and build a loyal customer base. StoreHippo omnichannel solutions enable the enterprise brands to :
Quickly add new customer touch points using the same backend logic and APIs

Create consistent buyer experiences across all channels

Centrally control all the sales channels

Get better customer insight on multiple channels

Build data-driven strategies for growth by analyzing data from different channels
With the omnichannel solutions from StoreHippo, you can set your online marketplace to race ahead of your competition.
Enterprise brands often feel the need to scale or diversify to hybrid business models as their business grows. Also, businesses that start digital native or offline , eventually like to create their phygital presence. To be able to shift from one model to another, it is important to build the business on an ecommerce platform that supports multiple business models like B2B, D2C, B2B, B2B2C and custom hybrid business models.
The fully hosted and managed enterprise ecommerce platform, StoreHippo comes with inbuilt support for diverse businness models. It also comes with battle-tested solutions to help enterprise marketplace brands go to the market in record time. The inherent flexibility and scalability offered by StoreHippo make it easy for enterprise brands to pivot to new business models easily or combine two or more models to create a hybrid business model. With the plug-and-play solutions from SroreHippo, brands do not require any additional apps or extensions to build hybrid solutions for their unique business needs.
To handle the complex ecommerce business ecosystem, enterprise businesses need a variety of third party tools and softwares. Using the best-in-breed software enterprise brands can create their very own unique ecommerce system that makes their processes faster, streamlined and efficient. Marketplace websites that use integrated services and software are better positioned to explore new growth opportunites and leverage data-driven insights for business growth. Many software solutions also help in improving customer engagement, shortening sales processes and reducing manual errors.
StoreHippo offers seamless integrations with your choice of software to build innovative solutions using headless APIs. Enterprise brands can manage their business with hassle-free and quick integration of softwares like CRM, ERP, accounting, and so on. You can integrate with multiple delivery partners, payment channels, chatbots, live chat etc. StoreHippo comes with 120+ built in integrations and integrates easily with the preferred software and service providers of enterprise marketplace brands. With its integrated logistics and payment gateways StoreHippo makes it easier for brands to implement faster checkouts and streamlined fulfilment.
With the ever-changing dynamics of the ecommerce world, it is imperative to have a future-ready ecommerce technology partner for your enterprise marketplace brand's success. The features listed above can help enterprise brands build a marketplace portal that enables their brand to create a niche.
StoreHippo is a one-stop solution for all the needs of your enterprise brand providing a winning edge over the competition. It offers comprehensive multi vendor solutions to build a variety of marketplace websites for businesses of every scale and size. With 300+ inbuilt features and 120+ built-in integrations brands can go for extensive experimentation to set their business apart from the competitors. The future-ready technology does not only help build an online marketplace but also helps run the B2B or B2C businesses successfully. StoreHippo ecommerce solutions offers 360-degree solutions that include product and order management, marketing tools, pre-integrated logistic solutions, payment gateways, and go-global features for seamless international businesses.
Ready to chart the success story for your enterprise brand? Start your 14-day free trial now and explore all the features you can have in your enterprise marketplace software.