Are you an online enterprise brand looking for ways to increase your customer engagement? Why not start with online chat support? If you are ambiguous about adding this option to your website, consider this scenario:
Imagine you check into a store to buy a mobile, but various product specifications confuse you. You take the help of a shop assistant to resolve your queries. Finally, you make a purchase with their proactive assistance and leave the shop with a positive experience.
Now consider the same scenario in an online world as live chat works in the same manner. Once a user visits your website, the online chats act like a sales representative who invites the customer to connect anytime they need help.
Meaningful conversations and helpful responses from live agents provide customer satisfaction and boost your sales. In addition, chat support establishes customers loyalty and website credibility.
Read on to know more about how online chat can prove advantageous for enterprise brands.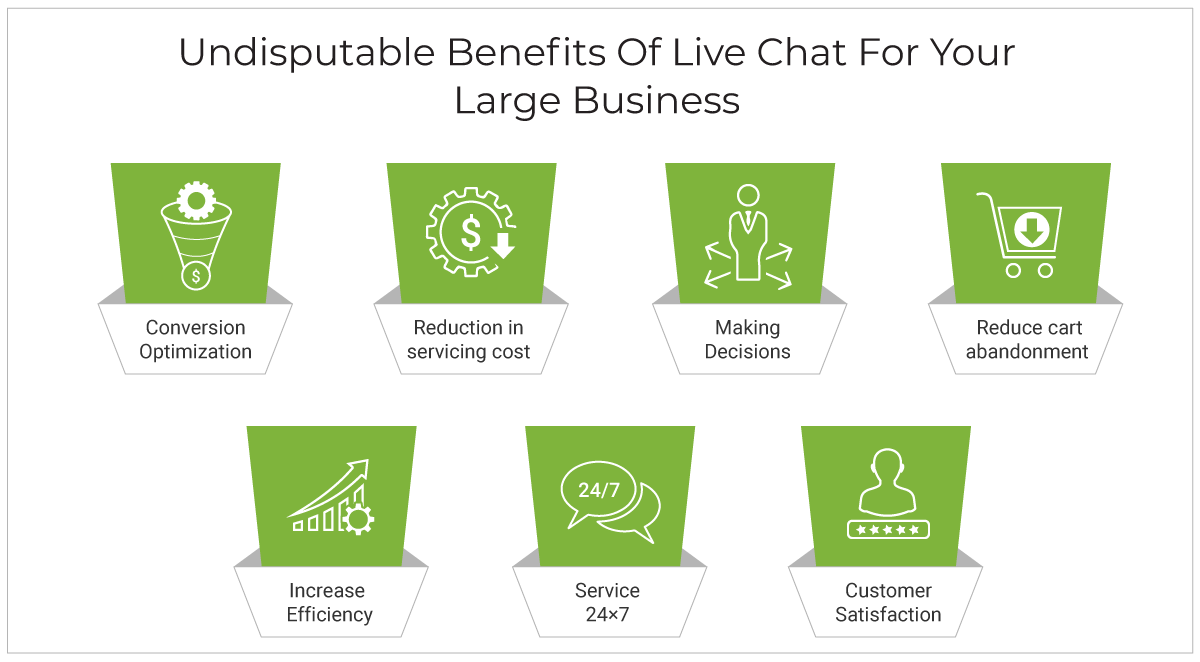 Benefits of live chat for online businesses
1. Conversion optimization
Did you know that websites with chat features are more likely to convert visitors into customers?
Let's see some of the statistics here:
73% of customers think that live chat is one of the most satisfying ways of communicating with a business

63% of users are more likely to return to a website that provides online chat

With a customer satisfaction rate of 92%, chat support generates more leads than email, social media support, and phone
From the data above, we can imply that although shoppers are buying online, customers still prefer someone available for their questions and to assist them with their purchases.
2. Reduction in servicing cost
Online enterprise brands should incorporate online chats as part of their price reduction strategy. Chats are cheaper than phone support as it is cloud-based, and you only have to pay a subscription fee. The phone, on the other hand, requires a higher investment up-front and regular maintenance costs.
In addition, businesses can hire fewer agents because chat agents have the unique advantage of multitasking while serving customers. Thus, the cost per interaction is also lower with chat support.
Also, online chat quicker response time means that visitors do not need to wait for hours or even days for a reply. Quicker problem resolution time consequently leads to higher customer satisfaction for successful enterprise businesses.
Implementing online chat is also easier and simpler. With the right business solution provider, you can easily integrate chat support into your website.
3. Helps your customer in making decisions
When you build an online store with chat support, you offer personalized customer service to your customers to help them make decisions. Many times, customers who like to use chat are either considering making a purchase or are in the process of making a purchase.
Have you seen how Amazon or Myntra have made it easy to interact with their customers? Their chatbots or live support can interact with multiple customers at a time and advise them to make decisions.
When an enterprise makes chat support available on its website, it builds a rapport with its customers. With increased customer engagement, there is a likelihood of conversion and a reason for them to stick around. A simple answer from the agent can mean the difference between a sale and a bounce.
4. Reduce cart abandonment
Cart abandonment is one of the challenges faced by online businesses.
In March 2020, 88% percent of online shoppers abandoned their shopping cart, i.e., they did not make a purchase.
Discount Coupon not working? Higher Shipping rates? Complex checkout?
Whatever the reason, customers do not hesitate to abandon their put-out order. When customers feel that they have to comb information through the website themselves, they give their cart a left swipe.
When online brands build an online store with chat support, they take away the customer's uncertainty. By a good placement of an online chat button inside the shopping cart and answering questions, businesses can prevent customers from discarding their purchases.
Using proactive chat, online enterprise brands can directly reach out to their customers who are facing technical issues or are undecided about their purchases. Chat support can solve their problem or encourage them with additional information or incentives.
5. Increase the efficiency of the team
We have discussed how live chat offers support to businesses and customers. But how do your personnel feel about it?
Customer service is a stressful and demanding job, especially if you deal with angry customers all day. Chat agents can increase their responsiveness with canned messages. The agents can focus on a more interesting and demanding task, while the chatbots can aid in the repetitive parts of the support process.
For online enterprise brands, happy employees equal happy customers. Happy staff put the company's best face forward. Embedded chat support is a more natural, fun, informal communication channel. The chat agents can receive instant feedback on the services provided by them. It is heartening for staff to see that they are making a difference to a customer.
6. Automate service 24×7 with AI chatbots
"Hey, where's my order?"
"Do you provide health care services near my area?"
There are a lot of questions your customers want to ask. Chatbots are perfect for answering frequently asked questions. In addition, when a live agent isn't available, the AI chatbot can provide its services to solve an issue.
Consider this data:
87% of people were satisfied with live chats fully managed by chatbots

85% of people were satisfied by a chat transferred to a live support agent
These results show that respondents prefer speaking with chatbots if they get answers to their queries quickly.
Whether you are a B2B or B2C business, it's a double win for you too. Chats help you engage, retain and convert better and you also save additional costs. Properly targeted automated messages create the best first impression of your services or products.
7. Enhance customer satisfaction
83% is the average customer satisfaction rating for the usage of live chat globally in 2019.
This isn't surprising since online chat is instrumental in addressing customer pain points.
Most people do not want to talk to or email an agent. However, customers love the anonymity chat offers to them. You can just ask any query without giving your name, address, or phone number.
Since many chats offer features like file sharing and media support, your customers feel empowered to express themselves in any form they like. For example, instead of explaining what colour they would like, they can click a photo and send it to the agent.
People love to communicate in real-time and get an answer quickly. So, when an online enterprise answers their questions directly, they are likely to see it as a positive experience and come back. When users share their positive experiences with others, it can even generate word-of-mouth publicity for big brands and help them get more customers.
How StoreHippo makes it easy for you to add live chat to your online store
When you build an online store with StoreHippo, you can easily add chat integrations to your website. As a result, you can create an excellent support experience for your customers. With the help of chat support, you can solve customer problems proactively and anticipate their questions and respond faster.
StoreHippo offers multiple live chat integrations and allows brands to use a personalized buyer journey for omnichannel retail. You can keep track of all your customers. See who is buying what and then choose the best approach to turn a visitor into a customer.
When you build an online store with StoreHippo, it enables you to add a chat service to your store. With the help of startup widgets, you can integrate the chat provider into your store. Here are lists of some options from StoreHippo:
However, before integrating an online chat feature into your store, you need to get the widget code and add it to the startup widget section of the admin panel.
Multiple chat options offer different solutions. You can add any custom chat support of your choice. For instance, you can integrate an all-in-one business messenger that enables the enterprise to talk to their customers via online chat, phone, email, or social media. In addition, businesses can select any chat solutions for stores, mobile apps, or other customer touchpoints.
Conclusion
The new-age customers are getting more and more comfortable with chat support features. And not only do they like it, they expect it too.
Beyond conversion optimization, improving customer experience, increasing team productivity, reduced servicing cost- live chat will lead you to greater success as part of your customer support plan.
Therefore, if you want to gain an added advantage over competitors and gain more business in the process, you should implement chat support on your website.
StoreHippo offers you live chat integrations in their e-commerce solution. You can choose from either of the chat options offered, depending on your business requirements. It offers an exemplary and exclusive range of e-commerce business solutions that contribute to amazing customer experiences, helping you stand out from the competition.
Check out how easy it is to build an online store with StoreHippo and adding live chat to it by starting your free trial right away.