Do you want to acquire new D2C buyers and encourage existing customers to buy more?
Do you know which D2C marketing technique is implemented by every profit-making D2C brand?
Any guesses?
How about a hint?
Well, this is one thing we all wait for during the holiday season and festivals to shop limitlessly.
We are talking about DISCOUNTS.
Discounts can be in any format— it can be free deliveries, price drops, coupon codes, free gifts, cashback, scratch cards and many others. Beyond this, discounts are heavily used by D2C ecommerce giants like Mamaearth, Nike, Casper, bOAT, and Warby Parker, to ignite their sales and move their unsold inventory.
Let's see how customers respond to discounts and offers:

76% of customers want personalized offers based on their purchase history.

30% higher order value is noticed for orders with free shipping.

93% of consumers will buy more if free shipping options are available.

52% shoppers have added items to their ecommerce shopping cart to qualify for free shipping.

5% boost in customer retention when buyers given gift cards.
Source: Invespcro
The stats make it crystal clear that discounts engage and nudge customers towards buying more and buying often.
Exclusive products and better prices always bring buyers to direct to customer brand portals. However, customers are always delighted and tend to stay loyal to brands that offer them something above and beyond this.
Here are the top 5 things that motivate buyers to shop online:
Free delivery

Coupons and discounts

Next day delivery

Loyalty points

Easy returns
Takeaways: As you see, discounts and other related rewards are the top motivators for customers willing to shop and spend dollars.
Promotions are a double-edged sword. If done right they can boost sales, engage buyers and keep them loyal to your brand. If done without proper planning, careful calculations and data-driven insights they can boomerang and wash away your D2C brand's profits.
To help you maximize your promotions ROI, we bring for you 7 tried-and-tested discount strategies. Here they go;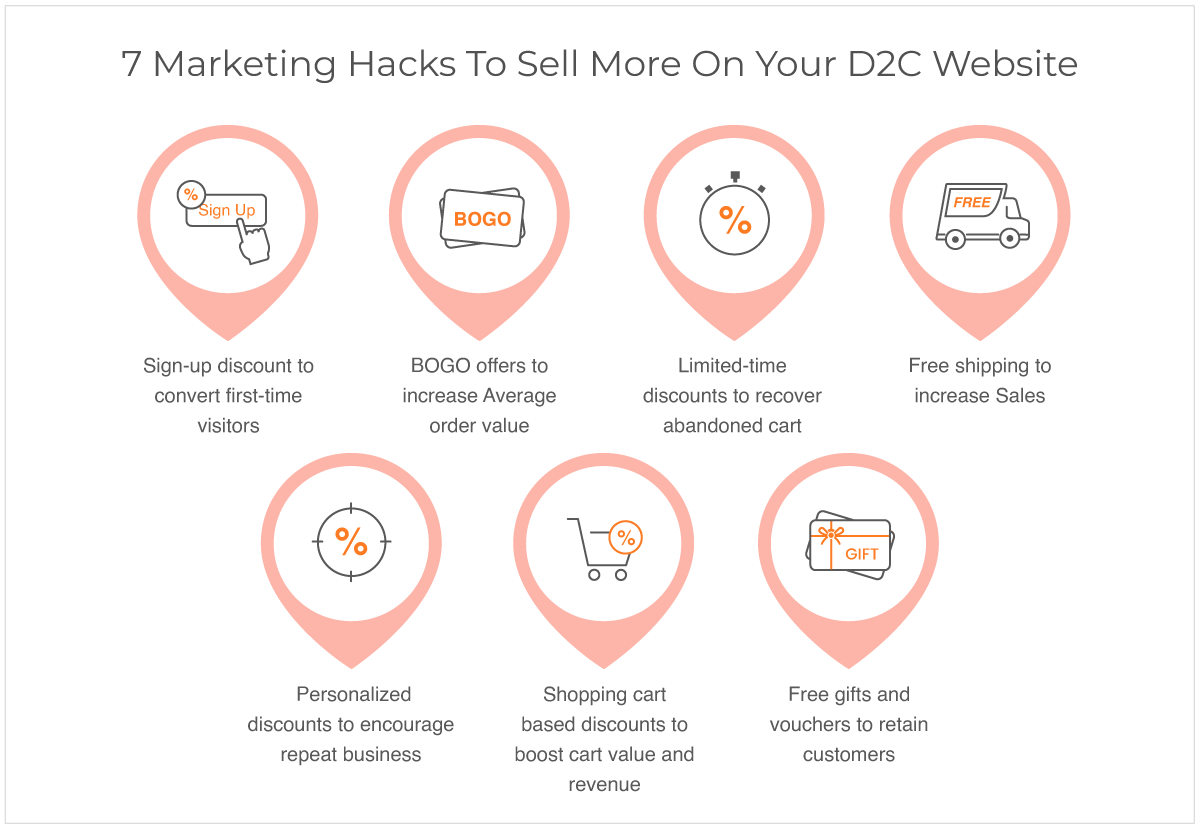 Do you ever feel the urge to make purchases as a first-time visitor? Well, it must be a NO until you find anything at a discounted price or at a clearance sale.
Right? your D2C buyers think the same way.
Therefore, you need to nudge them in the right direction. Offering up a small discount in exchange for their email addresses could open up potential avenues for D2C marketing.
$10 OFF on first order + Free delivery when you sign-up

Get guaranteed 20$ coupon, sign-up today

Get unlimited discounts! Sign-up Now!
Conclusion: Offering small rewards for something as simple as sign up, ensures quite a few impulse purchases. This simple hack not only gets you more orders but also helps you build your subscribers list.
BOGO offers (buy one get one) are used to persuade buyers to believe that they are getting additional rewards for buying an item/items. BOGO is an effective D2C marketing trick to maintain profit levels as they rarely cost anything. In fact, they're designed to increase revenue.
For example, let's say you pay $3 for a product that you sell for $10. If you offer a 50% discount, you'd be making $2 from selling just one at the discounted price. But if you give a BOGO offer, for example — Buy 2 products, get another one at half price. Good deal? Let's make it more sweeter by adding a twist — Buy 2 products, get 20% off on total MRP + free deliveries.
Buy One, Get One Free

Buy One, Get 50% Off the Next Item

Buy one from category A[E.g Shoes] and get another from category B [E.g Socks] for free

Buy one and get free samples

Buy three for the price of two
Conclusion: Psychologically, people love quantity. If given a choice, their inclination will be more towards 2 products(at a deal) than buying single at no discount. So BOGOs are your way of multiplying sales.
Abandoned cart customers are pure gold. They had a purchase intent but they somehow didn't checkout. But, they still have not dropped the idea.
How about pitching to them with difficult-to-resist offers while they still are contemplating " to buy or not to buy". Wonder how to engage and convert them?
How about trying limited time discounts? Such D2C marketing discounts evoke a sense of emergency in the buyer's mind, creating an impression that if they miss out now, it's never going to come back.
Pro tip: Including a countdown timer in your emails and on websites to create a sense of urgency that times are running out.
Complete order in 15 minutes, get 15% off

Place ORDER within 2 hours, claim FREE goodies

20% on your cart, only for today (reduce abandonment)

30-50% off sitewide sales, valid only on Black Friday

Last day! 30% off on everything
Conclusion: Offers are amazing but if you couple them with a time sensitive alert, it can tickle a FOMO in your customer's brain — motivating them to buy immediately. So employ this technique to maximize your profits.
9 out of 10 customers say free shipping is the top incentive when buying online. To offer free shipping in a creative way and make them work, you first need three D2C marketing strategies — email campaigns + website pop-ups + SMS marketing. These strategies allow you to inform customers about the free shipping.
(i) Free shipping when you buy 2+ items (Quantity of Items)
Add a minimum item purchase threshold for customers to avail free shipping.
Example:
Get free deliveries on orders above $50.

Add one more item to be eligible for free shipping
(ii) Free shipping to (select country, city)
If you have a limited budget or want to attract more traffic from a particular location, try offering country-specific or city-specific free delivery.
Example:
Free delivery all over India! Happy Independence Day!

Free Shipping in USA/Canada on all orders over $35
(iii) Free shipping on all orders for limited-time
This D2C marketing strategy motivates your customers to immediately purchase items which have been in their carts or wishlist for days.
Example:
Last Chance! Free shipping on all orders ends today

3 Days Left! Get free shipping on all orders

Why pay for shipping! It's free for 2 days
Conclusion: As customers have become more accustomed to Amazon's free deliveries, they now don't enjoy paying high shipping costs. Free shipping is a tested formula to bring back customers who otherwise hop away to competitor D2C brands or marketplaces.
For personalized offers to work, first uncover all major and minor details about your D2C customers' interests and habits. Based on the information collected, you can segregate your buyers into groups and craft personalized discounts and coupons. To get your discount noticed quickly, you may use Facebook and Google Ads to retarget customers and incentivize them to return for a purchase.
10% Extra Discount For Members Only!

Get a Special Gift On Your Next 2 Order, Act Now!

Save 10$, Complete Checkout Now

20$ Credited To Your Store Wallet, Buy Now!

500 Shopping Points Worth $12 Credited, Redeem Today!

Happy Birthday! Treat Yourself With A Gift Coupon!
Conclusion: Catching your customer's attention in today's busy promotional world is not difficult, if you use personalization. Customers enjoy the feeling of being special, so use this behaviour to guide your personalization efforts.
Want to increase order value? Want to get rid of excess old stock? Want customers to regularly visit your ecommerce store? Start devising shopping cart-based D2C marketing discounts. Cart-based discounts encourage shoppers to increase their order value to a specific threshold to redeem a discount.
(i) By total order value
Example:
Get 15% off your purchase when you spend $150

Spend a minimum of $X on cart value, get free shipping
II. By total item quantity
Example: Save 10% on the total price by adding 2 bottles of multivitamins.
III. By item category
Example:
Save $10 by adding hiking shoes with your Backpack.

Buy 3 products and get 10% discount

Buy 2 products from the electronics category and get 20% discount
IV. By customer purchase history
Example: 20% OFF on Cart for Customers who shopped for $1000 for this month.
Conclusion: Cart-based discounts are proven to multiply sales when customers are muddled to make a purchase.
Getting a freebie with a purchase isn't perceived as a discount as such, but the customer is getting something for free which sweetens the deal. With hyper-targeted D2C marketing campaigns, offering personalized gift vouchers can drive your sales.
It is an advanced version of seasonal discounts. A customized coupon works best to make your customers feel special and excites them to buy more.
Add two face masks, get a free gift

Get free installation of the furniture

Shop for $1000+, get gift card worth $200

Get a free sample [of latest products] on every order
Conclusion: Gifts are free rewards that are used historically by brands to boost customer satisfaction, loyalty and future sales.
StoreHippo gives you complete D2C marketing capabilities to successfully implement the above D2C marketing discount techniques. With its advanced and powerful "discount engine" you can plan creative and lucrative promotions that boost your conversions.
Let's see how:
Give your D2C customer the ability to avail discount on their total order amount by applying percentage or order value based discounts. For example, 10% off on orders valuing more than $100.
Want to maximize D2C sales and revenue from a particular product/product category? Set unique product-specific discounts to make your products more lucrative and valuable to customers.
This type of discount is applied automatically when a product is added to the cart and customers complete the checkout. Further, you can allow discounts based on product quantities and types. For example — Flat $5 off on Apple iPhone.
Maximize your D2C orders from specific device users like mobile users via device-specific discounts. This is the best D2C marketing tactic to encourage buyers to download your mobile app and do mobile transactions. For example — Get an extra 5% off on purchasing via Mobile App.
Motivate a particular group of D2C customers interested in the same products (e.g headphones) to quickly close a purchase. For example — 5% off to all headphone buyers.
Power up your D2C marketing ROI by offering a discount on a particular seller/brand. This is a phenomenal technique to bring sellers under the limelight and give them much-deserved brand visibility.
Roll out limited-time discounts to reverse abandoned carts, re-engage inactive buyers, encourage interested customers(in a particular product) and boost orders on your D2C mobile apps and site. For example— 10$ off on [cart item/wishlist item], only for today!
Run flash sales using a variety of Coupon Codes. Use checkout stage Coupons to upsell and cross-sell for bigger ticket sizes. For example, add one more product to your cart to unlock your special coupon code.
Explore multiple types of discounts at product, order or cart level by combining various discount rules to cater to each customer profile.
Discounts can be a high return D2C marketing strategy for not only customer acquisition but also for customer loyalty. However, it's important to consider your overall brand strategy before you begin offering discounts. So make sure that you are able to maintain the profit margins while consistently measuring the effectiveness of discounts.
Attract new customers and leverage local markets.

Maximize profitability (e.g., cross-selling and up-selling).

Build a regular customers

Builds Solid customer relationships
Luckily, with unique discount creation tools in StoreHippo, these benefits are complementary. StoreHippo offers you spectacular D2C marketing tools and features, such as —a discount engine, coupon code generator, abandoned cart follow up, email marketing tools, SMS notifications, and push notifications — to launch an undefeatable discount strategy and attain extraordinary results.
So why wait? Get started with StoreHippo's 14-day free trial to explore our gamut of marketing and discounting tools.