The amazing growth and success of the multi-vendor websites across the globe has proven one thing beyond doubt;
Multi Vendor Marketplace is the model for ecommerce success!
If you are also planning to grow your ecommerce business, the multi vendor marketplace model is a promising business opportunity irrespective of your industry vertical.
Consider the following results of a study on multi vendor online websites;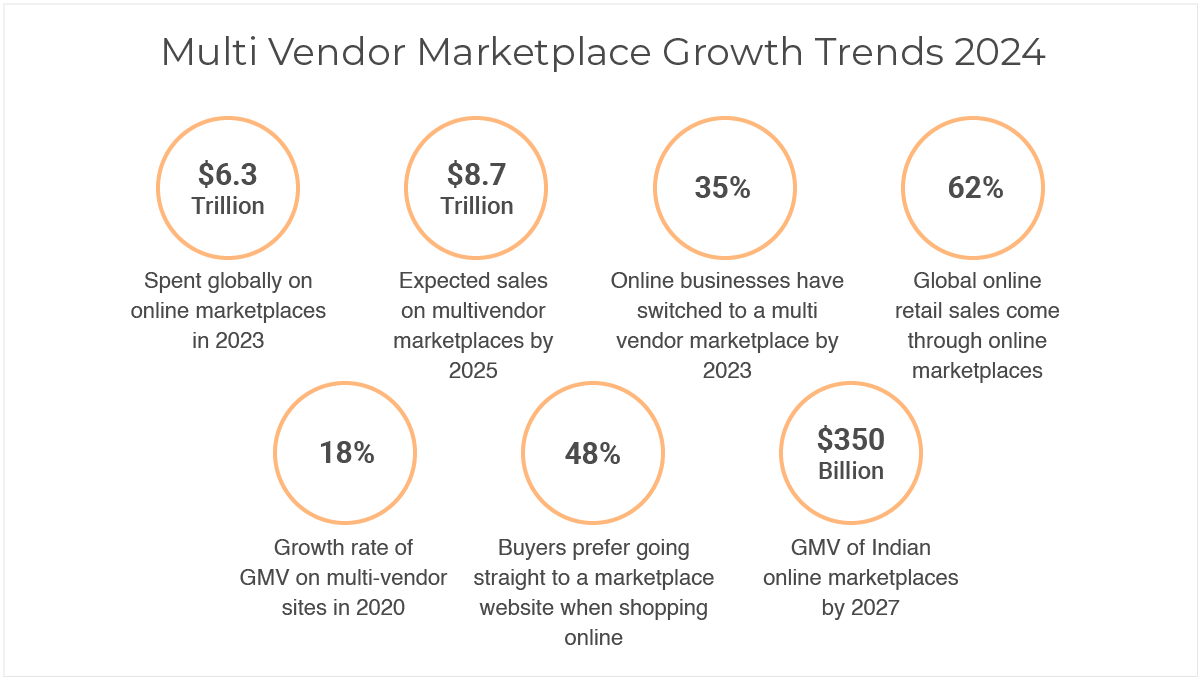 $6.3 trillion spent globally on online marketplaces in 2023

$8.7 trillion is the expected sales on multivendor marketplaces by 2025

35% of online businesses have switched to a

multi vendor

marketplace by 2023

62% of global online retail sales come through online marketplaces

18% is the growth rate of GMV on multi-vendor sites in 2020

48% buyers prefer going straight to a marketplace website when shopping online

$350 billion GMV of Indian online marketplaces by 2027
Source: Digital Commerce 360, Finextra, Bain & Co., Accel Partners
Driven by huge customer-demands multi vendor marketplaces are redefining the rules of ecommerce. The online multi-seller brands can easily scale up their business by adding more vendors who bring a wide range of products. By offering competitive pricing, good discounts, fast deliveries these multi-seller websites can easily draw more customers to their platform.
However, to build and manage the online marketplace you need to set up an ecommerce platform that is designed specifically for this purpose. It should offer full control to the admin(s) without compromising the ease of use for the vendors. After all, only when the admin+sellers work in tandem the multi vendor marketplace can be a success.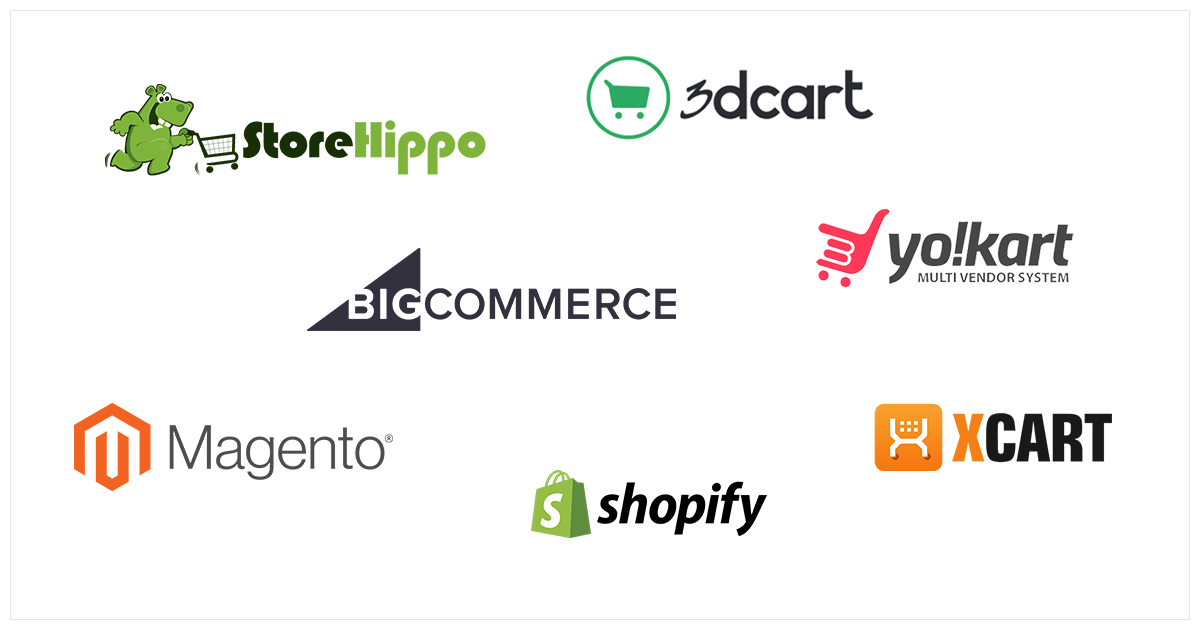 In this article, we present a detailed analysis of the must-have features in a marketplace script.
Also, we would review the top multi vendor marketplace platform:
StoreHippo

BigCommerce

Magento

Shopify

Shift4Shop

Yo!Kart

X-Cart
A Multi Vendor marketplace software is a special ecommerce application designed for building an online marketplace website where multiple vendors can come together to display and sell their products. On an online marketplace, sellers can have their unique seller sub-stores (micro-sites) or sell along with other sellers on the common marketplace website. Usually, multi-vendor solutions offer the provision of a separate vendor app where sellers can upload products, manage shipping, check payment status etc. and manage their complete business.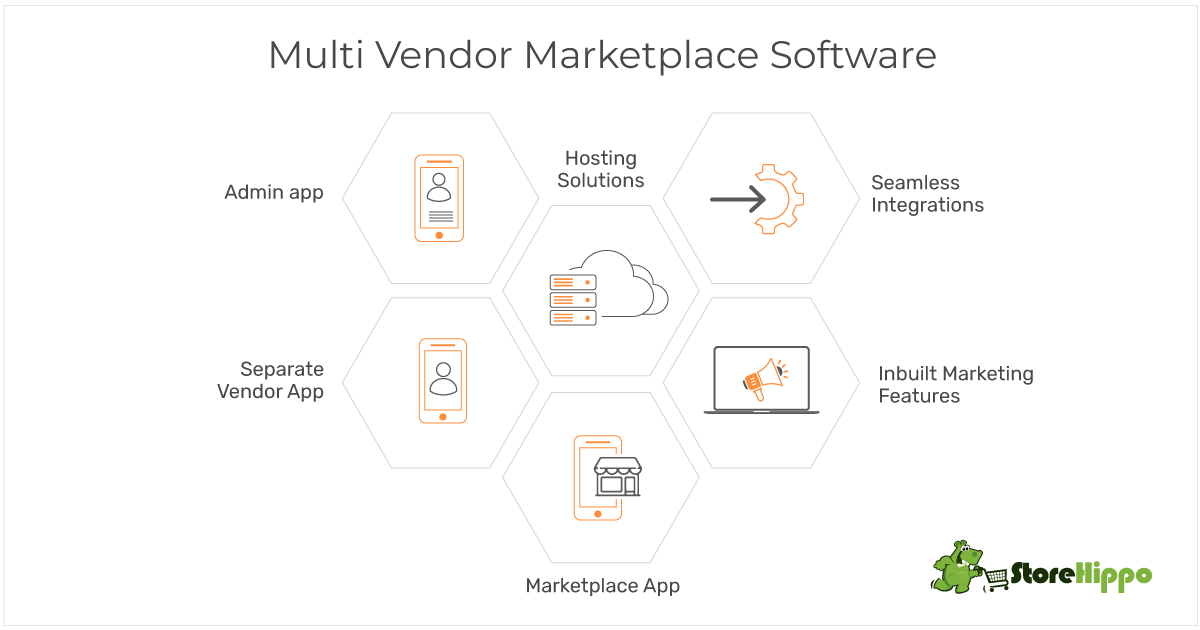 A well-rounded multi vendor marketplace software has a variety of modules and features like:
The Admin app
Separate Vendor App
Customer or Marketplace App
Hosting solutions (can be self-hosted or fully-hosted and managed)
Inbuilt marketing features for business growth
Seamless integrations with third-party software
Multi vendor ecommerce solutions are special ecommerce software designed for the ecommerce set-up where multiple sellers sell on the same platform. The customers can buy different products from various sellers in the same cart.
Alternatively, regular ecommerce solutions are single-seller ecommerce software wherein the business owner is the seller and customers buy the products directly from the brand.
A multi vendor marketplace platform has a more detailed set of features needed to manage the complex set-up.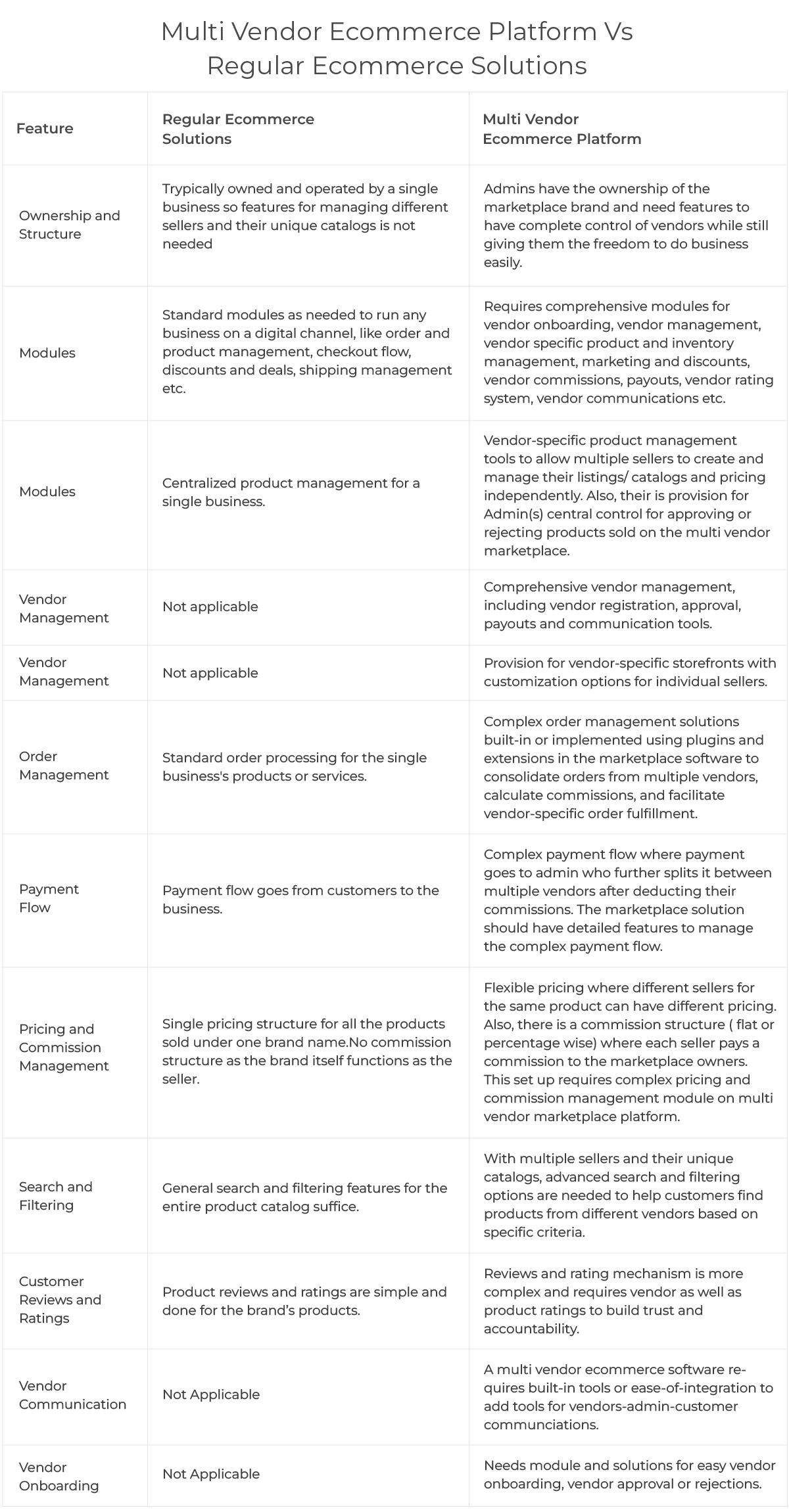 Choosing the right marketplace eCommerce software can have a far-reaching impact on your business growth and success. To be able to make an informed decision you need to understand the must-have features and tools needed in your marketplace script. While it is important to consider the requirements of the admin and the vendors, it is equally important to check for the features needed for the end customers.
These features can take care of a variety of scenarios related to the admin-vendor-customer relationship. Also, in general, these features and modules should be easy to use for the vendors as well as the admin.
Here, presenting a detailed list of must-have features in a multi vendor eCommerce software:
A successful marketplace can be built only when the admin is in complete control. Hence, the need to have the right features and tools to run the show. Here is a list of marketplace features that equip the admin(s) of a multi-vendor ecommerce store to run the business seamlessly: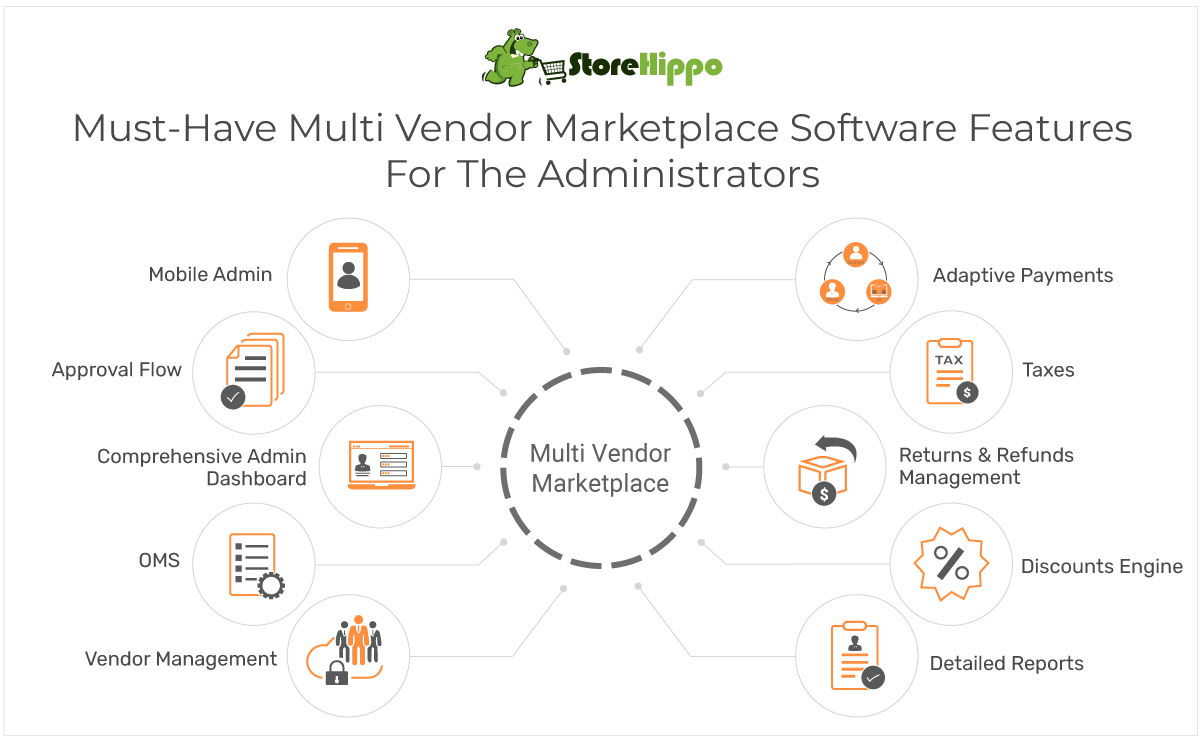 Comprehensive Admin Dashboard: A one-stop solution with a host of features to manage the business, vendors and end-to-end business.
Mobile Admin: A mobile admin app that gives freedom to run the business on the go.
Vendor Management: Complete control of all the vendor activities along with a detailed overview of vendor performance.
Approval Flow: A flexible approval system where the admin can check and approve or reject all the products uploaded on the multi vendor marketplace by different sellers.
OMS: Comprehensive order management system to manage the orders, inventory shipment etc for various vendors
Discounts Engine: Ease of setting different vendor, product category or order level discounts with a powerful discount and marketing module.
Taxes: Feature that enables the admin to easily set up multi-level taxes for different products, vendors or locations etc.
Adaptive Payments: A solution/feature that helps the admin to distribute the payments of a multi-product order between different vendors.
Returns and refunds management: So the admin can easily manage the returns and refunds of products for different vendors
Detailed reports: To give a complete overview of the multi vendor marketplace platform's performance, best selling vendors, products, geographies etc.
It is the vendors that help your marketplace scale up. Your vendors not only add new products to your multi-seller site but also help you reach new markets. Your marketplace solution should be well equipped to help your vendors, seller and distributors with easy registration as well as features to run their business smoothly.
Here is a list of features to look out for in your multi vendor marketplace platform: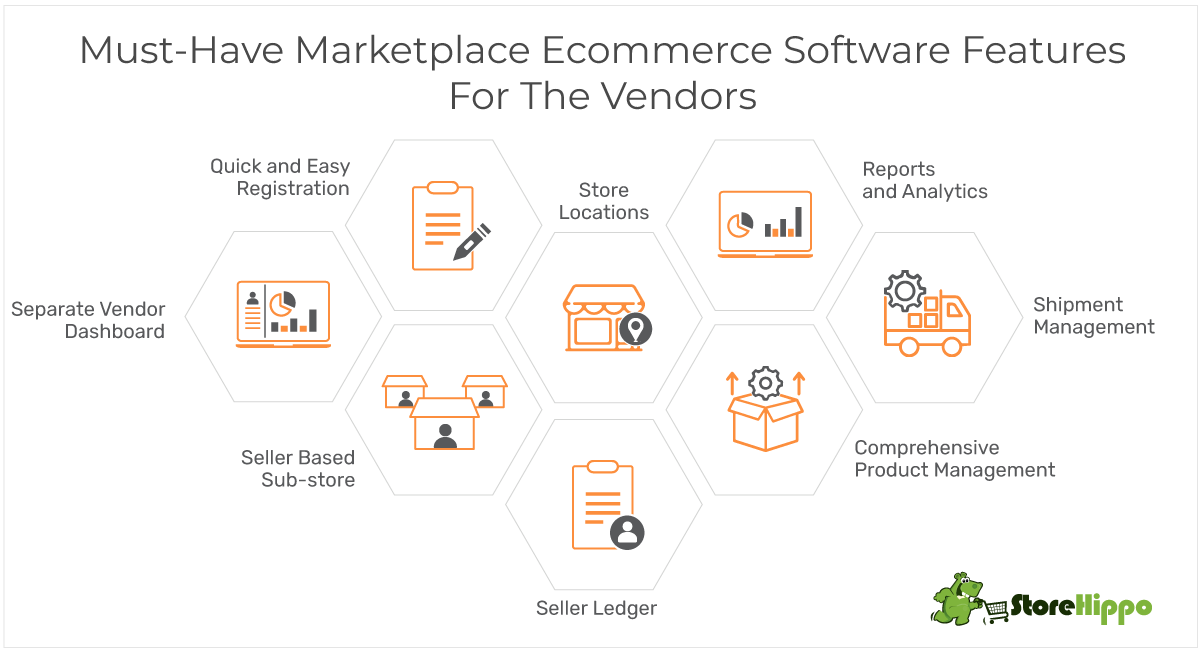 Quick and Easy Registration: The whole onboarding process should be easy and done within a few clicks. The vendors should be able to add all required documents and licences(where needed) easily and get quick approval.
Separate Vendor Dashboard: There should be a separate vendor app on your online marketplace that gives the vendors the freedom to add products and manage their orders.
Seller Based Sub-store: Unique microsites where sellers can display all of their products listed on your multi vendor marketplace.
Store-Locations: This specifies the physical location of the sellers' store. This feature helps in routing the orders to the nearest vendor and helps the vendors get more orders from their nearby areas.
Comprehensive Product Management: To make it easy for the sellers to manage their products, inventory, orders etc.
Seller Ledger: This module stores all the transactions of the sellers with all the entries of their credit and debit. This helps the vendors to have a transparent view of their commissions, payouts etc.
Shipments Management: It is essential for the sellers on your multi vendor marketplace to have an automated shipping module to manage their shipments, choose their preferred shipping partners, pickups, returns etc.
Reports and Analytics: Variety of reports to help the sellers get a sneak-peak into their best selling products, locations, orders, top customers etc.
While a multi-vendor ecommerce solution needs unique features for the administrator and the vendor, it should also offer features that make it easy for the customers to shop from the multi vendor marketplace.
To offer a memorable buying experience to your customers you need to offer features that engage, convert and retain them. Here are some of the must-have features to achieve this:
Seamless Buying: Fast-loading mobile-ready marketplace site that works seamlessly even on slow mobile networks and entry-level devices.
Easy Ordering Via Apps: Marketplace app so customers can order anytime, anywhere
Quick Search: Easy search and navigation for granular search and fast checkouts
Complete Product Details: 360-degree product view, detailed product information, FAQ etc. to make an informed decision
Vendor Comparison: Allows customers to make an informed decision by comparing different vendors selling the same products.
Features to make Informed Decision: Reviews and ratings to evaluate the product sold on the multi vendor marketplace based on the reviews of other buyers
Easy Payment Options: Multiple digital payment options that are fast and secure along with COD
Personalised Deals: Tailor-made discounts/offers along with loyalty wallets to receive loyalty points
Multiple Shipping Choices: Variety of shipping options for paid or free shipping
StoreHippo multi vendor marketplace platform offers the most comprehensive native solution to build B2B, B2C, B2B2C and custom online marketplaces across industry verticals. You will find all the features listed above( for the admin, vendors and customers) in StoreHippo multi-vendor solutions. StoreHippo also offers a host of other features that make it easy to run your online marketplace business.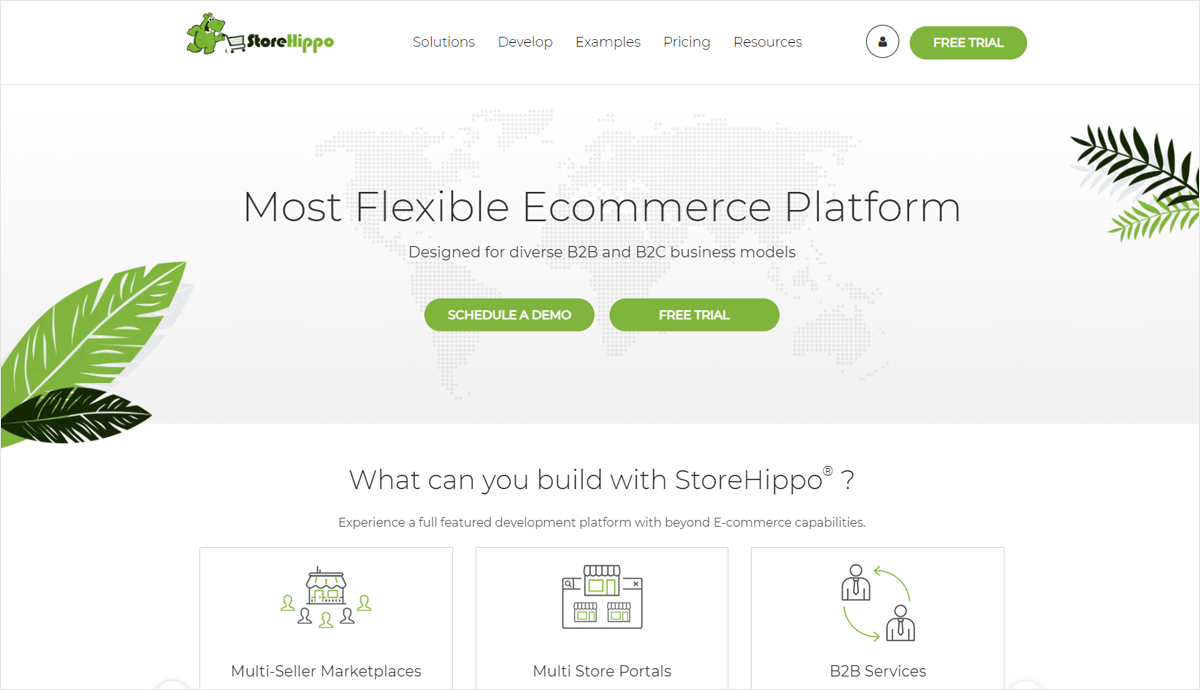 Built on headless architecture, StoreHippo lets you create innovative multi-vendor solutions and add any number of customer touchpoints using the same backend logic and API. StoreHippo comes with a rich themes library with multilingual support(including RTL languages) for static and dynamic content. You can easily customize your themes with inbuilt drag and drop tools. You can also build device specific themes for your multi-seller store.
StoreHippo's extensive multi vendor eCommerce software has easy to use modules that help you in setting up and launching your multi-seller website in no time. You can register and onboard sellers, offer them unique dashboard and vendor apps, manage them and let them upload and manage their products and orders through a separate vendor dashboard. The administrators have full control and visibility of vendors in their dashboards along with a host of reporting and analytics features.
You can also set up different levels of fixed or percentage wise commissions and manage vendor payouts easily with inbuilt vendor ledger features. You can also set up different shipping, payment and discount options for each vendor or split the payments of a multi-product order between different vendors.
StoreHippo SEO friendly multivendor eCommerce software also comes with inbuilt marketing tools, blog engine and automated abandoned cart follow up features to help you engage and convert customers better.
StoreHippo also offers integrated logistics solutions and an inbuilt delivery boy module using which you can assign different delivery agents for your sellers. With 60+ integrated payment gateways you can build custom checkout flows for your multi vendor marketplace customers. StoreHippo also has a powerful tax engine and invoicing support to manage multi-tier taxes and invoicing.
StoreHippo also comes with glocal solutions. You get inbuilt multi-store solutions along with multilingual and multi currency support to reach global markets. The hyperlocal ecommerce solutions help you rule the local market with ease.
With such a rich set of features storeHippo is the trusted multi vendor marketplace platform for successful online marketplaces across the globe.
Pros
300+ inbuilt features for an end to end multi vendor marketplace solutions
Mobile-first architecture to leverage m-commerce
Comprehensive multi-vendor solutions, no need for extensions, plugins or apps
Advanced future-ready technology to build disruptive custom multi vendor marketplaces
Fully integrated ecommerce platform that enables easy integrations for building innovative marketplaces
Cons
Multi-seller feature is available only with the Business and Enterprise plans
Users say they would like to have marketing services in future
Does not have its own POS system
Price
Business Plan - $179/month
Enterprise Plan- $359+/month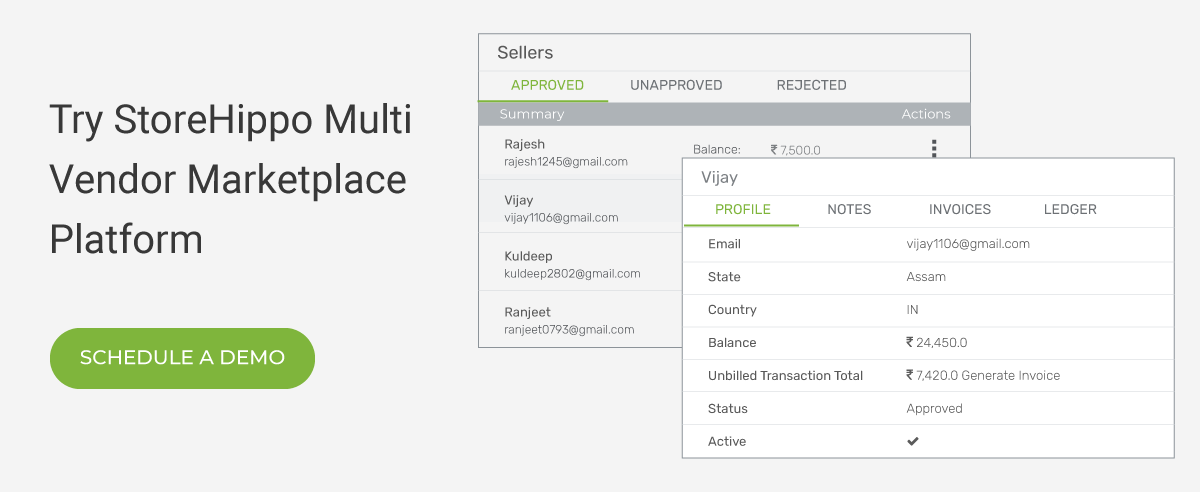 BigCommerce offers a marketplace app to build a multi vendor marketplace website by extending a regular ecommerce store. Once your online store gets the added features of a multi-seller portal you can add multiple vendors and track their products and orders. You can even add more vendors to your platform manually if needed.
BigCommerce marketplace eCommerce software gives you a host of features to manage your vendors and run the online marketplace. The admin dashboard is feature-rich with the option to auto-approve the vendors. The admin has a clear view of vendor activities and no vendor can sell any products without the admin's approval.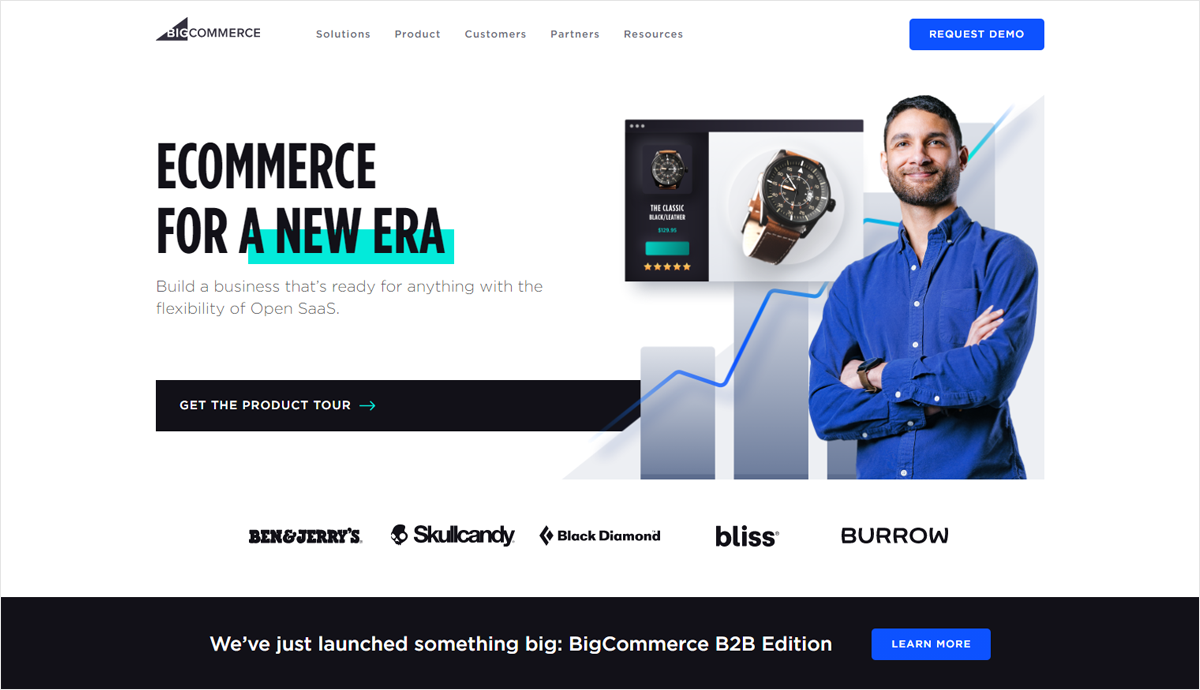 With the BigCommerce multi vendor marketplace software you can easily set up different levels of commissions for your vendors based on orders, percentage or subscription. You can also manage vendor payments easily with a streamlined payment management system.
Check out the pros and cons of the BigCommerce marketplace plugin before considering it for building your multi vendor website.
Pros
Convert any regular store into a marketplace website easily
Host of features to run everyday business
Cons
Expensive as you need to pay for a regular ecommerce store as well as the multi vendor marketplace extension
Limit on annual sales for each plan which forces to move to higher plans as the business grows
Basic features for multivendor
Themes are limited and similar to each other
Pricing: BigCommerce plans range from $29.95 to $299.95 along with custom pricing for enterprise plans, marketplace plugin costs on top of this.
Magento is the most well-known ecommerce software as it is free. This is why many businesses opt to use the paid Magento multi vendor marketplace plugin when building their multi-seller website. Magento's multi-vendor extension is called Marketplace and it turns a regular online store into a marketplace website.
With the Magento Marketplace extension, you can register and approve vendors on your multi-seller portal. You can also set different fixed or flexible commission rates for your vendors. Vendors get their own separate vendor dashboard from where they can add and manage their products. The vendor dashboard has exhaustive features like customer reviews and wishlists.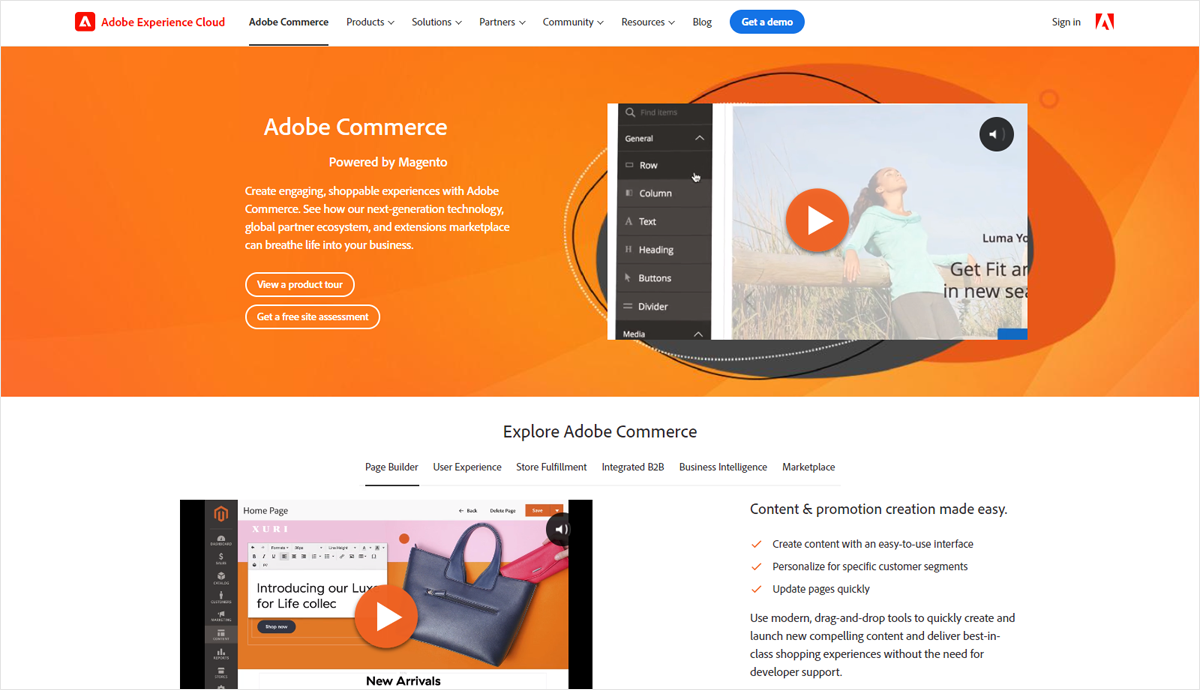 Using this extension you can register vendors on your portal. Once you approve the registered vendors they can start adding their products to sell through your multi vendor marketplace website. The vendors also get their own dashboard to manage the business. Their dashboard includes products, customer reviews, wishlists etc. Vendors also get their unique profile page.
You can consider Magento for your online marketplace if it fits your requirements.
Pros
Free software to start an online store with a paid plugin for multi vendor marketplace
Easy to get started
Host of features and functionality
Seasoned developers can create custom marketplaces
Cons
Needs proficient developers who have prior experience of handling the platform
Long learning curve for inexperienced developers make development difficult
Prone to security issues and buggy code
Custom development is pricey
Frequent upgrades force migration to new versions
Pricing: $349/one-time
Shopify is a well-known ecommerce platform that supports different ecommerce models along with a multi vendor marketplace. However, Shopify does not offer a native marketplace eCommerce software. With Shopify, you will need the Webkul multi-vendor plugin to extend a regular Shopify store into a marketplace website. You can use other third-party plugins to get end-to-end marketplace features for your online marketplace.
Shopify marketplace plugin gives a host of features and tools for the administrators which give them complete control over the marketplace. Admin can send invoices, reminders for order fulfilment etc. Sellers can have their profile page and customers can rate the sellers based on their experience.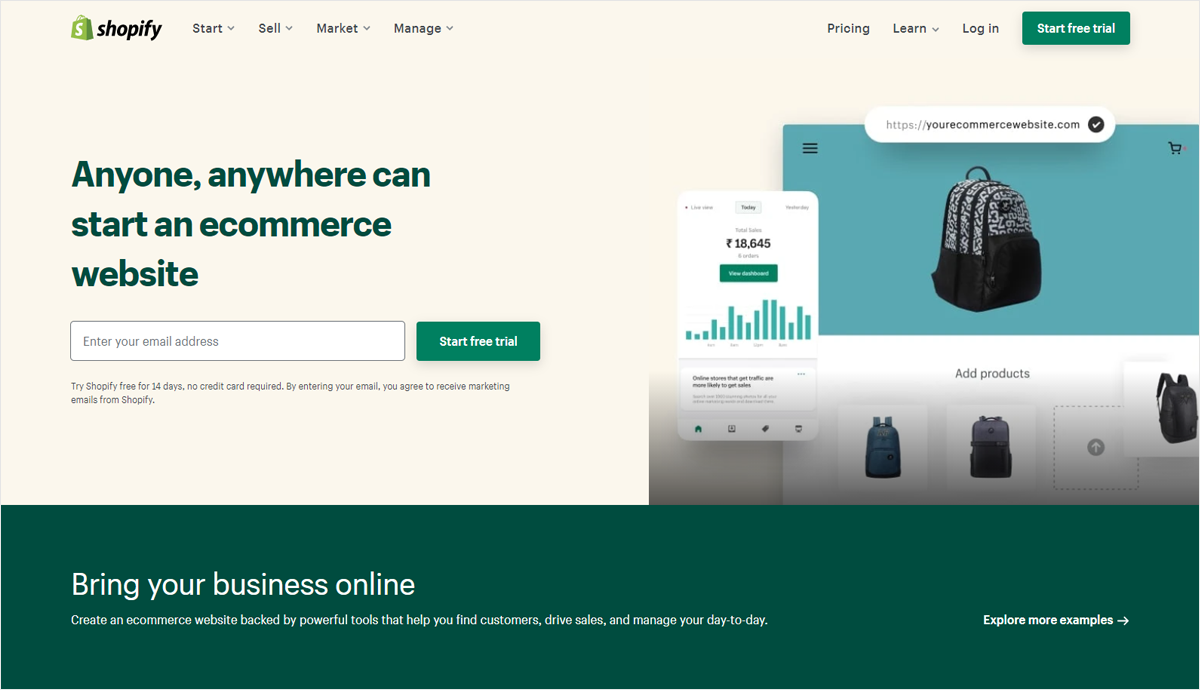 Shopify plugin for multi vendor marketplace software allows you to set up different commission structures for the vendors. Shopify also offers different paid and free design themes to create an engaging marketplace website. However, along with the Webkul marketplace plugin, you would need additional apps to make your marketplace website run smoothly. With the set of right apps synced together, you can have a fully-functional multi vendor marketplace where you can easily onboard multiple vendors and manage a vast range of products. you will need additional apps to make this system run smoothly for your marketplace setup.
Pros
Variety of apps for different types of marketplace use-cases
Integrates with shipping and marketing apps easily
Has its own POS system
Cons
Apps based architecture necessitates using and syncing multiple third-party apps
Apps can inflate the overall cost of the multi vendor marketplace software
Developer proficient in Liquid needed to make changes to the platform and sync multiple apps
Pricing: $299 + various apps prices
Shift4Shop which was 3Dcart earlier offers a multi vendor marketplace software to small or large multi vendor websites easily. With its acquisition by Shift4 group it now comes with the added advantage of having its own secure payment processing.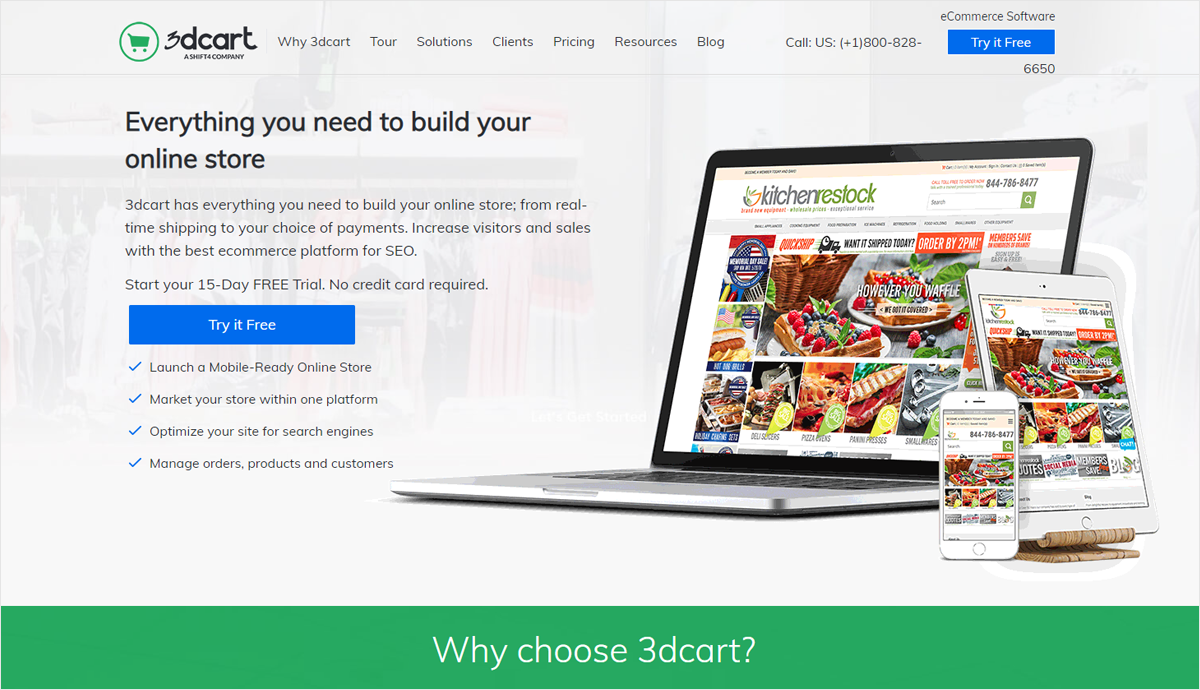 3dcart or Shift4Shop has a feature-rich and intuitive admin dashboard that allows the admin to have complete control of the business, run and grow it in an organised manner. You also get a variety of free and premium design templates to give a different look to your multi vendor marketplace website based on your specific industry.
Shift4Shop multi-vendor solutions also has advanced tools for reporting and inventory tracking which come in handy when running an online marketplace with a vast range of products from different vendors. The SEO-friendly platform can be easily integrated with third-party providers and comes with inbuilt tools for shipping and accounting.
Pros
Free domain name
Integrated payment processor
No set up charge if using their payment processor
Host of inbuilt tools
Cons
Steep learning curve
Users complain that despite a host of inbuilt features they need quite a few add-ons which add to the overall cost
Limited design tools for non-technical users and bland templates do not help with new-age marketplace website design
Even after switching to a new platform in 2020, most of the knowledge base questions and answers are for the old platform which makes it difficult to find the right solutions
Pricing: $299/month
Yo!Kart multi-vendor solutions is a relatively new yet popular multi-seller website software. It offers an SEO-friendly platform for small and large businesses along with a feature-rich admin panel, 15+ integrated payment gateways, great user interface and social media integration. All of these put together makes it a good option for creating a multi-seller shop for any business.
Yo!Kart also has mobile apps for vendors along with a marketplace app. Its inbuilt CMS and host of SEO tools make it easy to publish optimized blogs for your multi vendor marketplace website. Yo!Kart's responsive and user-centric design features make it easy to build engaging marketplace store layouts.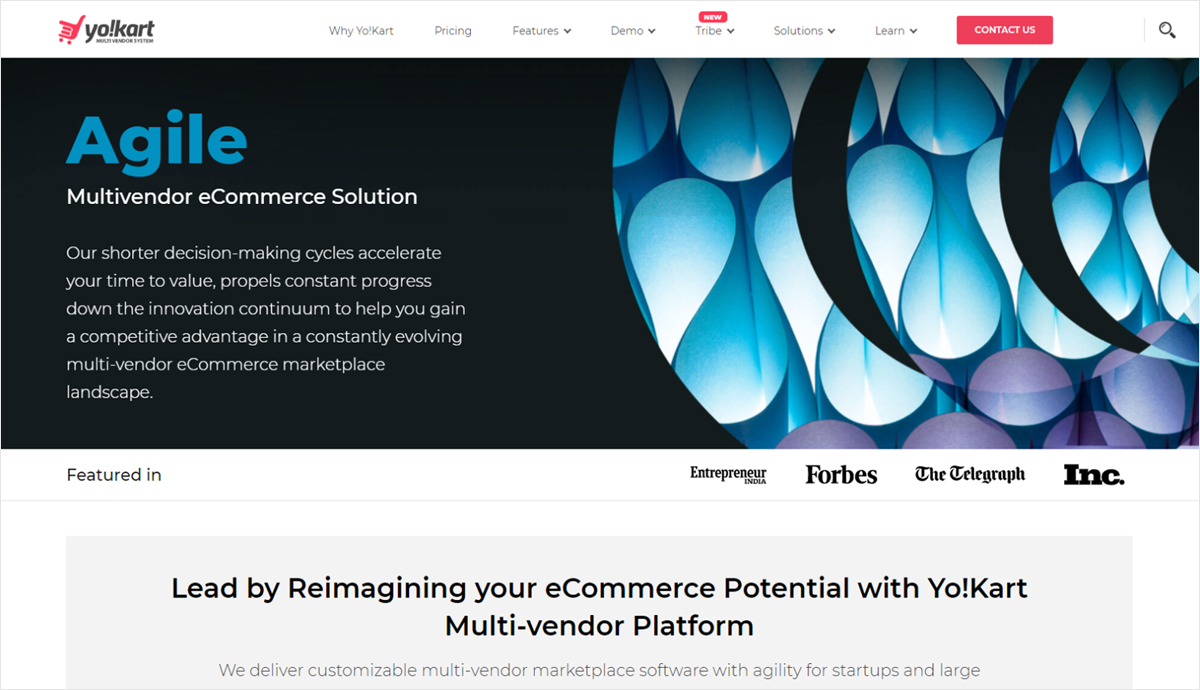 You can consider this marketplace builder after evaluating it on its pros, cons and pricing given below.
Pros
Great storefront design
Easy to use and manage
SEO-friendly architecture and host of SEO tools
Marketplace apps availability
Cons
Difficult to customize, slightest changes need coding expertise and considerable time
Users complain that Yo!Kart multivendor eCommerce software's one-year free tech-support is basically of not much use as you cannot make changes to the complex code without having an expert developer in your team
Product upgrade policy is unclear
Ensuring security for enterprise businesses is costly
Price: from $999/one-time
X-Cart provides an open-source multi vendor marketplace software to build marketplace websites for businesses of any size or scale. X-Cart has two forms, ie;
the downloadable version which is license based
X-Cart Next, which is the cloud-based multi-vendor solution.
X-Cart comes with a host of features that help in setting up an online marketplace with full control in the hands of the administrators. The admin has complete control over vendors, products, shipping, marketing and anything else related to the marketplace website.
X-Cart gives a host of marketing and analytics tools that help in building a smart marketing strategy for the marketplace business. X-Cart helps you onboard small and large vendors who can showcase, manage and sell their products from your multi vendor marketplace website. Also, customers can easily place orders with products from multiple vendors in the same cart.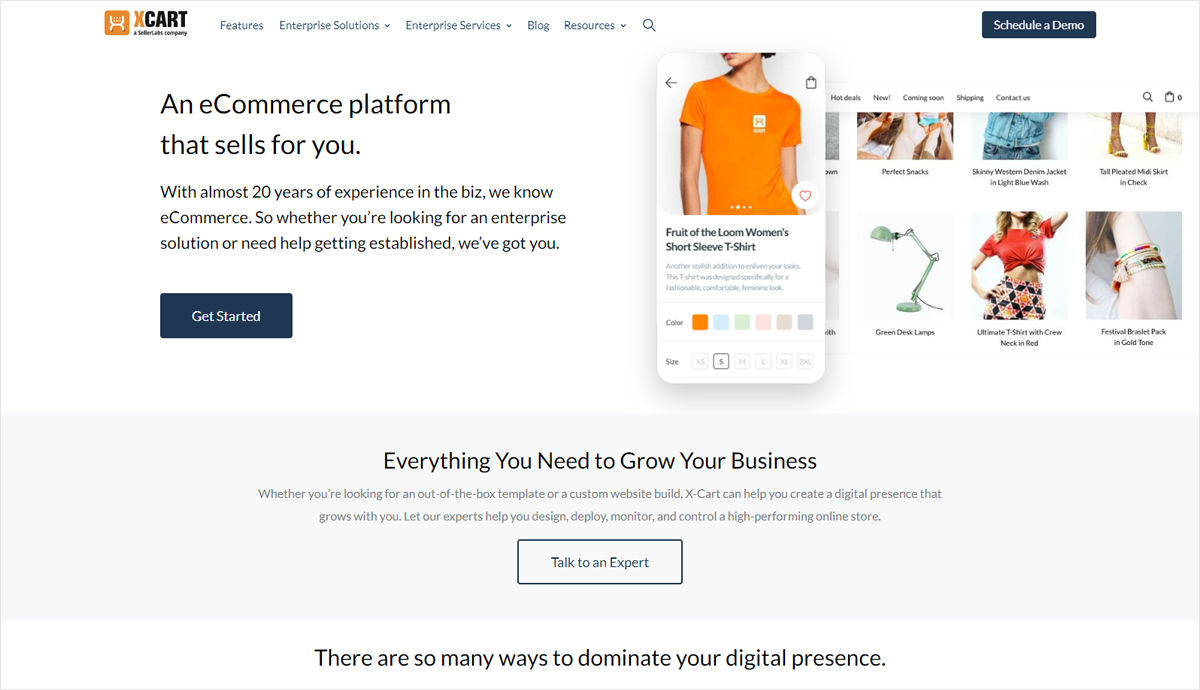 X-Cart is a marketplace eCommerce software worth considering after evaluating it on the basis of your requirements.
Pros
Host of inbuilt features for running the marketplace website
Customizable with the help of developers
Cons
The X-Cart users complain that the default templates are too basic
Some users complain of basic design templates
Users are not happy due to the lack of mobile-friendly features
Pricing: No fixed pricing, depends
Building your marketplace website is one of the most crucial decisions you make for your business. While there are a host of marketplace builders available in the market, choosing the best fit solution for your business needs careful consideration and analysis of the available options. You need to evaluate the performance of the available multi vendor marketplace platforms based on the technology, features, ease of use and flexibility for customizations.
In this article, we have evaluated the 7 best marketplace eCommerce software. These marketplace solutions can support businesses of different models and industry verticals. However, before you make your final decision, do evaluate the respective multi-vendor solution by connecting with their team for a demo.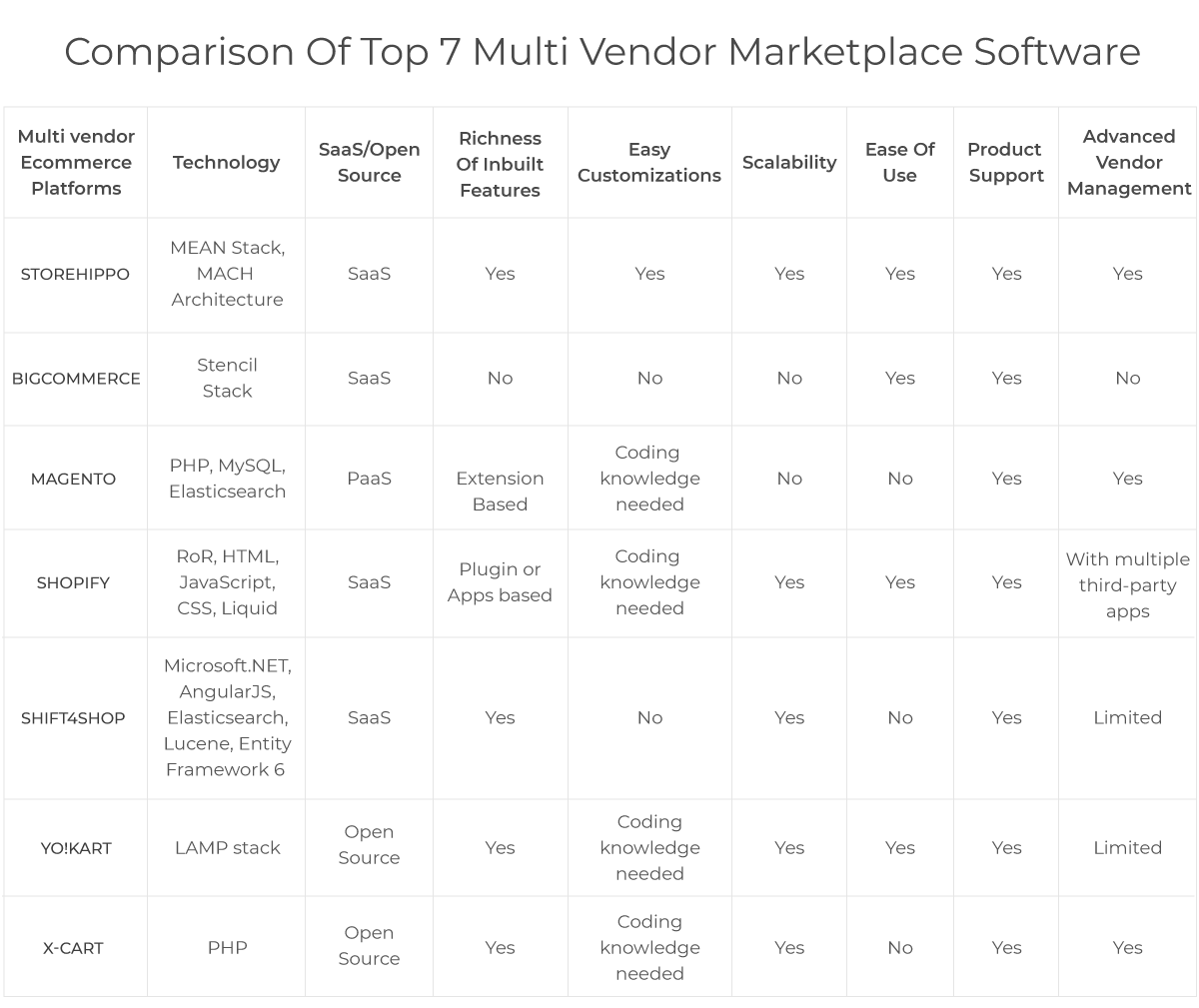 So get started with evaluating the top multi-vendor solutions. Begin from the very first in the list, book your StoreHippo personalised demo right away!
Getting started with your own online marketplace is a smart business move. However, how to build an online marketplace website is a question that bothers many. Usually one has two broad choices;
Create an online marketplace right from scratch by hiring a team of developers
Build your multi-seller website with a turnkey multi vendor marketplace platform
You can go with either of the options but the first one requires a lot of investment in terms of time, money and other resources. You will have to set up a team of developers and testers to go through iterative cycles of coding, deployment, testing etc. are you ready to wait for months or even years to go to market with your multi vendor portal?
Certainly not!
So, the second option is the pragmatic choice, given that there are a variety of turnkey marketplace builders in the market. In the sections above, we have already reviewed the best multi vendor marketplace platforms. These marketplace website builders offer a comprehensive solution to build, launch and market your own multi vendor website.
You just need to choose your preferred multi vendor marketplace platform and get started in few easy steps:
Step 1: Decide on your marketplace eCommerce software and buy a domain name. If it is SaaS-based you need to just buy the subscription and not worry about hosting. With on-premise multi vendor software, you will need to buy the hosting as well.
Step 2: Build your marketplace website.
Step 3: Onboard sellers and ask them to upload their products.
Step 4: Set up payment, logistics and customer support.
Step 5: Market and launch your multi vendor website.
Just onboarding vendors and listing products is not enough to make your business successful. You need to take measures to promote your online marketplace brand to attract more buyers.
Here is how you should go about it:
Set up a "launching soon page" and register buyers before your actual launch
Give buyers promotional offers or store credits to encourage them to buy from your multivendor website
Ask your registered customers to bring in more buyers by offering them reward points for referrals
Offer value-added services like free shipping or free products to attract more customers to your marketplace website
Attract vendors to your multi vendor marketplace by using your subscriber list as proof of customer interest in your marketplace brand
Set up terms and conditions that favour your vendors' business growth, having more sellers will help you add diverse catalogues
Engage customers through social media platforms and create a buzz about your brand
With these strategies in place, you can easily promote your marketplace website and start seeing a good flow of customers to your business.
Enterprise businesses are characterized by large volume sales, high scalability and diverse product range. Also, enterprise businesses consist of a huge network of dealers, sellers, distributors and other partners that keep the wheels of the business moving. Running such a mammoth set up becomes much easier when brands opt for enterprise marketplace solutions to streamline and automate their processes.
A report by Gartner suggests that brands that have been operating their enterprise marketplaces for at least a year can see at least 10% growth in net digital revenue. An online marketplace solution makes it easy for the admins and other partners of an enterprise brand to run the show seamlessly easily.
Here is why more and more enterprise brands are shifting towards some form of marketplace solutions to manage and grow their business:
The marketplace setup makes it easy for large brands to scale up to new product lines or geolocations by onboarding new vendor partners
Enables brands to implement advanced strategies like differential pricing, login based catalogues and prices, location-based services like payment gateways or shipping solutions etc.
Managing various networks of sellers, dealers, affiliates, delivery partners etc. becomes streamlined and efficient using an advanced multivendor software
Help in building better brand presence and value by offering products and services of different brands under one enterprise brand's umbrella
Enables brands to go for targetted marketing approach by creating multiple customized stores catering to different audiences
The multi vendor marketplace model can be easily combined with some other business models like multi store, multilingual, hyperlocal commerce etc. to build a disruptive solution that unleashes an enterprise brand's growth potenti
However, to gain maximum benefit from building your enterprise multi vendor marketplace, your brand needs a future-ready marketplace builder that quickly adapts to dynamic market requirements and customer demands.
While the multi vendor model is already a huge hit, enterprise price brands are now leveraging hybrid commerce by building multistore marketplaces to expand their business beyond borders.
A multistore multivendor marketplace is a marketplace website which has a network of sub stores based on location. These sub-stores are personalised to target a specific audience segment and offer custom catalogs, deals, delivery and payment solutions to customers based on their geo-location.
10 benefits of building multi store enterprise marketplace website
Enterprise brands can reap the following benefits by building their multistore marketplace for international markets:
Global Reach- Reach international buyers by offering them tailored sub-stores for their unique requirements and localised for their ease of use.
Build Brand Presence Quickly- By onboarding local vendors from different countries marketplace websites can quickly create a vast catalog and gain nuanced insights about new markets based on their vendors' feedback and business acumen.
Diverse Product Offerings- With a variety of sellers on the multi vendor marketplace platform enterprises can offer showcase a diverse range of products, catering to a wide international audience.
Leverage Localization- By personalising each marketplace sub-store for local audiences and offering local language, products, shipping and payment options marketplace brands build a better connection with their audience. This in turn results in better engagement and conversions.
Reduced Operational Costs- By building sub-stores for vendors from a given location and offering them the tech infrastructure, enterprises can leverage the vendors' physical infrastructure, warehouse etc. to save costs and introduce multi-level efficiencies.
Boost Sales- With a network of multiple sub-stores for your marketplace spread across geographies, you are bound to get better traffic and sales which eventually lead to higher profits and sustainability.
Improved Targeting- By offering region-specific products and services on their multi-store multivendor marketplace website enterprises can target local buyers better across diverse international markets.
Competitive Advantage- A multi-store marketplace carves a niche for your brand by making your brand stand out as an enterprise with a multi-geography presence and a customer-centric approach by offering localisation.
Risk Mitigation- With your marketplace sub-stores in multiple locations, your risks related to market-specific volatility are diversified and cushioned off with a multi-location presence.
Access to Rich Customer Data- Having a multi-store multi vendor marketplace means you have access to a wide range of data on customer behaviour, preferences, buying patterns and more. This can help you build strategic plans to accelerate growth.
While a multi store marketplace website is a lucrative business idea, to build one and run it successfully requires an advanced multi vendor marketplace platform that comes with both mulistore and multi seller features. To build your multi-store enterprise marketplace for global markets choose one of the best multivendor eCommerce software by thoroughly exploring its multi store and multi seller capabilities.
1. What is a multi vendor marketplace?
A multi vendor ecommerce store is an online portal where multiple sellers showcase and sell their products or services to the customers.
2. How does an online marketplace function?
Usually, the multi vendor website works on the commission model. The administrators or owners of the marketplace get the IT infrastructure up and running. Then they invite different sellers to sell on their online marketplace website. The sellers sell their products and pay a certain percentage or fixed amount to the marketplace owner as revenue.
3. What are the different types of online marketplaces business models?
There could be many different use cases of a multi vendor marketplace based on their business model.
Following are the different types of online marketplace models:
B2B Marketplace that sells goods and services to other businesses. Examples: IndiaMART, Alibaba etc.
B2C Marketplace offers goods or services for sale directly to the end customers. Examples: Amazon, Flipkart etc.
P2P Marketplace brings together people who want to sell or buy products or services on a single platform. For example Etsy, OLX etc.
B2B2C Multi Vendor Marketplace: This type of marketplaces are also called three sided marketplaces as it brings together different businesses on a single platform and then connects them to the end customers. For example, food aggregators like Swiggy, Zomato etc.
4. What are the different types of marketplace websites based on the types of products or services they offer?
Following are the different types of online marketplaces categories based on the products and services sold on them:
Horizontal Marketplaces that sell a vast variety of products like Amazon, Flipkart, Alibaba etc.
Niche or Vertical Marketplace that sell a niche line of products cosmetics, baby products etc. For example FirstCry, Nykaa.
Service Aggregator Marketplace that aggregates the services of multiple providers on a single marketplace website. For example, food delivery service aggregator Zomato, or multiple services aggregator platform Urban Company.
Rental Multi Vendor Marketplace that offers a product or service on rent like Uber, Rentomojo etc.
Hybrid Marketplace Websites where different products(Alexa from Amazon) and services(like Amazon Prime streaming service) are offered by an online marketplace brand
Hyperlocal Marketplace that specializes in offering products and services quickly within a specific location like a city, a neighbourhood etc. Examples of such online marketplace platforms are Yelp, Urban Company etc.
Custom Marketplaces that combine a variety of business models along with the multi-vendor set up to create disruptive and innovative multi vendor marketplaces
5. What are the different revenue sources of an online marketplace?
The primary revenue source of a multi vendor marketplace is the commission earner on the orders sold on the multi vendor marketplace platform. They can also create alternative revenue sources by;
Creating their own range of products to be sold on the marketplace
Offering paid membership for premium services like fast delivery, access to additional discounts etc.
Charge registration fees from vendors selling on their platform
Offer paid advertising spots on the marketplace website
Earn from the prime-spot listing for products or vendors on their online marketplace
Affiliate and referral programs that boost customer reach
6. How to make a marketplace website successful?
To make a multi vendor marketplace business successful one needs to do the following:
Well-thought and planned business and marketing strategy
Constant upgrades/changes to adapt to market dynamics
Vision to scale the business to new markets and products
A well rounded multivendor eCommerce software to power the business
7. How do I start a marketplace business?
To launch a multivendor business, build a business plan as follows:
Do a detailed market research
Identifying the demand gap
Choose the product(s) or services you want to offer
Opt for the best-fit business model
Planning for seamless operations
Quickly build your multi vendor marketplace website
Start onboarding vendors
Start promoting your business on various online and offline channels
Test your marketplace website's end to end operations with mock orders
Make changes in supply chain and other operational plans if needed
Build your marketing strategy to get more organic and paid traffic to your marketplace website
8. What is the cost of building a multi vendor marketplace?
The cost of building a marketplace website can vary depending on your business requirements and the type of marketplace eCommerce software you choose. On an average the cost of building a marketplace website from scratch in 2021 can range between $25,000 to $1,80,000. However, if you choose SaaS-based fully hosted and managed solutions like StoreHippo you can get a comprehensive multivendor eCommerce software at less than $200/month.
9. How much is the cost of building a marketplace app?
You need not spend extra time or money in building a marketplace app if you choose a multi vendor marketplace platform that comes with an inbuilt app builder. For example, with StoreHippo multi vendor solution you can build Android and iOS marketplace apps directly from your admin panel. You can also get apps for your admin panel, separate apps for your vendors and delivery boys with StoreHippo multi-vendor solutions.
10. How long does it take to launch a marketplace?
With cutting-edge turnkey marketplace eCommerce software, you can launch your online marketplace in 7-10 days.
11. Is it possible to make tailored enterprise marketplace using turnkey multivendor eCommerce software?
Yes, with advanced multi-vendor solutions built on headless architecture, it is easy to tweak the frontend and backend separately to create tailored solutions for unique brand needs. With their creative freedom, agility and seamless integrations using APIs, headless marketplace platforms make it easy for enterprise brands to build customized solutions that fit their brand's requirements.
12. Why building a multilingual online marketplace is a good idea?
Building a multilingual marketplace website is a good way to differentiate your enterprise brand from competitors. Research suggests that 68% of customers like to interact with brands in their native language. Also, 64% customers are ready to pay more for products or services that are offered in their native language.
Considering the changing buyer expectations and demand for hyper personalization, it is a good business move to build an enterprise marketplace in multiple languages. StoreHippo comes with built-in multilingual support wherein brands can convert their multivendor store into 100+ languages including RTL languages.
13. How to implement vendor-based taxation on an online marketplace?
Advanced multi-vendor solutions like StoreHippo come with built in tax-engine that takes care of vendor based taxes. StoreHippo has full support for GST, CGST, SGST and IGST. Different taxes can be added for domestic and international vendors on the marketplace using the tax-based rule feature.
Also, there are multiple editable, built-in GST complaint invoices which make accounting and tax compliance easier for marketplace brands.
14. How soon can I start making money on my online marketplace?
With the right vendor onboarding and commission policies, you can start making money on your marketplace as soon as you launch it. You can take one-time onboarding fees from your vendors, get paid for product placements and subsequently earn commissions on each item sold on your multi vendor marketplace website. You can also start earning money by offering premium membership to your customers. With the right marketing strategy in place, you can get decent footfalls and orders on your online marketplace right from the day of launch.
15. How do I find vendors for my marketplace website?
You can get vendors for your online marketplace in the following 5 ways:
Check sellers on popular marketplaces and contact them with your proposal
Go to sites like IndiaMART and contact the vendors related to your business
Connect with relevant vendors offline, through your contacts build during market research, personally contact sellers and distributors, get connected through business clubs etc.
Connect with marketplace vendors on social media platforms, networking groups, trade associations etc.
Ask onboarded vendor partners to refer other vendors for your multi vendor marketplace website
16. How do I plan an onboarding strategy for the vendors on my online marketplace?
To onboard the best vendors you need a well-thought vendor onboarding strategy in place. Follow the following steps to prepare your onboarding process:
Research your vendors to gather their business details, any legal paperwork etc.
Issue a Request for Proposal (RFP) so that both parties are clear about the rules, processes and policies before starting the business.
Compare and evaluate vendors based on their prices, business volume, location, order taking and fulfilling capacity etc.
Do a vendor risk assessment to ensure that you are onboarding reliable and good vendors on your online marketplace website.
Check vendor credentials by going through their digital presence on popular trade and networking groups or through word of mouth referrals.
Plan an exit strategy with detailed service requirements and termination of the business relationship.
17. Which is the best online multi vendor marketplace?
The best marketplace website builder should offer a feature-rich, easily customizable, scalable and easy to use online marketplace solution for your business. Also, it should offer end-to-end solutions and a host of integrations for starting, running and growing your online marketplace.
We recommend you to check out StoreHippo multi vendor ecommerce platform built on headless architecture and mobile-first principles. StoreHippo comes with 300+ inbuilt enterprise-grade features. It offers 120+ integrations which include leading payment gateways and logistics aggregators.
StoreHippo multi vendor marketplace solutions have powered a variety of B2B, B2C and custom marketplaces across the globe. You can check out the case study of successful online marketplace examples and explore StoreHippo by booking your free demo right away!