The ongoing festive season sale trends have started pouring in and by all means, it's time to rejoice for businesses of every scale and size.
Sample some insights from the first two days of sales: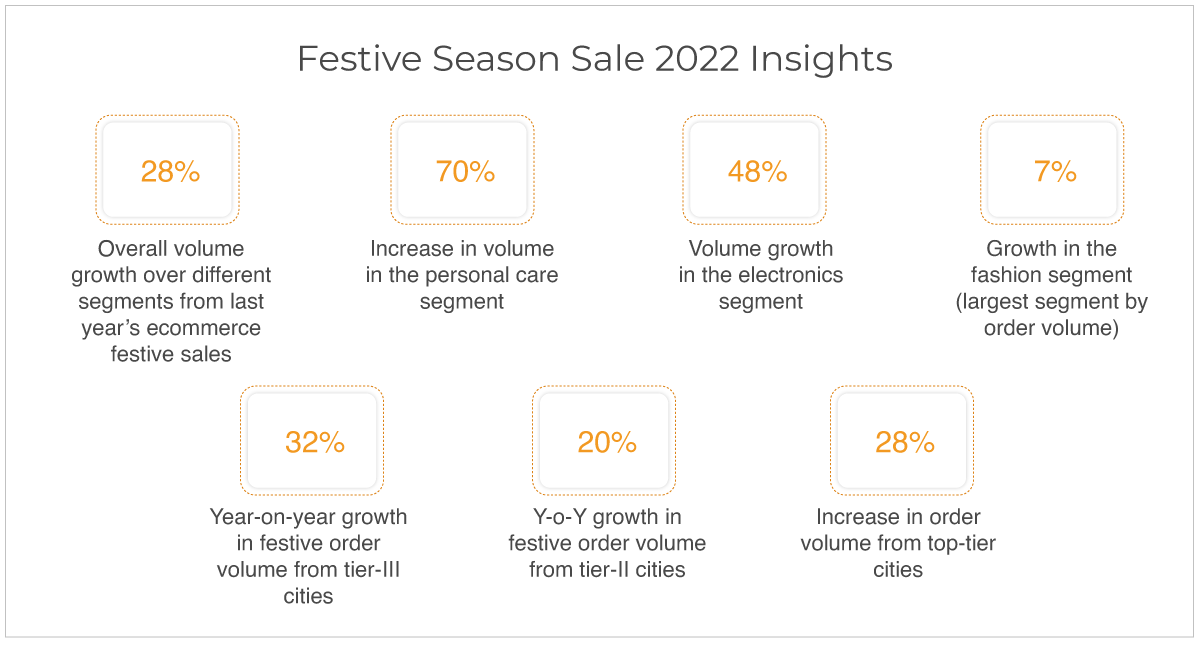 28% overall volume growth over different segments from last year's ecommerce festive sales

70% increase in volume in the personal care segment

48% volume growth in the electronics segment

7% growth in the fashion segment ( largest segment by order volume)

32% year-on-year growth in festive order volume from tier-III cities

20% Y-o-Y growth in festive order volume from tier-II cities

28% increase in order volume from top-tier cities
Source: Economic Times
The 2-year long pandemic-induced lull is over.
It's time to strategise and set your online store's cash counters ringing!
Is your brand ready for the kill this season?
Want to know why you should be all geared up for this year of possibilities and whopping sales?
Let us check out.
While festive season always brings a spurt in sales, this year is going to be different on many counts. Here is why 2022 is a special festive season for ecommerce businesses:
After two years of somewhat subdued sales season due to the pandemic, customers and online sellers are looking forward to a season of festivities, joys and record-breaking festive season sales. The sentiment is kind of "make up for the past two years", so orders will be flowing big this year-round.
As we saw in the trends, ecommerce has penetrated deep into tier-II, III and beyond cities and towns. While a large part of sales is expected to come from top-tier cities, new user acquisitions will primarily come from tier 2, 3, 4 and 5 cities. Time for your online store to make a new set of loyal customers.
In recent years D2C and enterprise brands joined the ecommerce bandwagon in a big way. With customers now conditioned to buying from different ecommerce stores, the hesitation in buying from new sites has reduced greatly. If you are still thinking of taking your enterprise brand online, this is the most opportune time to create online store and rake in the moolah.
The adoption of digital payments has made it easier to do business online. Digital payments grew a massive 33% in 2022 over the previous year. With digital wallets and UPI making online buying safer, faster and seamless, customers are willing to make the best of online shopping during festive season sales.
Learning from the pandemic disruptions, logistics aggregators and fulfilment partners have made huge improvements in their overall operations. This change has gone a long way in streamlining ecommerce logistics and ensuring orders are delivered smoothly even during peak seasons.
Ready to make it big for your ecommerce business?
So what's next?
Without further ado let us check out proven ways to boost your ecommerce orders during the festive season sale.
While you are busy planning your discounts and deals for the festive sales, there are many nuanced items that you might miss out on. Despite discounts being the biggest factor in bringing customers to your enterprise ecommerce store, there are other factors that need to be in place to ensure you get the max out of your ecommerce festive sale.
Here is how you can make the most of the moment and plan your online store's best promotional event ever by implementing the following:
The best deals and promotions can bring in more orders only if your website is primed and set up for success. From creating a festive look and feel to aligning seamless checkouts and order fulfilment, you need to set up everything to make it easy for your customers to buy more.
Your deals should be designed in a way that they not only bring an influx of buyers during the promotional event but also bring more returning traffic to your website after the sales are over. Also, run a thorough check on the following points:
Deck up your online store in festive colours and spirit

Work on improving your site speed and ensure there are no broken links on your site

Use social media to create a buzz about your ecommerce festive sale

Keep your order process simple and easy

Set up auto-follow-up emails to convert abandoned carts

Keep your shipping partners streamlined to handle the extra load to ensure smooth deliveries

Offer multiple payment options and plan exclusive deals in collaboration with your payment partners to entice your customers to buy more

Give a wishlisting option to your customer so you can target them with personalized deals for wishlisted items

Use upselling, cross-selling and product bundling to boost ticket size

Offer payback points or coupons during the festive season sale to encourage repeat sales

Prime your support channel to be available 24x7 to assist your customers
With all these items taken care of along with a rich product catalogue, you can be assured of a good sale season. StoreHippo offers a gamut of marketing tools, a built-in theme designer, and pre-integrated payment and logistics solutions to enable enterprise brands to make the most of the festive season sale. We also offer auto-follow-up for abandoned carts, wishlisting, upselling product bundling etc. The powerful discount engine of StoreHippo enables enterprise brands to set up a variety of discounts and coupons for customers.
Timing is crucial for the success of the festive season sale. If your sales begin too early you might not sell enough products and if you start your promotions a bit late you might lose your traffic to your competitors.
Hence, careful consideration based on your industry vertical and customer behaviour patterns is essential to time your promotions correctly. Research shows that the majority of online buyers have their wishlists planned much in advance. Also, to avoid the peak rush buyers want to order at least a week in advance. Also, consider whether your products fall in the "impulse buying" or "planned buying" category.
Offer competitive pricing and start your online store's big ticket product promotions a bit earlier to tap into the customers who have already planned to buy it. For impulse buying small budget products you can begin the promotions later and bank on the festive mood when customers indulge in retail therapy. Design different promotional pages for different buyer segments and use design elements that nudge customers towards faster checkout.
StoreHippo offers dynamic pages which can create a variety of promotional landing pages for your ecommerce festive sale in minutes. You can mix and match themes designed earlier to quickly create an attractive and conversion-oriented promotional page for your different audience segments.
Also, StoreHippo has a built-in reporting engine that enables you to analyze how your previous promotions, discounts, products and geolocations worked in tandem during previous sales. With these reports, you can make strategic plans based on data-driven insights.
Your customers no longer buy just on a channel or two. Modern buyers love to interact with their favourite brands not only via the online store but also on mobile apps, PWA sites, social channels and even through wearable devices. To get the best results from your promotions you need to take your brand to all the channels that your buyers love.
Data suggests that up to 80% of orders during festive season sales come through mobile channels. Also, for tier II and beyond cities, smartphones are the primary medium to access the internet and ecommerce stores.
If you want to stay ahead in the race and want to have a smashing sales event, you should equip your website to handle the traffic from the mobile channel. While planning your marketing ads offer special deals for your mobile channel and apps to multiply your sales many times.
StoreHippo offers complete omnichannel solutions for brands. With the decoupled headless architecture, brands can add any new customer touchpoint quickly using the same backend logic and APIs used for building their online store. Also, StoreHippo comes with a built-in mobile apps builder that enables you to create Android and iOS apps right from your dashboard. All stores built on StoreHippo are PWAs, which means they work seamlessly even on poor internet connections and entry-level devices making them a good fit for smaller towns and cities where internet connectivity is somewhat poor.
Statistics suggest that the average return rate in the ecommerce industry is 18%. The factors can be many, ranging from product quality, wrong product to delayed delivery to fitting issues. So the more the number of orders during the festive season sale, the higher the volume of proportionate returns.
While planning your promotions do run a check on reasons why your customers return orders in general. Offer a detailed product description along with 360-degree images and videos. Also, enable reviews and ratings so other customers can share their experiences with the product. Rope in multiple delivery partners to avoid delayed deliveries and offer faster delivery to premium members.
However, even with the best-laid plans, you will have a higher return order volume during the festive season sale. Be ready to handle such scenarios and turn these into up-sell opportunities if the customer is not ready to accept a replacement. Have a well-thought list of offers for such customers and keep your customer support team primed on the ways to convert such opportunities.
StoreHippo comes with a 360-degree product view feature which includes video option. Also, you can add reviews and ratings to help your customers make an informed buying decision based on peer reviews.
It might sound surprising but a lot of buyers return to buy more than what they bought during the ecommerce festive sales. This usually happens if you have offered payback points or deferred discount coupons.
Also, many times customers add many items to their wishlist but run out of budget and do not buy the wishlisted items during the peak festive season. All such customers are your best bet to keep your cash counters ringing.
Analyze the browsing and buying behaviour of your customers by integrating with the best-in-breed marketing tools. Follow up with your customers by rolling out the Phase-II of your festive season sale. Such a follow-up promotional event not only helps you in getting additional sales but also helps you clear the inventory of the previous sale.
Use social media to your advantage not only during the festive sales but also use the insights from these sales to create more awareness about your brand. Offer special coupons to your customers who post your product pictures and reviews on your social media pages.
StoreHippo offers seamless integrations with the best-in-breed marketing and analytics tools to help brands plan strategic marketing campaigns. You can also connect your online store seamlessly with all the social media platforms of your choice.
The ecommerce festive sale is a great opportunity to make some quick bucks and widen your customer base. However, to engage, convert and retain your customers you need to make genuine efforts backed by data-driven insights and smart marketing tools.
Ready to outdo your competition during this festive season sale? Prepared your strategic moves and irresistible discounts? StoreHippo adds power to your plans with a host of built-in marketing tools and a cutting-edge online store built on next-gen technology.
Chart out a successful festive sale with your strategic planning combined with future-ready ecommerce solutions from StoreHippo. Let us know how these tips helped you in getting the best out of this festive season.
Want to know more about StoreHippo and its amazing tools that help you grow your business? Sign up for our 14-day free trial and get started right away!