It's that time of the year again when festive celebrations knock on your door. Bright colours, attractive lights, long shopping lists, shuffled budgets and unlimited excitement - that's why Diwali is worth the wait, isn't it?
Also, this is the time to lure, engage and convert the most number of buyers on your online shopping site!
Diwali is the time to jazz up your enterprise retail brand with deals and offers and wait for heavy store traffic and record-breaking revenue.
Well, the "Diwali Offer", (read- discounts, free gifts, and other attractive deals) is the secret recipe to lure customers into buying products that they planned for and also that they just add to their cart on impulse.
Diwali certainly takes the sales charts up North!
What if we tell you that you can keep your sales figures shining bright even after the festivities are over?
Wonder how?
Let's find out!
To begin with, let us check some Diwali offers and festive season sale records for India.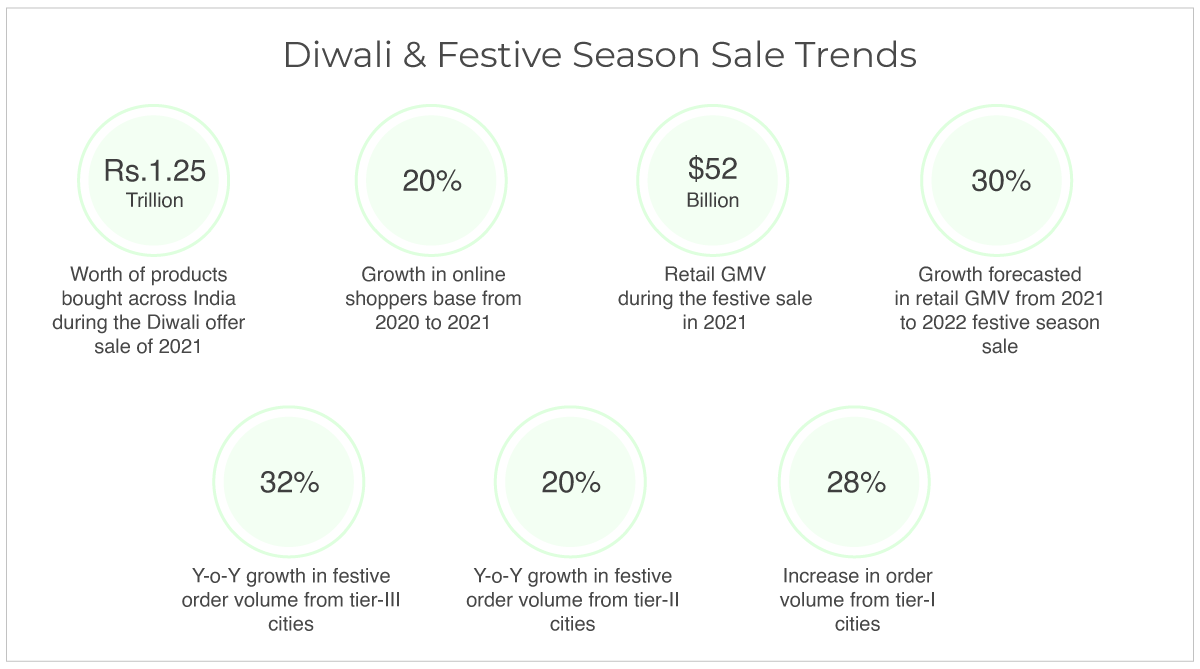 Rs. 1.25 trillion worth of products bought across India during the Diwali offer sale of 2021

20% growth in online shoppers base from 2020 to 2021

$52 billion retail GMV during the festive sale in 2021

30% growth forecasted in retail GMV from 2021 to 2022 festive season sale

32% Y-o-Y growth in festive order volume from tier-III cities

20% Y-o-Y growth in festive order volume from tier-II cities

28% increase in order volume from tier-I cities
Source: Redseer
There are two key takeaways from the above trends and stats:
Online shopping is growing at a steady rate year on year

Smaller towns and cities are eager to explore online buying opportunities
That is some mighty good news for sure for enterprise retail brands!
While brands already have a fairly good customer base in the metro cities, the time is ripe to strategize and solidify their presence in the smaller cities. And to do this, brands need to plan their Diwali offer in a way that the customers keep coming back for more.
While you are busy fulfilling your Diwali orders, make sure you try to earn regular and loyal customers too. Diwali is the best time to impress customers with your reliable service standard and unique Diwali offer. Give your customers the attention they seek in this heavy Diwali shopping rush.
Here are a few tips to set up your enterprise retail brand for regular orders beyond Diwali and the festive season-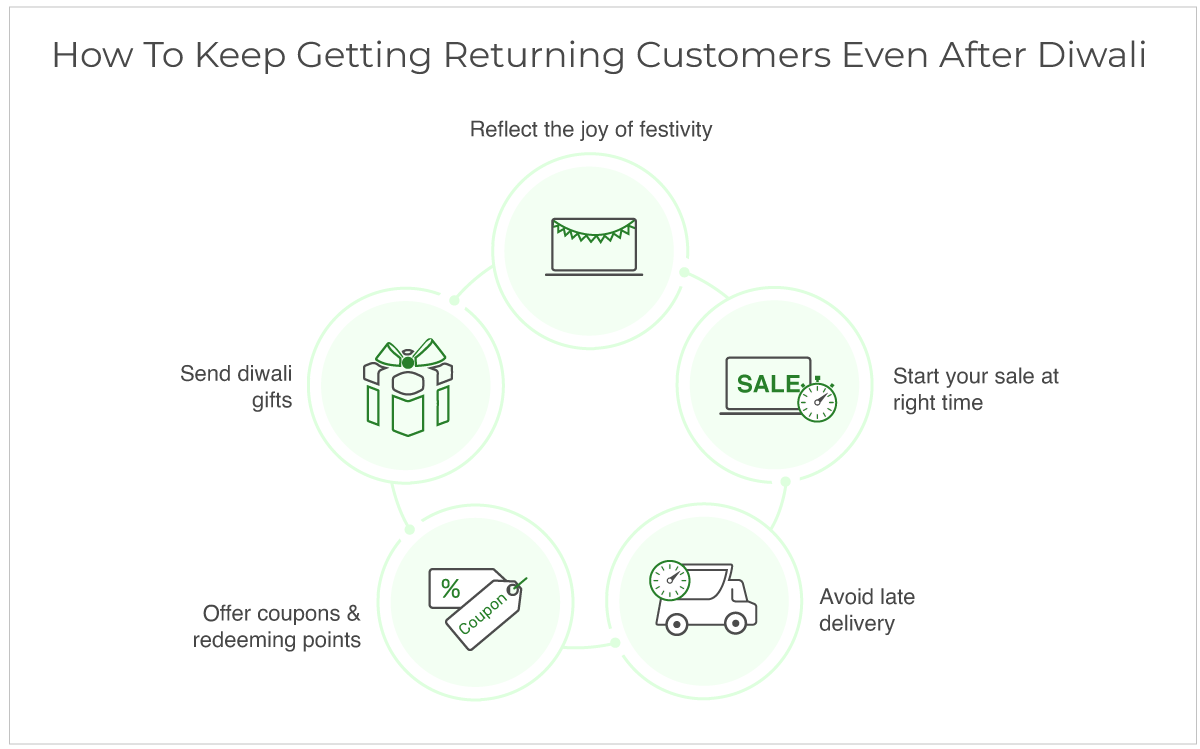 Make your store look Diwali-ready. Put attractive banners, change the theme and add a more festive look to your online store. These changes will glam up your brand and engage buyers visually. Also, a festive-ready online store makes your customers believe your store is giving attractive Diwali offers and deals.
Make sure you have your popular products visible easily. Also introduce up-selling, cross-selling and combo features. These features not only help suggest complementary products to the customer, but it also increases your orders. You can also set up an upcoming sales section on your online store, something that generates curiosity in your brand in the future. Remember, the clients will certainly come back if they have reasons to buy by paying less.
Wondering how to strategize and implement a multi-level discount strategy in your enterprise retail store? Don't worry, for StoreHippo has you covered. With StoreHippo's built-in design tools and drag-and-drop feature creating festive store designs is child's play. You can customize the look and feel, update the banner and make other visual changes easily.
Also, with the powerful discount engine, you can easily plan multi-level discounts and coupons. StoreHippo comes pre-built with cross-selling, upselling and product bundling functionalities in your store and gives you ample features and tools to plan your stress-free Diwali sale.
Time is of great essence when it comes to planning the Diwali Sale on your enterprise retail store. If you start the festive discounts too late, you lose your potential clients to other competitors. And if you plan to start it too early, well it may not generate the expected revenue.
You need to research the market well enough to know when the right time to reveal your Diwali offer. There are mainly two types of buyers in this Diwali sale season - the ones who plan their purchase and the others who are impulsive buyers. Make sure you differentiate between them. This will help you sort the clients that can be converted into regular customers.
In order to receive the products on time and avoid last-minute rush, many customers prefer to start their online shopping at least a month in advance. These customers make their move in a planned way. They can definitely turn out to be your regular customers if treated well.
You can use a host of features offered by StoreHippo to keep track of your potential buyers. For example, by offering the wishlist feature, you can later target your customers with personalised promotions and deals for the wishlisted items. With the auto follow-up for abandoned carts, you can make sure that your buyers complete their checkouts.
StoreHippo also has a host of reports to help enterprise retail brands plan their future offers based on the bestselling products, customer groups, geolocation etc. StoreHippo also integrates seamlessly with a variety of marketing and analytics tools to help brands study customers' shopping patterns and understand visitor behaviour on their online shopping site. Ultimately these factors not only lead to a successful sale but also help in getting loyal customers in the long run.
Your services represent your business. When you think of earning genuine customers, make sure you deliver excellent service. If you are an enterprise retail store owner, you know how difficult it is to manage traffic during the festive season and Diwali promotions. Customers often delay shopping till the last minute to avail maximum possible discounts. However, once the orders are placed they expect immediate delivery.
To meet your customers' expectations you need to have seamless fulfilment services in place. Choose the finest logistic solutions to give the best first impression through your Diwali offers and logistic services. You can categorise services into features like same-day delivery, next-day delivery, free shipping, and so on and accordingly set customer expectations. Free shipping can also be used to entice customers to buy more. Offering future free shipping or discounted shipping can be used to keep your customers engaged for a long period even after the festive season.
Choose an e-commerce solution provider that manages your logistics well. StoreHippo makes it easy for you to manage all your products and dispatch them as scheduled. With its 30+ integrated shipping partners, logistics aggregators and automated shipping solutions, StoreHippo enables you to deliver across 27,000+ pin codes at discounted rates. The shipping module is designed in a way that you can choose different shippers to optimize your shipping costs and delivery time. This not only makes your shipping faster but also more cost-effective. You can also manage your returns orders with ease.
It goes without saying that happy customers are loyal customers who come back to buy more and also spread the word about your brand long after the Diwali offer.
If you want more traffic, present unique Diwali offers. If you want those customers to come back again, offer promo codes for their next shopping. Make sure your promo codes have an expiry date. In the middle of the festive rush, who will want to miss an additional discount?
Make your customers feel special, and spoil them with unavoidable Diwali offers, give them store credits and coupons to redeem on their next purchase. Trust me they will come again, and again.
StoreHippo gives you the flexibility to create a variety of discounts and coupons for different products, categories, locations or customer groups. You can also create personalised discounts and deals for customers with big-ticket items. You can also set up a store loyalty wallet wherein you can add bonuses or reward points for your loyal customers.
Using a variety of notification tools like SMS, email and push notifications you can target and convert your buyers in real-time. Thanks to StoreHippo's seamless API-based integrations you can also integrate with the best-in-breed marketing tools to up your marketing game. Get ready to strategize and extend your sale season much beyond the Diwali offer, StoreHippo is watching your back.
There are many who follow the custom of exchanging gifts during Diwali. How about following our tradition and offering free Diwali gifts to your customers? Why not plan a gift for different customer segments, say for different price ranges, or based on shopping frequency?
These gifts don't have to be hard on your pocket. You can use your old stock or simply offer some extended services, like free shipping for the next 3 months, 10% off on all purchases above a certain threshold amount, next-day delivery for a select product range, BOGO offers for a limited period, additional reward points etc.
Also, you can send some merchandise with your branding which creates a recall effect and keeps them visiting your enterprise retail website often. You can also give a festive touch to the parcel by sending a Diwali note that stirs their emotions. They will feel more connected to your brand and will surely return to your store again. Make sure you don't add any promotional content as it might dilute the impact.
StoreHippo offers a gamut of marketing tools and reports to help you analyze your customers' shopping patterns. By combining cutting-edge tools and data-driven marketing strategies you can set up your retail brand for better conversions throughout the year.
Diwali offers are a proven way to get customers flocking to your online website. With data-driven insights, you can get a nuanced understanding of your customers' buying preferences and strategize your marketing for conversions beyond the festive season sale.
Make the most of the season and the golden opportunity to win lifetime customers with long-term benefits as your goal. Position your enterprise retail brand in a way that your customers perceive it as their go-to brand for your particular niche. After all, business is not about instant profits. It's all about earning regular traffic and loyal customers for a long time returns.
StoreHippo offers a one-stop solution to all your business needs this Diwali. From helping to build new pages to creating attractive designs and implementing multi-layered marketing strategies, StoreHippo comes with the best tools and integrations to keep you ahead of the competition.
Set up your enterprise brand for success this festive season with the best enterprise ecommerce solution. Explore StoreHippo's amazing features, and start your 14-day free trial now!