Increased sales are mostly what all enterprise marketplaces long for!
But sadly not all online marketplaces are able to achieve that.
Wondering what could be the magic potion to build a thriving marketplace?
Well, to help you solve the riddle, we have brought 5 battle-tested tricks that have helped brands build their niche in the ecommerce battlefield.
Before we dig in, here is a quick sneak-peak into customer buying habits.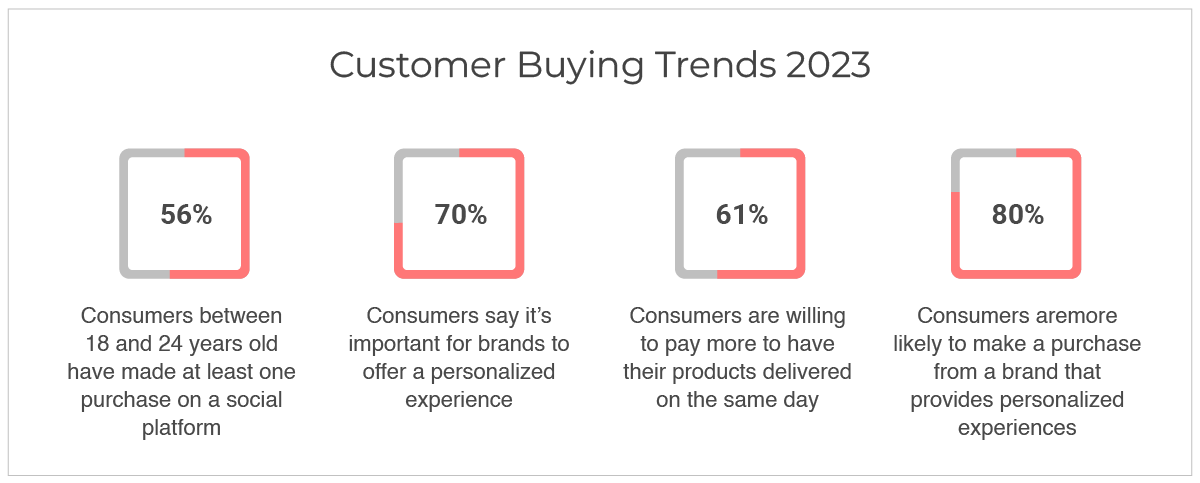 56% of consumers between 18 and 24 years old have made at least one purchase on a social platform
70% of consumers say it's important for brands to offer a personalized experience
61% of consumers are willing to pay more to have their products delivered on the same day
80% of consumers are more likely to make a purchase from a brand that provides personalized experiences
Source: Hubspot, Intelligence Node
With such major transitions and newly formed consumer expectations, you need to equip your enterprise marketplace to be able to drive maximum sales.
And how to do that?
Well, just being online does not cater to your buyer's expectations. All enterprise brands looking at long-term growth need a nuanced strategy.
The new-age customers look for enhanced engagement with the brand. And to provide them so without spending millions of dollars on your marketing efforts, you need the best marketplace software. With the right technology at hand, you can seamlessly plan strategic growth and cater to changing buyer expectations.
Wonder how to achieve higher sales value and build a thriving marketplace for your enterprise brand? Here are the top 5 time-tested tips to help you boost your brand's growth.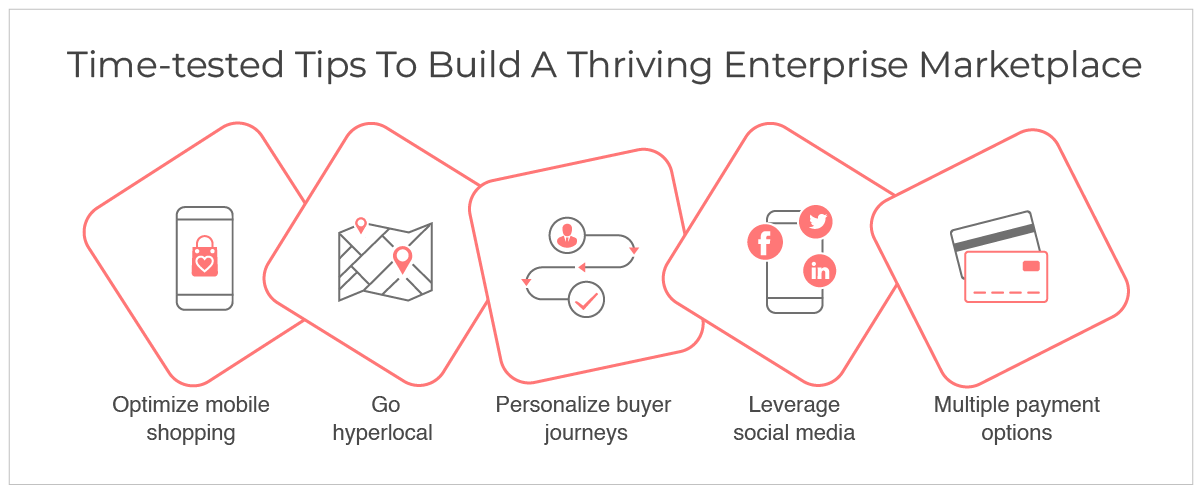 If you have not yet optimized your enterprise brand for mobile shopping, now is just the time to take this crucial step. As customers are gravitating towards mobile shopping, you need to optimize your brand and have a viable m-commerce presence.
With StoreHippo being the best marketplace software, it is built on a mobile-first approach and offers a variety of mobile-ready solutions. StoreHippo builds PWA stores that look, feel, and work like mobile apps even on entry-level devices with poor internet connectivity. The StoreHippo ecommerce platform also offers an in-built mobile app builder that helps enterprise brands build mobile apps without any coding at zero additional costs.
Oh your customers will love those quick deliveries. With the hyperlocal market anticipated to reach $4.635 billion by 2028, quick hyperlocal deliveries make shopping more exciting for your customers.
StoreHippo comes with a comprehensive location-based ecommerce solution that enables you to offer customized services along with quick deliveries with the help of geo-location tracking. You can seamlessly onboard multiple local vendors to ensure quick hyperlocal deliveries. With each seller being responsible for their own delivery, you can handle the complex delivery process quite easily. You can also manage your own fleet of delivery boys with the in-built delivery management software from StoreHippo and ensure quick deliveries on your online marketplace.
In the hyper-personalization age like today, customers expect brands to interact with them one-on-one. Almost 90% of the online businesses are already investing in personalizing their content, pricing, offers etc. And to successfully build a thriving enterprise marketplace, you need to offer an extensive personalized buyer journey to your customers.
StoreHippo ecommerce solution is built on MACH architecture that offers extensive flexibility and creative control to help you create custom designs for your website and landing pages, enable personalized checkouts, send personalized notifications etc. The enterprise-grade features and tools like automated marketing customization, unified notifications (SMS, Push, Email etc), login-based pricing etc help you create and offer a personalized buyer journey to your customers.
Did you know that the customers today check social media for any product reassurance before making a final purchase? Yes and many tend to make a direct purchase on social media as well. You would be surprised to know that the social commerce market size is expected to hit $1.3 trillion in 2023.
As you integrate your enterprise marketplace with social media, you can have an edge over your competitors and provide a sense of reaffirmation to your customers. Wondering how is all that possible? Your answer is StoreHippo.
StoreHippo comes with advanced social plugins that help you integrate with your social media channels. You can leverage social media for increased conversion rates by adding reviews and ratings of your products by the customers, and testimonials in the form of general feedback with photos and videos of your products that help the customers make informed purchase decisions.
Faster checkouts with a frictionless payment process works as icing on the cake. Customers today do not like to wait for hours to make a single payment on your enterprise marketplace. They would prefer to pay in a method that best suits their convenience and ultimately drop the purchase if they find the payment process lengthy and complex.
StoreHippo comes with a full range of digital payment solutions. It offers 60+ pre-integrated domestic and international payment gateways for your customers to choose from and make payment seamlessly. You can also implement payment gateways based on the location of your customers with StoreHippo. You can also enable international payments with supporting transactions in multiple currencies as and when you expand to global markets.
A thriving enterprise marketplace is a dream for all businesses. And to keep the sales flourishing, you have 5 top time-tested tips to try on. Combining the above mentioned strategies with the best marketplace software in the market (like StoreHippo) can help you to seamlessly adapt and implement winning formulas for business growth.
StoreHippo comes with 300+ enterprise-grade features and marketing tools to help you not only retain loyal customers but also acquire new customers and drive sales on your enterprise marketplace. StoreHippo is powered by cutting-edge technology and flexibility to build hybrid future-ready solutions for enterprise businesses. Explore new waters and set your online marketplace on an upward growth trajectory with StoreHippo. Start your 14-day free trial now.