Have you ever wondered why B2B ecommerce has been growing so rapidly? When the global pandemic struck in early 2020, the wholesale industry experienced a major digital transformation.
Today, everything is changing in the B2B industry and it is going to change even more in 2021 and beyond. The only constant in this industry is "The Growth Factor".
While B2C e commerce sales are growing exponentially, the B2B ecommerce platforms are not behind. The B2B online industry is getting bigger than ever before and statistics says it all.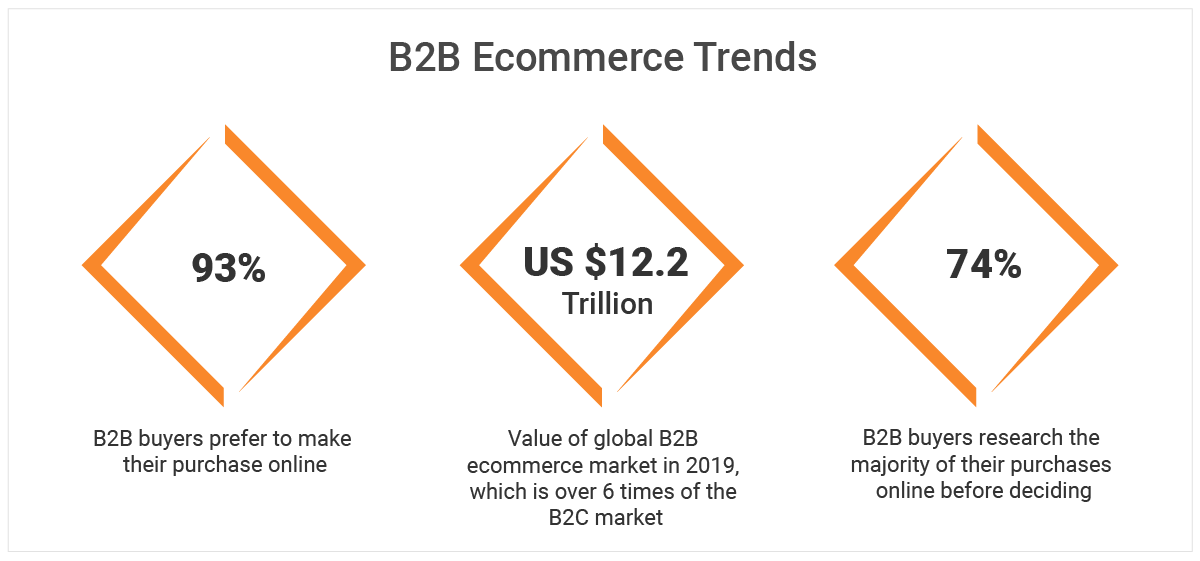 Source: Statistica
93% of B2B buyers prefer to make their purchase online

Global B2B ecommerce market valued at US $12.2 trillion in 2019, which is over 6 times of the B2C market.

74% of B2B buyers research the majority of their purchases online before deciding
Just like 2018, 2019, and 2020 predictions, the 2021 B2B ecommerce trends are also about the enhancement of customer convenience and experience. It clearly shows that going online and having a B2B ecommerce platform is no more an option for wholesale businesses. Even if you already have a B2B ecommerce website, it is important to add key features to thrive and take business to the next level.
B2B decision makers are looking for fast and accurate information. And technology is the best way to serve today's business requirements. Now is the time to match up with the next-generation technology trends, revolutionary future-ready technology, mobile-first approach, personalized experiences, and a lot more. There is nothing better than a SaaS-based ecommerce platform that sets you free from all the IT and online business hassles.
With the dynamic world of ecommerce, you always need to be one step ahead of the curve to win the competition. And StoreHippo lets you do it with the most advanced MEAN stack technology to build stunning and light-weight websites with minimized time and efforts. Moreover, catching the mobile commerce wave has become highly important for wholesale businesses. This has become the foremost thing to add to your B2B ecommerce site to keep your customers engaged and loyal. And choosing a mobile-first B2B ecommerce solution like StoreHippo is your first-hand solution to do it. You can easily build your mobile apps (Android/iOS) without any additional cost and also support PWA online stores to deliver a native like experience to users.
Did you know that over 82% of the B2B companies are planning to integrate omni-channel strategy in their businesses? Isn't it a huge figure to avoid?
Without any surprises, customers are the real king in this era. Today, customers have access to endless information and channels. With the multiple choices of shopping channels, the B2B customer experiences have become crucial like never before. Providing seamless and omnichannel experience across multiple touchpoints has become a real game changer in the current B2B ecommerce landscape. If you have not yet entered into this bandwagon, B2B ecommerce solutions like StoreHippo help you with everything you need to go live with multiple shopping channels. Don't wait anymore to enhance your customer base and improve their experiences to sky-high levels.
Unlike B2C ecommerce, B2B companies are still struggling to personalize the shopping experiences. Taking the customer experience to the next level of personalization and digging into their behavioral and attitudinal attributes can be done excellently with a B2B ecommerce solution.
Like, the inherent features of StoreHippo allows you to personalize the shopping experiences through various innovative ways. You can easily implement customized pricing based on login, IP address, order volume, sales etc. Get started with smart pricing without any operational or technical hassles. Additionally, the automated marketing features and powerful discount engine offered by StoreHippo allows you to capture the customer information, market the right offerings, and make maximum loyal customers. Start your B2B personalization journey to deliver tailored shopping experiences to your customers.
Despite the characteristic differences between the B2B and B2C ecommerce business models, the commonality is that – Customer is the king.
It is and always will be important to deliver what the customer desires for? It is not surprising that the amazing B2C shopping experiences has conditioned the mind of customers to expect similar ease of shopping from B2B ecommerce platforms as well. No worries even if you are only dealing with B2B requirements as of now but it is even better if you have the combination capabilities of B2C along with the B2B segment. StoreHippo offers a B2B solution that has the extensive features to handle both the requirements at a single platform. Make your business future-proof without any additional cost.
There has been a major shift in the way customers shop from B2B ecommerce platforms. Now, it is more about increasing customer retention, improving conversion rates, reducing shopping cart abandonment.
And how to do it?
The simplest way to provide a variety of online payment options to your customers. B2B buyers always look for ways to manage their cash flows and reduce business costs. With the 60+ pre-integrated payment gateways of StoreHippo, it is easier to provide seamless access to multiple payment options like debit card, credit card, net banking, COD, subscription-based payments like Razorpay subscription, Stripe billing etc, marketplace payments like Paypal Adaptive, pay-later options etc. on your B2B ecommerce platform. StoreHippo also offers the convenience of native payment methods like UPI, payment wallets etc. Get started to adopt this much-needed functionality on your B2B ecommerce site to make it ready for 2021 and beyond.
Start your B2B success journey with StoreHippo
2020 has been a difficult year for many industries. But at the same time, many businesses have risen and leveraged the technology to match up to trends in the upcoming year. Since the B2B industry is rapidly moving their products, resources and sales processes online, it is the perfect time to take real action by choosing the right B2B ecommerce platform to scale your online business.
The good news here is that StoreHippo has been preparing for these quick shifts and changes in the B2B digital world. With the 300+ inbuilt features, one-stop shipping solution, 50+ pre-integrated payment gateways, automated marketing tools, you can create, run, and grow your B2B ecommerce brand like never before.
If you really want to take a leap to success in 2021, this is the right time to check the extensive features of StoreHippo B2B commerce solutions. Start your free online trial store right away.