With the festivities around the corner, comes great opportunities to scale up your online business. The 2022 festive season sale spending is expected to reach $32 billion with smartphones, consumer electronics, and fashion apparel dominating the market share (Source: Livemint).
Are you ready to cash in on the hype around the season of increased revenue?
We bet you are!
And if not, drop everything you are doing and get ready to beat your competition vying to lure the customers with their attractive deals and offers. It's time to sail your online marketplace through the festive storm in flying colours.
Let us first understand the festive season sale market dynamics with some figures: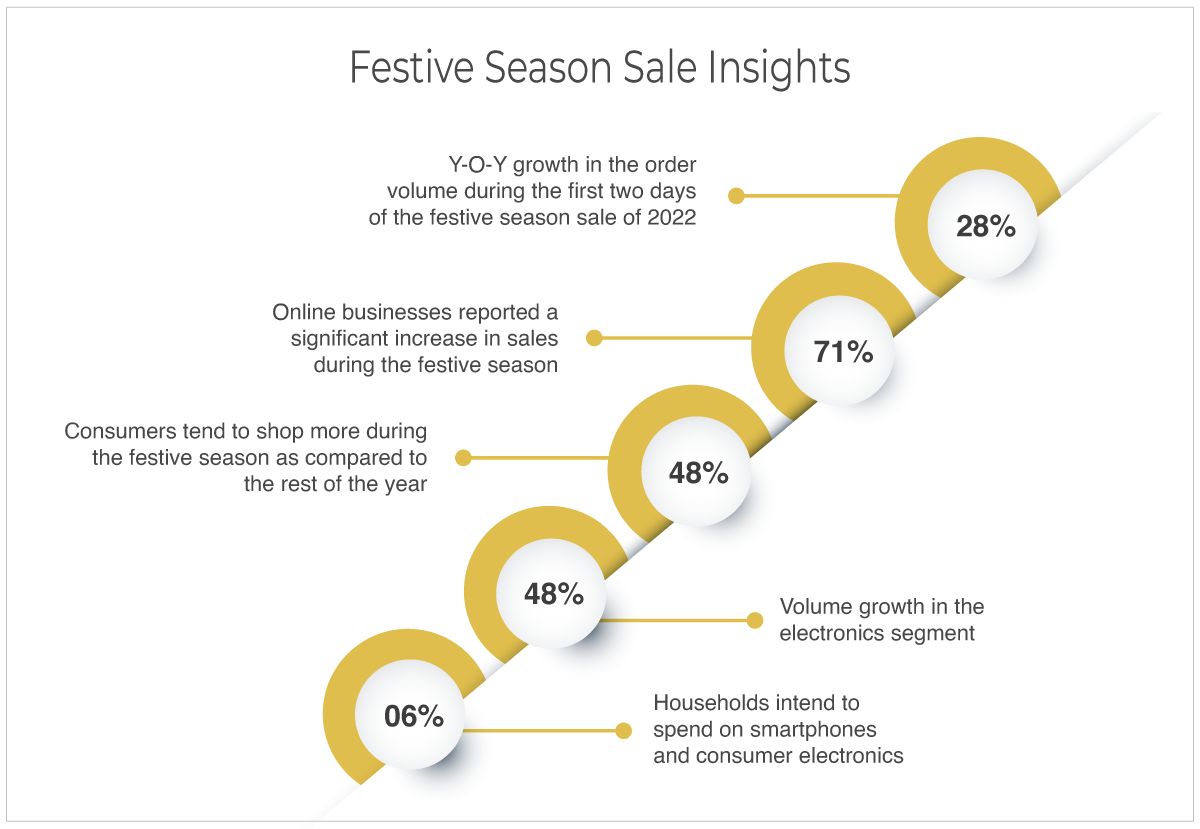 28% year-on-year growth in the order volume during the first two days of the festive season sale of 2022

71% of online businesses reported a significant increase in sales during the festive season

48% of consumers tend to shop more during the festive season as compared to the rest of the year

48% volume growth in the electronics segment

6% of the households intend to spend on smartphones and consumer electronics
Source: Statista, LiveMint, GlobalNews Wire, Business Today, Financial Express
The figures distinctly show the power a festive season sale holds in the fierce ecommerce battleground. To win in this arena, your brand needs the right arsenal i.e, the best marketing tools and strategies.
Strategic marketing is crucial to have a successful festive sale. With the correct marketing plan, brands can nudge their buyers to shop more. However, strategies need to be backed by personalization, easy navigation, attractive design, seamless checkout, quick and safe deliveries etc. to keep customers hooked to your brand.
Electronics and gadgets are usually big ticket items and fall in the planned purchase category. Customers save for months to buy their dream mobile, laptop or any other electronic items.
Data suggests that:

78% of customers save for months to buy products during ecommerce festive sales

67% of Indian online buyers are prepared to spend more this year than the festive sales of 2021

59% of Indian ecommerce buyers plan to buy appliances and gadgets during festive sales 2022
Source: ZestMoney, Indian Retailer, Benori Knowledge
Well, the data clearly points out that holiday season sales are the best time to amp up the sales on your gadgets online marketplace.
Now that we know the right time to plan the promotions, it's time to decide the strategies that can make the most of the opportunity.
We bring to you a set of 5 time tested marketing tips to boost festive season sales on your gadgets and electronics marketplace website.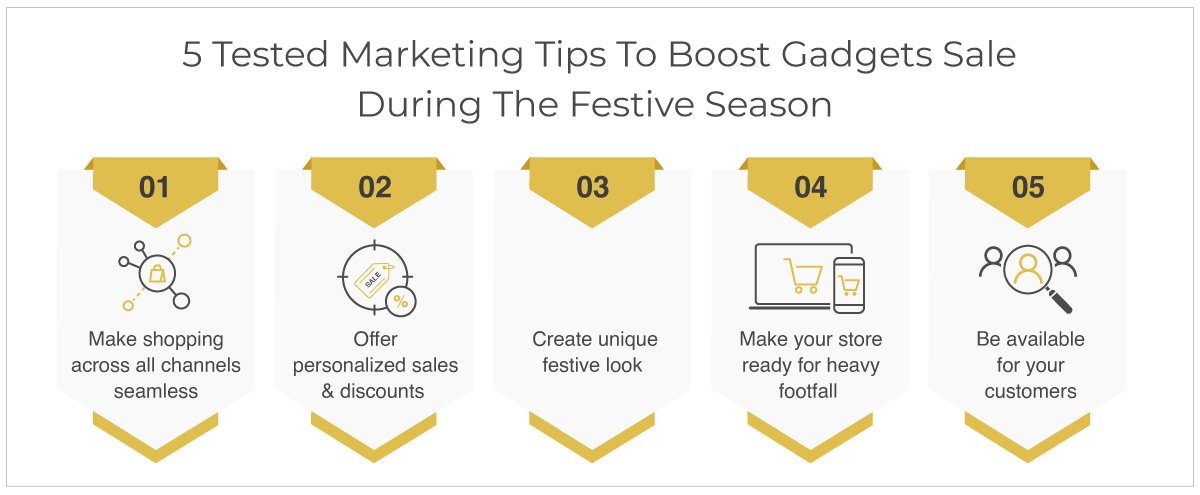 Creating a unified and personalized buying journey across all channels is important for enterprise electronics brands. An Omnichannel strategy engages the customers better and helps brands with better conversions and retention. Did you know:
50% of customers shop on 4+ touchpoints regularly

90% of customers look for consistent omnichannel interactions

73% of online buyers are omnichannel mobile shoppers
Source: Google, Zendesk
A typical electronics buyer would find your products through online ads, read reviews on your online marketplace, compare prices and offers on competitor sites, check features in person in physical stores and finally make a purchase using your marketplace app. Your enterprise brand needs to be prepared for this journey and many other buyer journeys where the customer checks products on multiple channels. For this, you need the right technical solution to create your omnichannel presence.
StoreHippo offers a turnkey solution for all your personalized omnichannel strategies. Prepare your brand to grow manifold and reach new customer segments by targeting customers on multiple channels. With StoreHippo's omnichannel solutions brands can quickly add new sales channels ( mobile apps, PWA stores, social pages with buy button and checkout through your online marketplace website, checkout through any display screens etc.) and manage sales and marketing on all these channels seamlessly.
You can target your customers on every sales channel using the following strategies::
Create email campaigns to send special offers to target your registered customers

Recover abandoned cart with festive season sale offers

Use push notifications offering promo codes for quick purchase of items in their wishlist

Promote offers and discounts on social media combined with engaging content

Enable chat support to quickly solve customer queries

Use affiliates to promote your gadgets and electronics products
Using these time tested tricks can help your brand gain extra traffic during the festive season.
About 93% of the shoppers use a discount code or coupon throughout the year. Offering discounts can always nudge your customers into buying more. And well, during the festive season sale, people tend to buy more naturally. Since the customers are buying more than their original ticket size, they are looking for every opportunity to save more. Now is the time you swoop in the market with never before discounts and get noticed.
Capture the most of the festive season sale by offering personalized discounts and offers without hurting your profit margin. Set up limited period promo codes for festive seasons to maximize your ROI. With StoreHippo you can create a variety of coupons and promotions to experiment with various marketing techniques.
The various types of discounts that you can offer on your gadgets and electronics products with using StoreHippo discount engine are:
Product level promotions say 20% off on juicers

Order value based discounts, say get 15% off on the shopping of Rs 1500

Coupon codes like, add one more item to unlock a specified coupon code

Time specific offers or flash sales, say order in 4 hours to get 5% off

Group based discount like 10% of for customers buying smartphones

Seller or brand specific discount like, 20% off on Sony electronics

Order for Rs.600 more to unlock free shipping

Buy a smartphone and get a wire earphones free (BOGO)
It's time to spoil your customers with multiple offers and discounts and watch your gadget sales spike.
Prioritizing website designs goes a long way in strengthening the brand's identity. Having said that, the festive mood reflected on your gadgets and electronics website makes the customers happy and they indulge in buying beyond their budget.
50% of consumers believe that website design is crucial to a business's overall brand value. So, let your store scream festivity.
You can use bright festive colours, related icons and symbols to make your website in tune with the festive mood. For example, you can put diyas or fairy lights for Diwali, bells or Santa Claus for Christmas and likewise.
With StoreHippo's rich themes library, you can create custom designs on your online marketplace to engage your audience and convert them better. The drag and drop feature for theme design enables even a novice user to redesign their site or align with the festivity by quickly changing the banners, slides etc. You can completely overhaul the website look within minutes with no coding required. Alternatively enterprise brands can use the heavy-duty coding support to build wow store designs aligned with their brand requirements.
You have offered a multitude of discounts across all channels and created a vibrant festive look, but is your marketplace website fine tuned to take the extra load during the festive season sale?
70% of the consumers admit that page speed impacts their willingness to make a purchase. Given that, scalability can be a major concern for enterprises looking at high traffic load or high volume of products or pages in the future.
StoreHippo enterprise ecommerce platform offers an inherently scalable solution for high volume, fast growing businesses and can tolerate millions of users in a single day. StoreHippo helps you build a scalable solution for your enterprise with the most advanced technology stack that offers peak load tolerance with 99% uptime.
Your online marketplace and all other services must be well aligned to welcome the customers during festive sales. Let us quickly go through the checkpoints :
Fix any broken links that might disturb your gadgets loving audience

Improve site speed to get better conversions

Simplify order processing and make search faster

Recover abandoned cart orders with automated follow ups

Streamline shipping partners to handle the extra load

Seamless payment methods with multiple payment channels

Introduce loyalty programs to encourage repeat purchases
With all these things set right, you can leverage the festive season sale to keep your cash counter ringing.
68% of consumers say they are willing to pay more for products and services from a brand known to offer good customer service experiences.
With every purchase your customers make, they put a little trust and confidence in your enterprise brand. To ensure their return, it becomes important to be available for your customers across all channels and offer them the luxury of being heard and seen. This becomes even more important during the festive season sale when customers are eager to make the most of limited time deals and offers.
Let us look at various ways you can connect with your customers to make your festive sales smooth:
Offer a multi channel ecommerce customer support, your customers might have queries at different steps of the buying process

Give a personal touch to the support services through live chat or customer care assigning support managers

Create a FAQ or help center, customers might want to know details about any electronics item offered at your store

Create a strong social media presence providing your customers a platform to connect (also in real time)

Reach out to your customers asking about their experience by sending out feedback mailers periodically
StoreHippo offers seamless integrations with different social platforms that enables brands to connect with their customers at multiple touch points. Also, Storehippo connects seamlessly with the best live chat software and chatbots. You can also integrate with the best CRM software to answer a variety of customer queries.
The stupendous rise in the popularity of festive season sales has proved how the new age customers have embraced online shopping. Customers come to the online stores to snap up the best deals offered. And when executed wisely, it helps the brands attain long term goals by increasing the customer loyalty.
But to ace the festive season, electronic brands need WOW marketing tools and futuristic features that enable them to first promote their festive sale to the customers and then to convert them. Brands need to stock up sufficient inventory well in advance and ramp up shipping and fulfilment capabilities, ensure scalability and a smooth functioning of the site before orders start pouring in.
An online marketplace powered by StoreHippo has a gamut of marketing tools and features that enables them to make shopping fun for the customers. Explore the platform by creating your own 14-day free trial store.