Have you lately noticed that some of your frequent buyers are no longer ordering from your online web store? Has your traffic volume dwindled substantially and you are also facing slack sales season? Are your promotional offers not matching their earlier sales volume despite offering deeper discounts? Has the percentage of abandoned cart orders gone up on your website? Did your best to check and correct all technical issues but even technically top-notch performance of your ecommerce website not helping you with orders?
Answered YES to all the above!
Well, this is a serious concern and you need to dig deeper to find the cause. If the best products, prices and offers are not translating into orders, it means only one thing;
Your brand is losing customer trust!
And you need to take immediate action to come out of the situation.
Customer loyalty and trust are the pillars of a sound and successful business. This becomes all the more important in the case of ecommerce websites where you do not have a physical presence.
Customer trust forms the backbone of online business. Statistics show that loyal customers who keep coming back for repeat orders are the main reason for the success of any website. Have a look;

It's pretty evident from the figures that retaining your loyal customers can make or break your brand. Customers keep returning as they trust you as a brand and love your products and services.
To ensure that your brand is trusted by your customers, you need to keep an eye on the warning signs.
The day you build an online store and start selling, people do start talking about the quality of your product and services across various digital channels. Over a period of time, substantial evidence builds up which creates an online persona and reputation of your brand.
One easy way to check if your customers are losing their trust is to do a quick online reputation check. Do a random search on keywords like "your store name + frustrated", "your store name + grievance" and other similar words and see what comes up. If you find too many negative comments about your brand it's one of the top reasons you might have been losing your customers lately.
Give your customers a way to express their opinion about your brand. Add product review and rating on all your product pages. This will not only give you an insight into the quality of your products and services but will also help you plug the loopholes if any. Also, product reviews go a long way in building customer trust as your brand is perceived as a transparent and customer-centric brand.
Another way to keep a check on the pulse of your customers' sentiments is to create social media pages for your brand. Along with capturing customer inputs on your ecommerce website, you can create multiple channels on popular social platforms like Facebook, LinkedIn, Instagram etc.
You can easily connect with your customers on these channels, listen to their grievances and address them promptly to contain and control the damage of negative reviews. This would help you in rebuilding your brand reputation.
Related Read: How online websites can benefit hugely by adding product review feature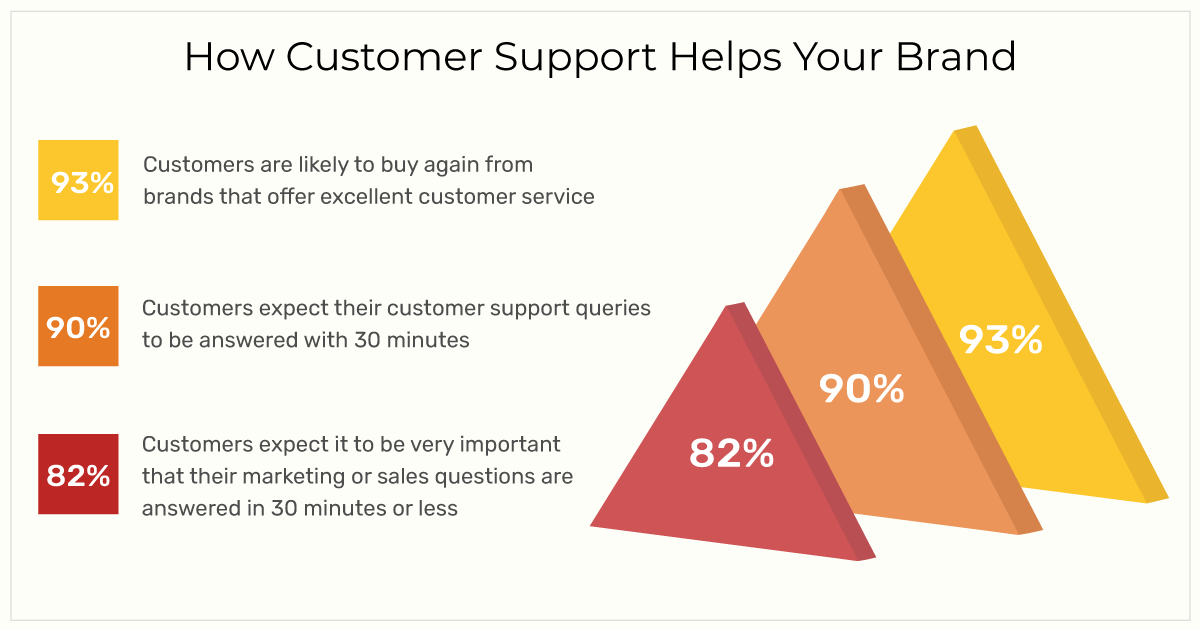 93% of customers are likely to buy again from brands that offer excellent customer service

90% of customers expect their customer support queries to be answered with 30 minutes

82% of customers expect it to be very important that their marketing or sales questions are answered in 30 minutes or less
Source: HubSpot Research
The performance of your customer support team goes a long way in building customer loyalty. A communication gap between your customers and your team can tarnish your reputation and cause serious damage to your online brand.
If you notice that the queries of your customers are not getting answered within 24 hours, it's a clear indicator that you need to overhaul the processes and modus operandi of your support team. An inability to answer your customers promptly is a clear indicator that sooner or later your customers will lose trust in your brand.
Many difficult customer scenarios on your ecommerce website can be handled smoothly if you keep your customer informed and engaged using regular follow up emails or calls.
An easy way to keep your customers engaged is to implement multi-channel communications with your customers. You can keep your customers engaged and notified about all developments of their orders using unified notifications like SMS, email, push notifications.
Along with these setting up multi-channel customer engagement tools on your online store goes a long way in customer retention. You can implement live chat, chatbots etc and also offer a toll-free number to handle your customer queries in real-time. These tools in place will go a long way in building customer trust for your business which would eventually lead to customer loyalty and higher conversions.
Related Read: 8 tips to boost sales of your online store
Listening to what your customers have to say can benefit an ecommerce website in many ways. By listening to your customers you not only make them feel special but in turn, also get their valuable feedback to improve your existing product quality, operations, supply chain etc.
However, if the feedback is not escalated to concerned departments, it means you are unable to identify and plug in the loopholes. You end up losing customer trust eventually if they find themselves in a similar problem scenario despite reporting it to you.
As your business grows you would need automated tools to manage your customer queries and escalating them timely to the concerned departments. For this, you would need the best CRM in place that automates your busy work. The right CRM gives your support team the tools to better understand and segment your customers, anticipate their needs and keep all concerned departments informed.
Customer grievances when escalated timely to the right department can tie up many loose ends in your business and help you refine your processes. Having a well-defined escalation matrix and the right tools to manage customer relationships go a long way in customer retention.
Related Read: Top 10 reasons why online retail store customers abandon their cart
Have you seen a sudden spike in the rate of returned goods from your customers? This increase can be a clear indicator that you are failing grossly in building customer satisfaction. Customers mainly reject product for the following reasons;
Incorrect product size

Poor product quality

Product is damaged

The product did not meet the expectation

The product did not match the product description
If your products are not matching customer expectations and they find it poor quality or damaged it would certainly dent their trust and make them think twice before buying from your ecommerce website the next time.
This situation needs immediate attention and every measure in place to stop and minimize such occurrences. While online stores can have up to 30% of orders returned, you can reduce this number significantly by implementing features that help your customers make an informed purchase decision.
Try to give detailed knowledge of the products on your ecommerce website to customers. Add high-resolution product images and videos to help your customers get a 360-degree view. Offer them product options and variants to help them compare other variants. Add as many details about product attributes as possible.
Keep your inventory and stocks updated and offer the wishlist feature to help your customers add products they might intend to buy later. Also, offer easy product search and navigation with hierarchical product categories and brands based catalogues. Along with these offer product comparisons and product-based discounts to help your customers get the best value for their money.
Along with these ensure your products go through regular quality checks to bring down the rate of returned and reshipped orders. With all of this in place, you can build better customer loyalty for your brand.
Related Read: 5 handy SEO tips to help your ecommerce website stay on the top of Google
Keeping your promises is the first step towards building customer trust for your brand. Delayed deliveries can dent your brand reputation and undermine all the efforts put in building customer trust for your ecommerce website.
If your customers are regularly complaining about delayed deliveries, it's high time you evaluated your logistics services and overhauled your supply chain. Delayed deliveries can corrode customer trust despite timely order dispatch from your end.
Also, this can cause substantial damage to your brand reputation by negative word of mouth publicity.
Team up with multiple delivery partners that are reliable for their services. Offer your customers multiple options so they can choose fast delivery at a premium cost or a regular delivery. This would keep their delivery expectation realistic. If you are a large brand and have the resources build your own fleet of delivery agents to ensure speedy delivery.
To avoid bad publicity and losing customers, keep your customers engaged if there is any delay in delivery beyond your control. Also, double-check the reliability and delivery performance of your logistics partners before entrusting them with order deliveries for your ecommerce website.
Related Read: 5 Questions to ask before choosing logistics partner for Ecommerce
Like any relationship the customer-brand equation also needs constant involvement to sustain the bond. If you keep fulfilling the promises made on your online web store and deliver the best quality products on time, your store earns customer trust and you keep your customers happy.
However, to take care of all the above customer loyalty issues you would need a well-rounded and feature-rich ecommerce platform that lets you implement all the solutions. StoreHippo the best ecommerce platform has you covered. StoreHippo comes with 300+ inbuilt features that help you build an online store that engages and retains your customers.
Along with these features, StoreHippo handles all the above scenarios easily.
StoreHippo helps you integrate with chosen social platforms to engage your customers to handle negative brand reputation. You can also use the inbuilt product reviews feature to manage your customer grievances right on the product pages of your ecommerce website.
StoreHippo offers unified notifications to power your communications and helps you keep your customers engaged throughout their purchase journey. The fully integrated platform enables you to integrate with multi-channel customer engagement tools(live chat, chatbots etc.) of your choice.
You can also integrate with your chosen CRM, ERP, accounting and other solutions to keep your customer concerns properly managed and escalated to the right departments.
With comprehensive product management software from StoreHippo, you can easily offer more details and add a variety of features to your product pages. This would help customers make an informed decision which in turn reduce the return rate of online orders on your ecommerce website.
StoreHippo also offers an automated and discounted delivery solution with trusted domestic and international logistics partners. You can also set up and manage your own fleet of delivery boys with the inbuilt delivery management solution.
Along with these StoreHippo headless commerce platform also helps you set up multiple customer touchpoints without much ado.
Every happy customer is like a brand ambassador for your store who promotes your online business. Take care of the telltale signs to retain your customers' trust in your brand.
StoreHippo understands the importance of building a brand reputation for your online web store and offers you a gamut of tools to make the process easier, smarter and automated. Along with these features, StoreHippo also offers a powerful discount and blog engine to engage and convert your buyers.
Ready to plan a smart strategy to boost your customer loyalty? StoreHippo gives you the best tools to get this actioned quickly and without any fuss. Explore how you can implement it by starting your 14-day free trial now!