As a fashion merchant, have you been amazed by the way fashion behaves and what your customers want?
Oh, almost always, aren't you?
Well, friend, you are not alone!
If you are looking for ways to stay ahead of the curve in the $3 trillion worth global fashion industry, you have come to the right place.
We pretty well understand that pushing the sales graph on your online store upwards is quite a daunting task. Your marketing not only needs to be top-notch, it also needs to be aligned with market trends and buyer preferences. What's more, you should be making data-driven strategies that give you maximum ROI.
Sounds difficult?
How about taking a leaf out of Myntra's book?
India's number one online fashion retailer Myntra saw over 44 million website visitors in April 2021. It has partnered with around 7,000 brands from all over the world involving local brands as well. Myntra works with an aim to offer millions of styles from thousands of brands, shipping to up to 220+ cities.
Their new-age conversion-friendly marketing strategies:
Influencer marketing through influencer-affiliate marketing

Advertisements through TV commercials

Social media and OTT marketing

Email marketing

Mobile first e-commerce platform

Omnichannel approach

Personalisation
Myntra launches several mega festive sales like 'End of Reason Sale', 'Myntra Summer Time Madness Sale', 'Myntra Diwali Sale', etc, and events like EORS throughout the year. Resultantly, Myntra saw 18 million orders in total and delivered 11000+ items per minute with a 51% increase in traffic.
But how exactly did Myntra come up with such strategies that proved to be so fruitful? If you are thinking all this has been achieved only by being responsive to market trends and understanding the needs of its audience, you can't be more correct. The very first step to establishing your brand in the fashion industry is keeping up with the trend.
Let's look into some trends and understand the market!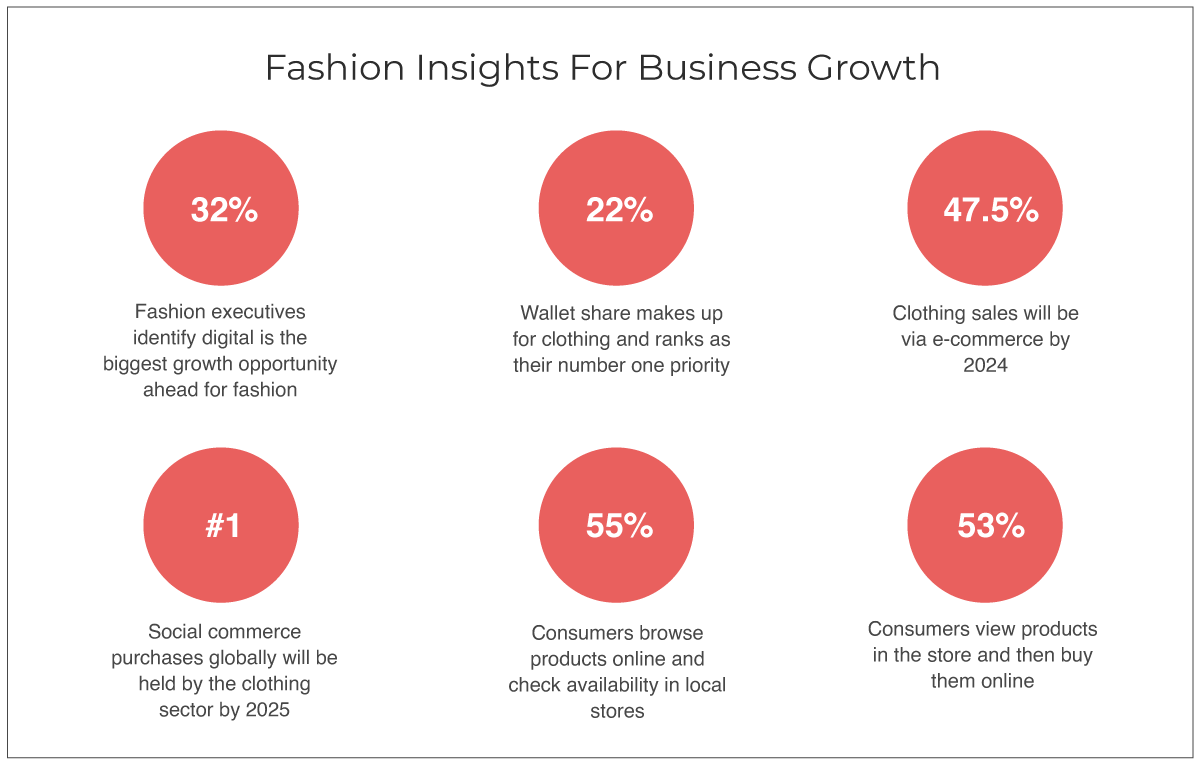 32% of fashion executives identify digital is the biggest growth opportunity ahead for fashion

For teens, 22% of their wallet share makes up for clothing and ranks as their number one priority

47.5% of clothing sales will be via e-commerce by 2024

#1 rank for social commerce purchases globally will be held by the clothing sector by 2025

55% of the consumers browse products online and check availability in local stores

53% of the consumers view products in the store and then buy them online
Sources: McKinsey, Statista
As modern consumers want both online and offline channels, it is important to maintain synergy between the two. You must excel at leveraging ecommerce marketing to boost your sales and keep the cash counter filling.
Buying online is becoming a global fad today. The trends mentioned above suggest that going forward will only open new markets taking the business beyond borders. So, buckle up and keep your best foot forward with these quickest and smartest marketing hacks we have listed just for you.
Today we live in a world dominated by fashion, and when it comes to fashion, design and appeal matter everything. Your online marketplace design is going to speak for your brand, so make sure it is unique and tailored to the specific needs of your customers. Let's take a minute to acknowledge these needs of your customers -
Product placement that is appealing to the eye

Product descriptions that say everything about the product

Reviews and ratings to refer to

Quality of your product photography
We are talking about the fashion world here, what else can be more captivating than a beautifully maintained site and delightful personalised customer experience? Right?
With StoreHippo, you can provide your customers exactly what they expect - a complete personalised shopping journey. StoreHippo allows you to design personalised landing pages for different buyer segments. You can also use other inbuilt features like 360-degree product display, multilingual product description etc. to make conversions faster. With StoreHippo you can capture your customers' behaviour using the inbuilt and integrated analytics tools and trackers. You can also use faceted search, hierarchical categories, and other search and navigation tools to make product searches granular, faster, and more conversion-oriented. By adding a wishlist feature, you can have a fair understanding of what your fashion customers plan to purchase in the future.
About 93% of shoppers use a coupon or discount code throughout the year. When you build an online store, you can leverage discounts to attract customers to your site. Offer them reasons to shop – saving money, good products, and discounts on products they want to buy. Implementing a data-driven discount strategy ensures you have your cash counters ringing. But to implement a personalised promotions strategy you need a powerful discount engine at your disposal.
StoreHippo online marketplace builder comes with an inbuilt discount engine to help you offer personalised discounts and coupons to your buyers. With StoreHippo's built-in discount and promotion tools, you can leverage various types of discounts and offers, say, product level, order-based, time-specific, coupon codes, seller specific, group-based, category-based, etc to boost the sales.
And, if merged with personalisation, the effect of your discount strategy doubles. Almost 87% of consumers are influenced by personalized content. They are more likely to shop from your online marketplace when offered personalized fashion styles in their sizes or favourite colours. With such personalised messages and offers, you address the needs, challenges, and pains of your customers, all while also making them feel appreciated. Engage with the customers, and send them personalized notifications on the app, through SMS, push or web notifications with StoreHippo's unified notifications.
Did you know that 70% of people adding items to their cart end up abandoning the cart for some or other reasons? However, it is possible to recover up to 40% of incomplete checkouts with instant follow-ups. Let's look at the theory with an example - suppose you are looking for a summery floral gown, you browse your options and add one to the cart, but you do not hit the buy now button. What if you receive a notification within say 4 hours saying there's a 10% off on this item and you get free shipping? Wouldn't this influence your purchase decision? We bet it will!
So, start by auditing all abandoned cart orders, this will give you enough insight into the customer behaviour to retarget them with such personalized messages.
With StoreHippo, you can set up automated follow-up emails at specific time intervals and improve your abandoned cart conversion rates. Suggest price drops or offer time-specific personalised discounts encouraging your customers to complete the abandoned order.
Almost 66% of consumers expect free shipping on every purchase. Well, this is clear as water that – free shipping is essential to keep consumers happy. While it improves conversions, it also drives revenue by increasing the order value in more than one way.
Let's say a customer's total cart value comes to Rs 599/- and your online marketplace offers free shipping on all orders above Rs 800/-, the customer would happily add items worth the difference to unlock the free shipping feature. Studies have also proved that 40% of the customers are willing to buy more just to qualify for free shipping.
With StoreHippo you can avail shipping solutions from 30+ integrated shipping providers and logistics aggregators. The automated shipping solutions do away with manual work and make your deliveries faster, streamlined, and error-free. You can also optimise your shipping costs by choosing the most affordable shipping partner and can thus pass on the benefits to your fashion marketplace customers.
Today the world is hugely influenced by what they see and hear on social media. Create a phenomenal marketing strategy leveraging the power of social media with effective tools. An audience interested in the fashion industry can be retargeted with social media ads of promising discounts or time-specific offers on the latest clothing trends. Similarly, a group of people showing a significant interest in sneakers can be retargeted with influencer ads to push them towards making a purchase.
Influencer marketing is on the rise today, people tend to make buying decisions based on reviews by the influencers, so get the best of it. Make your online presence prominent, place retargeting ads across all social platforms, and create effective brand pages and videos. But most importantly, choose a platform that offers easy integrations with social media platforms, and helps you build an omnichannel fashion online marketplace. StoreHippo offers seamless integration with different social platforms. Fashion brands can create brand value by building individual pages on social platforms and leveraging social commerce to interact with their buyers and eventually converting them into their own marketplace.
An online marketplace is successful when it is flexible and scalable. StoreHippo with its WOW features is the right technical solution to build a marketplace website for your fashion brand. It provides a 360-degree solution that includes a gamut of marketing tools like- blog engine, SEO features, and easy integration with analytics and marketing tools to make your marketing strategic and conversion oriented.
With a fashion marketplace powered by StoreHippo you not only have cutting edge solutions to rule the market but you also have the best marketing tools to ace your game and stay ahead of competition.
Ready to write the success story of your online fashion marketplace? Get going by starting your free 14 days StoreHippo trial now.