It is no secret that consumers want to buy directly from their choice of brands rather than going through a middleman. But do you really know how fast this D2C (direct-to-consumer) trend is growing?
One-third of consumers prefer to do at least 40% of shopping with D2C companies in the coming five years. If they are given the choice between a brand manufacturer and a multi-brand retailer, 59% will opt to buy from the manufacturer.
The ecommerce game is clearly changing.
If you're a manufacturer or producer looking to expand your business? Now is the time to explore the concept of direct to consumer ecommerce.
What is D2C ecommerce?
Direct-to-consumer companies manufacture and ship the products directly to the end customers without any dependency on wholesale and retail stores or any middlemen. This business model enables the companies to sell the products at lower costs as compared to consumer stores. The D2C companies also maintain end-to-end control over the manufacturing, marketing and distribution of products. The key success mantra of this business model is that it reaches customers directly by avoiding the middlemen.
Benefits of D2C business model
Increased Sales

Improved Brand Awareness

Targeting Data

Testing New Products

Providing Omnichannel Experience
Are you still in doubt about whether to enter into the direct-to-consumer market? It is the time to examine if (and when) is the right time for you to start with the D2C business model.
5 signs it is the time to consider the D2C business model for your brand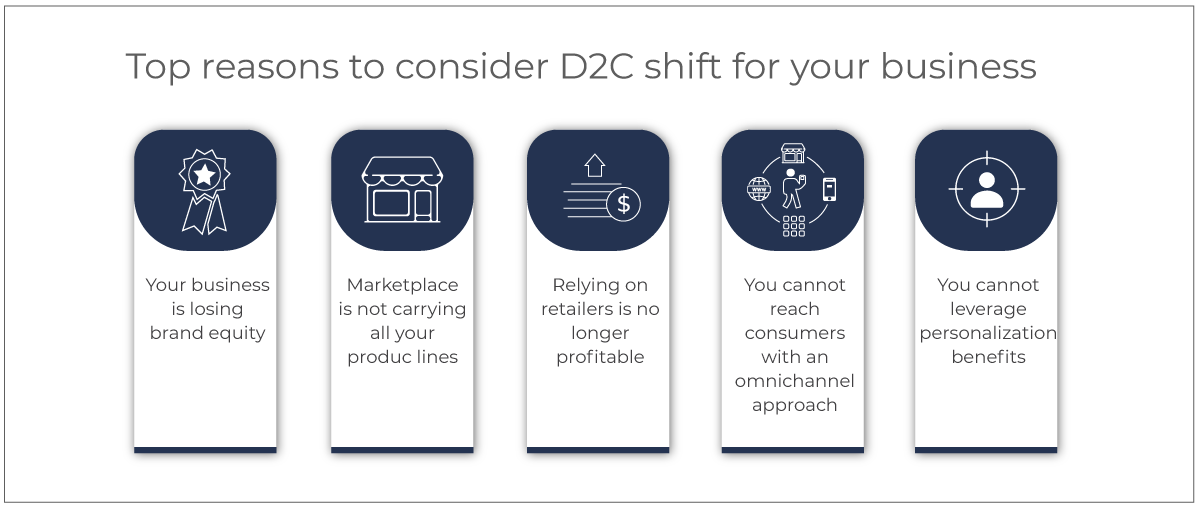 1. Your business is losing brand equity
Did you know that over 20% of the products purchased on top websites like Amazon have been found to be counterfeit despite strict zero-tolerance policies? Well, there are many more challenges for enterprise ecommerce companies when third-party merchants are involved in the selling process. If you are also facing similar challenges, there is no way to regain control through your own marketplace. Don't let any middlemen ruin your brand presence and equity for no good reason.
Having your D2C ecommerce business allows you to get more control of your sales and marketing activities. This allows your manufacturing company to get directly involved in where and how you wish to market your products and deliver them to the end customers. It will improve your brand presence while providing more opportunities to control the overall customer experience. With StoreHippo, you can have your Direct to consumer business and have the complete flexibility to run it in an agile manner. You can launch the product on a small scale, understand the market needs and customers, and then make the growth plans accordingly.
2. Marketplace is not carrying all your product lines
If online marketplaces like eBay, Amazon, and other popular marketplaces are only carrying your specific product line, switching to the Direct-to-Consumer model is a great initiative for your business. If you are also facing a similar challenge, you can ramp up your business by going directly to the consumers. It allows you to control every step of the sales cycle, from production to distribution. As a part of your strategy, you will gain access to a huge amount of customer data and understand how your customers interact with your business.
The complex order management processes deter many brands from shifting to D2C. However, you can have your own marketplace and build a hybrid model of direct to customer to sell directly on your marketplace. This model ensures a smooth transition to the direct to consumer ecommerce business model while having better control over your brand. With the best ecommerce platform like StoreHippo, you can easily streamline all your orders, payments, marketing, shipping, and all processes on a unified dashboard. Don't wait to make your D2C experience super exciting with us.
3. Relying on retailers is no longer profitable
If you think that selling through third-party sellers or direct-to-consumer business is a major transition, it is time to know that there is a huge potential in the D2C model. Relying on a single marketplace for revenues can reduce the possibilities of your business growth. It also helps you to expand your online business with additional shopping channels.
Many enterprise brands are experiencing over 70% annual growth after switching to the direct to consumer business model. The best part is that it does not require you to reinvent the wheel. You can easily switch to D2C business with StoreHippo in one go. The platform allows you to get started in a fraction of time as compared to conventional methods, understand the customer needs faster, and make appropriate changes to the store at the right time.
4. You cannot reach consumers with an omnichannel approach
There was a time when brands were only involved in the production activities but everything has changed with the D2C business model. Now, brands can do a lot more like controlling the business activities from manufacturing to marketing and selling. Now, brands can choose to sell via third-party sellers or sell using their own direct-to-consumer ecommerce strategies.
When you market your brand's products independently, you can build multiple customer touchpoints to offer a great omnichannel experience to your customers. With that power in hand, you can even customize the customer experience on various channels (website, apps, in-store, Facebook, Email) via omnichannel ecommerce functionality. The best enterprise ecommerce platform like StoreHippo helps you to leverage omnichannel ecommerce while offering a personalized experience and streamlining the overall customer journey on multiple channels.
5. You cannot leverage personalization benefits
Did you know that over 35% of the total revenues of Amazon come from personalized product recommendations? Isn't it amazing? So, your multi vendor ecommerce website can also leverage the personalization benefits. However, it is important to switch to the best ecommerce platform that supports high-end personalization features.
With the right tools and features of StoreHippo ecommerce platform, you can do wonders in the online business. It helps you to capture the key customer data insights related to customer preferences. Based on the collected data, the customer shopping experiences can be personalized at every buying stage easily.
Moreover, you can experience more effective personalization for your D2C brand with tailored recommendations across multiple touchpoints of the store. Some advanced tools and technologies offered by StoreHippo include inbuilt headless commerce infrastructure, mobile commerce features, and a powerful discount engine. The unique set of tools and features help you to send personalized discount offers based on user groups, devices, order volume, and alike. Start your direct-to-consumer personalization journey with us today.
Build a D2C business with StoreHippo
Can you relate to these scenarios for your business? If so, you will be glad to know that StoreHippo can make your transition to the direct-to-consumer marketplace much easier and better. The ecommerce platform can help you manage all the challenges of the direct to consumer model while offering many advanced features and tools to scale your online business.
StoreHippo is the best ecommerce platform with 300+ inbuilt advanced features, 60+ payment gateways, go-global features, marketing automation tools, integrated shipping support, and much more. Explore all the features of StoreHippo to build your ecommerce website in just the way you want. Get started with the 14-day online free trial store to experience it yourself.