Like everything else in the ecommerce world, B2B online stores have also gravitated towards selling more through mobile apps.
If you still believe that having a strong offline presence and a marketplace website for your wholesale brand is enough, it's time to reconsider.
As more and more B2B buyers are getting conditioned by seamless buying and hyper-personalization on B2C websites, they are expecting the same experiences from their B2B counterparts.
In such a scenario building your B2B mobile apps can be a game-changing move giving your enterprise brand a strategic advantage over the competition.
Apps take your brand to your customer as no other sales channel can.
Here is the latest stats on how business-to-business brands and customers are showing a preference for mobile commerce: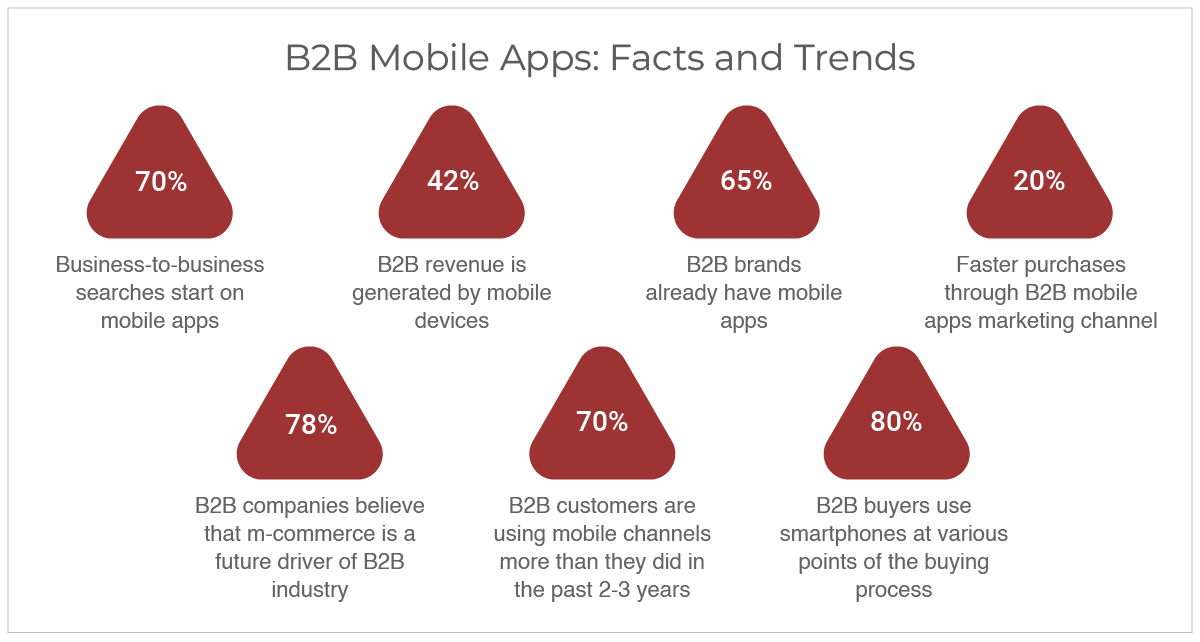 70% of Business-to-business searches start on mobile apps
42%+ of B2B revenue is generated by mobile devices
65% of B2B brands already have mobile apps
20% faster purchases through B2B mobile apps marketing channel
78% of B2B companies believe that m-commerce is a future driver of B2B industry
70% of B2B customers are using mobile channels more than they did in the past 2-3 years
80% of B2B buyers use smartphones at various points of the buying process
Source: Think With Google, Bugsnag, Boston Consulting Group, Digital Examiner
The trends clearly indicate buyer preference for B2B apps. On the one hand, browsing and buying via mobile gives freedom and convenience to the buyers, and on the other B2B companies can leverage B2B app-specific features like real-time notifications, buyer behaviour data and personalised buying experiences to boost their revenue.
Building a marketplace app for their wholesale business helps brands introduce better engagement, efficiencies and conversions. Here are a few advantages of building a brand app for enterprise brands: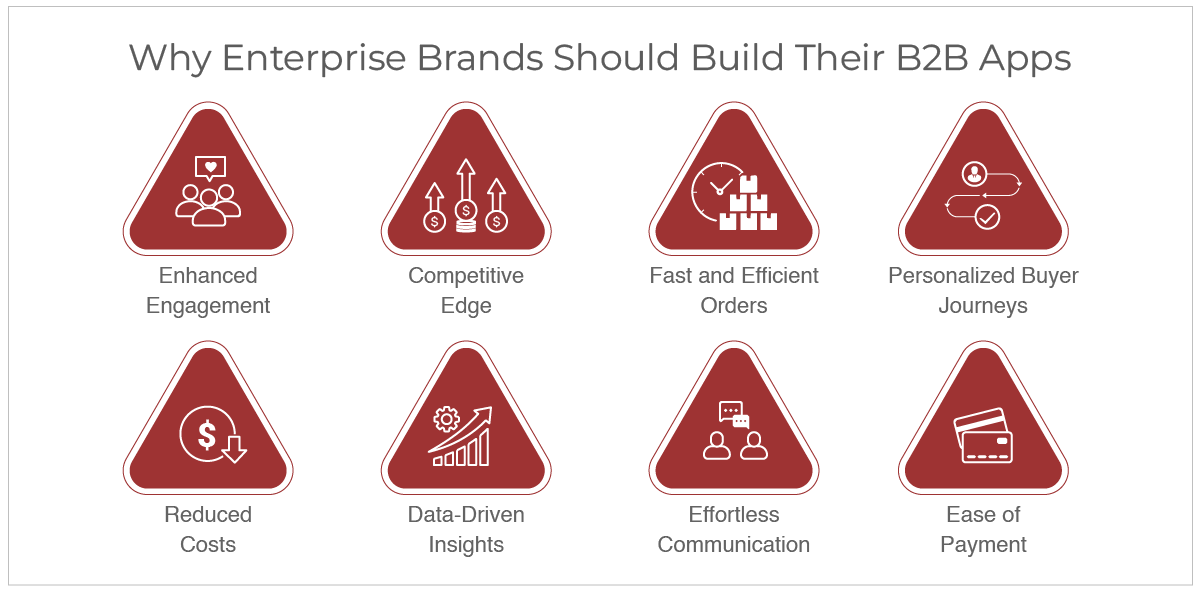 The biggest benefit of apps is that they literally open your shop on your clients' phones. With apps, buyers tend to check your brand and its products/services more often and eventually tend to convert if you offer relevant deals.
With apps you not only leverage mobile commerce but also stand apart from your competitors. Your buyers perceive your brand as a modern brand that offers multi-channel engagement.
Mobile apps are fast and convenient for placing orders on the go. By enabling multi-level self-service, automated and personalised messaging marketplace apps can be used to make the wholesale sales process faster and more efficient.
It is easier to build tailored and personalised buyer journeys by leveraging the inherent features of apps ( notifications, offers on the wishlist, real-time notifications, personalised promotions etc.) which enhance engagement.
If your B2B company has both marketplace B2B apps for customers and admin apps for your teams and vendors you can substantially save time and resources and reduce costs in the long.
Apps-data analysis give you in-depth insights which you can leverage strategically to improve inventory, order management, client engagement and eventually sales.
Apps make it possible to use multiple channels like WhatsApp, integrated chatbots, live chat etc. to connect with buyers effortlessly. By offering multi-channel interaction and support you can stay connected with your B2B buyers and make them loyal to your brand.
By 2022, only 28% of B2B brands are processing payments manually. More than 50% of B2B payments are done digitally now. B2B mobile apps offer seamless, secure and frictionless checkout thus enhancing user experience and sales eventually.
Having a multi-channel presence for your brand with offline and online stores and mobile apps goes a long way in establishing your business as a market leader. With customers showing a clear preference for mobile sales channels, it is imperative for wholesale brands to build their apps and leverage mobile commerce for growth.
Apps are intrinsic to your brand's growth However, just building B2B apps is no guarantee for success and better sales.
To make your apps work for your brand you need to include the following features in your apps to maximise your ROI from your mobile sales channel.
Here are the features you need to incorporate in your B2B mobile apps:
The first thing that makes your apps sticky and conversion-oriented is your app design, easy navigation, seamless pinch and zoom and ability to find desired products quickly. Add to this the ability to have multilingual content and you have a winner in store.
A beautiful mobile app design not only attracts and retains your buyers but also creates a strong brand image. Responsive design optimized well also makes your app fast and enhances stickiness. Also, keep changing your themes depending on promos, offers or any other ongoing event activities, festivals etc. you want to highlight.
Being consistent with your color palette, branding, logo, product placement, establishing a visual hierarchy etc. goes a long way in making your brand stand out. High-quality images with 360-degree product views and videos also help your clients make an informed search using your B2B apps.
Offering seamless navigation so your clients can explore your site, move back and forth, and engage with more products and services through your app goes a long way in boosting your sales.
StoreHippo's B2B ecommerce platform comes with a rich theme designer for building amazing themes for B2B sites and apps. With the drag-and-drop feature and support for mix-and-match themes, you can build attractive and conversion-oriented themes in no time.
StoreHippo also offers multilingual support (including RTL languages) in themes which adds a competitive edge to your branding and customer experience. With hierarchical, multi-level categories, advanced filters and faceted search you can further simplify buying on your mobile apps.
The era where B2B ecommerce used to be dull and boring is passe. We live in times of extreme personalization and naturally, B2B buyers also expect multi-level personalization from brands they interact with.
Offering B2C-like ease of buying and support for self-service within your app can take your brand places. Whether it is personalized look and feel, pricing, discount, information, product recommendation or any other form of personalized experience, giving your customers what they are looking for keeps buyers engaged and loyal to your business.
The gist here is mobile commerce applications need to make the shopping experience of customers seamless and easy. Along with a design crafted for your buyers' personal preferences, you should also facilitate ordering with minimum intervention. Adding self-service not only makes your sales cycle faster but also gives greater control to your buyers which creates a brand value for your business.
StoreHippo's decoupled headless architecture and mobile-first design make it possible to offer hyper-personalised buyer journeys. The inbuilt discount engine, tiered pricing, IP-based pricing, no-code design, multilingual feature, multi-store ( based on products, location, audience segment etc.), support for multi-currency, 60+ payment gateways enable wholesale brands to achieve their personalisation goals.
StoreHippo also offers a host of B2B features like live chat, chatbots, RFQ, MOQ, tiered pricing, messaging to connect with sellers/admins etc. that help in accelerating the sales cycle on mobile apps for B2B.
Well having a beautiful design and implementing personalization on your enterprise app certainly sets up your game. But how to take it a few notches higher?
How to align your buyer journeys so you can maximize the return on all the efforts put in to engage the buyers? A simple way is to be a constant companion in their purchase journey and gently nudge them towards closing the B2B deal.
Wonder how?
Simple, leverage mobile push notifications.
B2B apps come with the feature to send push notifications at various stages of your buyers' journey. By combining analytics and other predictive marketing tools you can use real-time push notifications to get the best results from your B2B mobile commerce initiatives.
Mobile notifications also work well in converting wishlisted items into orders by sending deals based on the saved items. With mobile notifications, you can enhance user experience and maximise the ROI from your marketing efforts. You can also retarget abandoned cart orders with push notifications on B2B apps.
With StoreHippo, you can optimize the entire mobile commerce purchase experience with amazing features like push notifications, personalized shopping, online payments, wishlist information, and much more. Mobile notifications are also very useful for upselling and cross-promoting your products. By delivering more value in a faster and more effective manner with push notifications, you can enhance your B2B mobile experiences.
Push notifications are not simply push messages sent to customers. Mobile commerce development platforms like StoreHippo offer a delightful experience to drive customer engagement and sales conversions backed by real-time customer insights.
StoreHippo offers comprehensive features to use mobile push notifications at various points in your B2B buyer journey. StoreHippo also has an auto-follow-up feature for abandoned carts which gives complete information about the customer and order with the audit log. You can send auto-emails or push notifications to convert these incomplete orders.
Isn't it a great idea for brand recall? It helps you use your mobile app for B2B to easily boost repeat purchases and foster customer loyalty.
The power of social media is undeniable. According to a B2B survey, over 87% of B2B companies consider social media as a very successful marketing strategy. The marketing teams use multiple social media sites to gather information and interesting content for their customers.
In a nutshell, having a social media presence presents a B2B company as a thought leader in the industry. When your brand is present across social media platforms it gives your B2B business a more authentic perspective and also helps you connect with prospective clients across channels.
Your B2B mobile apps must have features to share products through social channels and also pages on social platforms which eventually redirect your buyers to different product pages on your app.
Along with this if your products have the review and rating feature, it adds another proof of social approval creating social validity for your product and helping buyers make an informed decision.
To implement all these features in your mobile app you need a B2B ecommerce platform that already has the above features built-in. StoreHippo helps you integrate with a variety of social media platforms. You can add social sharing buttons on your product pages for easy sharing.
StoreHippo also offers review and rating features to help you get user reviews for products sold on your B2B marketplace.
Data is the modern gold. If you have customer data and the tools to analyze and use it strategically you have everything needed to unleash your growth. And mobile apps integrated with the right analytics tools let you achieve this formula for success.
The built-in feature of B2B apps not only enables you to capture customer behaviour and buying preferences but also enables you to optimize screen space and place products strategically for better conversions.
With the right analytics tools integrated with your mobile apps, you can create winning marketing strategies to boost your sales. Wondering if it would be a huge challenge? Not so if you have StoreHippo B2B ecommerce platform at your disposal.
StoreHippo is a powerful ecommerce platform for large-scale enterprises that allows you to track user behavior on B2B apps and increase your sales conversions. With StoreHippo you get a built-in report engine that gives you detailed reports based on best selling products, regions, order value etc. Additionally, you can also integrate seamlessly with the best in breed analytics tools to amp up your marketing and business strategy.
Now that you are familiar with the features needed to make your B2B app a success it is time to find the best way of building your enterprise apps.
In the next section, we evaluate the best ways to create apps for your B2B company.
For building their mobile apps, brands can take one of the two approaches:
Go with a tech partner that can build the apps from scratch: While this method was the only way out a few years back, now there are faster, smoother and cost efficiency alternatives.
Opt for a B2B ecommerce platform that comes with a built-in solution to build mobile apps for diverse businesses
Option B has gained popularity among enterprise brands that want to avoid the challenges of building the mobile app from scratch.
While many B2B brands built their online presence quite some time back, investing in mobile commerce came as an afterthought for the majority of the players who transitioned online. Building an app comes with its own set of challenges which include;
Finding the right tech solutions partner that can understand and implement complex requirements of B2B flows
Choosing future-ready technology for app development
Building an engaging and easy to use interface for the buyers
Constantly maintaining code quality and syncing the data on B2B website and app
Resolving compatibility issues with different devices
Ensuring app and client data security to build buyer trust
Allocating a regular budget for app building and ongoing upgrades and maintenance
These challenges deter many wholesale brands from venturing into the uncharted territory of B2B app development.
Brands can leverage the mobile-ready B2B ecommerce platform StoreHippo and its headless architecture to build B2B apps in no time.
StoreHippo's built-in mobile app builder uses the same backend logic to create Android and iOS apps for B2B brands. You can also turn your entire store into PWA (Progressive Web Apps) in a few clicks. With StoreHippo it becomes easy to leverage mobile commerce for business growth.
Mobile apps are essential for B2B companies planning to scale their business exponentially. With mobile sales channels becoming an integral part of everyone's lives including B2B buyers, you need an enterprise platform that supports mobile commerce end-to-end.
StoreHippo not only offers customer-facing B2B mobile apps but also has apps for your admin teams and vendors. We also offer delivery boy apps so that your vendors can manage their fleet of delivery agents easily StoreHippo has everything needed to run your business on the go.
We have evaluated the features required to boost your enterprise business through m-commerce and StoreHippo offers all of these m-commerce features at one place. The plug-and-play solution from StoreHippo is powered by next-generation technology and MACH architecture.
StoreHippo, the mobile-first B2B ecommerce platform is well-equipped to take your B2B brand to the next level by providing mobile apps (Android / iOS), PWA (Progressive Web Apps), and a gamut of marketing tools.
StoreHippo also supports a variety of business models like B2B, D2C, B2C, and B2B2C and comes with inbuilt solutions for multi-vendor marketplace, multi store, international ecommerce business and more.
Simply put, StoreHippo not only builds B2B mobile apps but provides you with a complete solution to build, run and grow your business across channels.
Building your multi-channel brand presence becomes easier with B2B mobile apps. Now is the time to accelerate the speed of your growth and invest in future-ready strategies and technology that win long standing customers for your brand.
With StoreHippo's mobile-first solutions, you can start leveraging mobile commerce for your growth through multiple mobile channels like mobile apps and PWA.
Ready to win the m-commerce battle with B2B apps? Schedule a 14-day free trial to explore StoreHippo B2B features and mobile app builder that has the potential to take your brand ahead of competition.